One of the highly contested aspects of FIFA games across the years has been the lack of changes to the career mode. In FIFA 21, this has been addressed with a host of changes to the game mode.
With a more realistic design, game play and transfer market and training system – managers have to pay attention to a host of other factors to make sure the team is performing at the optimal levels.
One of the most popular versions of the career mode is the 'Road to Glory' type career mode where managers take a lower league side to the top flight and try to achieve champions league glory. In FIFA 21, there are a host of ways you can try and make it easier. This post will give you some tips on how to make this process easier.
Use Loan With Buy Option
As a lower division team, your transfer budget is often very restricted. Especially with a strict transfer policy setting, you can expect most teams to hold out for a transfer fee much higher than what you can afford. This is a reflection of the inflated transfer prices for mediocre players in the last few years and you need to evaluate your options carefully and invest smartly.
Using the loan with buy option basically guarantees you a great future prospect at a very cheap price compared to what you will pay if you want to buy him upfront. This option added in FIFA 21 offers you an alternate route to acquire upcoming talents from top teams for a very cheap price.
You could acquire most youngsters on a one-year loan with an option to buy after the end of the season. If the player does not perform for you, you could choose to let him go to the parent club too, allowing you to cut your losses.
Youth Squad Stars in the First Season
Another great new feature in FIFA 21 is the introduction of the Youth Squad in the first season. Here, you can find gems from day 1 because the best scout in the team has already been assigned the duties of finding upcoming talents.
For example, in our career mode playthrough with AFC Wimbledon the squad looked bleak with no player above a 65 rating. But we found a 70-rated 17-year-old Left Winger in our youth squad with 5-star skills and with a 5-star weak foot. Shepard has since been a revelation for the squad, elevating performances with pace and trickery.
This might be a great strategy for players in career mode starting with lower league teams as you can find good first-team players who come in for free and can make a real difference in the squad. Plus, it is a very rewarding experience when a youth prospect you uncovered becomes a world-beater in a few seasons time.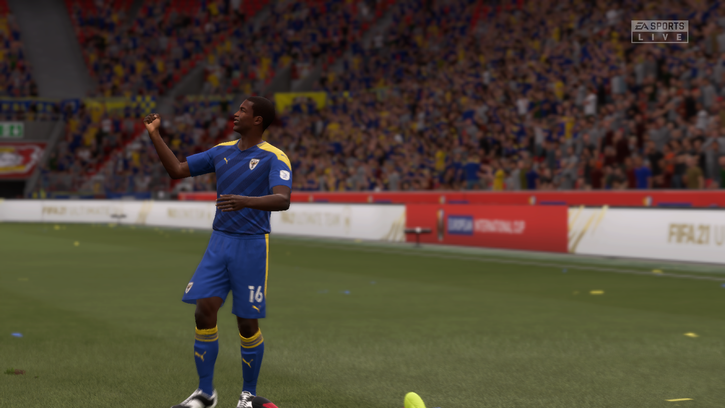 Fill in Squad Gaps With Retrain Option
The retrain option in FIFA 21 Player Development menu will revolutionize career mode. A team that is lacking in a certain position can now allow players who possess similar attributes to be retrained to play in the deficient area.
We had no specialist Right Wingers but a few Right backs in our AFC Wimbledon. We retrained a young, pacey right back to become a Right Winger and in 9-weeks we had a decent starting player in that position. This can plug in gaps in your squad for free and allow you to save some money and look for solutions within.
Financial Takeovers
If you are sure that you cannot thrive with the transfer budget your chosen club can afford, you could go for the financial takeover option when you start a career mode. A big-money conglomerate will come in and flood the club with finances allowing you to storm the transfer market and acquire some great players.
Though it takes away from the experience and challenges that come with winning on a budget, it has become a common occurrence in the footballing world (like Wolverhampton Wanderers in recent times)
Free Agents
Free agents will be absolutely crucial. Though the free agents won't be the best players in the squad, they will add some great padding for long seasons. In case of injuries or fatigue, they can fill in and give performances for the squad and help in the bid for promotion.
You could find some great youngsters too, released by top clubs with crowded youth academies, these players can be given a second chance at lower league teams and could become solid players in the future.
In a similar context, Players with expiring contracts will be much cheaper than their actual value. Targeting them in the player search could be an efficient way to single out excellent transfer targets for your squad at cut prices.
Trim the Excess and Maintain a Streamlined Squad
A squad of 30 – 35 players is optimal for a lower league team that is making a bid for promotion. This is because, larger squads will result in lower morale amongst non-starters which is an important factor in FIFA 21.
Also, match fitness is a crucial part of individual player performances. Unlike previous editions, a player returning from injury cannot be thrown into the starting line up without a settling in period. This is because his match fitness will be low which will impact his performance. Similarly, a large squad will be difficult to train resulting in many players with poor match fitness who cannot contribute to the cause.