At the start of every Ultimate Team, players try to build the best cheap team with the coins they have. This makes it impossible to create a squad with the highest-rated players in every position.
But in every edition of FIFA, there are player cards that look ordinary and inexpensive on the outside but the player will be an absolute dream to play with. With great stats for their position, these unconventional choices perform as well as some of the best in the game.
We have compiled a list of these overpowered player cards to help you assemble a great squad and dominate every opponent you come up against.
Adama Traore (RW) – Wolverhampton Wanderers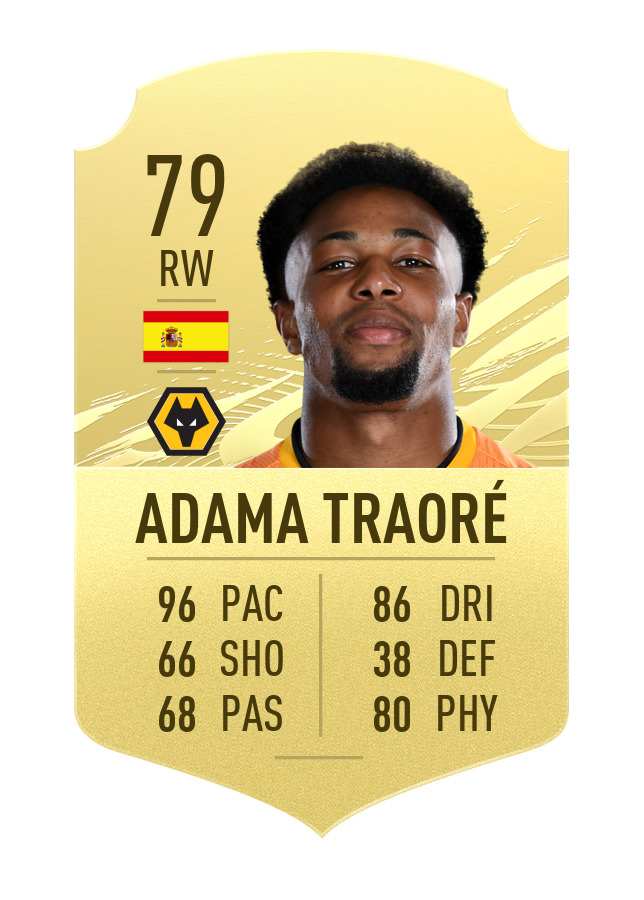 This former Barcelona La Masia youth product is one of the fastest and strongest players in the premier league. In a league filled with the best players, he has drawn praise from the likes of Mourinho, Guardiola and Klopp.
He is a problem for any defense with his direct play down the right flank. He creates a lot of opportunities for Wolverhampton Wanderers as he draws fouls and creates chances. The reason for his 79 rated cards despite being one of the most recognized players is because of his poor goal and assist return. But his card is so overpowered that he can become an instant hit in any FUT team. With his Spanish nationality and career in England, he can gel with a lot of top players which helps with team chemistry too.
He has 96 Pace, 80 Physicality and 86 Dribbling – he has all the attributes to make him a great inexpensive RW option who can score a lot for you. The new "teammate run" feature supports players like Traore as you can trigger him to run behind defensive lines and find him with a through ball. He will be impossible to catch in these scenarios.
Rodrygo Silva de Goes (RW) – Real Madrid C.F.
This Brazilian who plays for Real Madrid has a great winger card this year. With an 87 Pace, 75 Shooting and 83 Dribbling – he is the perfect candidate to cut inside and aim at the near post, which seems to be an OP move this year.
He has a very balanced winger card. though he might not be as OP as Traore, he might be a steady backup option to most top wingers. For a team with a lot of Brazilians, he might be a great option.
He is versatile and can be played anywhere along the front line with no real decrease in his output. This makes him a great, cheap backup winger.
Ansu Fati (LW) – Barcelona F.C.
This 17-year-old had a breakout season last year becoming Barcelona's youngest goalscorer in history. His massive contribution was overshadowed by a turbulent season in the Catalan club.
But he has become one of the brightest prospects in world football and has drawn a lot of comparisons to the GOAT Lionel Messi. His FIFA 21 card reflects his meteoric rise with a great card that could become a sleeper hit.
He is bound to get upgraded cards through the season but grabbing him up early might be the best way to save a few coins and still exploit his 4-star skills, pace and eye for goal.
Dayot Upamecano (CB) – RB Leipzig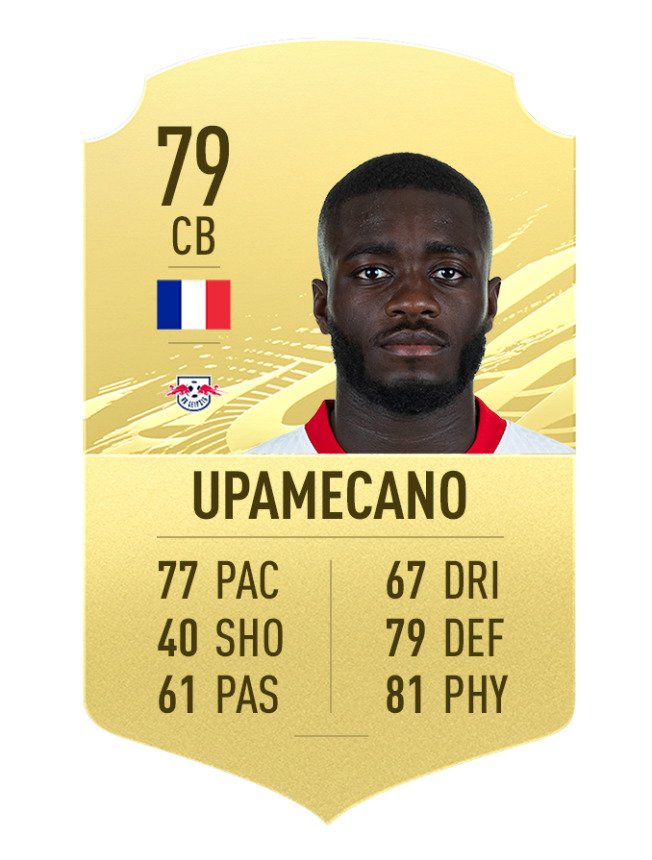 This Leipzig defensive mainstay is a 21-year-old defensive prodigy. This French international has been at the top of his game last season which is why a 79 rated FIFA card looked harsh to many. But it is one of the best inexpensive beast CB cards in the game.
With 77 Pace, 81 Physicality, 79 Defense and 67 Dribbling – he is a cheap Virgil Van Dijk build who is the bets CB in the game. Experienced players in FUT will find him to be very easy to play with and an absolute rock in defense.
Being only a 79 overall, he is a cheap alternative to more expensive CB options from the top 5 leagues in Europe.
Juan Cuadrado (RB) Juventus
This 32-year-old Columbian has been a revelation for Juventus at right-back. Formerly an attacking winger, he has in recent times revitalized his fledgling career by becoming an attacking RB.
This makes him one of the most potent RB's in FIFA 21 but is bound to be overlooked for more popular options like Trent Alexander-Arnold (TAA) from Liverpool. If you want a fast team from back to front and full-backs who regularly make overlapping runs to deliver crosses or pop a shot at goal, look no further than Cuadrado.
With 89 Pace (90 Sprint Speed), 72 Shooting, 78 Passing, 87 Dribbling and 72 Defending – he has one of the best RB cards in the game. TAA, who is the best RB in the game, has lower Pace, Dribbling and Shooting stats than Cuadrado. He could be a great option for most FUT teams as he is 81 Overall and would be much cheaper than any top RB's.
Vinicius Jr. (LW) Real Madrid C.F.
This 80-rated LW has been on the radar of the best young prospects for a couple of seasons now. He is a fast, skilled winger with a 4 -star weak foot and 5-star skill moves. His FIFA card shows off his blistering pace and dribbling skills which are great strengths this year.
He is a cheap alternative to other fast wingers like Neymar, Mane or Hazard. With 95 Pace he is faster than all the above three and can be a great option to get in behind opponent lines. No defender can catch up with him once he goes 1 vs 1 with the goalkeeper. Use the teammate runs to trigger his runs on the flank and try to play him through.
He also is a decent finisher as he can also play striker. This makes him a great asset to all teams and makes for a great cut-price LW option.
Alphonso Davies (LB) Bayern Munich
Coming off a Champions League victory and being a regular starter for one of the best clubs in the world, people were shocked to see Alphonso Davies 81-rated card. Many thought it was very low considering his exploits this season.
But because he constantly broke the fastest sprint records all season, he has a whopping 96 Pace. Combined with 76 Defending and Physicality plus an 82 Dribbling stat he is bound to be very popular this year in FUT.
He is a great modern-day full-back who has a very high skill potential and is ready to step up on the biggest stage of world football. He will be a great addition to an attacking 4-3-3 or 4-2-2-2 formations with overlap.
Felipe Anderson (LM) – West Ham United
This 81-rated LM is a seriously buff card. Even after a major downgrade from last year, he still retains his best stats and makes for an imposing presence with his dribbling skills and pace.
With 86 Dribbling, 85 Pace and 75 Shot – he could play on the wing or also on the left-hand side of a dynamic midfield three. He can cut inside and shoot and is bound to be very popular in the game in the crowded LM position.
He has 4-star skill moves and 4-star weak foot – he is bound to be a deadly goal scorer in FUT.
Inaki Williams (ST) Athletic Bilbao
This 26-year-old can play across the front three but has been classified as an ST after playing upfront for Bilbao last season. Even after a disappointing return of 6 goals from 34 La Liga appearances, his card looks like a world-beater. In fact, his stats resemble an 85-rated striker.
With 94 Pace, 78 Dribbling, 79 Shooting and 81 Physicality he can play as a pacey CF, Target Man or Complete Forward who makes run sin behind the opposition defense. When compared to other pricey options, he could become a cut-price legend this year on FIFA 21.
He is ranked in the top 20 fastest players in FIFA 21 and is one of the fastest strikers in the game.
Leon Bailey (LM) Bayer Leverkusen
This 23-year-old pacey winger is a huge talent and is being scouted by top clubs across Europe. His consistent performances have earned him an enviable card on FIFA 21.
With 94 Pace, 76 Shooting and 82 Dribbling- he can be a premium winger for even top-rated teams because of his dynamism and ability to bend the ball around to the far post using his preferred left foot. His 4 star left foot allows him to play on the right too.
He is one of the fastest players in the game, ranking in the top 20 and his other stats back up his great ability as a winger.
Hirving Lozano (RW) – Napoli
This Mexican forward had an injury-ridden season in Italy's top-flight. But his stats still reflect the player who shook the world with his amazing performances for Mexico in the 2018 FIFA World Cup.
With 93 Pace, 81 Dribbling, and 75 Shooting he can run past defenses with ease. He has a great cross on him and can adapt himself across a variety of positions and formations and is bound to be a FUT hit this year.
He is not a cheap option, however, with his Inform card costing anywhere between 91,500 to 115,500 coins. His normal 80-rated card is very cheap at 900 coins and is considered one of the best bargain options in the game. If you see a base price Lozano in the transfer market, go for it.
Portu (RW) – Real Sociedad
Portu who switched to the right flank from being a full-fledged CF, has one of the best 83-rated Right Wing cards in the game.
Having pace n the flanks is crucial in FIFA 21 and this player has oodles of it. Combined with 79 Physical, 79 Shooting 82 Dribbling and 81 Passing, he can be lethal in a variety of situations.
A cheap alternative to the likes of Sancho and Neymar, he can shoot, cross or cut-inside and be the lynchpin of your attack.
He will cost you anywhere between 1400 – 1600 coins and is an absolute steal at these prices.
Ferland Mendy (LB) – Real Madrid
This young wonderkid is an absolute monster in FIFA 21 monster. Since the release of the game, his card has become one of the most sought-after defender options. Fast, agile, and great going forward, he fits the mold of a FIFA 21 full back perfectly.
This year, full-backs are crucial to the gameplay. They bomb forward automatically in any formation of instruction and are unstoppable in the right areas. Crossing is so OP in the game that a quality full-back pairing is absolutely unavoidable while building the best FUT team possible.
Mendy is the perfect option for offensive builds in FIFA 21. Gifted with great pace, physicality, and crossing, he can dominate the left flank and be more effective than some of the LW'S going forwards.
Diego Carlos (CB) – Sevilla
This guy was the darling of the FUT faithful in FIFA 20. With great Inform and TOTW cards last season, he became a fan favorite. All that hype has earned him a great base card this season with stats comparable to players who are more expensive and have much better overall stats.
He is a much better option than players like Pique, Hummels and Skriniar who will all be 2-3x his price. With 77 Pace and great defensive and physical stats, he can push around the biggest forwards and pose a threat from corners.
His defensive awareness and positioning make him a wall at the back and combined with the likes of Joe Gomez or Upamecano (also on this list), you can lull players into a false sense of security and shut them out at the back.
Conclusion
FUT is bound to attract millions of players. To set your team apart and surprise opponents you need to create a squad of capable players who offer the team something different compared to the traditional choices. These players offer pace, shooting, and physicality that will allow you to dominate opponents and save a few coins for that Messi Ronaldo partnership!