FIFA 21 career mode features a revamped transfer market with added buy options and a whole new training system to develop new players. The game has made it incredibly rewarding to unearth potential superstars and watch them grow.
Every year, there is a rush to find these hidden gems who will blossom into the best young players in the world as seasons progress. We have compiled a list of youngsters (18-21 years old) who can fit into the first team directly or will become strong first-team prospects in a couple of seasons.
Direct First-Team Players
These young prodigies are relatively unknown but can fit into most first-team setups seamlessly. They are players who show great potential and can be trained to become great assets in the near future. They are already well-rounded enough to make regular appearances for most elite teams but can be used as substitutes to impact the game from the bench.
Thiago Almada (CAM) – 73 (89 Potential)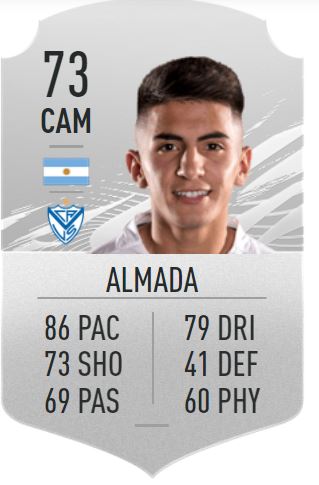 This Argentinian youngster has oodles of pace and is already an established finisher. Plying his trade in the Argentinian top flight, he was featured in the Guardian's Next Generation 2018.
In FIFA 21, he has a great potential of 89 which could go higher than 90 with consistently good performances. This puts him in line with some of the top tablets in the world like Sancho and Haaland. But you could get Almada for much cheaper at just around 8 – 11 million pounds (Compared to Sancho and Haaland who would cost upwards of 70 Million based on transfer strictness) in the first season. His value is 7.7 million pounds at the start of a career mode campaign. 
He is a great addition to any team and can be a backup attacking midfielder for most elite European clubs and a regular starter for some of the lower-ranked top-flight teams. He can play in the left or through the middle of the midfield and has a high attacking work rate.
Bukayo Saka (LM) – 75 (88 Potential)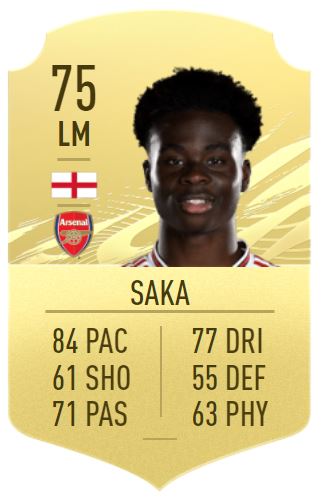 This English youngster who plays for Arsenal broke into the first team last season and has amassed a few starts since. He is an exciting player who can play anywhere on the left flank. He has already scored for Arsenal in both the Premier League and Europa League and remains one of the brightest prospects to come out of Arsenal's youth squad in recent years. 
In FIFA 21, he can grow to become an 88-90 rated player depending on how he is used. He has a very high attacking work rate and can score and assist plenty from the first season for mid-table sides in Europe's top five leagues. He can also play as a backup winger for top teams because his overall rises fast in the game. 
He can be acquired for a measly sum of 16-19 million pounds (10.8 million value) in the first season of the career mode which is a bargain for a pacey winger who guarantees plenty of goals in a couple of years.
Takefusa Kubo (RM) – 75 (89 Potential)
This Barcelona youth product who is now signed with Real Madrid is a special talent from Japan. Hailed as one of the most talented wingers of his age, he has been on the radar of FIFA managers for a couple of years now. 
An outstanding dribbler and quick off the mark, his pace and trickery have set the Spanish top-flight alight with his loan move to Villareal this season. In FIFA 21, he has a potential of 89 but this could climb to 91 if he is trained right.
You could acquire him in the second season of career mode as he is on loan during the first season. Expect to pay anywhere between 20-30 million pounds for him depending on how well he does during his year-long stint at Villareal.
Ansu Fati (LW) – 76 (90 Potential)
This 17-year-old had a breakout season last year becoming Barcelona's youngest goalscorer in history. His massive contribution was overshadowed by a turbulent season in the Catalan club.
But he has become one of the brightest prospects in world football and has drawn a lot of comparisons to the GOAT Lionel Messi. His FIFA 21 ratings show that this player has a 90 potential rating which could go up to 91-92 depending on his form and training.
Expect to pay at least 30 million pounds of him in the first season of career mode (He comes with a 36.1 million release clause). Grabbing him up early might be the best way to save a few million. He will be an immediate first-team player for the team capable of starts and appearances on the bench.
Mason Greenwood (LM) – 77 (89 Potential)
This Manchester United youth product has already broken into the first team scoring 10 goals in 37 appearances for them. A prolific player who can play on both flanks, he uses accurate passing and finishing to create and finish chances for his team. He recently made his international debut with England.
With a potential of 89, he can grow to be a 90-rated winger and one of the best players in the world in a few seasons. He is not the quickest player but has a great eye for goal. He is ready to be a starting player for most teams across Europe and will only get better with time.
He also has a 27 million release clause which means you can get him for a cheap price in the first season. But make sure you make the move early because he gets snapped up by the top clubs very early.
Future Superstars
Rayan Cherki (CAM) – 67 (88 Potential)
This guy is the new FIFA 21 prodigy like Bakkali, Mbappe, and Vinicius Jr from previous editions. With a 67 rated card, he can grow to 88 – this makes him a player with one of the highest growth potentials in the game. 
He can also play as a False 9 or a second striker. He can easily become a 90+ player with the right squad and training. Only 16-years old, he has already established himself as a player with an eye for goal in a competitive league.
Being far from the finished article, he is rather cheap in the first season of the game. He can be bought for 3-5 million pounds or loaned in with an option to buy. He won't be an instant star for elite teams but in a year, he will start proving his worth in the squad.
Florian Wirtz (CAM) – 68 (88 Potential)
This bright and young attacking midfielder, this player already looks like a top player in the making. He is scouted by some of the top clubs in the world and broke into a tough Leverkusen squad last season. he also has the record of being the youngest goalscorer in Bundesliga history after his 88th-minute goal against Bayern Munich.
This player can play in a range of positions like the left flank, secondary striker, or false nine in addition to the CAM position. Hailed as a natural goal scorer he has a high skill ceiling but is still not ready for a starting position for most top-flight teams. 
With a little training, he can become the best-attacking midfielder in the game in a few seasons. At 17, he has a lot of time to develop. With some training and regular cup appearances, you can unlock his amazing potential.
Jude Bellingham (CM) – 69 (88 Potential)
Another in the growing list of English payers who choose Germany as their learning ground to try and blossom into world-beaters., After the likes of Sancho, Ampadu. Lookman and Baker, this midfielder is showing great potential and is touted as one of the next big footballing prospects. 
In FIFA 21, he has the potential of 88 but can become a 90+ midfielder as he is just 17-years-old. With the right training and regular starts in his first two years, he can be a great addition to any team. He just needs a little time to grow as a player.
Being young, he will cost only 3-5 million pounds in the first season. Clubs who acquire him can be sure that he will become a regular starter in a year or two. He has great stats already and can be a great playmaker for the years to come.
Jérémy Doku (RW) – 81 (88 Potential)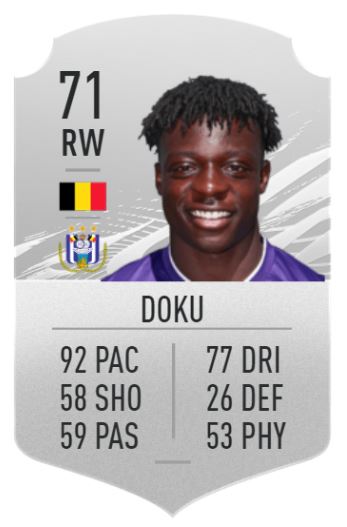 This young speedster playing in Belgium is one of the fastest plates on this list. Fast and strong, he is already gearing up to be one of the brightest wingers in a couple of years. He has a lot to offer many mid-table teams from top leagues.
With an 88 potential, with the right training, he could even be a 90 rated winger who can torment defenses and score 20+ goals per season regularly. Still just 18, he could break into the first team in a season or two.
In FIFA 21 career mode, he will cost about 5 million pounds in the first season. Acquiring him then would be a smart choice as his value will skyrocket in upcoming seasons. With great base stats, there is no ceiling to what this youngster can achieve.
Pedri (LM) – 72 (88 Potential)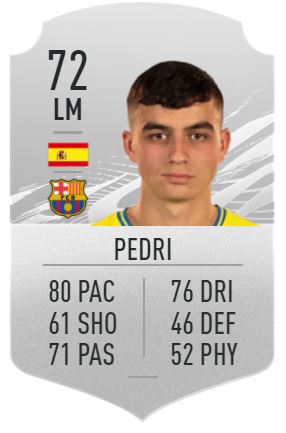 This highly-rated prospect was acquired by Barcelona earlier this year and at 17, has become one of their youngest players. Capable of playing across the midfield, he has established himself as a great passer and a dribbler and has shown the world his immense potential.
With an 88 potential, with the right training, he could even be a 90 rated midfielder in a few seasons. As he is only just bought by Barcelona, you might have to wait a season to buy him on a permanent transfer but you can still loan him with a future fee to buy him in your first season. 
His stats make him ready to be around the first-team action from the get-go. But he will really blossom in a couple of seasons with the right training and motivation to perform.