Since the arrival of Pep Guardiola, Manchester City completely transformed as a club. They've won the Premier League a number of times and finished 2nd to Chelsea in the Champions League finals in the 2020/21 season.
This had led the club to gain a pretty large following throughout Manchester, the UK, and the world as a whole – leading many FIFA players to want to play like their favorite team – Manchester City.
In this comprehensive article, I'll lay out every piece of tactical detail and instruction that you need to be aware of in order to replicate Pep Guardiola's Manchester City tactics to your team – be it when you play with Manchester City in Seasons/Career Mode or have a team of your own in Ultimate Team.
The things we're going to take a look at include Manchester City's squad formation, custom team tactics, and individual player instructions set by the Spanish manager.
Squad Formation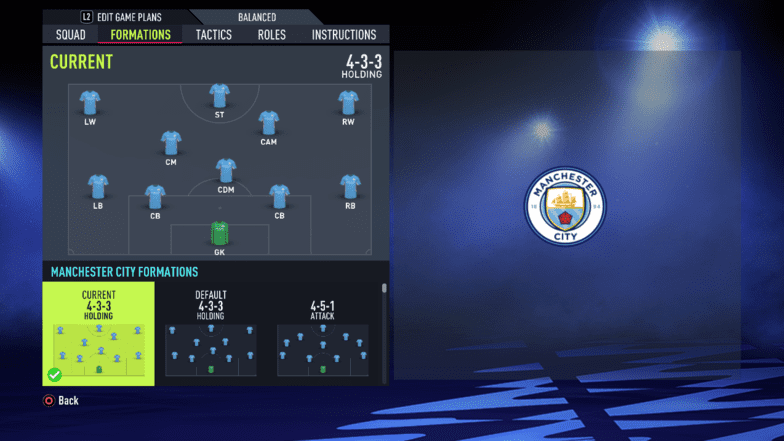 Pep Guardiola has been exceptional when it comes to the 4-3-3 formation. We've seen his success with it in Barcelona, Bayern Munich, and now in Manchester City. It just does the job very well.
You have four players in defense, three in midfield, and three upfront. Everything is nice and balanced, allowing the team to be exceptions in both offense and defense.
What does make Pep quite special is his use of players, regardless of the formation. He often allows complete freedom upfront while using the fullbacks as wingers to join the attack. More on that later.
4-3-3 is one of those formations that has a lot of variants, but what Pep likes to use the most is 4-3-3 holding. As you can see, in midfield, I've actually manually changed the position of the right CM, which is now a right CAM, as we often see De Bruyne play in that area as well as the wing.
Custom Manchester City Tactics
Every largely successful club strictly follows a set of general team tactics. They help the entire team to move together as one, which generally leads to better overall performance in what the manager is trying to achieve.
To replicate the exact team dynamics in FIFA 22, please refer to the defensive and offensive strategies below.
Defense
When it comes to all defensive efforts, Pep Guardiola likes to rely on the entire team as opposed to just the last four and the goalkeeper. This is why most upfield players have quite defensive instructions (more on that later).
If the team is not in possession, the whole team presses up high, similarly to Jurgen Klopp's Liverpool tactics with the only exception that the entire team is positioned much tighter together. This will prevent any gaps from opening up in the middle of the field – ultimately pushing the opposition to the wings if they want to advance.
To replicate Manchester City's defensive strategy, set your team's offensive style to "Press After Possession Loss", width to "20", and depth to "80".
Offense
Since Pep is the manager of Manchester City, you could imagine that most of his offensive efforts are quite similar to the past – particularly that to the vintage Barcelona Tiki Taka tactics that he used back in the day.
This means a lot of ball possession and slow build-up of play until an opportunity presents itself. When high up the pitch, one aspect of his offensive tactics that Pep has changed with City is the population of players in the box. This is mostly due to Manchester City having quite a few decently tall players at their disposal.
To replicate Pep's Manchester City offensive tactics, set your team's build up play to "Slow Build Up", chance creation to "Possession", width to 20, and players in box to 7 bars. As for corners and free kicks, set that on four bars.
Manchester City Player Roles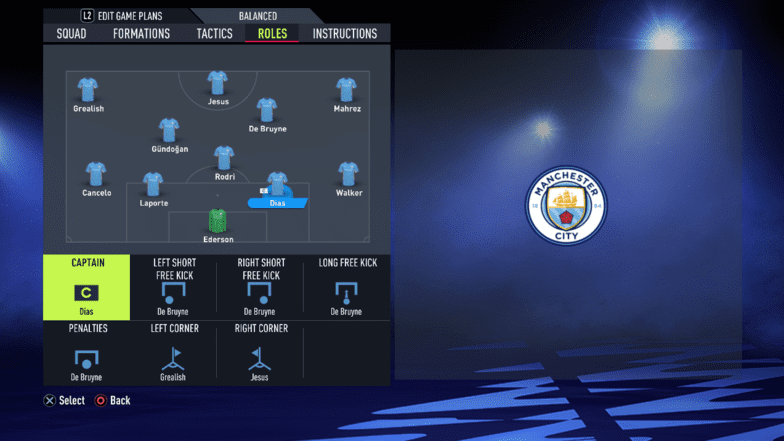 Every football club has a person for every set piece, regardless of its position.
In Manchester City's case, De Bruyne is responsible for all free kicks and penalties, while Jack Grealish and Phil Foden are the players that take the left and right corners respectively.
Custom Player Instructions
Besides general team instructions that every player should follow, Pep Guardiola allocated each of the XI players individual responsibilities and instructions to follow depending on their skillset. I'll break them all down below.
Striker
Since the departure of Aguero, Jesus has very much taken on the responsibilities of the Argentinian. He has very similar stats to Aguero, making him the perfect substitute. Under Pep Guardiola, the Brazilian is responsible for spotting opportunities, getting in behind the defensive line, and scoring goals.
Despite being the main man in attack, Jesus also has plenty of defensive responsibilities. In case the ball is lost, he is instructed to run back and help the team – making him the first line of defense.
To mimic his individual instructions, set your striker's support runs to "Balanced Width", attacking runs to "Get In Behind", interceptions to "Normal Interceptions", and defensive support to "Come Back On Defense".
Right Winger
The right-winger for Manchester City, Mahrez (or anyone that plays in his position under Pep for that matter) is responsible for working up the defenders on the right side of the pitch. That means cutting inside, getting in behind the defenders, and crossing the ball in – all that.
Besides the obvious advantages of moving around and dragging numerous players out of position, this style of play from the RW allows De Bruyne (the CAM) to advance towards the box and shoot or even have an available player (the RW) that he can easily pass the ball to on the wing when under pressure or to extend the field of play for a cross in.
To mimic Mahrez's real-life tactics, set your left winger's defensive support to "Come Back On Defense", chance creation to "Cut Inside", support runs to "Get in Behind", support on crosses to "Get Into The Box For Cross", and interceptions to "Normal Interceptions".
Left Winger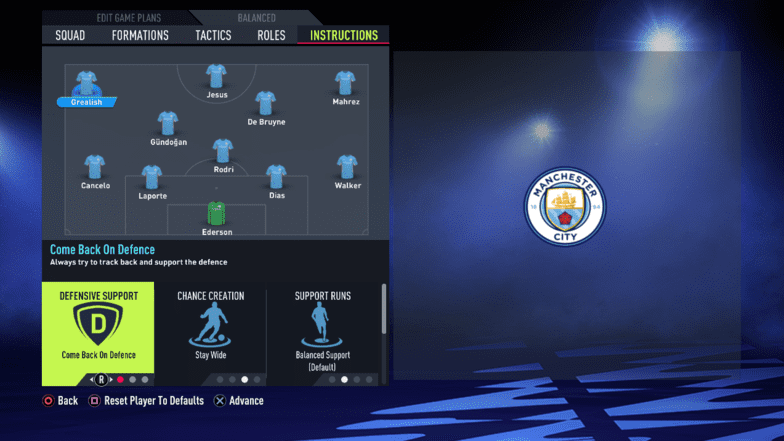 Similar to the fullbacks, Pep Guardiola has entirely different strategies for each of his wingers. While the right-winger is allowed to get in behind and cut inside, the left-winger must stay wide, provide balanced support runs, and get into the box for crosses.
The core reason why Jack Grealish isn't overly aggressive with his supporting runs like Mahrez is because he has the support of Cancelo, who will be overlapping him and seeking the ball or dragging opposing players far up the pitch near the touchline.
To replicate the instructions of Jack Grealish (or for the right-wing position as a whole) at Manchester City, set your player's defensive support to "Come Back On Defense", chance creation to "Stay Wide", support runs to "Balanced Support", support on crosses to "Get Into The Box For Cross", and interceptions to "Normal Interceptions".
Right Attacking Midfielder (Custom Position)
De Bruyne is one of Manchester City's most valuable and skillful players. For that reason, rather than keeping him in midfield, Pep Guardiola has taken his chances and made De Bruyne a RAM (right attacking midfielder) or simply a CAM but just a bit to the right between the ST and the RW.
His responsibilities lie in distributing the ball from midfield to the front three, drifting wide and crossing the ball into the box where the front three and Gundogan will be, and waiting for any rebounds on the edge of the box when Cancelo overlaps the LW and crosses the ball into the box.
In a lot of cases, De Bruyne also pulls back to help in defense, especially if the ball is suddenly lost high up the field and a counterattack is initiated.
To copy his offensive and defensive style of play from real life to FIFA 22, set his defensive support to "Come Back On Defense", support on crosses to "Stay On Edge Of Box For Cross", positioning freedom to "Drift Wide", and interceptions to "Normal Interceptions".
Center Midfielder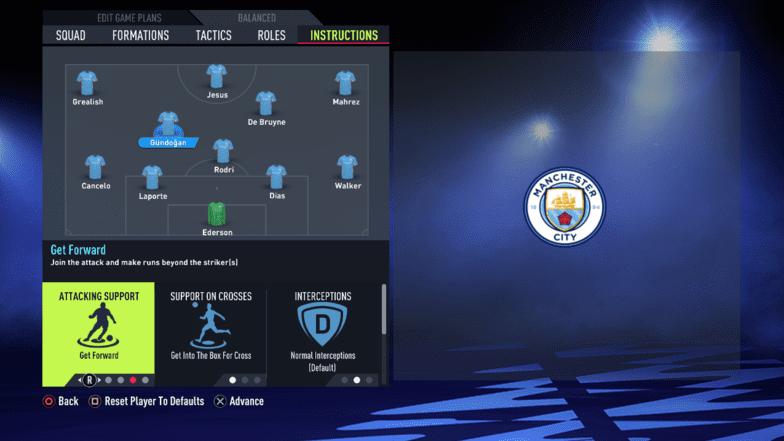 Though in the 4-3-3 holding formation there are two midfielders and a CDM, with the minor adjustments of the XI line up, we only have one actual midfielder, Gundogan. As mentioned above, this is because De Bruyne often takes the responsibility of playing around and behind the striker as a CAM, or in this case as a right center attacking midfielder.
The German national is more of an attacking player and thus, Pep Guardiola has allowed him a decent amount of freedom to join the attack if an opportunity presents itself and even go as far up as in the box to hopefully catch the ball from a cross in.
To mimic his real-life instructions to FIFA 22, set Gundogan's attacking support to "Get Forward", support on crosses to "Get Into The Box For Cross", interceptions to "Normal Interceptions", positioning freedom to "Stick To Position", and defensive position to "Cover Wing".
Center Defensive Midfielder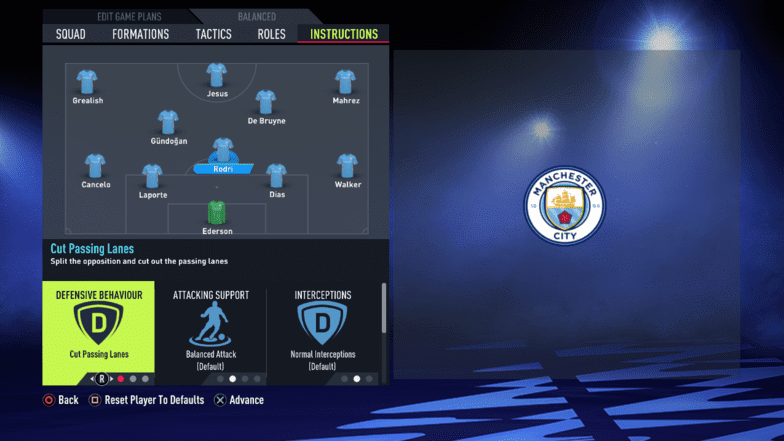 The center defensive midfielder is often the spine of every team, including Manchester City. Rodri has the crucial role to not only transition the ball from defensive to midfield but also help out tremendously in defense in time of need.
In real-life scenarios, he can often be seen playing mostly in the middle and free-roaming around when necessary to both receive the ball or advance quickly and create the foundations to a counterattack.
To replicate his exact instructions in FIFA 22, set his defensive behavior to "Cut Passing Lanes", attacking support to "Balanced Attack", interceptions to "Normal Interceptions", defensive position to "Cover Center", and positioning freedom to "Free Roam".
Left Back
In real-life situations, Cancelo is seen to support the offensive players on the wing alongside Grealish or Sterling. He's often seen to run behind and overlap the left-winger in the attempt to drag along the player that would otherwise be stuck with the LW.
Pep Guardiola developed this strategy back when he managed Barcelona and really made it work extremely well with Dani Alves and Jordi Alba. So, it comes as no surprise that he's trying to take his successful strategy and apply them to Manchester City.
To replicate Cancelo's defensive and offensive responsibilities, set his attacking runs to "Joint The Attack", interceptions to "Normal Interceptions", and run type to "Overlap".
Right Back
As I said above, the right-back and the full-back have different responsibilities when the team is in possession of the ball. The right-back, in this case, Kyle Walker, is often seen staying back when the team is in possession of the ball and essentially forming a line of three defenders while the LB pushes up high up the pitch to help with the attack.
In real life, Kyle Walker is also seen to help the midfield quite a lot and the whole team as a whole when the opposition is on a counterattack. Now, he does also run forward and utilize his immense pace to help the team out when the opportunity is there, but most often than not, you'll find him somewhere between the defenders and the midfielders on the wing.
In order to mimic his real-life instructions, what you want to go ahead and do is set his attacking support to "Stay Back While Attacking", interceptions to "Normal Interceptions", and offensive position to "Stick To Position".
As I said, if you do want him to run up the field with Cancelo during an attack, simply scrap the instructions from above and copy the one from the left-back above.
Center Backs
The center backs under Pep Guardiola have the responsibility for blocking the shots, being the final men in defense and protecting the net from advancing players, as well as helping the center midfielders in case they need help with keeping possession of the ball when the pressure is high.
To mimic their basic and fairly flexible real-life manager instructions, simply leave every setting as it is.
Goalkeeper
Ederson isn't the type of keeper to just sit back and try and save a couple of shooting attempts. Rather, he likes to be up there with the players and take risks for the better of the team. That includes coming out and punching or catching the ball on crosses or making saves outside of the box on counterattacks.
To replicate his abilities in real life into FIFA 22, set his saving on crosses to "Comes for Crosses" and saving outside box to "Sweeper Keeper". Do note that this is quite risky as in every FIFA that I've ever played, for whatever reason, opposing players gain a very noticeable advantage of heading the ball into the net if the keeper isn't on the line.
To prevent such scenarios from resulting in a goal for your opponent, you'll need to bring the keeper out as soon as possible and commit to catching or clearing out the ball. The worst thing you can do is to bring the keeper out and stop halfway through when you're in doubt if he'll reach the ball before the opposing player.
Final Thoughts
Like with Barcelona and Bayern Munich, Pep Guardiola has done a fantastic job at managing Manchester City and making them the team that they have become. Though the tactics may change from game to game, above, I've introduced to Pep Guardiola's Manchester City tactics that the Spanish manager most often goes back to and finds most success with.
If you're playing with the exact players listed in my starting XI for Manchester City, then do make sure to copy everything to the T. However, if you have got a team of your own on Ultimate Team or Career Mode and simply fancy implementing Manchester City's tactics into your own team, then feel free to copy bits and pieces but don't forget to adjust the tactics and player instructions accordingly.