This is the third Squad Building Challenge in the Hybrid Nations category after the Final Four SBC and the Six of the Best SBC.
The Elite Eight SBC is where things start to get a little bit trickier within Hybrid Nations and you will need to look for specific types of players as when SBCs get harder, the number of players you can use within them decreases.
Below, I'll share an example solution that shows you exactly how to complete the Elite Eight SBC in FIFA 22.
Then, we'll talk about why the solution works so that you can figure out certain changes that can be made to make it even more profitable for your squad. Hopefully you can go on to pack one of the FIFA 22 meta players and make a whole load of cash for the price of half of a Premium Gold Pack.
Stick around after the solution to make sure you submit this in the most profitable way.
Elite Eight SBC Solution for FIFA 22
To complete Elite Eight SBC in FIFA 22 with with no loyalty needed, you can use this team as an example: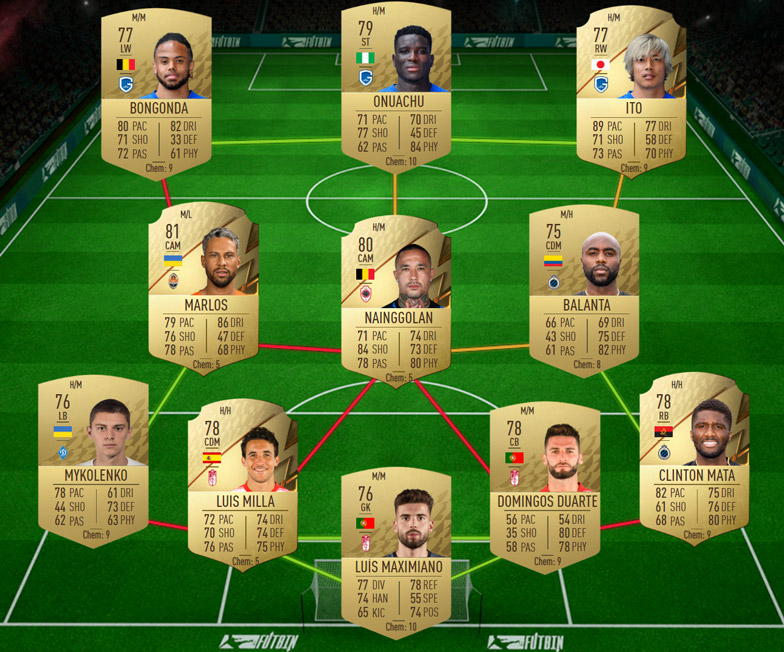 The players included are:
Luis Maximiano (76)
Mykolenko (76)
Luis Milla (78)
Domingos Duarte (78)
Clinton Mata (78)
Marlos (81)
Nainggolan (80)
Balanta (75)
Bongonda (77)
Onuachu (79)
Ito (77)
As this is a no loyalty Elite Eight FIFA 22 SBC solution, it's usually to be expected that the prices of these listed players will rise in price — or at least can do from time-to-time, especially in the early stages of the game but also if a player's team is required in a Marquee Matchups SBC or something similar.
In order to stop yourself overpaying for players, first, check that none of these listed above are particularly expensive on the transfer market. If they're all cheap then you're good to go.
If any of them are looking like they might cost a few thousand coins, that's already too pricey and you should look to swap certain players out. I'll tell you exactly how to do that, and which players to look for instead, below.
What Does the Elite Eight SBC Require?
In order to complete the Elite 8 SBC in FIFA 22, you'll need to submit a squad that follows these restrictions:
Exactly 8 nationalities
A maximum of 2 players from one nation
A maximum of 3 players from one club
A minimum of 3 rare players
All players are gold
Minimum chemistry of 88
As there are no restrictions in leagues in this one, other than the maximum of 3 players from a specific club rule, you can in theory use the same league throughout this one. However, that gets a little tricky when it comes to the nationality rules (exactly 8 different nations need to be used but you can only use each nation a maximum of two times).
For this to work you need 5 players that are from unique nations on their own and then a further 6 players, broken down into 2 players from 3 differing nations. The league does matter though because we will need some orange links in order to make the chemistry hit the minimum requirement of 88.
Here's another example solution, pay specific attention to where the green and orange links line up: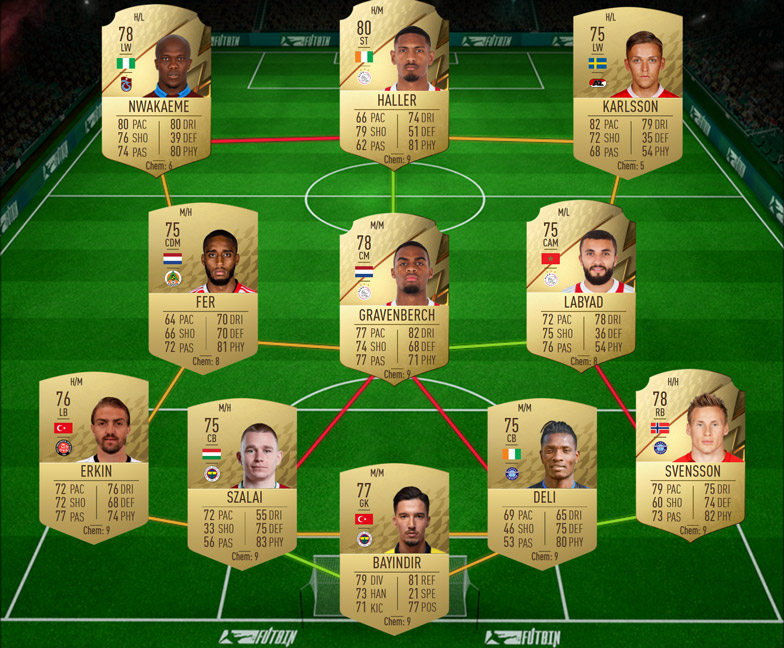 I won't list the names of this one to help prevent the prices being driven up.
What you will see when looking at the chemistry links is, firstly, they're a little different to the first example. In example 1, our right back linked to the midfielder, but here it doesn't. However, in this second example, our center backs link to the left and right back whereas they were an isolated green link triangle (the center backs and the GK) previously.
What does this mean? Well, it means you have multiple options that you can consider in terms of making the chemistry work. Ultimate, it means this is easier than some SBCs that are out there.
What I recommend for this one is to use one league as much as you can.
In your CBs and GK, opt for 3 players from the same club with two different nationalities used. This will give you a solid chemistry base to work with.
Your three attackers could also be from the same club, as long as different nations are used for each position.
Once you have the six players in above, it's much easier to fill out the rest of this Squad Building Challenge.
When I submitted, I did manage to use the players used in the first example whilst prices were low, and perhaps you can too — have a look!
Once you've submitted this one, it's time to move on to the FIFA 22 Around the World SBC.