Making a name for yourself on the world stage and becoming a true football legend starts with small steps. The first one is breaking into the starting lineup in your first club.
Choosing a smaller club early on, or at least a club with low competition in your particular position seems like the logical first step for an easier road towards the starting lineup. You don't want to be competing with superstars for a starting spot.
However, if you focus on the right things, you might be able to move just about anyone from their starting spot and start getting those minutes to yourself.
Here is how to become a starter in FIFA 22 Career Mode.
Focus on the Right Attributes Early on
The first thing you need to do is set yourself up to have good games and make the most out of the early opportunities you'll get.
This means focusing on the essential attributes for your position instead of taking an all-around approach and trying to do too much. For starters, you don't need to put any points into your Stamina for the entire preseason. You'll be playing for limited minutes so, even if you hold the Sprint button the entire time you're on the pitch, you won't come close to getting tired.
The specific attributes you need to focus on will depend on your position. In my playthrough for this article, I played as a winger, so I put most of my attribute points into Pace. I reserved some for Finishing just so that I can direct the ball towards the goal when I get the opportunity.
I also decided to disregard passing attributes early on since this is more affected by my own passing IQ and reading the game. Passing attributes really come into play when you want to try killer balls, weighted passes, etc. – which I won't be doing.
Use the Preseason to Gain Manager Rating
The preseason will be the perfect opportunity to get on your manager's good side and earn Manager Rating.
To do this, don't try too hard to score goals, execute flashy dribble moves, or go for glory with long shots. Play it smart and try to get the best rating possible by doing what's required from your position. You'll see your match rating changing all the time, depending on your moves and decisions. You'll also see feedback for each move you make. Bad passes, bad shots, and – most importantly – asking for the ball too often when badly positioned will all negatively affect your rating.
The crucial thing to do during the preseason is to focus on your Match Objectives, which we'll cover in the next section.
Focus on the Match Objectives
The crucial factor that affects your playing time is Manager Rating. The best way to increase your Manager Rating is to fulfill as many Match Objectives, as consistently as you can.
Most of your early Match Objectives, both during the preseason and once the season starts, will be relatively easy to achieve if you just play the game the way it's supposed to be played. Make smart passes, well-timed runs, and don't shoot from impossible positions.
For me, the most common Match Objectives during the preseason were:
Have a dribbling success rate of at least 50%
Have a passing success rate of 55%
Get a certain Match Rating (usually 7.0)
Take 2 shots on target
Complete 3 passes in the opposition half
For some of these, you'll have enhanced targets that give you more XP. For example, to gain Manager Rating, a 55% pass success rate would be enough, but getting to 65% will give you an extra 1,000 XP and a +5 Manager Rating bonus.
It might not sound like much but these things can add up. During the preseason, this is the single most reliable way to increase your Manager Rating.
Put in Effort in Training
Right after the preseason, there will be a long period with no fixtures played. If you just sim through this entire period, you'll see your Manager Rating dropping off significantly. But, the best young players and wonderkids are known for their work ethic so you should use this time to develop your skills.
Stop the simulation by tapping Circle/B and go to Training. You can schedule three drills in any given session and getting A grades in all of them will give you massive amounts of XP and a small Manager Rating boost. You can train up to three times each week.
An important thing to remember with training is that, once you get a high grade in a certain drill, you can simulate it the next time and get the same high grade. In other words, you only really need to get an A rating on a drill once and you can simulate it forever, always getting an A. This can save you lots of time, plus certain drills are really simple so they can get boring and repetitive.
Another thing to keep in mind is that you'll get an XP bonus when you play a drill for the first time. This motivates you to essentially do all the drills instead of getting A's on certain easy ones and simulating them until the end of your career.
Training is one of the best ways to not only increase Manager Rating, but also earn skill points and improve players in FIFA 22 career mode. Depending on the drill you choose, you can get thousands of XP points that can speed up your progress, especially early on.
That's why it's important to choose the right drills. For example, getting an A grade on the Dribble Shot drill will get you 1,000 XP. Doing the same thing on the Through the Gap drill only gives you 700 XP. It might not seem like a lot but do the Dribble Shot drill three times and you'll earn 900 XP more, which is like doing an extra drill every week.
Build Your Player through Attributes and Perks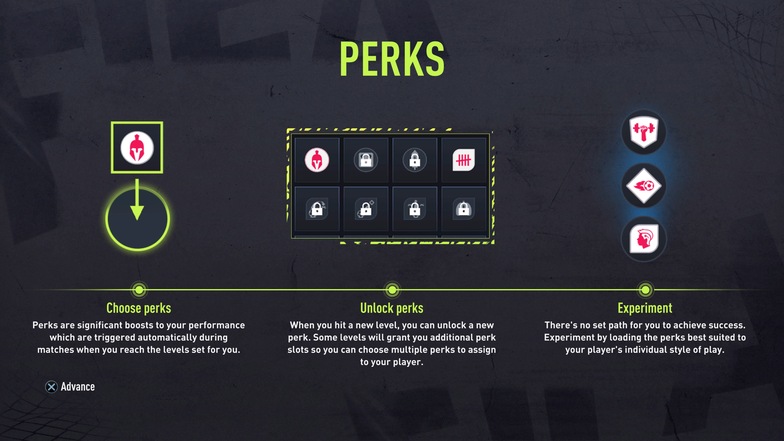 Earning XP will enable you to upgrade your skills and get a better OVR.
Now, getting a better OVR won't directly affect your chances of becoming a starter in FIFA 22 – I became a starter with a 73 OVR, pushing out a player with 82 OVR. The game obviously takes into account only the Manager Rating as a key indicator of your skill and merit.
However, better attributes and Perks will allow you to perform better and hit your Match Objectives more easily. This will translate to higher match ratings and more trust with your manager.
Focus on the attributes that will allow you to do what your position requires and don't forget about Perks. They can give you a massive performance boost or even improve your teammates' skills so that your entire squad performs better as a unit.
Final Word
Becoming a starter in FIFA 22 Career Mode is a matter of patience and consistency. You need to play things smart, focus on Match Objectives, and never let your Manager Rating drop.
Do some of the best (1,000+ XP) drills manually early on so that you can have them in your arsenal and simulate them for a quick XP boost. Ultimately, you'll be able to become a starter relatively early in your first season, as long as you do all the things outlined in this article, and do them consistently.
If you don't manage to establish yourself in the preseason, don't worry – you can slowly make your way to the first team either from the bench or by getting loaned out.