Keeping control of your squad is one of the most important things to do in FIFA 22 Career Mode if you want to win consistently.
This means both keeping track of your players' match sharpness and team morale, among other things. While getting high match sharpness in FIFA 22 is quite straightforward, keeping your players' morale high is a little trickier. It depends on a lot of factors that all work together so you'll have to monitor their morale closely and adjust accordingly.
Here is how to increase team morale in FIFA 22 Career Mode.
Win Games
This is pretty self-evident – losing games will have a negative impact on your team morale and impact the entire squad. Much like in real life: when the results aren't there, the general atmosphere turns sour and the locker room isn't a fun place to be in.
In my experience, winning games is one of the most reliable ways to keep your players' morale up and give them a boost. It can even override some of the personal issues your players might have (which we'll get to later). Conversely, losing games can have a big effect on players even if everything else is going their way.
Don't Overtrain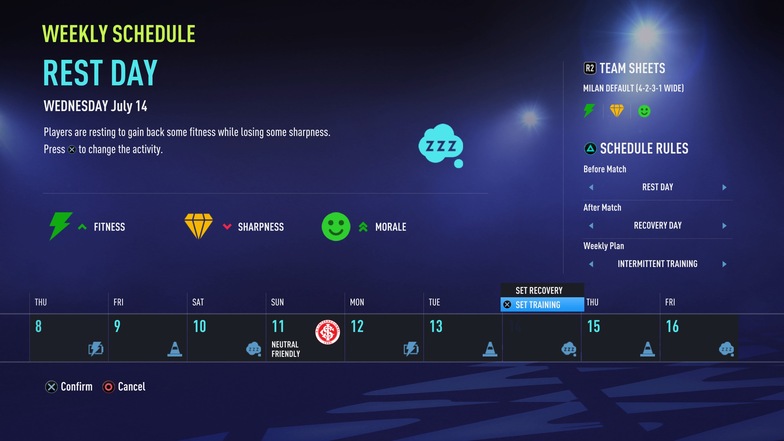 While training is important to keep your squad fit and ready throughout the season, overdoing it will have a negative impact on your team morale.
One rest day before and one day after the game are absolute necessities. For all the other days, the default schedule will be training every other day. You can manually change your schedule to get your players' fitness levels up but be careful – too much training and they won't be happy!
Also, including defenders in attacking drills and vice-versa might have a negative effect if done multiple times.
Give Good Answers in Press Conferences
Before and after games, you'll have the opportunity to answer some questions from the press about your team's recent performances, season plans, etc.
Always aim to give the most optimistic, empowering answers – they'll be quite obvious. There is no reverse psychology in FIFA 22, you can't criticize your players and expect their spite to kick in to prove you wrong. If you're in doubt, the answer on the left of the dialog box always seems like a safe bet.
The questions that relate to a particular player will be the most important. When these questions show up, you'll see said player's morale bar filling up or going down, depending on your answer. Again, always try to praise and motivate the player.
Here, I expressed confidence in Alexis Saelemaekers as a starting RW after selling Samu Castillejo and he immediately went to Very Happy.
Chat With Your Players to Keep Their Morale High
From time to time, you'll get players coming to talk to you for various reasons. Just like with press conferences, aim to motivate them and essentially tell them what they want to hear.
Here, I had Ibrahimovic apologizing (as if that would ever happen) for having a disappointing preseason.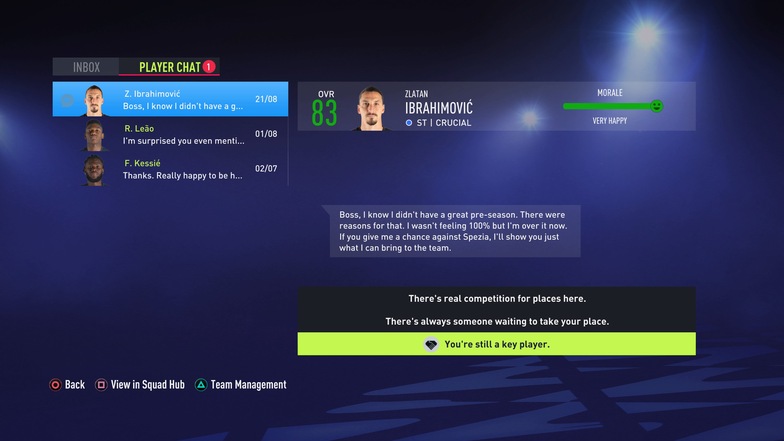 He got a reassuring answer and his morale went up, as you can see in the top right corner. Now, whether or not I'll actually give him key player minutes – that's a different story. But, for the purpose of keeping his morale up, I may have lied to him.
Fortunately, the players won't hold on to these statements and expect more minutes simply because you had this conversation.
Treat Your Players Right
This mainly means three things:
Give everyone playing time
Keep everyone happy with their wages
Make sure everyone performs well
The first point is especially important and you'll often see players going from Happy to Content just because they missed a few games or started from the bench. Give everyone a chance at least in cup games to keep them as involved as you can. The best young players in FIFA 22 will often be expecting some starts early on so make sure to accommodate them.
Role players will usually be quite reasonable but, occasionally, a role player won't think of himself as a role player which can cause issues.
Player form is also an interesting factor that affects their morale – when a player gets into a slump, makes a few consecutive mistakes and gets bad grades, they'll apparently blame themselves and their morale will drop. There's nothing you can really do here except playing them against weaker teams or trying to give them scoring opportunities until their form picks up.
Final Word
it's really not that hard to increase team morale in FIFA 22 Career Mode – perhaps the most challenging task is to keep everyone happy with their minutes and starts.
Other than that, you need to do your best to win games and keep the players motivated through press conferences and 1-on-chats.
If you're having issues sharing the playing time, you might want to consider selling a player. In most cases, a player will complain when he feels like he should be playing more but his place in the team is usually taken by a better player. If that's the case, selling the unhappy player might be the best way to go. You can bring in a young talent or a role player/veteran who is happy to play support.