One of the best parts of Madden Franchise Mode is looking to the future. Sure, you would like to win the Super Bowl in your first season, but there is something so much more satisfying about putting in the hard yards and creating your very own dynasty. That's the best type of team to manage in Madden 23 Franchise Mode, in my opinion.
You get to watch the best young and talented players grow and flourish under your tutelage and take you all the way to the biggest stage over and over.
To achieve this, you must have a strong core of young, talented players that you can build your squad around.
Unfortunately, high-quality young talent won't come cheap. But, once you have traded for the best young players in Franchise Mode, the results should quickly repay your investment.
If you're scouting for the top young players to trade for in Madden 23 Franchise Mode – the ones you can actually get your hands on – you should check out these gems.
Evan Neal, OT – New York Giants (77)
The first name on this list is one of the biggest, both in profile and in stature. Evan Neal is a giant and anchors the Alabama offense. Last year, Neal was in charge of protecting Bryce Young, another hot prospect, and did a solid job.
Given his high ceiling, Neal could be an excellent piece to build your franchise offensive line around.
When the New York Giants picked him up, many saw this move as a strong option for their front line, and he looks like an excellent investment for the next ten years. Neal was a five-star prospect, the #32 overall prospect, and the #4 offensive tackle.
Jordan Davis, DT – Philadelphia Eagles (78)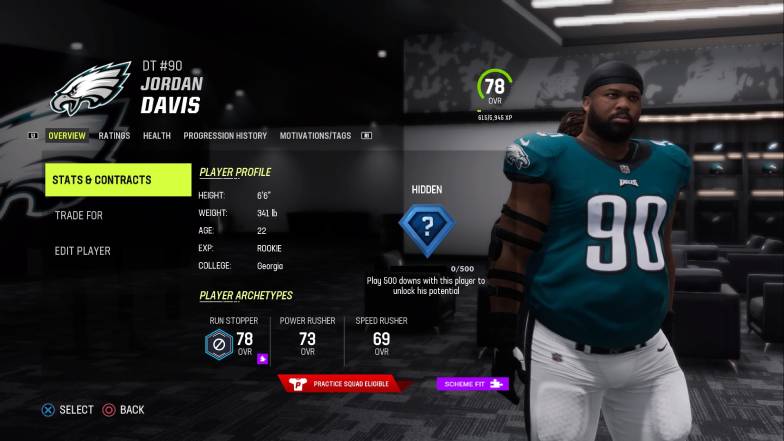 Next on this list is another big man, and certainly not someone you want to mess with on a football field. His credentials are strong after being the anchor for the Georgia Bulldogs as they won the national championship last year. Due to this team's success, he has managed to score a very strong 78 overall score, meaning you can slip him straight into your roster and watch him go from strength to strength over the coming seasons.
Davis didn't put up massive pass-rush numbers last year, but that's not to say you can't change that with him working under your tutelage!
Ahmad Gardner, CB – New York Jets (78)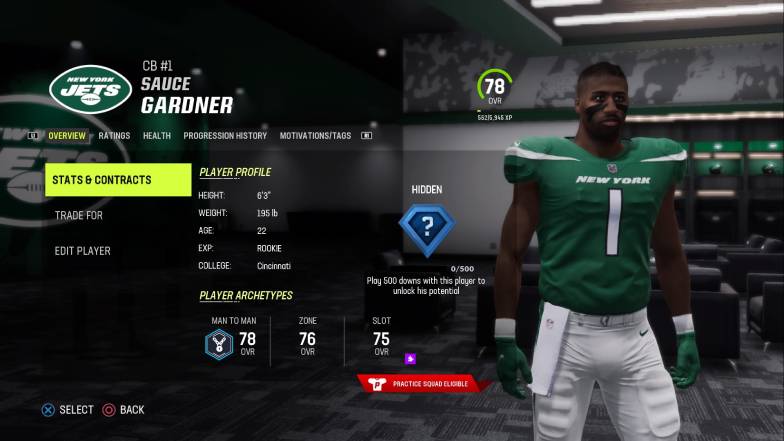 For anyone that followed the 2022 NFL draft, this suggestion should come as no surprise, Ahmad Gardner is easily one of the most exciting defensive back prospects of the coming season, and his Madden statistics also convey that.
Gardner was a member of what was deemed an elite draft class for the Jets and is expected to start in his first season. So, if you are looking for a CB with huge potential that can immediately improve your team, Ahmad Gardner could be an excellent choice for you.
Aidan Hutchinson, DE – Detroit Lions (77)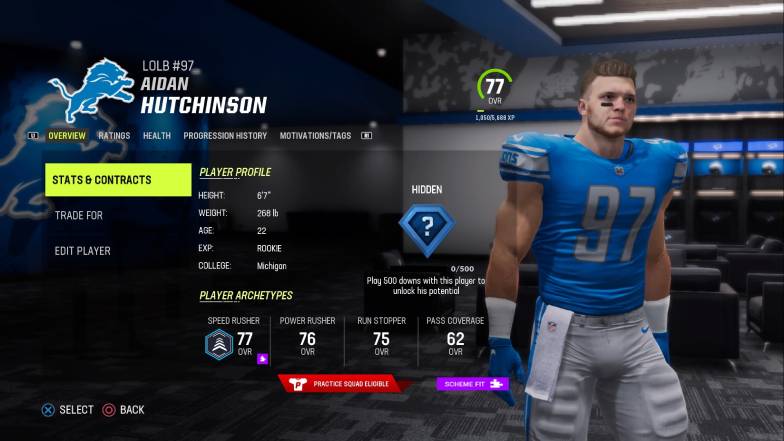 In real life, it might be tricky to persuade Aiden Hutchinson to move away from Detroit after he has made it his College and NFL home, but it might be easier to get him to move in Madden 23.
If you can get him at the right price, Hutchinson would make an excellent addition to your defensive setup as a player who can slip straight into your system and dominate on your defense for years to come. Hutchinson had a fantastic season for the University of Michigan last year, which has led to him receiving a very respectable 77 overall rating for his first season on Madden.
Jameson Williams, WR – Detroit Lions (78)
With two names on this list, the Detroit Lions could be an excellent franchise for you to start your journey with!
This man can catch the ball really well, Although he only had a single season at Alabama, it was enough to get an incredibly high rookie rating on Madden. In real life, Jameson will need to overcome his torn ACL, but in-game, you can expect to see him flying down the field soon, looking to create space and receive a pass from your QB almost immediately.
If you are interested in adding some much-needed firepower to your passing offense, Jameson Williams is a great choice for your roster. Don't expect Detroit to give him up cheaply, but he is sure to be worth the price as an immediate starter and someone you can build your franchise around.
Derek Stingley, CB – Houston Texans (77)
Another CB option you might want to consider adding to your roster is Derek Stingley. At one point in his college career, Stingley was tipped to be the potential #1 overall pick in the draft, and although that did not come to fruition, he still has a strong overall rating of 77, with plenty of potential to improve over the coming years.
Breece Hall, RB – New York Jets (76)
The second-to-last name on this list is Breece Hall, one of the most productive backs in college last year, playing for Iowa State. Hall ended his college career with 3,941 yards (5.5 per carry) and 50 touchdowns. On top of that, he had 82 catches for 734 yards and six touchdowns. These statistics resulted in a top-quality overall score of 76 on Madden 23 and all of the individual attributes required to become an all-star player.
If you are searching for a new RB for your team that you can build your running game around for years to come, then Breece Hall is an excellent option.
Kenneth Walker, RB – Seattle Seahawks (77)
Based on his college statistics, there's every chance that the Seattle Seahawks have landed themselves a new bell cow for the 2022 season, a prospect that is much more elusive than in previous seasons.
As the second overall draft pick, it is no surprise that Kenneth Walker starts with a 77 overall rating in Madden 23 after his superstar season in 2021 at Michigan State. Before his trade to Michigan, he had looked decent, but it was there that he really stepped up his game and became one of the most exciting prospects in the league.
If you are struggling to get hold of Breece Hall for the right price, or if you aren't willing to pay that little bit extra for your young, exciting RB, Walker could be the man for you.
Final Word
Adding a young player with top potential via Madden 23 trades will definitely come at a cost. Although the in-game technology is not the same as dealing with a GM in real life, the simulation is more than capable of understanding its roster's top players. Therefore, expect to give something up in return for getting the players you want.
There are plenty of talented youngsters in the league this season, and some will be easier to get your hands on than others. Keep an eye on the most important features such as ratings, X-Factor ability, and age.
While you're stacking up these young players, it is important to familiarize yourself with the best player development traits. This will be crucial for the growth of the young players, so be sure to check out the linked guide.