In Franchise Mode, there is no better way to build a team full of your favorite star players than with the fantasy draft feature.
Forget playing with one of the best teams to manage in Franchise Mode. Through 50+ rounds of simulated draft mayhem, this feature allows players to craft their team the way they see fit.
What kind of style of offense do you want to play? What side of the ball do you want to prioritize? What positions do you want to load up on? Do you want more good young players, and build a long-lasting dynasty, or do you want older veterans that can help you win now? It's all up to you, you get to make those decisions, and it all starts with that crucial 1st round pick.
There are so many choices to pick from in the 1st round of the Madden fantasy draft, and all those choices can take you in so many different directions for your franchise, but for the vast majority of franchise players, their top priority is always an offensive playmaker.
Allow me to break down the best 1st round picks in Madden 23's fantasy draft.
Quarterbacks (QB)
The most straightforward way to build an elite offense quickly is to nab a star quarterback with your 1st round pick. There are really 2 directions you could go if you want to take this 'star QB' path, you could go with one of the many young studs in the league, and lay the groundwork for a long-running dynasty.
The way you should go if you are more focused on winning now, you should build your franchise around a surefire future hall-of-fame QB with years of experience. If you choose this route and select a veteran QB in the first round of your fantasy draft, these are the best options:
Patrick Mahomes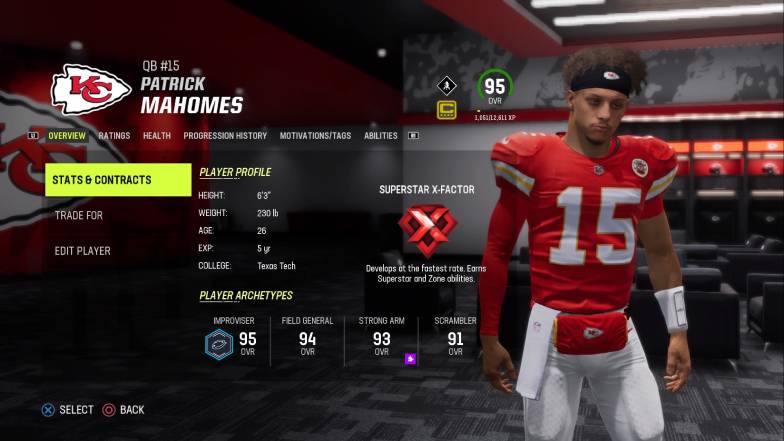 At 95 overall, Mahomes is the 3rd highest-ranked QB, right behind Brady and Rodgers, but may end up getting picked significantly earlier than those two, due to his youth and potential.
He is a fun player to play as, with his huge arm strength, athleticism, and his gunslinger archetype, he will likely be gone within the first 5 picks.
Lamar Jackson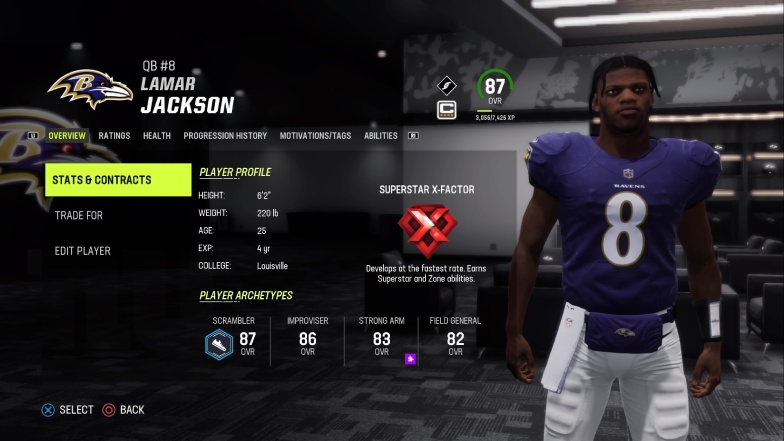 With an insane 96 speed rating, Lamar Jackson might take the cake as the most fun player to play in Madden 23. He's agile, with 95 agility and 96 acceleration, and can easily run the option and have immense success.
Running the ball with Jackson is smooth and exciting, he has a superstar ability named after him, specifically in regards to his running game, so if you draft him expect to be a run-first offense, and invest in a solid running back and offensive linemen in later rounds, so that you can fully utilize the option offense.
Lamar also doesn't lack throwing ability either, he is a true QB, with 92 throw power and throw accuracy numbers in the mid-80s. Perhaps his most impressive throwing attribute is his play-action ability which sits at an incredible 97, so you should have plenty of options on offense with Lamar Jackson as your QB.
Don't be surprised if he goes fairly early in the first round compared to his relatively low overall rating which sits at 87. He should go in the middle of the first round.
Aaron Rodgers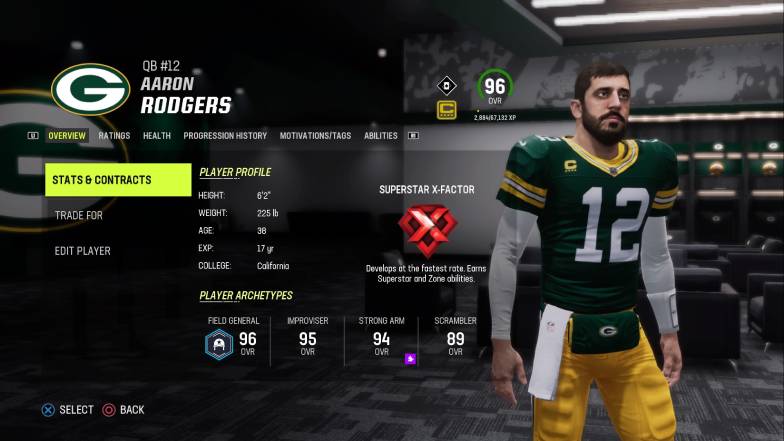 If you can't get Mahomes or Jackson, or if you want someone slightly younger with the ability to move around a bit more, Aaron Rodgers should be available for most of the 1st half of the 1st round, and immediately give you an MVP quality player with some of the best attributes in the game.
If you are planning on playing your franchise through more than just the 2023 season, and want to build a team built to win for many seasons to come, my suggestion would be to take one of these 4 young QBs, assuming they are still available by the time you pick in the 1st round.
Josh Allen
If you aren't lucky enough to have a top 5 pick to select Mahomes, Allen is a consolation prize with attributes similar to, and even exceeding those of Mahomes, although, he doesn't have as good accuracy numbers. Allen should also be off the board early, but if you have a top-10 pick, you should have a fair shot at nabbing him.
Joe Burrow
After bringing his team to the Super Bowl last year, Joe Burrow's potential is off the charts! If you can grab him for your team early in the 1st round, you will have a winning QB for decades to come in your simulation.
He has above-average ratings across the board, only slightly less impressive than Mahomes or Allen, but his younger age, and crazy good trajectory so far in his career, suggest his development could outpace both of them in this game.
Justin Herbert
One of the best young deep ball passers in the game, his deep accuracy attribute actually surpasses both Mahomes' and Allen's, making him a very attractive option for anyone looking to build a long-lasting air raid offense.
Herbert should be off the board right around the same time as Joe Burrow, so If you have a pick outside the top 20, you'll have to look somewhere else.
Dak Prescott
Now in his seventh year in the NFL, the former fourth-round pick has turned himself into one of the most solid quarterbacks in the league, at an 89 overall. He is the sixth-best QB in Madden and has above-average ratings across the board with low 90s ratings in all of his accuracy numbers.
Dak should be a solid first-round pick for anybody drafting in the back half of the first round who wants a competent QB that can make all of the tough passes. He isn't the most exciting player in the game, but he's a solid player who's still under 30, so he could be your franchise QB for another ten years or so. 
Running Backs (RB)
A great way to build an identity on offense is with a great running game, and this can be done with a great workhorse running back, who can carry the ball 20 to 30 times a game and really wear down an opposing defense. Here are the best options for RBs in the first round.
Derrick Henry
An absolute beast both in Madden and out of Madden, the 97 overall RB can run through just about anybody with his 99 stiff arm rating and his 93 trucking attribute.
He should be the first running back off the board in just about every draft. However, you should actually prioritize other positions in the first round because good RBs are in decent supply – the other positions, not so much.
Jonathan Taylor
A young rising star, Taylor is a guy that you shouldn't hesitate to take (but again, probably not in the first round). He's got elite speed and acceleration as well as above-average power skills.
Wide Receivers (WR)
Do you want an offense that can move down the field quickly, and pick up chunks of yards in just a play or two? Or perhaps you want to take shots into the end zone and need a big player to consistently go up and make big-time plays for your team.
These are the players in the first round that can easily rack up 100 yards receiving a game, and be the catalyst to your offense.
Davante Adams
The best receiver in the whole game, Davante Adams is 1 of only four players with a 99 overall rating in Madden 23. It wouldn't be unreasonable to consider him with the first overall pick in the draft if you are lucky enough to have it.
With a 99 catch, special catch, catch in traffic, and awareness rating, there isn't any receiver even close to being as good as Davante Adams is in Madden 23.
Tyreek Hill
The exciting and speedy Ty Hill is always a fun player to have in Madden franchise mode, the amount of things you can do with him, whether it's a deep go route, bubble screen, end around, or any number of exciting routes to maximize his elite 99 speed rating, Ty Hill is absolutely worth a mid-first-round pick.
While they may not be the splashiest players, and they may not have 99 ratings for speed or special catch, there is still a ton of value in a pass catcher that can touch the ball 10+ times a game, and consistently catch the crucial 10 to 15-yard passes for drive-extending first downs.
Workhorse pass catchers are critical to a franchise if you want to consistently get first downs and play steady, balanced football.
Cooper Kupp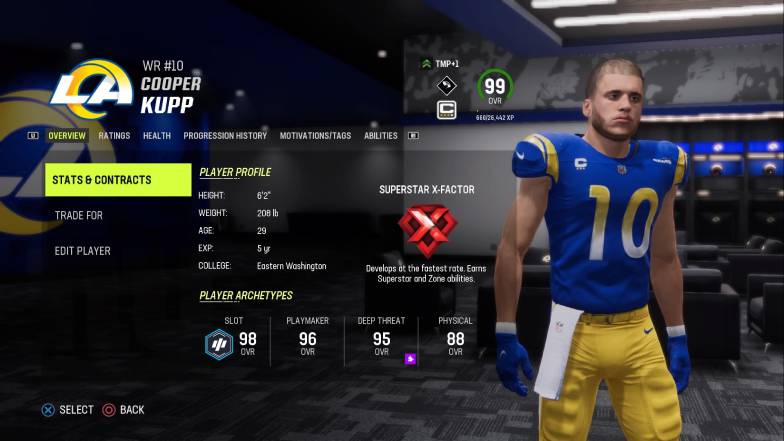 Outside of Davante Adams, there is no receiver more valuable in Madden 23 than Kupp, he has the same 99 rating as Adams in both awareness and catch but is slightly worse in the physical ratings such as speed, catch in traffic, and special catch.
He is a dominant receiver who can catch just about anything thrown at him. Don't be surprised if he gets taken in the first 15 picks.
Justin Jefferson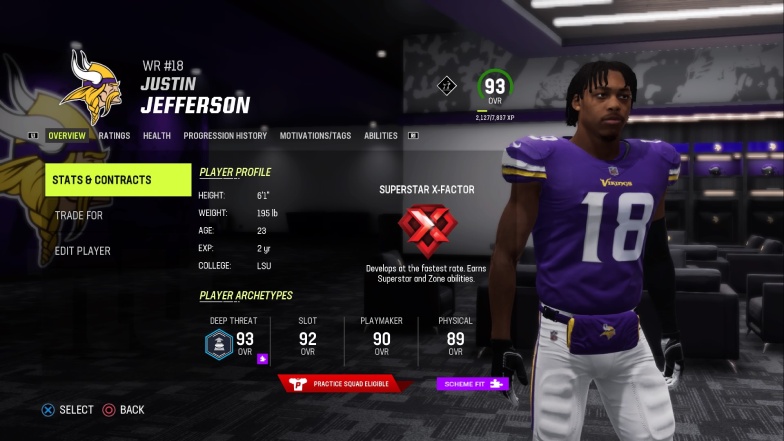 Jefferson has been at the top of the league in receiving yards in each of his first two seasons in the league and has risen as one of the best receivers of the past decade with his impressive stats so far in his young career.
You could make the argument that his Madden rating should be higher based on his impressive performance on the field in previous seasons, but the Madden Ratings adjuster seems to be a little hesitant in giving Jefferson elite-level attributes at this time.
Despite his fairly low (compared to his NFL production) 93 overall rating in Madden he is still a sure-fire first-round pick given his age being only 23, and his massive potential at the wide receiver position. Justin Jefferson should be a mid-to-late first-round pick.
Tight Ends (TE)
Travis Kelce
Tight ends always tend to wind up falling to later rounds in Madden fantasy drafts but don't be surprised if Kelce starts to break that trend. His ratings are just too good to ignore.
At 98 overall, I would be shocked if I saw him outside of the first round. He can and should be a 100+ reception type guy for the remainder of his career, and that is a very valuable asset to have in a tight end in Madden.
Tight ends can often end up being your go-to target when needing an easy first down. Travis Kelce represents the best of the best in that position, I would snatch him up if you see him near the end of the first round.
Halfbacks (HB)
Christian McCaffrey
Although we haven't seen him fully healthy in the NFL for a few years now, we would be fools to forget just how insane his toolset is. He is a 100-reception-a-season type receiver and a running back who can handle 15 to 20 carries a game.
He's a wide receiver in a running backs body, and his ratings in Madden reflect that. He should be a true first-round talent in your fantasy draft.
Defensive Linemen
Do you want to wreck offensive lines and sack the QB of the opposing team over and over again? Do you want to stifle your opponent's run game so much that they gain a total rushing yards in the negatives for the game? 
If you said yes, these 3 defensive line superstars should absolutely pique your interest…if you are lucky enough to have the chance to draft them.
Myles Garrett
While the regard for Myles Garrett may not be quite as high as for Aaron Donald, Garrett is still a top 3 defensive player and arguably a top 5 player overall.
His stats are incredible and so are his Madden ratings, joining Donald as the only other defensive member of the prestigious 99 overall club. Expect him to be a 15+ sack guy a season for your franchise.
Nick Bosa
As the younger brother to Chargers superstar, Joey Bosa, there were fears that Nick wouldn't live up to expectations…man were they wrong!
Nick has quickly surpassed his brother in terms of his skills and has put himself on the trajectory to one day become a 99 overall player, although he's not quite at those levels yet.
Bosa is a dominant player who is a double-digit sack guy right now, who has the potential to perhaps get 20+ for your franchise.
If you can get him near the end of the first round, I would consider that a very good pick.
Linebackers
T.J. Watt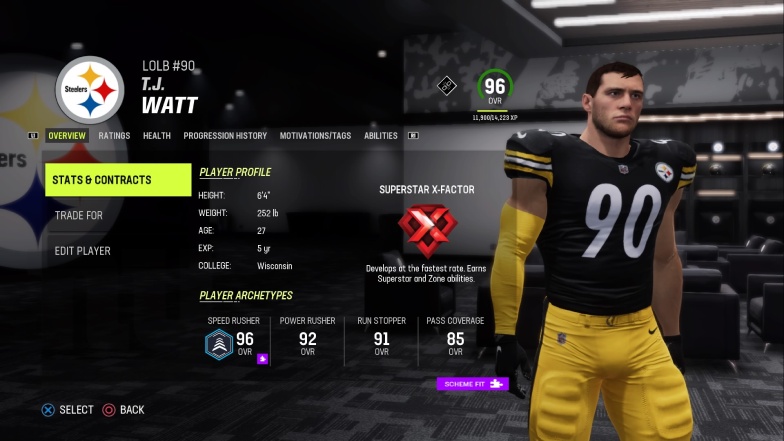 T.J. is yet another younger brother of a defensive edge player, who has now surpassed their older sibling.
T.J. Watt is a sack machine, tying the NFL single-season sack record last year with 22.5 total sacks. You could argue that T.J. Is undervalued in Madden 23, sitting at a 96 overall, behind two other pass rushers.
With a 96 rating in both finesse moves and pursuit, he is one of the best players in the whole game at getting past offensive linemen and finishing sacks on the QB. He is a middle-of-the-first-round pick guaranteed.
Fred Warner
At 94 overall, Fred Warner is the best player you can get at the middle linebacker position.
With linebackers often called the QB of the defense, you shouldn't be surprised that Fred Warner is one of the highest-valued guys in all of Madden. He's got great agility with an acceleration rating of 93, and he can read and react to the offense better than anybody else thanks to his 99 awareness rating. He has been dominant for the 49ers the last few years and that has been reflected in his Madden ratings.
Don't be surprised to see Fred Warner being picked as one of the first defensive players off the board. He could easily be a top-ten player in your draft.
Cornerbacks
If you are like me, then you find it incredibly frustrating when your secondary blows coverages when controlled by the CPU.
You can only user one player at a time, so you should make sure that the computer has the best players with the best traits available, in order to limit big-chunk plays by your opponent.
You need cornerbacks with great coverage ratings in order to succeed in Madden. Here are the best of the best that you should consider in the 1st round.
Jalen Ramsey
Hands down the best cornerback in Madden 23 and it's not even close, Jalen Ramsey has been the pinnacle of cornerback play both in real life and in Madden.
No one even comes close to better fulfilling the title of 'lockdown corner' than Ramsey. With a man coverage rating of 98 and a zone coverage of 99, he's at the top of the league in both major coverage categories. There won't be any blown coverages on his side of the field that is for sure.
Ramsey is easily a top-10 talent. If he does fall that far in your draft without being picked, and you have a chance to get him outside the top 10, it would be criminal not to.
Jaire Alexander
A young version of Ramsey, Jaire Alexander still has a ways to go before his ratings are as elite as Jalen's.
Alexander is an incredibly athletic player, who in real life is known for playing outstanding man coverage, and being able to stick with his man extremely well, which is reflected by a Madden rating of 96 in man coverage. I actually think it is still too low given his skillset and highlights in the NFL, but it's a huge in-game statistic nonetheless.
He certainly won't go as high as Ramsey, but Alexander should still be a 1st rounder given his ratings and potential; he is only 25 after all.
Budda Baker
While Baker isn't technically a cornerback, he has the versatility to play that position if you needed him to. His natural position is at safety – strong safety to be exact – and he's a bit of a sleeper pick on this list.
His overall rating places him well outside the top 32 players, as the 47th best player in the game, but with his intangible ratings so high (a 92 awareness and a 95 play recognition) and some of the other players ahead of him getting older, Baker may be a very good value pick in the late stages of the 1st round if you plan to play your fantasy draft for a number of seasons.