Madden 23 begins with exciting narratives and fresh faces in important roles thanks to one of the wildest off-seasons in memory. There are storylines galore, which is amazing news for Franchise mode players like myself.
Whether you're the type to play the game as is or you prefer to adjust the game sliders for a more realistic experience, you'll be able to play out these storylines yourself in Franchise Mode.
What signings and trades will you make; what young players will you develop into stars to lead your team to the big game?
That brings us to today's question: what are the best teams to manage in Madden 23 Franchise Mode?
Today, we'll break down the best teams in Madden 23 Franchise mode and divide them into two areas; the best for rebuilding and the best for immediate success.
Best Teams for Rebuilding in Madden 23 Franchise Mode
Personally, some of my favorite times in Madden's Franchise Mode over the years have involved taking a team from zero to hero. Taking a struggling team and building them into perennial super bowl contenders can be a very rewarding experience, as you sit back and look at the progress you yourself have made to take a team to the next level.
But what teams are best equipped to take such a leap in Madden 23, and what kind of elements should you be looking for in these teams?
Talented young players to form a core that you can build around
A good amount of open cap space and/or draft capital to spend on team improvement
Detroit Lions
Throughout NFL history, the Detroit Lions have been a consistently struggling franchise. However, it looks like that may finally be changing heading into the 2022 season. 
The elephant in the room is the QB position. After trading away Matt Stafford so he could go win a ring, the Lions will be starting Jared Goff (72 OVR) at QB. At 27 years old it's unlikely he'll become your franchise guy, as he's already closer to regression than he is his rookie year.
However, the lack of a star QB as well as any heirs on the roster means you'll have the freedom to go get your guy and surround him with what's already an impressive roster of help. 
Starting with the offensive line: top 5 center Frank Ragnow (87 OVR), 2nd-year phenom RT Penei Sewell (80 OVR), and LT Jonah Jackson (80 OVR) bolster what is one of the best o-line units in the league. With the oldest of the three being Jackson at 28, you'll have plenty of time for these guys to be the rocks of your OL while developing them even further. 
The team's offensive firepower is nothing to sneeze at either. Led by tight end TJ Hockenson (89 OVR) this group of pass catchers is filled out by recent breakout Amon-Ra St. Brown (78 OVR), recent acquisition DJ Chark Jr (78 OVR), and first-round pick Jameson Williams (78 OVR).
This already solid receiving corps is all in their early 20s with nowhere to go but up, while TJ Hockenson can be an extremely reliable target as the young WRs take their time to develop.
Would you rather run the ball while you take the time to find your franchise QB? That's no problem for the Lions, as their starting running back is the elusive D'Andre Swift (80 OVR).
Living up to his name, Swift has 90 speed and 92 acceleration as well as the ability to dance around defenders with an 89 change of direction and 87 juke move. Whatever kind of offense you'd like to run, the Lions have the pieces to get it done.
The Lions also have some solid building blocks on defense, with the most obvious being recent 2nd overall pick edge-rusher Aidan Hutchinson (77 OVR). Hutchinson will be taking his first steps onto the field as an incredibly well-rounded pass rusher with 75 power moves, 77 finesse moves, and 76 block-shedding ratings.
This no-weakness set of talents will allow you to develop Hutchinson into whatever style rusher you feel will best help the team. While Aidan is clearly the key player in this defense's future, there is some solid help in the secondary to play while you build up this side of the ball such as CB Mike Hughes (78 OVR), CB Amani Oruwariye (77 OVR), and FS Tracy Walker lll (77 OVR).
By adding key defensive pieces and finding the right signal caller to lead this team, the Lions will be ready to make a run in no time.
Cincinnati Bengals
A team coming off a super bowl appearance may seem like an odd choice as a team for the future, but the truth is that a good portion of the Bengals key players are very fresh to the league.
This obviously begins with star QB Joe Burrow (90 OVR) who is coming off a great season that saw him win NFL Comeback Player of the Year in what was only his first full season and second season overall.
Alongside fellow rookie contract players WR Ja'Marr Chase (87 OVR) and WR Tee Higgins (83 OVR), these three young stars help make up an explosive offense alongside RB Joe Mixon (93 OVR) and WR Tyler Boyd (84 OVR).
The beginnings of a solid offensive line to protect Joe Burrow are also present including former Cowboys RT La'el Collins (87 OVR) and 24-year-old LT Jonah Williams (78 OVR). 
The ridiculous firepower on offense is complemented by a strong defense led by players such as safeties Jessie Bates lll (90 OVR) and Vonn Bell (82 OVR), CB Chidobe Awuzie (85 OVR), and a defensive line led by RE Trey Hendrickson (85 OVR) and DT D.J. Reader (84 OVR).
Factoring in blossoming star kicker Evan McPherson (83 OVR), the Bengals truly have the talent to excel in all phases of the game.
The biggest challenge with this team will be keeping the squad together, as the downside of having so much young talent is that they'll all be looking to cash in.
With big contracts coming down the pipeline for guys like Joe Burrow and Ja'Marr Chase, continuing to develop new talent will be important to keep the Bengals' window open as the already present young talent begins claiming their well-earned paydays.
Philadelphia Eagles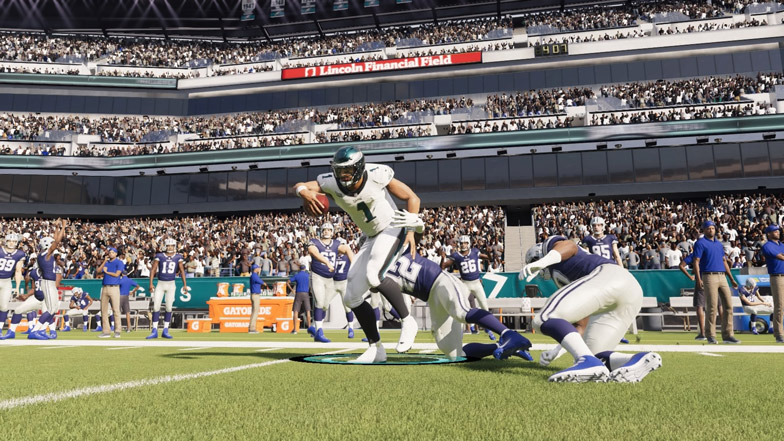 The Philadelphia Eagles is a team that finds itself in a similar situation to the previously mentioned Detroit Lions: a very talented roster with a question mark under center.
The main difference is that Eagles QB Jalen Hurts (74 OVR) still has fresh enough tires that he has the chance to become something special if developed correctly.
His passing ability is solid but nothing to write home about with 86 throw power, 87 throw accuracy short, 82 throw accuracy medium, and 80 throw accuracy deep. However, he is young enough that he has time to evolve into a more polished passer, and the real fun with Jalen Hurts comes when you leave the pocket.
Hurts is one of the best rushing QBs in the league, clocking in at 87 speed and 90 acceleration. Not only that but he also provides the ability to make defenders miss with an 85 juke move and 90 change of direction, or even run through guys as he possesses a 76 break tackle rating.
But Hurts doesn't have to do it all by himself, as he's helped out by a complimentary pairing of the physical star WR A.J Brown (87 OVR) and the elusive 2nd year WR Devonta Smith (83 OVR). The offensive weapons are rounded out by TE Dallas Goedert (85 OVR) and RB Miles Sanders (82 OVR). 
Hurts will also have the time to make plays to his weapons, as he's being protected by a top-tier o-line unit led by RT Lane Johnson (92 OVR), C Jason Kelce (90 OVR), and LT Jordan Mailata (84 OVR). 
The Eagles talent in the trenches doesn't stop there, as moving to the defensive side of the ball you'll find the DT duo of Fletcher Cox (88 OVR) and Javon Hargrave (84 OVR). Behind this stout d-line you'll find support such as LB Haason Reddick (82 OVR) and star CB Darius Slay JR (92 OVR).
The Eagles are a team with perhaps the strongest trenches in the league on both sides of the ball, meaning the foundation of a great team has been set. This team seems primed to make a run as soon as the QB is, and it's up to you whether that QB will be Jalen Hurts or a different signal caller of your choosing.
Best Teams for Immediate Success in Madden 23 Franchise Mode
Sometimes when playing Madden, you'd prefer to just relax, sit back, and put up a crazy number of points on your opponent – and maybe even win the Super Bowl in year one.
Thankfully, there are already some great teams you can use to do just that. 
Los Angeles Rams
The most obvious pick for immediate success is the defending Super Bowl Champion LA Rams. This team won the Super Bowl for a reason, and that's that they have an incredible roster across the board.
Starting at QB, we've got longtime Lion Matthew Stafford (85 OVR). At 85 OVR he's not quite a top 10 QB in the game, but he does have 95 throw power along with 90 short accuracy, 83 medium accuracy, and 88 deep accuracy ratings to make great use of the weapons around him.
Those weapons start with the one-two punch of RBs Cam Akers (83 OVR) and Darrell Henderson Jr (79 OVR) at 90 speed/94 acceleration and 89 speed/95 acceleration respectively.
The most fun on this offense comes at WR, where you find the do it all Cooper Kupp (98 OVR). Kupp truly has no weaknesses in his game as he boasts 89 speed, 99 catching, 88 catch in traffic, 88 spectacular catch, and an average route running of 97. Kupp can even make guys miss once he has the ball with his 94 juke move and 94 change of direction. 
Behind Kupp is Allen Robinson ll (82 OVR) and Van Jefferson (78 OVR), both very good options for your WR2 and WR3, as well as a safety valve in TE Tyler Higbee (83 OVR).
The OL group is admittedly somewhat suspect, with the only player over 80 being RT Rob Havenstein (85 OVR). But as long as you can get the ball out quickly to the previously mentioned weapons, the OL is a very manageable issue. 
The stars keep coming on the defensive side of the ball, most notably RE Aaron Donald (99 OVR). Donald is the type of player that can truly take a game over all by himself. With 99 power moves, 97 finesse moves, and 97 block shedding, Aaron Donald will be a borderline impossible nightmare for your opponent's OL to block.
Donald doesn't have to do it all himself however, as right behind him are LOLB Leonard Floyd (80 OVR) and MLB Bobby Wagner (91 OVR). With a hit power of 92 and the avalanche x-factor ability, Bobby Wagner is a heat-seeking missile that will provide you with plenty of fumbles.
The secondary is led by the highest-rated CB in the game, Jalen Ramsey (98 OVR). Ramsey has 92 speed, 98 awareness, 96 play recognition, 98 man coverage, 99 zone coverage, and 99 press. 
He can even contribute in the run game with his 75 tackle and 82 hit power ratings. Ramsey is a special type of player that will succeed and excel regardless of what defensive assignment you have him on.
The Los Angeles Rams are a team that has a multitude of stars and difference-makers all over the field. As long as you can mitigate any potential OL issues, this team can easily make another super bowl run. 
Tampa Bay Buccaneers
If your goal is to dominate the game, where better to look than the team that rosters the GOAT?
The clearest asset on the Bucs is QB Tom Brady (97 OVR). Despite playing in the league for over two decades, Brady is still going strong and finds himself as the highest-rated QB in the game. 
This is for good reason as with 92 throw power, 99 short accuracy, 96 medium accuracy, and 95 deep accuracy there's truly no throw on the field he can't make.
Brady also has the pro reads x-factor ability, which means that the first open receiver will be highlighted once you've completed consecutive passes of at least 5 yards in the air.
Those hyper-accurate throws will be going to the WR corps of Mike Evans (92 OVR), Chris Godwin (89 OVR), and Julio Jones (83 OVR). At 6'5 and 231 lbs Mike Evans is a physical receiver who will bully defenders with his 91 catching, 98 catch in traffic, and 97 spectacular catch to ensure he gets the ball.
At 89 overall, WR2 Chris Godwin is better than some team's number one receivers. Rounding out the corps is Julio Jones who may be at the tail end of his career, but that won't matter for immediate success as he still has 91 speed, 90 acceleration, and 90 catching.
When your third WR option is Julio Jones, you know you find yourself in a good situation.
The Bucs can also run the ball at will, with RB Leonard Fournette (87 OVR) running behind a stellar right side of the OL made up of C Ryan Jensen (90 OVR), RG Shaq Mason (87 OVR), and RT Tristan Wirfs (91 OVR).
With 90 speed, 87 break tackle, and 92 trucking, Fournette can run through a defender before immediately outrunning another for the score. This is complemented by his 97 carrying, meaning you don't need to worry about him fumbling when he lowers the shoulder. 
Moving to the other side of the ball, the Bucs DL is bolstered by RE Akiem Hicks (84 OVR) and elite run-stopping DT Vita Vea (93 OVR). With his 92 block shedding and el toro superstar ability, Vita Vea will make it extremely difficult for the opposing team to get yards on the ground. 
Behind them is a ridiculously talented LB trio of LOLB Shaq Barrett (88 OVR), MLB Lavonte David (92 OVR), and MLB Devin White (85 OVR). 
The third-best MLB in the game, Lavonte David is a true do-it-all linebacker with the run stuffer x-factor ability and the ability to contribute in coverage with his 79 zone coverage and 70 man coverage ratings. 
This defense is rounded out with a solid secondary made up of CB Jamel Dean (82 OVR), CB Carlton Davis lll (82 OVR), SS Logan Ryan (80 OVR), and FS Antoine Winfield Jr (87 OVR).
The Tampa Bay Buccaneers are an extremely well-rounded team, with an offense that can produce in all aspects and an elite run-stopping defense that's also solid against the pass. This roster allows you to play any style you want while still dominating the competition. 
Buffalo Bills
What if you want a great team that comes with a QB that can scramble? That's where the Buffalo Bills come into play.
QB Josh Allen (92 OVR) is a unique specimen. With his 99 throw power and 95 throw on the run alongside a 95 break sack, 95 ball carrier vision, and 83 break tackle, Josh Allen allows you to play backyard-style football. 
Josh Allen, like the previously mentioned Tom Brady, can make any throw on the field. What makes him unique is that he can do so while evading a pass rusher, or he can even take off and run over defenders himself to get the first down.
No play is ever truly dead with Allen, as with him you can run around the pocket or even past the line of scrimmage in order to make something happen.
Aside from Allen, the Bills running game is nothing to sneeze at, with RB Devin Singletary (81 OVR) running behind guys like LT Dion Dawkins (83 OVR) and LG Roger Saffold lll (80 OVR).
But whenever Allen does throw the ball, it's likely going to top 5 receiver Stefon Diggs (95 OVR). Diggs is Mr. Reliable. With 92 speed, 94 short route running, 95 medium route running, and 95 deep route running, he will consistently find a way to get open.
Once he's open he's as sure a bet as any to come down with the ball thanks to his 98 catching, 92 catch in traffic, and 94 spectacular catch. Diggs's playmaking doesn't end there. With a 97 juke move and 89 spin move, he can get past defenders to take any pass to the endzone. 
After you've scored and kicked the ball back to your opponent, a DL led by RE Von Miller (92 OVR) and DR Ed Oliver (81 OVR) will quickly be crashing down on the QB.
If the ball carrier somehow manages to get past them, the Bills have solid linebackers in ROLB Matt Milano (81 OVR) and MLB Tremaine Edmunds (84 OVR) to clean up the play.
But where the Bills' defense really shines is in the best trio of secondary players in the league. If the opposing QB is able to avoid being sacked by Von Miller, CB Tre'Davious White (93 OVR), FS Micah Hyde (91 OVR), and SS Jordan Poyer (90 OVR) will be there to bat the ball away from any potential receivers. 
Micah Hyde and Jordan Poyer both have superstar abilities, while Tre White has the shutdown x-factor ability, which means having a healthy passing offense against this Bills team will take nothing short of a miracle.
The offensive connection of Josh Allen and Stefon Diggs alongside the defense led by an elite secondary group ensures that the Buffalo Bills will be an extremely fun team to play with while you steamroll your way to a Super Bowl. 
Final Thoughts
The reality is that all 32 teams in the NFL have some form of exciting players or interesting narrative that will make it a fun experience to manage. Today we've highlighted three that seem to have the pieces in place to make for the best teams to manage in Madden 23 Franchise mode for a rebuild.
You can still have a lot of fun with a god squad from any of the teams not discussed in this review. To do that, you'll have to show some serious scouting skills, so click on our linked guide for tips!