Sometimes creating an accurate representation of what you see on TV on Sundays isn't what you're looking for when you boot up a game of Madden NFL 23.
It can be fun to simply build and play with a team of your favorite players, and that's where Madden 23 Franchise Mode's fantasy draft comes into play.
The fantasy draft allows you, alongside the other 31 teams, to draft unique teams from a pool containing every player in the NFL.
However, there are many different settings and options to choose from in order to best set up your fantasy draft exactly how you want it. This guide will help you learn how to start a Franchise Mode fantasy draft in Madden 23.
How to Set Up a Fantasy Draft
To begin your fantasy draft, the first step is to start a save file in Franchise Mode. After selecting "Franchise" on the main menu, you'll select the option "Create New League" which is represented by a plus symbol.
After creating the new league you'll want to choose to "Use Active Roster", be it online or offline. This is an important step, as you cannot start a fantasy draft if you choose "Use Real-Life NFL Roster" or "Use Preseason Roster".
Once the roster is imported, you'll be able to decide which team you want to play as. This does not impact your roster, as you'll be drafting your own squad shortly, and doesn't impact the draft order either. This is purely for kits, stadiums, and similar aesthetic purposes.
From there you'll be able to set your final pre-draft preferences. The most important selection is to click on "Starting Point" and choose "Fantasy Draft". Otherwise, you'll be beginning the franchise mode with the default rosters.
From here you can also choose your preferred role to play (player, coach, or owner) as well as set up your league's settings such as the difficulty, quarter length, trade rules, and the best Madden 23 sliders to play with.
The league will then be created when you hit "Start Playing".
Once you've decided on these settings and created the league, you're ready to start drafting! Just select "Start your Fantasy Draft" from Franchise Mode's main menu and you're ready to go.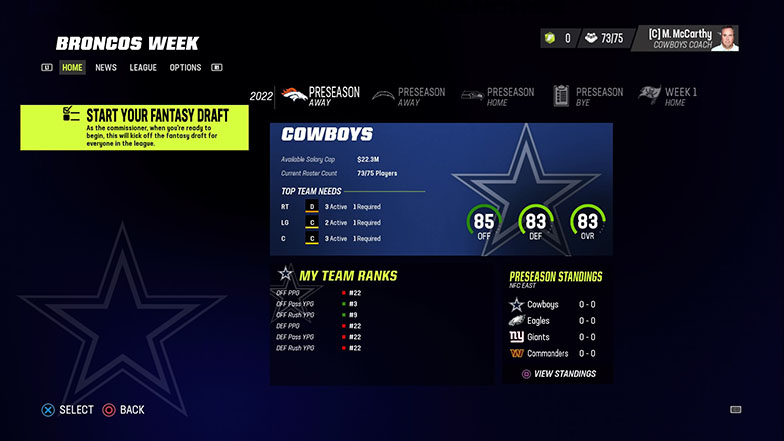 The Draft
Upon starting the draft, it will automatically simulate your first pick. From there, you'll likely want to have plenty of time to be able to think about your decisions on who you want to draft.
Just hit "pause draft" and the timer will stop, allowing you as much time as you want to build your dream team.
Now comes the time to make the best first-round pick you can. There are multiple strategies you can use to approach how you want to draft your team.
One option is to take the highest-rated players in an attempt to succeed right away. Alternatively, you can go after the best young players with the goal of more long-term sustained success.
Whatever strategy you want to use, the process of drafting these players is quite simple. After choosing "Make Your Selection", you'll be presented with all the players still available to draft.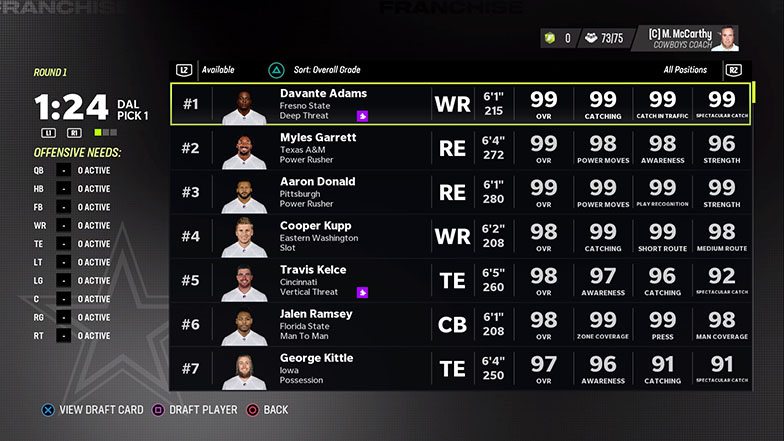 On this screen, you can use L2/LT to toggle between a view of available players and drafted players, or use R2/RT to toggle your view by player position. The left side of the screen will display the current pick as well as your current team needs: how many players you have at each position as well as a letter grade for each.
The main draft selection screen also gives you important player information at a glance: a player's archetype, height, weight, overall rating, and top three individual ratings. You can also press X/A on a player to bring up their draft card where you can see their development trait and a more in-depth look at their ratings.
When you've decided which player you'd like to draft, you can do so by selecting "Draft Player" on their draft card, or pressing square/X when you have them highlighted at the main draft selection screen.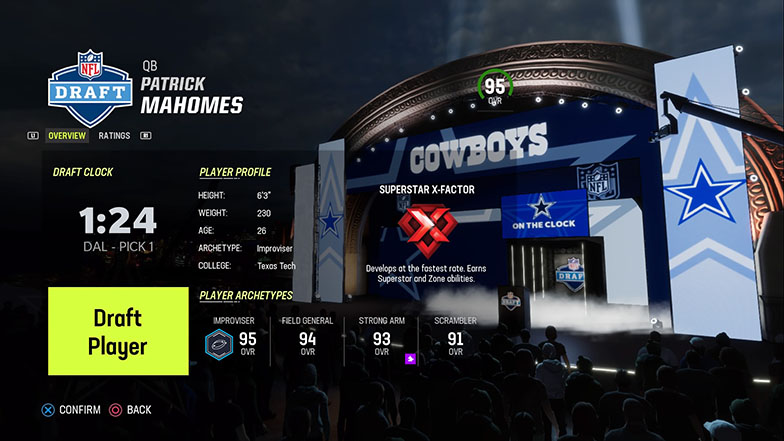 After drafting your first player, it will automatically simulate your next pick. The fantasy draft works in a snake format, which means the draft order reverses itself each round (if you pick first in the first round, you'll then pick last in the second round, first in the third round, and so on).
Before making your second pick you may want to look at the draft board and take note of who's been drafted since your last pick. You can use this information to see how various players/positions are being valued by the AI's drafting and adjust your plan accordingly.
You should also make sure that you're drafting an appropriate number of players at each position and not neglecting any positions (including special teams). You don't want to build your dream team only to notice at the end of the draft you've been stuck with poor-quality linebackers!
Final Word
Once you've finished making your selections, your fantasy draft franchise mode is underway! You're now free to hire staff, make roster moves, and set game plans as you see fit to ultimately take your newly drafted team to the Super Bowl.
Speaking of fantasies, you can also create a team in Franchise Mode on Madden 23. It's a lot of fun too, so you should check that out!