Sometimes, in Franchise Mode, an unlucky injury or a player not developing as planned may leave you strapped for cap space while still needing to make an improvement at a position or two.
Thankfully, by taking a look at the available free agent pool or other teams' bench and practice squad players, you can find a diamond in the rough that you can develop into a serviceable starter – or even a star under the right circumstances.
These are known as 'sleeper players'; the players that are being slept on.
Here are our rules for establishing the best sleeper players in Madden 23:
Must be young players, so they still have time to develop into higher overalls
A decently high current overall rating so the development curve isn't extremely steep
A couple of standout individual ratings that make them an asset in the present
Star or better development trait when available
Good physical traits – we can improve their skills but we can't make them bigger or significantly faster
Well rounded in terms of archetype so they can be a scheme fit for whatever offensive plans and defensive playbooks your team runs
Now that we've broken down the qualities we're looking for, let's get into Madden 23's best sleeper picks.
Quarterbacks
Desmond Ridder, Atlanta Falcons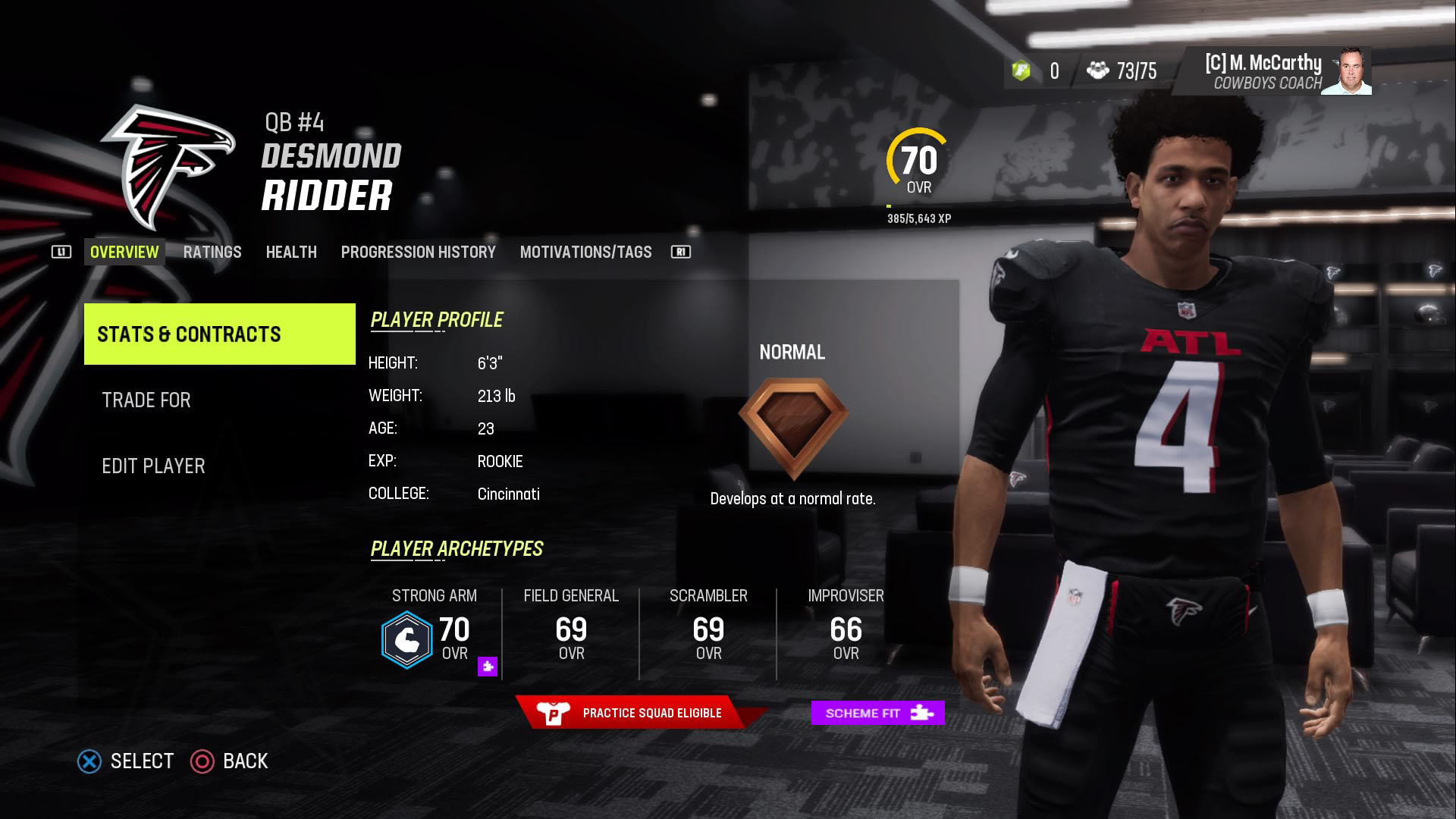 Rookie Desmond Ridder is a raw prospect at 23 years old and 70 overall. Initially, he may just be a fringe starter, but he has the ability to develop into a great QB thanks to his youth and physical attributes; namely his speed.
His 91 throwing power along with 79 deep accuracy, 79 medium accuracy, and 80 short accuracy means he can be a serviceable passer while you develop that aspect of his game.
In the meantime, Ridder can light it up as a runner with his 88 speed and 91 acceleration.
He currently only has normal development, but with his solid baseline for passing along with his rushing ability, you should be able to raise that over time with consistent performance on the field.
However, Ridder may be a difficult trade target, as his "QB of the Future" and "Future Starter" tags mean he'll likely be promoted to starter over the 71 overall Marcus Mariota sooner rather than later.
If you're interested in Desmond Ridder you'll have to act fast before the Falcons name him their guy.
Malik Willis, Tennessee Titans
When it comes to Malik Willis, you'll have an easier time acquiring him and his similar skillset to that of Ridder.
This is because at 23 years old and 69 overall, Willis doesn't have either of the tags mentioned for Ridder, meaning he'll likely be sitting behind the 83 overall Ryan Tannehill until Tannehill regresses below him in that department.
With 94 throw power and 78 deep accuracy, 71 medium accuracy, and 77 short accuracy, Willis is also a serviceable passer in the present with room to grow.
He also boasts 92 speed and 93 acceleration, allowing him to make plays via scrambling while his passing ability is still developing.
Like the previously mentioned Desmond Ridder, Malik Willis only has normal development, but you should be able to earn increases thanks to his ability to make plays both with his arm and with his legs.
Running Backs
Tyrion Davis-Price, San Francisco 49ers
Sitting behind Elijah Mitchell and Trey Sermon on the depth chart, Davis-Price is a 21-year-old 71 overall rookie.
Tyrion can play as both an elusive back or a power back, as he grades out at a 71 overall and 70 overall for those archetypes respectively.
Thanks to his 90 speed and 93 acceleration alongside his 81 trucking, 82 stiff arm, and 86 carrying, Davis-Price truly has no weaknesses as a rusher.
His biggest downside is his ability to catch the ball out of the backfield, as he only grades out at a 55 overall receiving back. With 61 catching and his highest route running rating being a 51, his value may be limited in an offense like Carolina who likes to use their running backs as receivers.
As long as you don't need receiving ability in your running back, Tyrion Davis-Price is an excellent pick for a sleeper RB.
Zamir White, Las Vegas Raiders
Zamir White is another running back who's very well-rounded as a rusher but lacks the receiving ability to be a 3rd down back.
With 62 catching and no route running ratings above a 50, you shouldn't look White's way to improve your passing game. However, he can provide a boost to your running game as he's a 70 overall elusive back and a 67 overall power back.
His 91 speed and acceleration paired with 89 carrying, and 79 trucking make Zamir White a very reliable rusher regardless of the situation he's needed for.
If you find yourself in a bind regarding your rushing game, Zamir White is a good choice to bring in and produce for you. Currently sitting at 5th on the Raiders' depth chart, you won't have to give up many assets to acquire him, and may even be able to wait for a cut.
Alexander Mattison, Minnesota Vikings
If receiving ability is a must-have for your game, Alexander Mattison is the best sleeper pick running back in Madden 23.
At 24 years old and 77 overall with star development, Mattison is an already good player who you can develop to be even greater.
He can function well both as an elusive back or power back, grading out at a 77 for both archetypes. He's also a 67 overall receiving back, meaning he won't have the same pitfalls in the passing game as the previously mentioned running backs.
He is a bit slow for a running back with 86 speed, but he makes up for it with his ability to produce in all roles that may be asked of a RB.
If you need a well-rounded running back who can contribute at all times, Alexander Mattison is your guy.
Wide Receivers
Terrace Marshall Jr, Carolina Panthers
Sitting at 5th on the Panthers' depth chart is the well-rounded 22-year-old 71 overall receiver Terrace Marshall Jr.
Marshall is the perfect candidate for a good backup to step into whatever role is necessary, or a blue-chip player to develop into whatever kind of WR you may need.
Marshall is at least a 70 overall in every archetype, allowing you to plug him into any role and see success. At 6'3″ and 200 lbs he can out-physical defenders to make the play.
Unlike some of the other big-body receivers, he also has a good foundation as a route runner with all his route running ratings sitting in the mid to low 70s.
Terrance Marshall Jr is a great athlete who you can easily develop into whatever style receiver best fits your offense.
Khalil Shakir, Buffalo Bills
When it comes to Khalil Shakir, you may get lucky and have him fall into your lap via the free-agent market.
He sits all the way at 7th on the Bills' depth chart, so he's no guarantee to make the roster past the preseason's final cuts. This isn't an indictment on his ability, however. At 22 years old and 70 overall he can still be an asset to your team.
Shakir is another well-rounded guy that you can develop into whatever mold you need him to fill for your offense.
His only potential downside is his 67 deep route running, but that's something he has plenty of time to improve while using his 90 speed and 92 acceleration to make up for it in the meantime.
Overall, Khalil Shakir is an exciting prospect that can be a valuable asset to any team that finds itself in need of a wide receiver.
Joshua Palmer, Los Angeles Chargers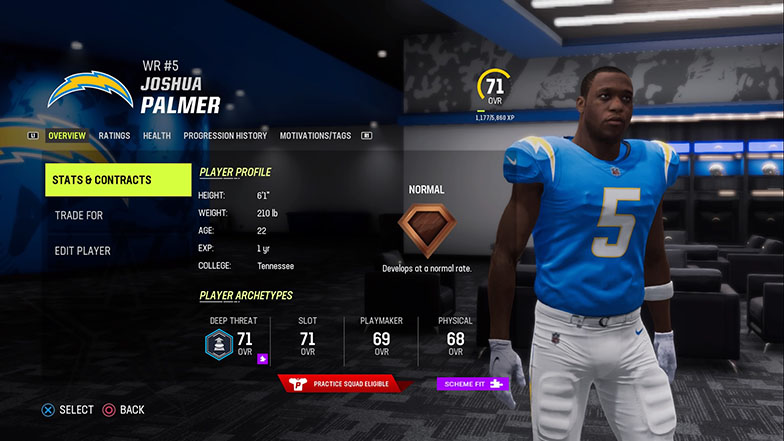 Joshua Palmer may be the most well-rounded receiver on today's list. His only core attribute below a 70 is his release at 68, which is something that you can easily develop thanks to him only being 22 years old.
Despite the mentioned release, Palmer is still a good deep threat, sitting at a 71 overall. While he is admittedly a tad bit slow for a receiver with 88 speed, he makes up for that with his catching and route running along with his size, sitting at 6'1″ and 210 lbs.
Palmer's lowest-rated archetype is a 68 for physical receiver, so like the other WRs on this list, he has no true weakness to his game.
His skill set seems to be best for that of a big and reliable slot receiver, which is always a good asset to have regardless of the QB or other WRs currently on your team.
Overall, Joshua Palmer is a receiver with no weakness that you can develop into a reliable target who can be called upon for a touchdown both from the red zone or 80 yards away.
Tight Ends
Daniel Bellinger, New York Giants
Tight end is a position that doesn't seem to have as much depth as others across the league, so they might not seem as appealing as the others on this list.
That doesn't mean that Daniel Bellinger isn't a good solution if you find yourself in need of a TE, however. At 21 years old and 66 overall, Bellinger is a long-term product with a decent level of ability in the present.
With 85 speed and 79 catching, Bellinger can be a solid option for you in the passing game. He's well-rounded as a receiver, as he sits at a 66 possession archetype and a 65 vertical threat archetype.
This lack of an extreme weakness as a receiving TE makes Bellinger a blank canvas you can develop into any style of tight end you deem necessary.
Jeremy Ruckert, New York Jets
Staying in New York, we take a look at the 22-year-old 68 overall Jeremy Ruckert, who's sitting as the 3rd tight end on the Jets' depth chart.
Ruckert's strongest archetype is as a possession tight end, making him a great option a safety valve for check-downs and short routes.
At 6'6″ and 251 lbs, Ruckert can use his size along with his 81 catching, 64 short route running, and 75 catch in traffic to box out defenders on the passes close to the line of scrimmage. He's admittedly not the best option further down the field, as his medium and deep route-running both sit in the 50s.
For a dependable target on short routes and a good option for a check down when the rest of the play doesn't go as planned, Jeremy Ruckert is a good sleeper choice to fill that role.
Trey McBride, Arizona Cardinals
Arizona's Trey McBride is likely the best sleeper tight end in Madden 23. The 22-year-old rookie is a great option as both a possession TE and a deep threat.
McBride fits into the increasingly common build of good receiving tight ends who are liabilities when blocking, as he sits at only a 59 overall blocking archetype.
However, at only 22 years old, McBride has time to develop into a better blocker while he makes up for it with his receiving ability. Sitting at 73 overall as a vertical threat and 72 overall for the possession archetype, there's no scenario where he wouldn't be a good pass-catching option.
McBride is also fast for a tight end with 87 speed and 90 acceleration, which paired with his solid route-running foundation allows him to get open and make plays down the field.
Even his weakness in the blocking game is helped out by his 67 impact block rating, which means that while he may not be a consistent blocker he does have a chance to pancake a defender if you find yourself having to assign him on a block.
Overall, Trey McBride is a great sleeper pick for a talented receiving TE who can be developed into a star.
Offensive Line
Daniel Faalele, Baltimore Ravens
RT Daniel Faalele is 22 years old and a 69 overall player. While his skill set may stand out as a negative, given only one archetype is over 60 (power), he has one of the most important qualities in a young offensive lineman: a development trait above normal.
This is because OL is one of – if not the – hardest positions at which to earn an upgrade to your development trait in Madden 23. This higher development trait makes it easier to look past any shortcomings Faalele may have in his game as he can upgrade these skills far faster than other OL.
But, at present, he is already a solid power blocker with 90 strength, 83 run block power, and 86 impact blocking ratings. This allows Faalele to do a serviceable job if you need him to be plugged into your offensive line.
Daniel Faalele may not be the best starter at the start, but his age and development traits make him a great sleeper option as a developable offensive lineman for the future.
Netane Muti, Denver Broncos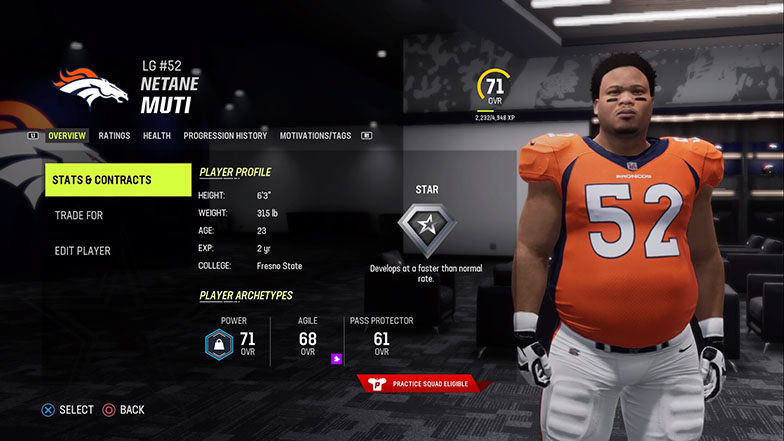 LG Netane Muti is another young offensive lineman with star development, making him a valuable piece for the future of your line.
At 23 years old and 71 overall he's even ready to step in and play now, despite finding himself as a backup for the Denver Broncos.
Muti needs work as a pass protector, currently sitting at a 61 for that archetype. But he makes up for that in the rest of his game with an 82 lead block, 88 impact blocking, and a ridiculous 96 strength rating.
Despite only grading out as a 61 pass protector archetype, his only core ratings below 70 are a 67 for pass block finesse and awareness, both of which can be rapidly improved thanks to his development trait.
Overall, Netane Muti is a freakishly strong, high-upside offensive lineman who can help contribute both right now and for years to come.
Nick Harris, Cleveland Browns
Nick Harris is a well-rounded player who can do a good job of filling in and blocking for you in a pinch.
Harris only has normal development unlike the other offensive lineman on this list, but he also doesn't have a glaring weakness to his game like some others do. At 23 years old and 67 overall with a lowest archetype of 64, Harris can still develop well thanks to his age and lack of a huge weakness.
He can hold his own both in the passing and running games, with a 71 pass block and 68 run block ratings. Harris also has 84 impact blocking and 87 lead blocking, so he won't be out of his element when blocking on any play.
Nick Harris might not be more than a fringe starter at present, but he has a very good foundation to develop into a good, well-rounded blocker.
Defensive Tackles
Perrion Winfrey, Cleveland Browns
The 22-year-old, 67 overall Perrion Winfrey is a solid run-stopping DT with some power rushing upside to go with it.
Thanks to his 82 strength, 72 block shedding, and 77 tackle, Winfrey can make some splash plays for you in run defense.
But those ratings also help contribute to his ability as a power rusher on passing downs alongside his 70 power moves.
These strengths provide Perrion Winfrey with a good foundation for both run defense and pass rushing, while his age allows him time to develop these skills even further.
Tershawn Wharton, Kansas City Chiefs
Tershawn Wharton is a young, talented DT who's sitting all the way down at fourth on the Chiefs' depth chart for a defensive tackle.
Despite his placement on the depth chart, Wharton is a very well-rounded DT who can contribute to his team in all aspects of playing the position.
With a 71 overall rating, Wharton's archetypes are 71 at speed rusher, 70 at run stopper, and 67 at power rusher. This well-roundedness comes thanks to all of his core attributes being above a 70, with the sole exception being his power moves at a 67.
Wharton's 85 strength and 79 tackle ratings help make him a good run stopper, while his 73 block shedding and 75 finesse moves help him also contribute as a pass rusher.
The well-rounded skill set of Tershawn Wharton makes him the type of DT you can play on all three downs, and only being 24 years old means he still has time to make these strengths even stronger.
Defensive Ends
Logan Hall, Tampa Bay Buccaneers
Rookie RE Logan Hall is a jack-of-all-trades defensive end who can both get after the quarterback and stop the running back from a big gain.
At 22 years old and 71 overall, he also has plenty of time to develop and make the jump from a good player to a great player.
Hall doesn't have the best pass-rush moves but he does have a 72 rating in both play recognition and awareness, two ratings that not all young players grade out well in, making him an especially intriguing prospect for development.
His 72 block shedding, 83 strength, and 82 tackle also physically make up for his pass rush moves, allowing him to get off his block and make the tackle, be it on a QB or RB.
Logan Hall's unique set of strengths makes him a good sleeper option for a DE of the future who can contribute now while taking his time to become a star.
Joseph Ossai, Cincinatti Bengals
RE Joseph Ossai is 22 years old and a 67 overall. While he might somewhat lack in run-stopping ability, he has talent in all aspects of rushing the passer.
Ossai grades out at a 67 for both the power rusher and speed rusher archetypes, meaning he has access to the full range of both power moves and speed/technique moves to get past his guy and sack the QB.
When paired with the freaky athleticism made up of his 85 speed, 91 acceleration, 80 strength, and 80 agility ratings, Ossai can set fear into the hearts of the offensive lineman who have to line up to block him.
While his run-stopping isn't a strength, it isn't a big enough weakness that it can't become a strength, either. With 68 power moves, 63 finesse moves, and 66 block shedding, the foundation is there for him to develop into a good run-stopper.
Overall, Joseph Ossai is a talented, well-rounded pass rusher who has a good upside to become a good run-stopper and be able to contribute to the defense in every situation.
Middle Linebackers
Baron Browning, Denver Broncos
When looking at potential sleeper player candidates for MLB, an important factor to take note of is how wide their range of skills is. This is because linebackers are often strong at either pass coverage or run defense while lacking in the other.
A young player having talent at both allows you to not only develop them into whichever strength you'd like but also gives them a good foundation if one skill set doesn't improve as well as the other.
Being talented in both aspects certainly applies to Baron Browning, who at 23 years old grade out at 69 for the run-stopper archetype and 67 for pass coverage.
His 87 speed and 85 hit power help make him a force to be reckoned with both now and moving forward.
Troy Andersen, Atlanta Falcons
23-year-old Troy Andersen is another MLB who displays talent in both pass coverage and run-stopping ability, grading out at a 69 and 68 respectively.
The unique benefit in pursuing Andersen is that he finds himself fifth on the Falcons depth chart, meaning that not only would he be cheap to trade for, but there's a chance the Falcons cut him in the preseason and you can just sign him outright.
Andersen is also very fast for a linebacker, clocking in at 92 speed and 94 acceleration. This will help him tremendously in pass coverage, as he'll be able to more easily keep up with speedy WRs that teams so often try to use to create mismatches with linebackers.
Overall, Troy Andersen is a very well-rounded talent, an MLB who possesses unique speed to excel in his role. These traits combined with his age make him a great sleeper option for a future star linebacker.
Outside Linebackers
David Ojabo, Baltimore Ravens
Edge rushing LOLB David Ojabo is a great speed rusher and decent run-stopper who struggles in pass coverage.
Ojabo's 81 tackle and 82 hit power give him the ability to make splash plays in the run game, forcing turnovers and swinging the momentum in your team's favor.
He also has 87 speed, 90 acceleration, and 77 pursuit, so once he's able to get past the blockers it will be very hard for the quarterback to run out of the sack.
On top of his abilities, Ojabo has above-normal development, meaning his already existing strengths can be improved much more quickly.
If you have a role in your defense for an outside linebacker who isn't often called upon for pass coverage, David Ojabo is a great sleeper option to add to your team.
Terrel Bernard, Buffalo Bills
LOLB Terrel Bernard is an extremely well-rounded outside linebacker, possessing the ability to perform pass coverage, pass rushing, and run stopping.
Being this well-rounded is unique for a linebacker, as even the elite players are often much weaker in one of those three areas than the others.
This creates a unique benefit for Bernard, who can play at any time in any situation and get the job done due to the Swiss army knife quality of his abilities.
Grading out at 67 pass coverage, 66 speed rusher, and 66 run-stopper archetypes, there's truly no shortage of ways you can go with Bernard's development path.
Terrel Bernard's extreme well-roundedness makes allows you to confidently play him in any and every situation, as well as giving you complete freedom as to what kind of player he develops into.
Cornerback
Cam Taylor-Britt, Cincinnati Bengals
22-year-old rookie Cam Taylor-Britt sits fifth on the Bengals cornerback depth chart, despite his 70 overall rating and high future potential.
This makes him an easier trade target than many players of his caliber, giving you more bang for your buck in the trade.
Taylor-Britt is a do-it-all cornerback, grading out at 70 zone, 69 man-to-man, and 68 slot archetypes. This is a great quality for depth CBs to possess, as it allows the team to plug them into any hole without being super worried about the results.
His 93 rating for both speed and acceleration also gives him the potential of developing into an elite man defender, as when the technique skills improve he already has the speed to keep up with the WRs.
Overall, Cam Taylor-Britt is a blank canvas of a cornerback that has enough youth and raw skills to take his development in whatever way the team needs him to.
Martin Emerson, Cleveland Browns
At 21 years old, Martin Emerson is young even for a rookie. This means that he has even more time than most to develop into a great player, without the theoretical downside of a worse starting point.
Emerson grades out at 69 zone, 69 man-to-man, and 68 slot archetypes, making him extremely well-rounded like the previously mentioned Cam Taylor-Britt.
This gives Emerson the same benefits, such as plug-and-play ability and the freedom of what direction to take his development path.
However, with Emerson being as young as he is, he has even more time to develop, which theoretically leads to a higher ceiling on his ability as a player.
Noah Igbinoghene, Miami Dolphins
Noah Igbinoghene already has two years of NFL experiences despite only being 22 years old, meaning he entered the league in a similar situation to what we just discussed for Martin Emerson.
You can clearly see the benefits of that on display, as at the age of 22 he's already a 72 overall, grading out at 72 man-to-man, 70 slot, and 70 zone archetypes.
On top of that, Igbinohene also possesses a star development trait which makes his quick improvement even more rapid.
This combination of his well-rounded abilities, the quality of those abilities, and his youth is one that's going to be hard to find when looking at the other cornerbacks around the league.
That rare combination of skills and qualities is what makes Noah Igbinoghene a great sleeper player at cornerback.
Ambry Thomas, San Francisco 49ers
Another of the rare cornerbacks who possess the rare combination of qualities we went over for Noah Igbinoghene is 22-year-old Ambry Thomas, even down to the star development trait.
Having the star dev trait makes both Thomas and Igbinoghene even stronger great sleeper picks than they'd already be solely based on their age and abilities.
Thomas grades out with even higher ratings in the cornerback archetypes: 73 zone, 72 slot, and 72 man-to-man.
When you pair these factors with his 92 speed and 91 acceleration, Thomas is an elite prospect among the young cornerbacks around the league.
Despite this, he's fifth on the 49ers depth chart, allowing you to get an amazing young cornerback prospect for cents on the dollar.
Overall, Ambry Thomas is the best sleeper player at cornerback in Madden 23 and one of the best sleeper players on this entire list.
Safety
Daxton Hill, Cincinnati Bengals
From one elite secondary prospect to another, we go to 21-year-old, 75 overall FS Daxton Hill.
Hill's ratings grade out at 75 hybrid, 73 zone, and 73 run support archetypes, continuing the trend of exceptionally well-rounded players.
Hill also has an above-normal development rating, which as we've established will greatly speed up his improvement.
This combination of his development rating, his already high ratings, and him only being 21 years old makes Hill a great bet for achieving an overall rating in the 90s.
This is all before discussing how incredibly fast he is, which is displayed by his 93 speed and 94 acceleration ratings, allowing him to fly all over the field to wherever he needs to be to make the play.
Overall, Daxton Hill is already a quality player who has nowhere to go but up, and fast. He may very well be the best sleeper player on the entire list.
Nick Cross, Indianapolis Colts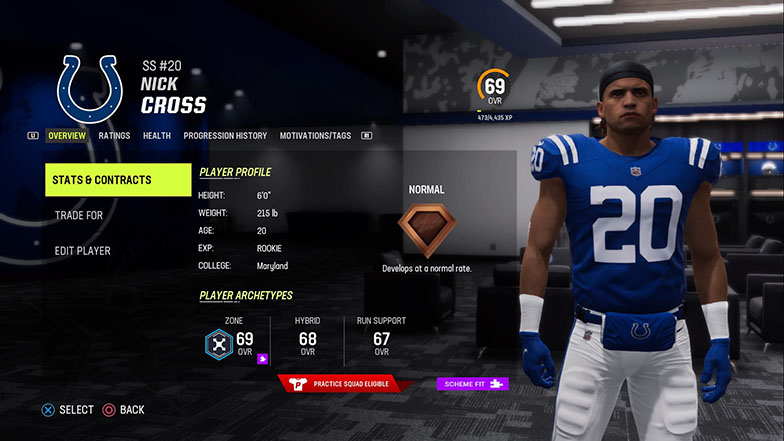 Moving over to the strong safety position we get even younger with 20-year-old, 69 overall rookie SS Nick Cross.
Cross is very fast with a 92 speed rating, and he can get up to that top speed as quickly as just about anyone in the league with his 96 acceleration rating.
He also grades out at 69 zone, 68 hybrid, and 67 run support archetypes, giving you freedom in play calling as you know he'll do his assigned job well.
Cross is playing strong safety as opposed to free safety for a reason, that reason being his 84-hit power; he can lay the boom on the ball carrier, giving your defense a chance at a momentum-shifting turnover.
All of this and he's only 20 years old, giving him a whole six years of prime development time in Franchise Mode.
Nick Cross is extremely talented for a time many players are still playing in the NCAA. With the right development, there's no question he can become one of the top safeties in the league for your team.
Final Word
As we've seen in this article, there's plenty of awesome hidden gem players in Madden 23 – as long as you know what you're looking for.
With some savvy scouting and trades being made, there's plenty of routes to get potential elite players on your team.