In MUT 24, the name of the game is earning coins quickly and building the best MUT team possible. In order to do this, you must build your roster with talented players affordably.
Not everyone can go and spend hundreds of dollars on Madden points in order to buy specialty packs to improve their lineup.
If you want to upgrade your team without breaking the bank, Madden has a wide variety of affordable mid-ranged cards that you can find in the Auction hub.
The market rates for these cards are obviously never stagnant as they fluctuate constantly, but on average, there are always a few cards that sell for way less than they should.
In the auction hub, you can find criminally undervalued quality players. This list will break down the most undervalued player card for each position.
Marcus Mariota – 77 OVR Headliners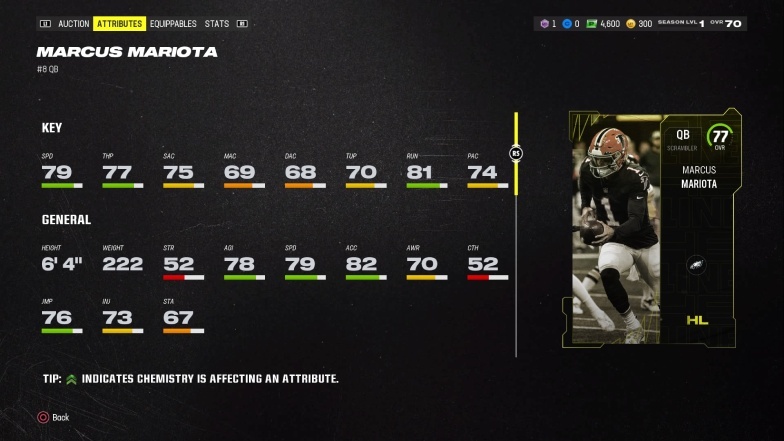 For about 3,000 to 5,000 coins on the auction block, you can get a solid mobile QB in the form of veteran quarterback Marcus Mariota.
This version of Marcus Mariota is part of the Headliners program and vastly improves Mariota's athleticism and throwing abilities.
His throw power is slightly above average, his accuracy is around the league average (75 overall), his throw on the run rating is above 80, and his speed/acceleration/agility ratings are at a solid 80. Those are ratings that would typically cost around 10,000 coins.
Mariota's current status as a failed starter-turned-backup has hurt his Madden stock and lowered his cost; I suggest you take advantage of it.
Kendre Miller – 78 OVR Core Rookie
The Saints rookie runner is currently being auctioned at around 4,000 to 9,000 coins.
Most of his ratings are fairly average, with two major exceptions. His broken tackle rating is at 80, well above average for gold core rookies, and his speed rating is a whopping 85!
85 speed isn't very great when it comes to franchise or superstar mode, but for a 78 overall gold card that costs only 4,000 coins in MUT, it's a crazy attribute rating.
Jerry Jeudy – 81 OVR Core Set
Jeudy is a truly elite player with elite attributes for the low cost of only 12,000 to 17,000 coins.
That sounds like a lot of coins, but for the value you are getting in Jeudy, it is absolutely worth it. Jeudy is an all-around talent with 80+ ratings all over his attribute card.
All three of his route running attributes are at 80, his special catch, as well as his release ratings, are 79, his juke move and change of direction are both in the mid-80s, and most importantly, his athleticism ratings are also all above 80.
You aren't going to find another receiver with that many 80+ ratings for any less than 25,000 coins. This is a great deal.
Josiah Deguara – 73 OVR Core Set
Deguara is currently dirt cheap, at only 2,800 to 3,900 coins, and for that price, you get a solid tight end with good out-of-position ratings.
Deguara is a 76 overall wide receiver and a 73 overall fullback with great 80+ athleticism ratings.
Deguara is also a slightly above-average catcher with a 79 catch rating, a 77 catch in traffic rating, and a 79 special catch rating.
Deguara is especially valuable because of the lack of good mid-range tight-end options outside of him.
Jake Matthews – 81 OVR Core Set
13,200 to 14,800 coins are what Matthews is selling for right now, which is incredibly affordable for an elite left tackle with 80+ pass-blocking stats.
Blindside blockers in real life are always paid a lot of money; that sort of dynamic is represented in MUT. It is hard to find an affordable left tackle in the game, but Matthews is the closest thing we have.
Kayvon Thibodeaux – 77 OVR Core Set
Thibodeaux is an exciting young pass rusher that you can get on your team for about 9,000 to 11,500 coins.
That's a pretty penny for a player that only has a 77 overall rating, but his athleticism ratings are off the charts for a core EDGE rusher, and his power rush moves are also above average.
Thibodeaux is a fun player to have on your team, which usually translates to them being overvalued, but so far, that hasn't happened for Thibodeaux.
If you are a fan of the young pass rusher, 9K is a great price point.
Kenny Clark – 78 OVR Core Set
Kenny Clark can play 4-3 DT, nose tackle, or a 3-4 DE with good ratings out of position as a left end or a tight end. That type of versatility is great to have, and you can get it for only 8,000 to 8,500 coins.
Clark's ratings don't jump off the screen, but they are solid enough for him to be a good piece on your D-line.
His bull rush rating is 81, and his tackle and strength are each 79. Those are really solid numbers for the price.
Troy Andersen – 73 OVR Core Set
Troy Anderson is one of the fastest linebackers in the league, and in MUT, you can add his 82 speed and 84 acceleration to your team for only 2,200 to 4,100 coins.
His tackling ratings are slightly below average, but his sheer speed and explosiveness make up for it, especially if you are playing online against other players that value speed.
The reason Andersen is so cheap is that his coverage skills are terrible. With a zone coverage rating of only 49, Andersen isn't really going to be effective outside of user-controlled situations.
Marcus Peters – 81 OVR Core Set
At roughly 12,000 coins, you can get a solidly above-average man coverage corner with high 70s to low 80s ratings all over the place.
All of Peter's athletic ratings are around 79 to 81, and his coverage skills are also in that same range.
Peters can be your cheap lockdown corner easily with those ratings.
Andre Cisco – 78 OVR Core Set
For only about 7,000 coins (but rising quickly), you can get a speedy safety with great coverage skills and a lot of athleticism.
Cisco is one of my favorite players because of his freaky athleticism and great zone coverage skills. Both of those attributes are in the high 70s and low 80s for Cisco.
Cisco's value gets a bit of a hit due to his low 70s tackling stats, but tackling is somewhat secondary in the speed-focused game of MUT.