Building your Pro in NHL 23 is a fairly straightforward process, but there are important decisions that must be made in the process of doing so. These decisions shape the way your player performs on the ice, which in turn affects how much you enjoy the game.
Decisions such as the name of your player and your jersey number are not so important in the grand scheme of things, but others such as handedness and preferred position should not be made without careful consideration.
Speaking of preferred positions, the obvious decider for this should be your desired gameplay. Do you prefer holding the forte at the back, or leading the line and sniping shot after shot on goal?
The answer to that question should determine the position you choose and the player archetype you tag with that position. In this guide, we discuss five of the best archetypes in NHL 23 Be A Pro mode. But first, let's look at all the options we've got.
All Archetypes in NHL 23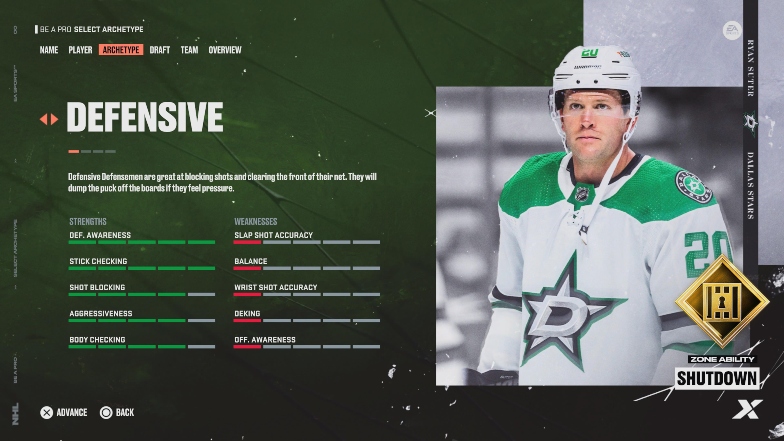 Not much has changed from NHL 22 in this regard. We have a list of ten archetypes, detailed as follows:
Hybrid: A goaltender archetype that offers a balanced selection of all critical attributes.
Standup: A faster, more aggressive goaltender archetype reserved for goalies that prefer to stand and attack onrushing skaters. Key strengths are Aggressiveness, Glove High, and Stick High.
Butterfly: A goaltender archetype reserved for goalies that prefer to play low in goal, covering the bottom areas. Key strengths are Five Hole, Glove Low, and Stick Low.
Power: A skater archetype for forwards that provides a great blend of power and skill. Key attributes are Puck Control and Strength.
Enforcer: A skater archetype that sacrifices guile and speed with the puck for aggressiveness, strength, and forceful physical play. Suitable for both defensemen and forwards alike. Key strengths include Aggressiveness, Strength, Balance, Body-checking, and Fighting Skill. You will find more success in learning how to fight in NHL 23 with this archetype.
Two-Way: A skater archetype for players that want a well-rounded pro. It offers a neat balance between attack and defense and can be applied to skaters in any position.
Playmaker: A skater archetype for the creator-in-chief of the team, reserved for offensive players who like to pass and move the puck. Key strengths are Passing and Puck Control.
Offensive: A skater archetype for defensemen that like to influence the game further forward. Key attributes are Passing, Puck Control, and Acceleration.
Sniper: A skater archetype reserved for the main goal scorers on the team. Strong attributes in all the key areas required for attacking the goal and putting the puck past the goaltender.
Grinder: A physical-first skater archetype that offers better quality on the puck than the Enforcer, but less than the Power forward.
The Best 5 Archetypes in NHL 23
Bear in mind that the archetype suggestions below are not set in stone. If you have a very specific style of play, some of the other options might still be better for you.
These suggestions are for players that are open to exploring the styles of play that the archetypes offer, and they are also arguably the most enjoyable to play with NHL 23 Be A Pro mode.
Hybrid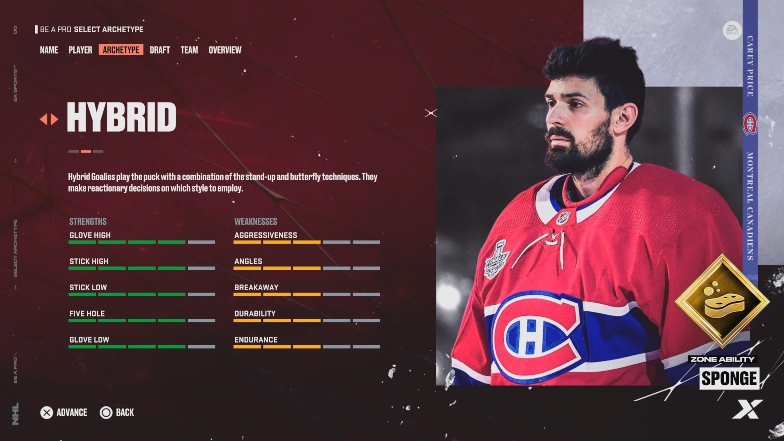 Starting off with the goaltender, the Hybrid archetype is the best option if you're building a Pro in NHL 23 for this position. There is just not enough advantage offered by the other two to beat the well-rounded, balanced set of attributes that this archetype builds.
As of the time of release, all the goaltenders in NHL 23 are Hybrid goalies, and for good reason.
They may not be as mobile as the Standup goaltenders, nor as good at covering angles as the Butterfly goalie, but they offer enough in those areas and their save attributes are very well spread out too.
Hybrid goaltenders tend to start out with a weakness in covering high shots, so you should focus on improving glove height or shot height if you decide to go with this option in NHL 23 Be A Pro mode.
Notable players with this archetype: John Gibson (Anaheim Ducks), Igor Shesterkin (New York Rangers), Andrei Vasilevskiy (Tampa Bay Lightning).
Offensive
The offensive archetype is a great way to add a bit of excitement to defensive roles in NHL 23.
Granted, the archetype is lacking in some physical attributes that are typically required of a defenseman, but you get that extra burst of speed that helps in tracking back quicker.
This archetype also helps you to be more involved in offensive phases of play with great passing and puck control, and your team does not have to suffer for it if you have a more defensive partner alongside you.
If you want a defenseman that gets enough ice time in offensive areas and gives the team an added advantage in those situations, then this one is for you.
Notable players with this archetype: Cale Makar (RD, Colorado Avalanche), Adam Fox (RD, New York Rangers), Quinn Hughes (LD, Vancouver Canucks).
Two-Way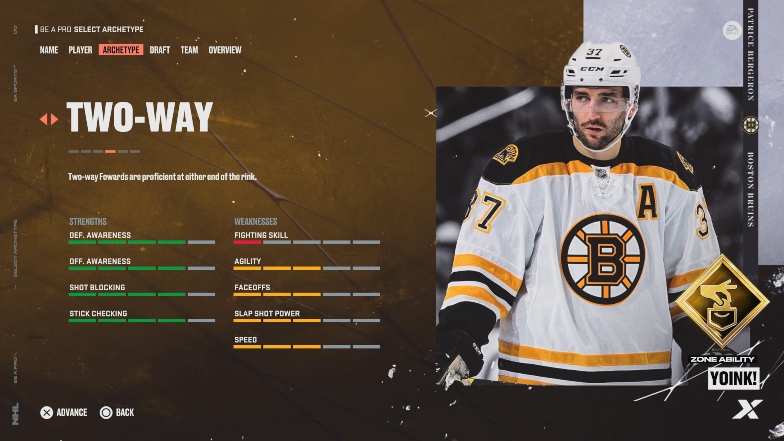 Like the Hybrid goaltenders, the Two-Way archetype for skaters offers a taste of both worlds. We have the Two-Way Forward option for attackers and the Two-Way Defender option for defensemen.
It's not exactly a case of getting the best of both worlds, but Two-Way skaters can contribute on both ends of the ice to an equally strong effect. This is already implied by the fact that the points for "defensive awareness" and "offensive awareness" are the same.
You can use this player archetype for a defenseman or a forward, with the result being that you will often find yourself involved in play in both zones.
Notable players with this archetype: Brad Marchand (LW, Boston Bruins), Rasmus Dahlin (LD, Buffalo Sabres), and Sebastian Aho (C/LW, Carolina Hurricanes).
Playmaker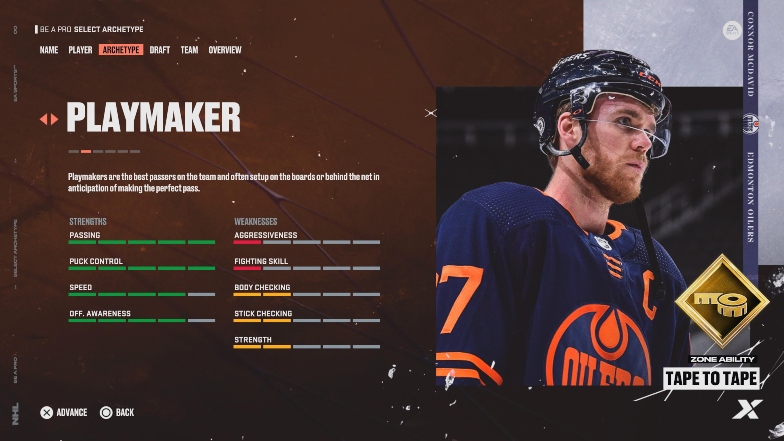 As I already explained, this archetype is reserved for the best passers on the team. They're always involved in build-up play and are the creative hub of the team.
If you like to control the game and keep things ticking more than anything else, then the Playmaker archetype is perfect for you.
Playmakers are not the most aggressive or physical skaters, so you will need cover from more physical teammates often. They also don't contribute much defensively. However, they are also often one of the most technical skaters on the ice – it's pretty fun.
If you're starting a Be A Pro game in NHL 23 and you have very little experience with the mode or the game generally, choosing the Playmaker archetype is the safest option.
Notable players with this archetype: Trevor Zegras (C/LW, Anaheim Ducks), Nathan MacKinnon (C/RW, Colorado Avalanche), and Jonathan Huberdeau (LW, Calgary Flames).
Sniper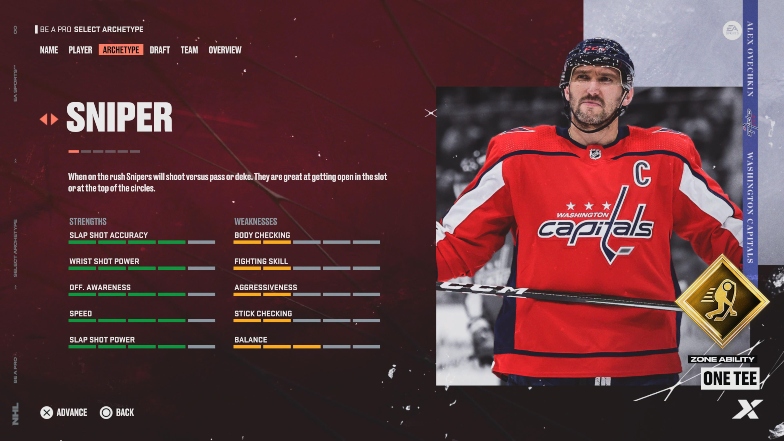 As good as Playmakers are, they need someone that can get on the end of their passes and put the puck behind the goaltender. Those skaters are often Snipers.
Snipers are the most offensive-minded skaters in the game. There is no ambiguity about their roles or strengths – scoring goals. If you want the glory of being the team's go-to man for goals, then this is the archetype for you.
Snipers are quick on the ice, and they have a nice variety of shots in their locker. They often operate on either wing, but you can be a Sniper center too in NHL 23.
If you play on the same team with a Playmaker and a very physical skater that offers protection, you should be banging in the goals for fun. It's a great way to rise to the top quickly, especially if you've cracked how to be the number one draft pick from the start of your career.
Notable players with this archetype: David Pastrnak (RW, Boston Bruins), Patrick Kane (RW, Chicago Blackhawks), and Mikko Rantanen (RW, Colorado Avalanche).
Final Words
I should mention that the omission of the physical archetypes in this "best of" guide was deliberate. While they are always nice to have on the team, they're not quite as fun to use long-term as the options that I've chosen.
When you decide which archetype to go with, it is definitely worth learning about the best traits in NHL 23 too so you know which attributes to prioritize for your player. Good luck!