Most sports games nowadays have a career mode that revolves around a user-built player. For PGA Tour 2K23, you might think that the level of depth is going to entail a short career mode.
However, the game can be longer as long as you are still enjoying playing the game of golf. If we are going to put a number for it, it is going to be a bit subjective.
Is it as long as all the events are in the real PGA Tour, or is it going to be shorter/longer? Let's find out!
We will need a criterion to estimate how long the PGA Tour 2K23 Career mode is because it will be a lot different for every player.
Criteria
The criteria for estimating how long a game of PGA Tour 2K23 would be the following:
How long does it take to complete a whole PGA Tour season
The player's current game knowledge
How long it takes for a player to learn the game
How long it takes until a player gets bored (length of how many seasons)
The MyCareer length will be different for every single player. Some can play the game for thousands of hours, while some might only play to finish one PGA Tour season.
We will review each criterion and estimate how long it takes to complete the career mode in PGA Tour 2K23.
MyCareer Length
PGA Tour Season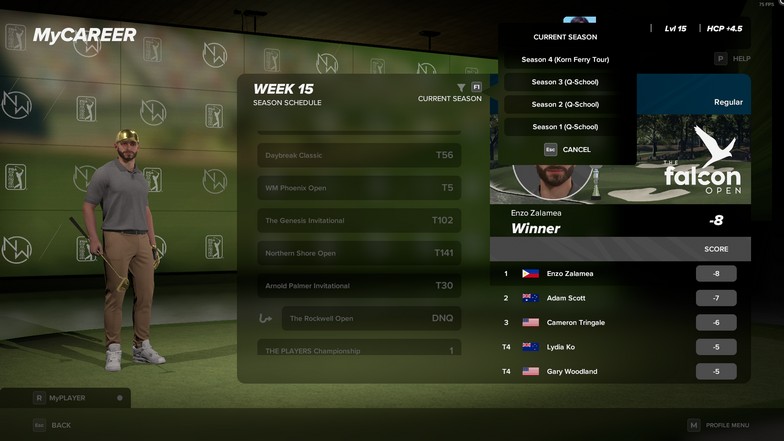 First of all, you can choose your MyCareer starting path. You can either go from the Korn Ferry Tour events and climb your way to a spot at the PGA Tour or head directly to it.
There are more than 5 events before you can get to the PGA Tour, and the number of events depends on your qualifications. If you aren't performing well or aren't earning enough placements, you will repeat the events until you qualify.
After qualifying for the PGA Tour, this is where the climb begins. You will try your best to score points in the FedEx Cup standings.
There are more than 30 events on the PGA Tour. If we calculate all the events qualifying for the PGA Tour and the PGA Tour itself, we will be getting around 35 to 40 events.
In the PGA Tour, you can also be disqualified from some of the events if you don't meet the required wins or score.
If you play all the events in the PGA Tour, you will be playing a total of 33 events.
Let us start calculating how long an event lasts. If it takes around 30 minutes per event to complete a match, it will take 16.5 hours to finish the PGA Tour season alone.
If you add the Korn Ferry Tours, it should take around 20 hours to complete one whole season of the MyCareer PGA Tour season.
However, not everyone is going to take 30 minutes to finish an event. Most players will take their time thinking and adjusting for each shot. If you take a long time setting up, each event will take longer to finish.
Golf knowledge or past experience
If you are a complete beginner, it will take a while before you can get used to the mechanics. At the start of the game, you will be trying to perfect your swing timings and swing path.
After you get used to it, you will start learning using spins, chips, draws, fades, and other shot types.
This will take a while, and it could add a lot more hours to your season. I would say the average could take up to 45 minutes per event when you start playing around with these mechanics.
If you are a fast learner, you could still finish the MyCareer (PGA Tour season) in 25 hours.
As a beginner, it will take around 30 hours to complete the season.
Future Seasons
Once you finish your first PGA Tour season, it is up to you if you want to try Top Golf or other game modes.
However, if you continue playing the MyCareer mode, it is basically limitless. The season will restart, and you will start fighting for the next FedEx cup.
This one highly depends on the player. So, you can safely assume for yourself how long it would take before you get bored of the MyCareer mode.