The PGA Tour 2K series had its ups and downs. They skipped the release of PGA Tour 2K22 as 2K Sports prepared for its acquisition of HB Studios (developers behind The Golf Club) and came up with something big.
They secured a big deal with Tiger Woods to appear exclusively in their game, which is probably the biggest draw for the game. Tiger Woods and golf are almost synonymous, and EA Sports have been holding the title of PGA Tour for decades.
With all this hype set up for another revitalized golf series from 2K Sports, is it still worth buying or playing, especially for its big price tag? After playing more than 40 hours, here is our PGA Tour 2K23 review.
Criteria for Review
Most games have a lot of depth that gets covered when they do a review, but for PGA Tour 2K23, it should be a little different. Sports games usually don't have much to offer in terms of gameplay or story outside of the sport itself.
Players usually know what they expect from the game. However, it is up to the developer's creativity to help the players get attached to the game, whether it is through the game's realism, depth, or content.
The review for the game will be simple. We'll find out how good the game is through its gameplay, available content, graphics, and other factors that can affect them.
Gameplay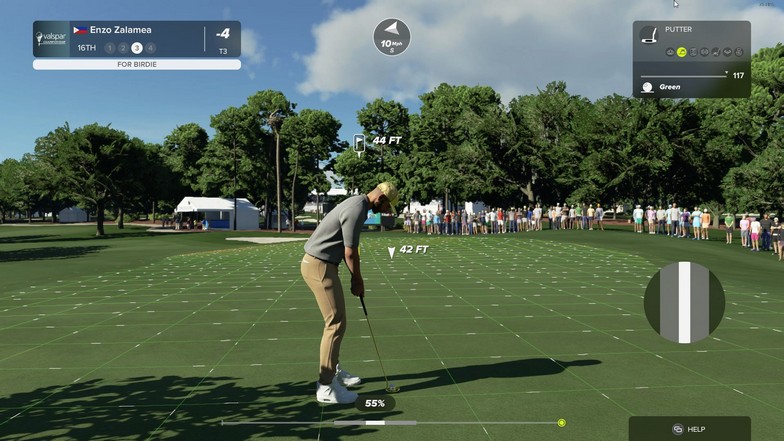 PGA Tour 2K23 improves on a lot of features from their previous 2K21 title. Their user interface makes everything more accessible and gives you a much smoother golf experience.
There is no other game out there that comes close to PGA Tour 2K23's version of a golf simulation. The mechanics of a golf swing seems as true to life as possible (complexity).
However, there isn't much else to talk about. The analog system where you perfectly time your backswing and downswing seems right. It has been around for decades, and it still feels enjoyable for the most part.
There are a ton of ways you can look at PGA Tour 2K23 and see how deep they go to provide a realistic golf simulation.
You can alter your shots in many ways, such as adding spin to the ball, chipping the ball, adding draws or fades, changing loft, and a lot of other things.
Adding a particular technique also brings a great challenge as the level of difficulty of hitting a good swing increases.
Just getting used to the mechanics can take a while for a beginner and even longer if you decide to master them and compete online.
The gameplay itself can lure you into hours of gameplay already. However, the gameplay can only carry you enough if there is enough content.
Content
For content, I would've expected a little more from 2K in general. PGA Tour 2K23 is the first game of the series where they have acquired HB Studios (creator of The Golf Club and PGA Tour 2K series) to add to 2K's long list of sports games.
They were also able to get Tiger Woods to appear exclusively in the series, which might pump up the cost of the game, but the content is a bit lacking.
MyCareer is a bit underwhelming because it feels like you are basically playing a quick game with a few extra steps.
There is no story whatsoever as you come on the tour ready to play the best golf of your life. While MyCareer mode might be long, the content is extremely lacking.
You will be playing more than 30 events and gaining points to win the FedEx Cup. Your player's progression isn't as deep as you want it to be.
There are a lot of skills you can experiment with, but these 'best skills' don't exactly put you over the top. You can basically play the game without even touching these progression paths and just play golf.
A deep attribute system could fix a lot of things in terms of progression and continuity, like their most popular title, NBA 2K.
However, there are a lot more things missing. An added storyline, even if a cliché one, might make the game mode more compelling, especially to those new to the game.
The content for the career mode won't last that long, and it will be tied to how long you enjoy the gameplay instead.
Other modes, such as Societies and Top Golf, can be enjoyable to some. Societies is an online mode where you can compete against other players online with customized rules.
Top Golf is basically a minigame where you can practice your swing and accuracy—none of these pack a ton of content into a AAA game like PGA Tour 2K23. However, playing competitive online with your friends might get you more hooked.
Sound and Graphics
PGA Tour 2K23 has good graphics, but we should be holding them up to high standards compared to their other sports games.
Since they are practically going for realism, the graphics aren't there to compensate for the lack of available content.
The visuals of the players and courses look like they are 10 years behind. It could be a little unfair to base the graphics on their other sports games, but with the lack of content, you would expect them to have better visuals.
Since you are playing on the golf course, you can see everything, such as the grass, rough, sky, sun, trees, and things you typically see on a golf course.
The level of detail is lacking a bit for a AAA game based on a sport.
The replays are a bit annoying, especially when you start to get your rhythm. You can turn it off, but the worst thing about it is that the camera literally focuses on the player even after the swing.
You don't even get to see the ball move to the hole or why it was even a highlight.
The swing sounds in the game are extremely satisfying. Hitting the ball perfectly with the driver is one of the best sounds in the world, and every club has a different hit sound in the game.
You can also tell how high the ball went up based on the sound you hear when the ball lands on the ground.
Verdict
Pros
Addictingly smooth gameplay
Fun online modes to play with competitive golf friends
Great sound design
Cons
Lack of content (courses, modes, player depth, player progression, and story)
Outdated visuals
Score – 68/100
The score could be better, but we will be taking its value into account. The game is a triple A game, which means it should offer content equal to the average of what gamers expect from a big publisher.
They could've added more courses, modes, player progression, and customizations to incentivize you to play the game more.
While they technically have more customizations available compared to PGA Tour 2K21, these are all through cosmetics and a lackluster skill tree.
They could've made you play the career mode as a beginner and introduced an attribute system where you can improve your player until you can make it to PGA Tour.
While the game improved from its previous title, it will be interesting to see how they can add more content and replayability to their future titles.