Putting in golf is one of the hardest things to improve as a golfer. You can't get the ball to the hole on every drive, and you will be putting on every single course.
Everyone needs to improve their putt game to score a lot of points. Even Happy Gilmore did it.
In this guide, we'll focus on giving you the best tips and tricks for how to putt in PGA Tour 2K23. You will get better at reading angles and slopes, improve your timing, and how much power to put on your putts.
When to Putt
The only time you will get to putt is when you get the ball to the green. If your ball ends up outside the green just by a fraction, the thick grass will heavily affect your putt.
It is not recommended to force a putt on the rough even if the hole is as close as 3 or 4 yards.
You can also do a chip shot on the green when available, so you don't necessarily need to putt while on the green.
Golfers don't really putt on the green, but in PGA Tour 2K23, it can be done. When you are put in a situation where you need to putt past 15 yards, it is probably the hardest thing you'll ever do in the game.
Sometimes, you can just chip it through if you aren't confident in putting. However, you are reading this post to become better at putting, and long putts are definitely doable.
How to Measure the Angles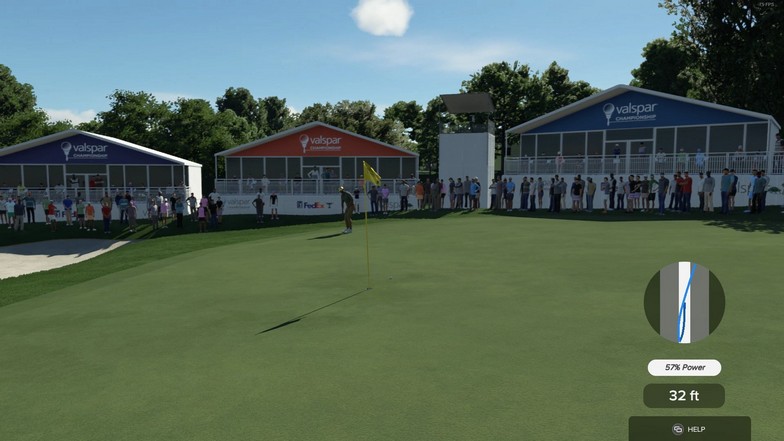 Measuring angles in putting can be seen on the green. Once you are close to or on the green, there will be a grid pattern that will support you.
In this grid, you will see white lines moving from left to right or right to left at various speeds. This means that a slope on the green will either make your ball go left to right or right to left.
Apart from this, there could also be a slope going downhill or uphill. You can see it on the green, but you really have to look hard.
However, you can do what I do and measure the uphill and downhill from the default distance the game puts on your shot.
The game automatically helps you by giving you a default shot. In a way, this is the support you get from your caddie.
If there is a downhill slope, your shot power will be much lower than the distance from the hole. If there is an uphill slope, your shot power will be adjusted higher from the hole.
You can adjust the automated power for a yard lower (2 yards if it is downhill) since the default one tends to overshoot.
Measuring the angles
If you notice the speed on the white lines, there are about 3 different speeds – slow, medium, and fast.
For the slow speed, I use the width of the hole as a unit of measurement. For each slow white line, I put half of the width of the holes in the right direction. If there is a slope from left to right with 2 slow white lines, I aim one hole to the left.
For the fast ones, you can go for 1.5 hole width. It is a weird measurement, but it helps if you are eyeballing most of your puts because the hole is right there.
Now for the tricky part.
When there is an uphill or downhill slope, it heavily affects the roll of the ball. On a downhill slope, the ball will sharply turn to whatever the direction of the white lines is.
If you are put in this situation, you can use the measurement above and slightly compensate for the angle.
It will be hard to measure it because not all downhill and uphill slopes are the same. With experience, you can get a rough estimate of how you can angle your putts.
If there is an insanely uphill or downhill slope with fast white lines speed, you will need to compensate hard with the measurements above.
If it is a long putt (10 yards or more), you might need to look at more than the linear grid directly to the hole. Since you will be going for an angle that is about 50-70 degrees away from the hole, you will be looking at the slope of the other squares on the grid.
At this point, you might be thinking of doing a chip shot instead because it could be easier. This is the only time you can go for a chip shot.
Otherwise, just go and try putting. Going for a long putt with all kinds of slopes is still possible, but it is probably the hardest thing to do in the game.
Remember These Tips
The default shot will always be overshooting, no matter what the kind of slope, lie, or wind direction you are facing
Always pay attention to the downhill or uphill slopes
If the white lines are moving fast and it is a long putt, always look for the other squares on the grid
How to Improve Putting
You can always go for the Greensman build, which is one of the best archetypes in PGA Tour 2K23. This will boost your putt path and putt weight while having a decent swing path and timing attributes.
Another way you can improve your putting is by applying fittings to your putter. You can improve your putt path and putt weight even more as long as you earn coins and equip them all.
These are the only ways you can improve your putting in the game. Everything else will be dependent on your mechanical skills and game knowledge.