Rocket League was developed and published by Psyonix and released first on PC and PS4 in 2015. Because of its popularity, Psyonix has made the game available on various platforms with crossplay support.
If you're looking to boost your skills and become the best Rocket League player you can be, check out our guide on how to level up fast in Rocket League.
This game is perfect for gamers of all ages because it combines competitiveness with teamwork with arcade-like mechanics that are simple to understand—basically an epic game of soccer with cars. Your team's mission is to score points by nudging the ball into the other team's goal.
The game's core loop may seem simple, but mastering your tricks is a challenge. In addition to dribbling, you must get the feel of your cars and the ball's physics; you can do insane tricks with your cars such as the air dribble bump, the breezi flick, the low 50-50, and many more.
Following Rocket League's massive success, we've seen an explosion of titles looking to emulate that same blending of arcade-style gameplay and team-based competition. While a fair few of them are blatant Rocket League rip-offs, there are a few diamonds in the rough worth trying out.
Love Rocket League's high-flying, over-the-top interpretation of soccer? Here are 7 wild sports games like Rocket League that will give you that same adrenaline high.
Robot Roller-Derby Disco Dodgeball
Have you ever wondered what it would be like to have your favorite gym game turned into a true competitive action game? Well, Robot Roller-Derby Disco Dodgeball may be the game for you.
This game is a highly competitive first-person shooter that combines dodgeball, robots, and Tron into an action-packed team-based experience with a distinctive '80s synth-wave vibe.
The goal of the game is simple: just aim and fire at your opponents until all of them are eliminated. Of course, your opponents are trying to do the same to you. You can get more points by hitting trick shots, which involve performing moves like the helicopter (known in other games as the 360 no-scope) before hitting your target.
There are 21 various game modes that may be played at any given time throughout the game. It's fully customizable, so if you get bored with the premade modes, you can make your own! 
Robot Roller-Derby Disco Dodgeball has a rudimentary single-player mode that mostly serves as a training mode. It's great for honing your skills without the pressure of online competition.
The online mode is simple, you join a public or unlisted online room and test your skills against other players. For those who enjoy couch gaming with friends, the game also supports split-screen local multiplayer.
Robot Roller-Derby Disco Dodgeball is available on Steam (Windows, OS X, and Linux). You can also find it on consoles under the name Disco Dodgeball – REMIX.
Disc Jam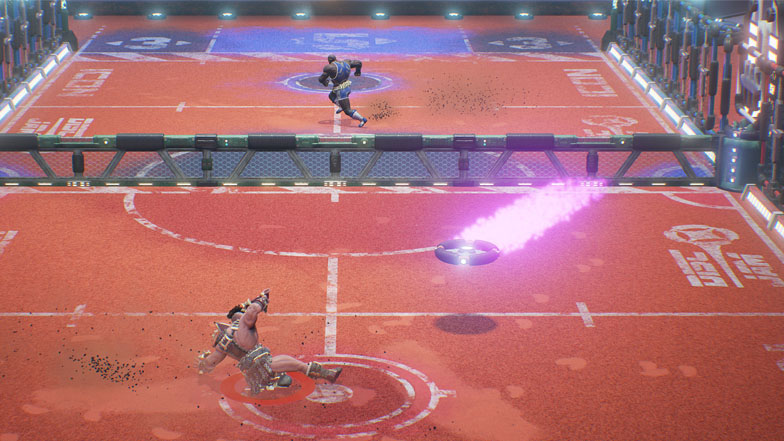 Disc Jam is an insane, over-the-top interpretation of air hockey that's designed for blazing-fast action.
Disc Jam brings disc throwing to a whole new level. The main objective is to outscore your opponent, but there's depth to the mechanics that make it more than just a 3D version of Pong. For instance, you can give your disc a bit of spin on release or jerk the controls to redirect your shot.
The game features online and offline multiplayer. You can head online and challenge your buddies or random players to thrilling air hockey bouts.
Those playing on Switch and PC can enjoy crossplay gaming (sorry PlayStation owners). There's also our preferred way to play Disc Jam: grab up to three friends and enjoy a bit of split-screen dueling IRL.
Disc Jam is available on PC (Steam), PS4, and Nintendo Switch.
Ball 3D
In comparison to Rocket League, Ball 3D: Soccer Online may appear unpolished and unattractive; however, despite its appearance, the game is actually quite packed with a plethora of mechanics and features. On this list, Ball 3D: Soccer Online is the most comparable game to Rocket League.
Ball 3D: Soccer Online is a PC game that gives you complete control over the angle at which you kick the ball. This opens up the possibility of scoring some Regardless of how spectacular your goal is, it's all your fault if you make a mistake, so be careful.
When you first start a game, it's best to get up to speed with the game's control through the tutorial. It is recommended to finish the tutorial before going online, it's pretty straightforward and doesn't take that much time to finish.
If, however, you have gone through the tutorials and did some training but are still not confident to go against skilled players right off the bat – no need to feel afraid.
Even if soccer isn't your thing, you won't be bored playing Ball 3D: Soccer Online because it offers more than just soccer itself. Ball 3D also features a slew of other game modes (also based on real sports), like handball, racing, basketball, and battle royale mode.
Roller Champions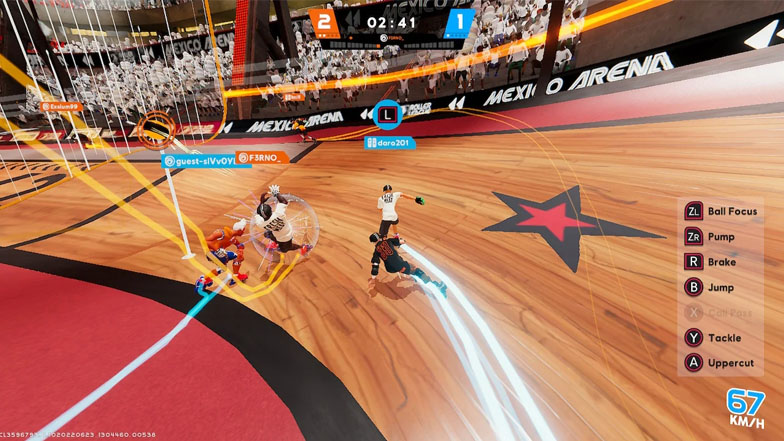 In 2022, Ubisoft Montreal released Roller Champions, a free-to-play action sports game. This game is a third-person perspective roller-skating sports game.
The main objective for you is to compete against the opposing team in a fast-paced, three-on-three sporting event that features slamming defensive and offensive plays as well as audacious escapes!
The game combines competitive action with cooperative teamwork. Take advantage of passing to your teammates, tackling your opponents, and showing off your maneuvers, so use whatever is at your disposal in order to climb to the top of the leaderboard!
To get points, your team needs to hold onto the ball and go around the course's gates without interruption by the opposition. If you do drop the ball, you must fight your way to get the ball back and repeat going through the gates again before you can score more points. 
Through Ubisoft Connect, Roller Champions can be downloaded for free on PC, Xbox One, Xbox Series X|S, PS4, PS5, and Nintendo Switch.
Knockout City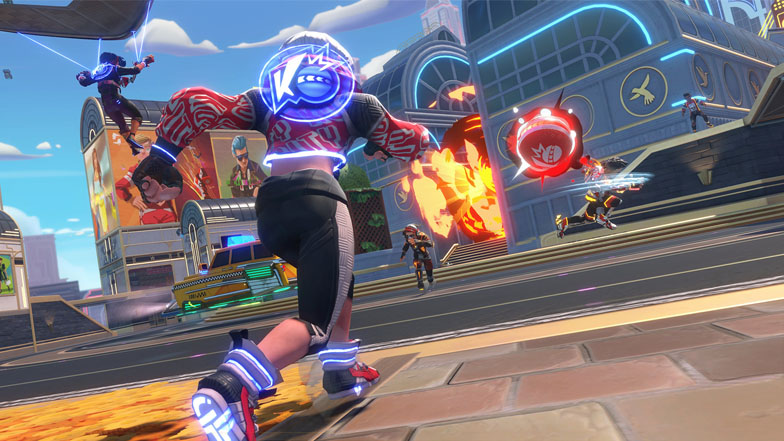 You should check out Knockout City if you are interested in taking part in a dodgeball tournament that involves the entire city. Velan Studios was the company responsible for the development and publishing of this game, which was released in 2021 for multiple platforms.
Knockout City heavily relies on teamwork. The gameplay resembles dodgeball, where your goal is to attack enemies of the opposing team by hitting them with a ball. Unlike traditional dodgeball, there are various ball types that give players different skills, like the Bomb Ball, which explodes on impact and hits multiple enemies at once.
The creators of Knockout City have thought of everything, even the possibility that you could get tired of playing the same game type over and over. When it comes to keeping the game running smoothly, the developers have not compromised in any way.
Every map released has its own obstacles and hazards in place, so learn the cities to your advantage. In addition to the standard Team KO gameplay, the game came with five other game types. Every season, new time-limited game modes are introduced.
If you're itching to play one of the best sports games out today, Knockout City is available on PC, PS4, PS5, Xbox One, Xbox Series X|S, and Nintendo Switch.
Turbo League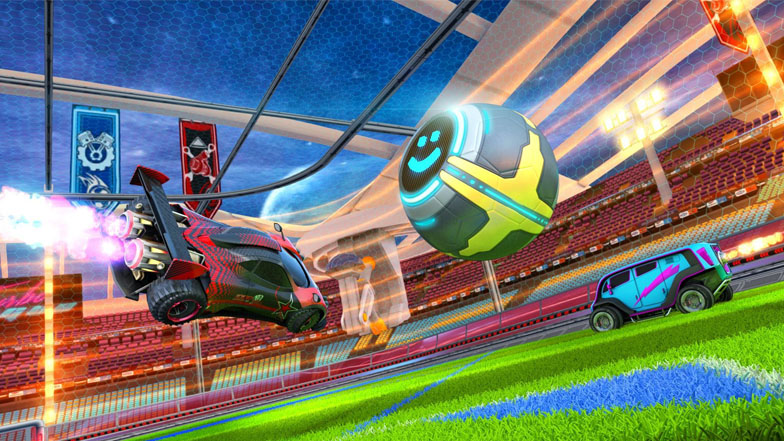 If you are looking into playing a similar game to Rocket League on the go, then this Rocket League clone for smartphones is a great choice.
Although Rocket League Sideswipe was released recently, the gameplay is limited to a 2.5D side scroller with a maximum of two players. The developers of Turbo League, Zero Four LLC, have done their best to bring the full Rocket League experience to mobile devices.
Everything that is found in the game holds true to Rocket League, with similarly beautiful fully rendered 3D environments, full 3D movement in a large stadium, and various unlockable vehicles to bash your way into victory. One major difference between Turbo League and Rocket League is the max number of players in a team is limited to three.
Although the game was released on touchscreen devices, the controls may feel a bit strange due to the limitations of using two thumbs to try and do tricks or at least control multiple aspects of your vehicle. If you want, you can connect a controller and adjust the controls to your liking to play like Rocket League.
In addition, the cars you unlock can also be fully customized, so if you want to manually adjust the decals of your vehicle, Turbo League has got you covered with their very own 'Decal' editor. You have the ability to modify the way you want to make your vehicle look unique.
Turbo League also has crossplay between different mobile platforms. So, get ready to go against your opponents playing on either Android or iOS for free on the Play Store or App Store.
Freestyle 2: Street Basketball
If you want to experience the most arcade-like basketball games ever to be released, Freestyle 2: Street Basketball is the perfect game. The similarities found between Freestyle 2: Street Basketball and Rocket League is the true competitive experience with a high focus on teamwork.
This game was developed by JOYCITY and released back in 2015. Although it's been a while since the game was released, the developers and the community behind Freestyle 2: Street Basketball are still highly active.
Essentially, it's a simplified version of basketball. The game's 3 vs. 3 half-court format replaces the traditional 5 vs. 5 full-court format. Since the game only utilizes half of the court, the player does not have to worry too much about moving about the court in order to jump right into the action.
Unlike most sports games where players control the whole team by switching between active characters like the NBA 2k series, Freestyle 2: Street Basketball is more similar to Rocket League where one player only controls one character with the difference being that your character's role and states can determine your team's fate.
The Center, Forward, and Guard are just a few of the many roles and positions you may apply to your character. Other unique roles that can be unlocked such as the Point Guard and the Shooting Guard each have their own unique improvements that allow them to play in a variety of ways, much as in real-life basketball.
Freestyle 2: Street Basketball is not a simple game to master. Unlocking a vast range of actions and talents allows you to alter your playstyle in several ways. But if you think you have what it takes to be a streetball legend, then you can jump right into the action free of charge on PC.
If you like comparison articles such as this one, you'll be happy to know that we have a whole category for them. Since Rocket League is a competitive game, I recommend starting with the best games like Call of Duty, and working your way up from there.