What better combo is there than affection for video games and ardor for sports? And what better platform to relish this combination than the PS5?
Whether you love the sound and sight of huge men hitting and tossing each other around on a pitch, prefer the thrill of overtaking super-fast vehicles at sharp narrow bends, or admire the stare-down right after dunking on someone, there is something for you here.
The PS5 is full of surprises, and its unique next-gen features take the sports gaming genre to a whole new level with some bonuses specifically created for the console.
There are many awesome options out there, so creating a list of the best sports games on PS5 was no easy feat. However, I managed to narrow it down to a list of 14 titles. Let's get to it!
NBA 2K23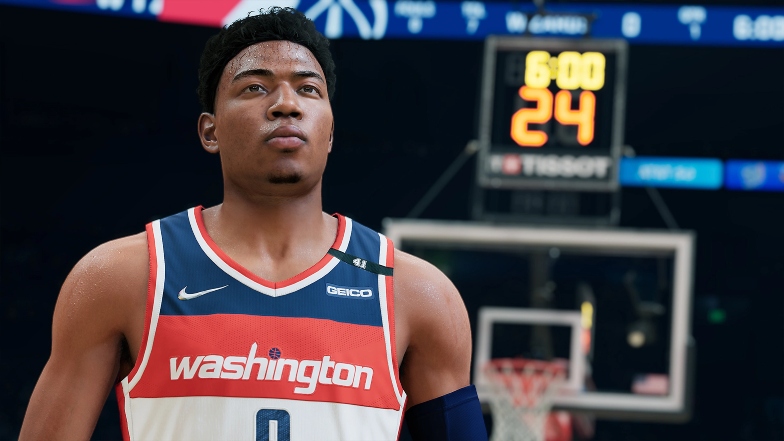 Basketball is a beautiful game – one of the most popular sports on the planet. From power dunks to long-range three-pointers, the game is packed with a never-ending supply of adrenaline.
NBA 2K23 does a great job of presenting that adrenaline-filled experience in a video game. Published by 2K Sports in 2021, it is the successor to NBA 2K22 and the 24th entry in the NBA 2K game series.
As a player, you engage in basketball matches and can form your dream squad consisting of old legends and present basketball stars.
The game also offers new moves and combinations you can try out during a match. The defensive gameplay difficulty has been upped; however, wide-open shots are now easier to execute.
The famous MyCareer mode has been improved by including RPG elements. This allows you to not only play basketball matches but also engage in side projects that are beneficial to your basketball career and brand. Projects such as diving into the fashion world or starting a music business.
The soundtrack is constantly updated to keep up with the current music trends – it's the first time in the series you'll experience such a feature. The game also features various core game modes like MyTeam and The W (for WNBA), and you can play in solo or multiplayer mode, online or offline.
NBA 2K23 utilizes realistic graphics that offer a detailed reproduction of players and stadiums. This, together with the up-to-date soundtrack and the exceptional lighting, make this game one of the best sports games on PS5.
FIFA 23
Another great sport filled with thrills and emotions is soccer. Some might argue that it is the greatest sport on the planet, and to be honest, it's hard to ignore the base of that argument.
FIFA 23 is a soccer video game published by EA Sports in 2022. It is the successor to FIFA 22 and the 30th and final entry of the EA Sports FIFA franchise.
The game features similar mechanics and gameplay to its predecessors. You play football matches and control teams and players in various game modes, engaging in tournaments, training, and team management.
In Career mode, you oversee the 15-year career of a manager or player. In the Ultimate Team, you create your own team and earn cards to get new players, and in Pro Clubs, you create and control your own soccer player.
A newer addition to this football simulation is VOLTA mechanics, which enables you to activate special abilities while playing a match. Other additions include new leagues and football stadiums.
Just like the NBA 2K series, the FIFA series makes it possible for fans to participate in their favorite sports in various ways, like playing a match, managing a team, or building the career of an upcoming star.
While FIFA 23 upholds the tradition of providing the best possible soccer gaming experience, it takes it to a whole new level with its many fresh updates.
The commentary and soundtrack also add to the immersive experience that makes the game rank up there with the best PS5 sports games.
Knockout City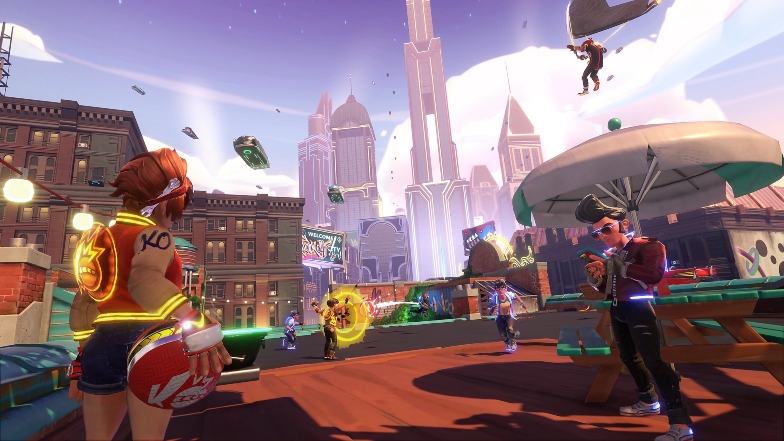 Knockout City draws inspiration from classic dodgeball. The game was published by Electronic Arts in 2021.
Things kick off with you creating your character, which you will use to participate in matches spread across different maps. Each location has unique conditions that affect the game's premise.
Your goal is to knock opponents out by throwing balls at them. Balls are obtained from the map or teammates, and each ball has unique attributes, such as the moon ball that increases its wielder's jumping power.
Additionally, players can enhance these attributes using special abilities. Your teammates can also curl into a ball and be used to attack enemies.
To execute a successful throw, you must use a good strategy and position your character well. You can catch balls as well as dodge them; however, if you're hit with a ball twice, you'll respawn.
There are several game modes to engage in and a Brawl Shop where you can obtain items to spice up your gameplay. The game is multiplayer-only, where you play in 3 vs 3 or 4 vs 4 matches, and in one of the game modes, you can form a team of 32 players.
Knockout City uses cartoonish and 3D graphic designs viewed in 4K 60fps resolution to deliver lighthearted and fast-paced action.
The game's sound system is also very enjoyable – both the soundtrack and ball sound effects enhance the fun experience that Knockout City offers.
Rider's Republic
It's time to take things to the extreme with this fun-filled massively-multiplayer sports game Riders Republic.
In this game, you have the option of different extreme sports to pick from. There's wingsuit flying, biking, snowboarding, and skiing, with each activity exhibiting easy-to-grasp and well-designed movement mechanics.
The game allows you to fly over and ride through gorgeous landscapes while competing with other players and showing off your best tricks in different game modes and competitions.
In Mass Races competitions, you compete against over 60 players, and in Tricks Battle Arena, you must outperform your opponent using your best tricks and moves.
In Career mode, you participate in different sports activities, and as you progress through this mode, you get invitations to play in big competitions like the X Games while gaining attention from big sports brands and major sponsors.
The game's map consists of seven national parks inspired by the Western United States, and players can communicate with each other via an overworld. There's also a microtransaction system for in-game currency, which you can use to purchase items and cosmetics.
Whether you're an extreme sports fan or not, Riders Republic is an exhilarating way to spend your leisure time.
WWE 2K22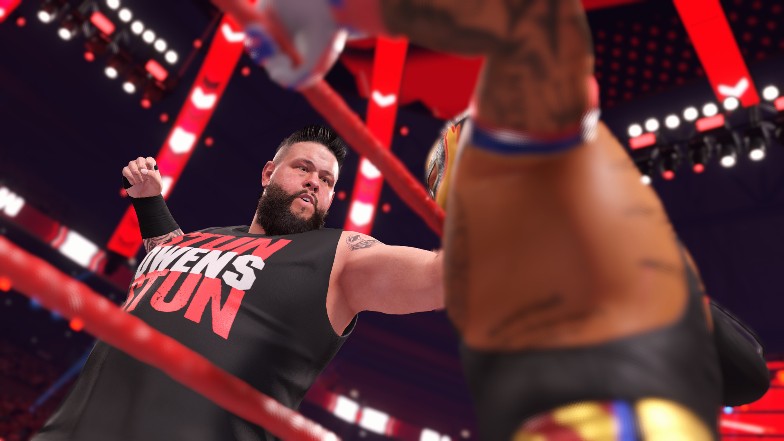 Developer Visual Concepts and Publisher 2K Sports worked together to give us another worthy contender for this list of best PS5 sports games.
WWE 2K22 is a wrestling video game released in 2022. It is the 22nd overall entry in the WWE game franchise and the successor to WWE 2K20, and they are both two of the best wrestling games for PS5.
As a player, you either engage in wrestling matches in the ring or carry out managerial activities. You get to control different superstars like The Rock, Brock Lesnar, Sasha Banks, and John Cena.
There are various modes to play in – both old and new. MyRISE focuses on come-up stories for both male and female wrestlers.
In MyGM, you manage one of WWE's brands using real-world characters like Adam Pearce, Sonya Deville, or a custom character.
In the new MyFACTION mode, you create and manage your own wrestling team and try to lead it to the top.
The Showcase mode also returns, focusing on the cover of the title, Rey Mysterio. You play through Rey's greatest WWE career moments in this mode, such as his fight against Dolph Ziggler at the 2009 WWE SummerSlam.
WWE 2K22 is an excellent comeback for the series seeing as it took some time off (there was no WWE 2K21) to regroup and improve.
Undoubtedly, the franchise successfully made a triumphant return with this game's revamped gameplay, refreshed graphics, new engine, and fresh, entertaining experience. It is now comfortably back amongst the best sports games on the PlayStation.
GRID Legends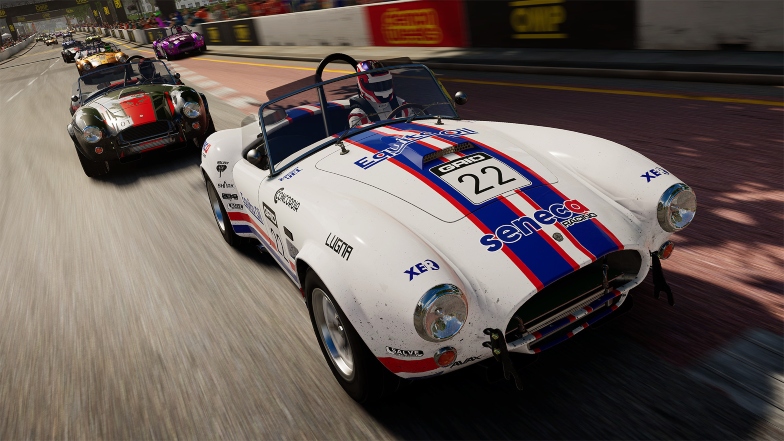 GRID Legends is a racing game published by Electronic Arts as the fifth entry in the Grid Racing game series.
You follow the Seneca Racing Team as they challenge the famous Ravenwest team for the Grid World Series championship. Races occur on real-world circuits like Indianapolis Motor Speedway and street routes in cities like Moscow and Paris.
There are over 130 tracks to race on and more than 100 machines to race with, including trucks and electric cars.
Multi-class tournaments are available, meaning different categories of vehicles can race against each other on the same track – for instance, a car and a truck.
There's a lot of action in the races. Accidents and crashes can occur, and a mechanic from the previous installment known as the Nemesis system enables opponents to turn against you if you harm them on the track.
A new feature in the series is the competitor editor that allows you to create your own races, tracks, and rules, which you can share with other players.
Another new feature is the Driven to Glory narrative-focused career mode that draws inspiration from Formula 1: Drive to Survive, a Netflix documentary series.
Developer Codemasters implemented the PS5's adaptive triggers into the gameplay, making it stronger, enhanced, and more realistic. If you're looking for something exhilarating and breezy, you'll definitely find it here.
WRC 10
WRC 10 is a racing video game published by Nacon in 2021. It was revealed as the official video game for the World Rally Championship that took place that year.
In the game, you compete in multiple title events like WRC Junior and WRC 2. You can either choose a team from 52 options or create your own team. You can use various cars, including historical rally cars like Citroën Xsara WRC, Lancia Delta Group A, and Audi Quattro.
With the updated rally calendar, there are new stages from several countries in the game. Routes from the previous games have also been included. The driving in the game is very entertaining, especially with the PS5's haptic feedback and adaptive triggers enhancing the realism.
WRC 10 comes with a 50th Anniversary game mode which serves as a celebration of the fiftieth anniversary of motorsport. There are also other game modes like Career mode, where you manage your team and build its reputation, or Season mode, where you focus mainly on rally stages.
The game is packed with a lot of content for you to engage in. From the anniversary events to the in-depth career mode, there's a lot to keep you well-entertained for a long time.
DIRT 5
Dirt 5 focuses on rallies and off-road racing. It builds on elements from its predecessors, developing new ideas and concepts.
Events take place in real-world locations and with real-world cars. Each race is unique, and sometimes you might have to drive in harsh weather conditions, which actually makes the game more fun.
There are several modes for both single-player and multiplayer. There's a multiplayer mode where 12 people can engage in racing and other tasks.
Another mode allows for four players on a split-screen. There's also a narrative-based career mode that focuses on a rivalry with driver Bruno Durand.
Dirt 5 offers players a rock-solid driving experience with its highly detailed cars and routes, banging soundtrack, and high-quality, colorful graphics. It's truly an entertaining game, especially if you want a different experience from the smooth road racing titles.
Olli Olli World
OlliOlli World is a skateboarding platformer published by Private Division in 2022. It is the third installment of the critically-acclaimed OlliOlli series by British developer Roll7.
You assume the role of a young skater passing through a skateboard utopia known as Radlandia. This vibrant and colorful world of eccentric characters provides you with multiple quests and challenges where you can show off your best skating tricks.
To earn points and obtain high scores, you'll need to combine your moves into combos. Another way to increase your score is by grinding on rails and riding walls.
At some point, the game shifts from 2D to 2.5D, enabling it to properly introduce alternative routes where you can shift or jump to take a detour into a new stage filled with opportunities to pull off more sick moves.
There are various game modes to choose from. The single-player Sandbox mode comes with different levels in unique locations, while the Competitive mode allows you to compete with players worldwide.
There are also side missions where you earn cosmetic items that allow you to customize your character's style and looks and unlock special skateboard tricks to add to your list of rad skating moves.
It doesn't matter if you've never played any of the previous versions before because it's easy to get the hang of this game.
However, if you played the other installments of the OlliOlli series and loved them, you'll also love this one since OlliOlli World was built on the foundations of its predecessors.
MLB The Show 22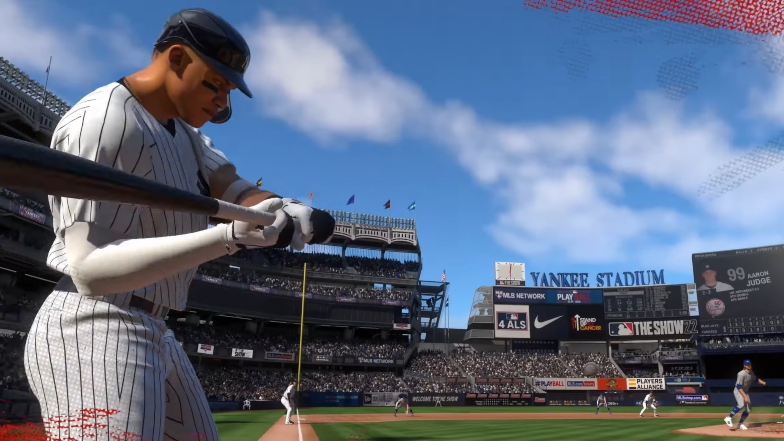 From developer San Diego Studio comes the 17th installment of the MLB The Show game series.
MLB The Show 22 is a baseball game based on one of the most famous baseball leagues in the world. Sony Interactive Entertainment published it in 2022.
You can use real baseball players, stadiums, and teams in the game. However, if you prefer to customize your own characters, go for it!
As a player, you engage in baseball matches, assume control over baseball players, and manage baseball teams between games. If for some reason you dislike the gameplay, you can adjust it to your preference, picking from the several difficulty levels and game styles.
Similar to its predecessors, the game offers single-player and multiplayer modes. The Diamond Dynasty mode allows you to experience the thrill of belonging to a team where you discuss strategies and perform hits and runs together. You can also collect and unlock cards with players in this mode.
MLB The Show 22 has improved graphics and fantastic gameplay that make you want to spend some time in the ballpark. The soundtrack and commentators are also great. Look no further if you're looking for some bat-swinging, ball-pitching fun!
F1 22
British developer Codemasters presents us with yet another racing game – the third from the studio on this list of best PS5 sports games. They seem to be dominating the scene, and for good reason.
F1 2022 was published by EA Sports in 2022 as the 15th installment of the F1 series. It serves as the official game of the Formula 1 and Formula 2 2021 championships.
As a player, you engage in races based on real-world elements – players, cars, and racing tracks. Some of the circuits you'll be racing on include the Montreal, Marina Bay, Suzuka, and Melbourne circuits, whose races were canceled in real life because of the COVID-19 pandemic.
The feeling of danger and speed on the tracks is immense, and after each race, you can relive these intense moments through the replay option.
One excellent feature of F1 2022 is that regardless of your experience in F1 racing games, its flexible handling model allows you to make adjustments that suit your preferences.
There are a significant number of game modes for you to participate in. There's the Road to Fame story mode, where you control your driver in his adventures on and off the track, and the Career mode which, for the first time in the series, allows two players to play together as a team or as rivals.
Being the first in the franchise to be released on 9th-gen consoles, F1 2022 takes full advantage of the new-gen experience. Since its launch, it has been considered to be one of the very top PlayStation 5 racing games.
Faster loading times, enhanced 120 fps framerate, haptic feedback and adaptive triggers that provide a feel of each car, and ray-traced replays that bring the game to life – all these combine to produce one of the most immersive racing experiences ever.
Tony Hawk's Pro Skater 1 + 2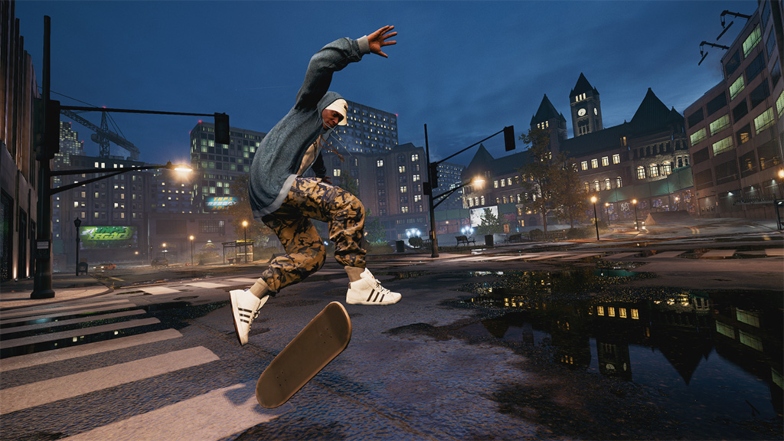 Tony Hawk's Pro Skater 1 + 2 is a skateboarding game created as a remaster of the first two installments of the Tony Hawk's series – the 1999 Tony Hawk's Pro Skater and the 2000 Tony Hawk's Pro Skater 2.
It was published by Activision in 2020 for the PS4 and in 2021 for the PS5.
The game contains all the characters and game levels from the previous versions. As a player, you can choose from real-life professional skateboarders like Tony Hawk, Kareem Campbell, Bucky Lasek, Bob Burnquist, and many others to control and skate within parks in malls, warehouses, and even the famous Burnside skatepark.
Although the gameplay mechanics are the same, there are new missions and skateboard moves to try out. Carrying out tasks and performing skating tricks earns you money which you can use to upgrade your characters and skateboards.
Single-player, multiplayer, and split-screen modes are available in the two parts of the game. The editor components allow you to create your own skaters and skateboarding parks. You can also show off your creations to fellow players.
This excellent remake exhibits higher resolution, a high-quality character model, enhanced lighting, faster loading times, HDR support, and haptic feedback that incorporates the feeling of every grind and landing.
Overall, Tony Hawk's Pro Skater 1 + 2 is an excellent arcade-y skateboarding game that does well to revitalize the franchise.
Gran Turismo 7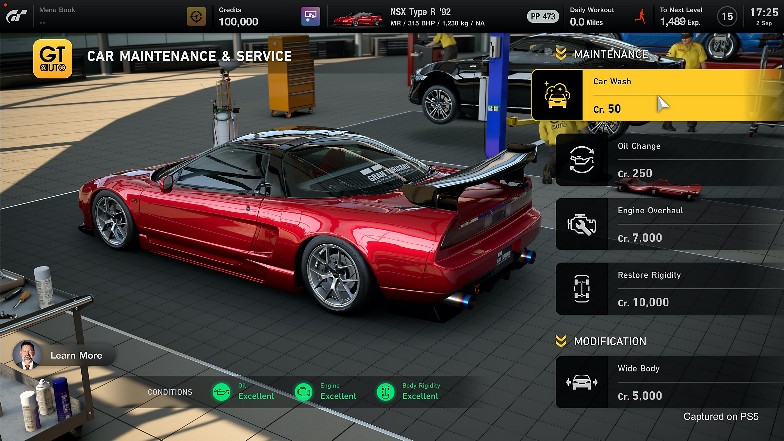 Gran Turismo 7 is a simulated racing video game published by Sony Interactive Entertainment as the eighth entry in the Gran Turismo game series.
GT7 builds on the formula known from its predecessors. As a player, you progress through the game, completing tasks while unlocking new features like vehicles, tracks, and game modes.
There are lots of returning features, such as the Campaign Mode, where you participate in many races on public roads and closed circuits, and the Sport Mode, which was initially introduced in the 2017 Gran Turismo Sport game.
Other elements from the previous versions include weather effects and events like Championships and Special Events.
There are single-player modes as well as multiplayer modes where you compete with other players in online races. All modes are played online except the Arcade mode.
GT7 illustrates the true graphical potential of the PS5, with each vehicle being obsessively and highly detailed.
It also uses the DualSense controller and adaptive triggers to communicate the vibrations from each force-subjected vehicle while enhancing the handling model's engagement.
MXGP 2021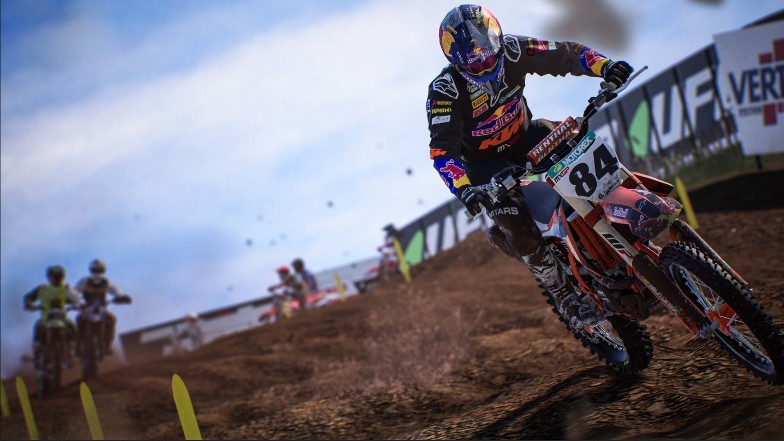 Last on the list is another racing game, but this time, we'll be looking at the extreme sport of motocross.
MXGP 2021 owns a license from FIM (Fédération Internationale de Motocyclisme), so it features real-world motocross racers, teams, and tracks. Some of the tracks include classics like Mexican Leon and Ottobiano and ones from the official 2021 Motocross World Championship.
Your duty as a player is to drive high-powered motorbikes around challenging dirt tracks. In order to win a race, you need to be adept at balancing the racer's body during turns, making necessary jumps, and overcoming obstacles. You also need to be very familiar with the tracks.
MXGP 2021 provides customization options for you to mess around with. You can create your own rider and race circuits, as well as upgrade your motorcycle.
The game also provides a variety of game modes like Career Mode, where you choose a team and move up the ranks starting from the MX2 level, and Playground Mode, which exhibits some open-world elements.
MXGP 2021 is an excellent dirt bike racing game with enjoyable gameplay that will keep you engaged. Veterans of the racing series will love this game. It is also newcomers-friendly, so everyone can have a great time playing it.
Games like MXGP and Dirt 5 offer fantastic off-road racing experiences on PlayStation, and if that's something you're a huge fan of, your next stop should be at our best off-road game recommendations.