Call of Duty is one of the most popular game franchises in history. It's an industry name that's known for having a perfect mix between exciting combat and thoughtful strategy, complete with legendary characters and plenty of cool weapons.
If you're a fan of shooter games who's been around for a while now, you may be starting to get a little bored of Call of Duty. CoD has been around for a long period of time, and even the best games can start to feel the same to dedicated fans.
That's why we've put together our list of the top games like Call of Duty. It's full of 10 standout titles that are the perfect way to take what you love about the Call of Duty franchise and enjoy it in a fresh new format.
Here are 10 epic games like Call of Duty that we think you'll love.
Apex Legends
Apex Legends is one of the most played (and streamed) battle royale games in existence. Like Call of Duty, it features skill-based gunplay with a hefty dose of weapon customization options to personalize your loadout.
What makes Apex Legends different is its inclusion of unique characters, each of which has its own special ability. This adds a layer of depth that not even Warzone can match.
For example, the character Ash has an ability that opens a one-way portal that teams can use to travel across the map instantly. The character Bangalore has a rolling thunder ultimate ability, which lets him drop an airstrike across an area.
There are a total of 21 characters in Apex Legends as of the time of writing, so there's a ton of room to switch up your gameplay and make things interesting. It's why Apex is at the top of our list for games like CoD.
It's one of the most popular battle royale games on PS5, and you're sure to love it if you're looking for something fast-paced and thrilling to play today.
Tom Clancy's Rainbow Six Siege
Part of what makes Call of Duty great is the number of different game modes there are to enjoy. You can play Warzone for a battle royale, single-player for a fun story mode, or team-based competitive matches for that classic online multiplayer experience.
If you're someone who enjoys the in-depth strategy of team-based Call of Duty, then Rainbow 6 Siege should be the perfect game for you. It's a team-based FPS game that emphasizes close-quarters combat and lots and lots of strategy.
The game features a roster of highly-trained special forces operators, who each have their own abilities for contributing to their team's success. The game also has a thriving competitive scene, with some incredible teams to watch and support.
If you're interested in really getting serious about a game and learning to be the best gamer that you possibly can, then this could be the perfect pick for you.
Counter-Strike: Global Offensive (CSGO)
| | |
| --- | --- |
| Genre: | Tactical first-person shooter |
| Developers: | Valve and Hidden Path Entertainment |
| Release Date: | August, 2012 |
| Find at: | Microsoft Store and Steam |
| Multiplayer: | Team Based PvP |
| Single Player: | N/A  |
Counter-Strike: Global Offensive is a game that needs no introduction. It is one of the most widely-played shooters globally, and it's an ideal game for anyone who's hunting for more games like Call of Duty.
The game pits a team of terrorists who want to detonate a bomb against a team of counter-terrorists who want to stop them. The result is a highly addictive first-person shooter that places a priority on aiming, team strategy, and all-out skill.
CSGO is similar to Tom Clancy's Rainbow Six Siege in that both prioritize team-based game modes in which you die once and then have to wait until the next round to respawn. The difference between the two is that CSGO doesn't have operators with special abilities.
So, if Rainbow Six sounds good to you but but you don't want to have to learn how to use and fight against a ton of different special abilities, this game could be the best alternative to Call of Duty for you to pick up today.
Halo Infinite
| | |
| --- | --- |
| Genre: | First-person shooter |
| Developers: | 343 industries |
| Release Date: | December 8, 2021 |
| Find at: | Microsoft Store, Steam, and Amazon |
| Multiplayer: | Online PvP |
| Average Playthrough: | 14 hours |
Halo is another iconic franchise with plenty to bring to the table. Halo Infinite brings back everything that players loved about the original game, including a compelling story campaign and plenty of thrilling online multiplayer modes to enjoy with friends.
This game has a fantastic battle royale mode, known as Last Spartan Standing. This takes the classic Halo multiplayer experience and kicks it up a notch with shrinking zones and bonus weapon upgrades based on kill count.
The only thing to note about Last Spartan Standing is that it's technically a mini battle royale since it only accommodates a maximum of 12 players. It may not scratch your battle royale itch entirely, but it's still worth playing.
Halo Infinite has almost every game mode that CoD offers. Whether you like a single-player story, team-based multiplayer, or a battle royale, this game could be a good fit for you.
Hunt: Showdown
Hunt: Showdown is a game that slipped under many people's radars when it initially came out. It's one of the most unique entrances into the battle royale category to date, and is worth looking at as an alternative to Call of Duty.
In Hunt: Showdown, it's 1895 and you're a hunter who's been tasked with eliminating beasts from the Louisiana Bayou. You can do this on your own or in teams of two and three.
Your team isn't the only group trying to hunt down beasts in the Bayou, though. You'll be pitted against several other teams who will be competing with you for a bounty. This results in some ruthless BR-style battles that stand out thanks to the PVE aspects of the game.
You'll get to play with friends, enjoy lots of period-inspired weapons, and explore an engrossing world that no other game in this category can match. Features like these make Hunt: Showdown a BR title that stands out, and a worthwhile option for people looking for games like Call of Duty to consider.
Left 4 Dead 2
Left 4 Dead 2
The zombies mode in CoD is a game mode that has always helped the franchise stand out from the crowd. If that's one aspect of Call of Duty that you love, then trying out Left 4 Dead 2 is a must.
Left 4 Dead 2 is a blood-soaked, co-operative horror game takes you through five intense campaigns across the Deep South.
You can play online with friends, dive into the story, or just have a blast by yourself killing zombies in every way imaginable, including with guns, chainsaws, and even frying pans.
You won't find the gun-based PVP that Call of Duty offers here. However, Left 4 Dead 2 does have stats, rankings, and award systems that help to keep things fresh by bringing a bit of competition to the table. It's a gory and thrilling game for Call of Duty fans to check out.
Hell Let Loose
Chaos. Pure, unadulterated chaos. That's the only way to describe Hell Let Loose.
This game puts you right in the middle of some of the most interesting battles in human history. You'll play in largescale 50 vs. 50 multiplayer battles across huge maps and will be able to choose from 14 playable roles.
Hell Let Loose is perhaps the best video game encapsulation of the chaos that war truly is. It features a unique blend of strategizing with a large team and gunplay, which helps it stand out from most of the other titles in this genre.
To make things even crazier, this game features proximity voice chat. This lets you communicate directly with up to 49 other players at once. What could go wrong?
If you're looking for a fun way to take part in huge battles and get a little crazy, then this one is for you. It's one of the best shooter games on the Xbox series X/S, and it's a must-play for Call of Duty fans who are looking for a new style of play.
Arma 3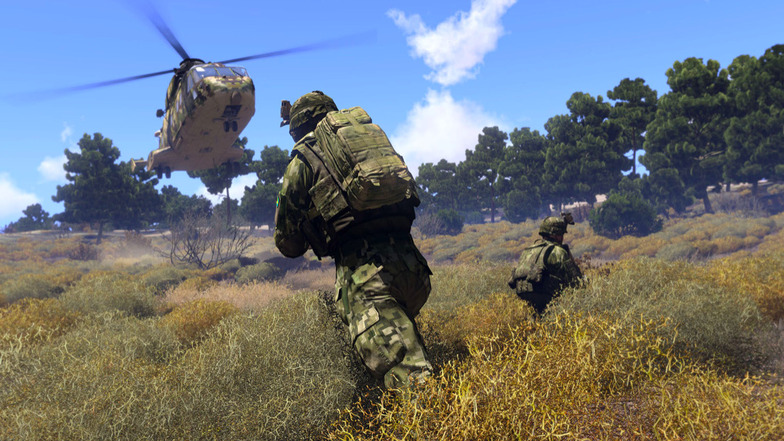 | | |
| --- | --- |
| Genre: | First-Person Shooter, Tactical Shooter |
| Developers: | Bohemia Interactive |
| Release Date: | September 12, 2013 |
| Find at: | Steam |
| Multiplayer: | PvP |
| Average Playthrough: |  20 hours |
Arma 3 is an older game, but it's one that absolutely still deserves your attention, especially if you've never tried it before.
The game was designed to provide a true combat experience in a massive military sandbox. It features more than 20 vehicles, 40 weapons, and almost unlimited opportunities to create compelling moments with your friends.
You can enjoy Arma 3 as a single player by following the story of Ben Kerry. The campaign is rich and detailed, with plenty of thrilling combat.
You can also hop online and play in massive multiplayer lobbies in tons of different scenarios. The maps are very impressive. There's a huge amount of territory with lots of diversity, such as rolling hills, large cities, and dense forests.
There are also a ton of powerful modding tools available for this title, so if you get into it, you'll have a lot of freedom to build your ideal war story.
Overwatch
| | |
| --- | --- |
| Genre: | First-Person Shooter, Hero Shooter |
| Developers: | Blizzard Entertainment |
| Release Date: | May 24, 2016 |
| Find at: | Blizzard |
| Multiplayer: | Yes |
| Average Playthrough: |  – |
Overwatch is a unique addition to the world of shooter games, and it's comparable to Call of Duty in some regards. This game is colorful and much more vibrant than CoD, but it still contains heaps of the adrenaline-fuelled combat that Call of Duty fans crave.
What makes Overwatch different is its large roster of heroes. Every single hero has unique abilities and specials to learn, making the game almost endlessly replayable. Every time you switch characters, it's like you're playing an entirely new title.
For example, if you're looking for the classic shoot-em-up Call of Duty experience, you could play as Soldier 76 or Cole Cassidy. Alternatively, if you want to be a tank who can hook people across the map and pull them closer a-la Scorpion in Mortal Kombat, then play Roadhog.
The game pits two teams of five or six against one another and has them fight to capture objectives, push carts, or keep control over a point. There's a ton of depth to this game and high-level competitive play to enjoy, which makes it a good fit for gamers of all styles.
PUBG: Battlegrounds
Finally, we couldn't write up this list without featuring PUBG: Battlegrounds. It was one of the first huge titles in the battle royale category and it's still one of the most widely played battle royale games globally.
If you're looking for a game like Call of Duty, then this one could be one of the most unique options for you to check out. It's very similar to CoD, in that it focuses on realistic gunplay, lots of different loadout choices, and plenty of engaging squad-based gameplay.
It's also one of the only games on this list that you can play on your phone, so if you're a mobile gamer, this could be the one to check out.
PUBG: Battlegrounds offers plenty of content and opportunities to hone your combat skills, and we'd highly recommend checking it out.