Unlocking outfits in sports games is one of the most fun parts of Nintendo's Switch Sports. However, it can also be one of the most frustrating things in the game because of how restricted it can be about its customization.
The system behind unlocking Outfits is meant to keep us coming back for more, but it can be a bit annoying and grindy.
Either way, if you are looking for a guide that will show you how to unlock outfits in Switch Sports, you have just found it.
Keep reading to learn how to do it, and check our tips and tricks to help you get the items you want.
Play For Points
I mentioned it in our guide on how to unlock hairstyles in Switch Sports because it's basically the same thing.
Outfits are items, and they need to be unlocked by collecting points. However, there is a significant difference between changing your outfit and hairstyle; you can't count on a Mii to change what you are wearing.
That being said, you will have to play the game until you have one hundred points to get the item that you want, no matter if it is a hairstyle, an accessory, or an outfit.
Besides, as we mentioned in our guide on how to get new items, you don't get to choose the item. You choose a collection, and you get a random item from it.
Getting the exact outfit you want is a process that can sometimes if you try to grind it out and win enough matches. Fortunately, it isn't that much of an arduous task. As long as you enjoy the game, you can gather points by playing your favorite sport.
Nintendo Switch Online Subscription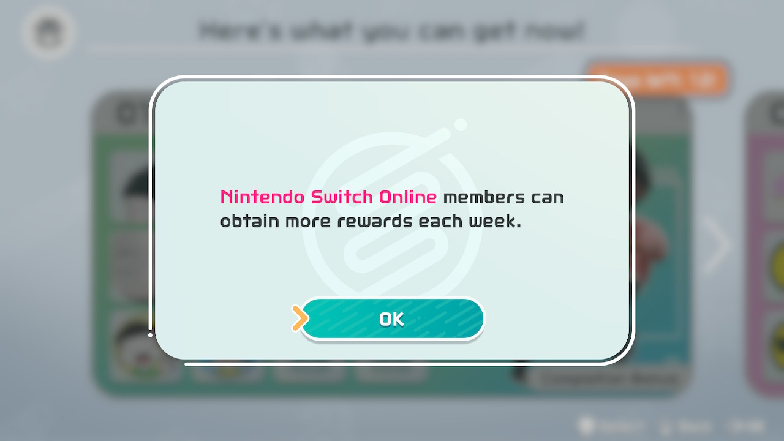 Switch Sports doesn't let you get more than two items per week unless you have an active Nintendo Switch Online subscription.
Obviously, such a thing isn't free. It costs $20 a year and provides a number of different benefits like online play and cloud saves.
When it comes to Switch Sports, a Nintendo Online subscription lets you gain more items per week than you would without it. It also grants you access to collections that are only available to subscribers.
This means that the hairstyle you want might be locked behind a paywall. On the other hand, Nintendo Switch Online is worth it if you actually use the many things they provide in this service.
Final Thoughts
Unfortunately, the game does not have many customization options for your avatar right now. Especially if you only count those that are available when you first start the game.
It's true that you can unlock outfits and other customization items by playing the game. Still, the paywall behind a Nintendo Switch Online subscription can be frustrating to some players.
The key to unlocking all that is available is to subscribe, queue up for three sports at a time, and win. There's some grinding to be done even if you pay, but it is what it is.
Luckily, Nintendo Sports is a fun party game, and time flies when you are trying to learn how to fast serve in Tennis and leaving the court victorious.
Since it helps if you queue up for three sports, go check our Switch Sport Badminton tips and our Soccer tips to dominate all your matches and unlock the outfits you want much faster.