New World is an open-world MMORPG game developed by Amazon Game Studios. MMORPGs typically require a lot of RAM since it loads a ton of assets everywhere you go. This includes the number of players you have on your screen.
There are a lot of variables involved and your RAM can quickly fluctuate from using 6GB of RAM to 16GB of RAM. That can spell bad news for your system as it may crash a few times without the right hardware.
This guide will show you how to allocate more RAM to New World and other tips you can do to reduce your New World RAM usage to avoid crashes and increase FPS when playing.
Firstly, you should compare your system to New World's system requirements below.
Minimum System Requirements for New World
Requires a 64-bit processor and operating system
OS: Windows® 10 64-bit
Processor: Intel® Core™ i5-2400 / AMD CPU with 4 physical cores @ 3Ghz
Memory: 8 GB RAM
Graphics: NVIDIA® GeForce® GTX 670 2GB / AMD Radeon R9 280 or better
DirectX: Version 12
Network: Broadband Internet connection
Storage: 35 GB available space
Additional Notes: Internet connection required to play, offers in-game purchases
Recommended System Requirements
Requires a 64-bit processor and operating system
OS: Windows® 10 64-bit
Processor: Intel® Core™ i7-2600K / AMD Ryzen 5 1400
Memory: 16 GB RAM
Graphics: NVIDIA® GeForce® GTX 970 / AMD Radeon R9 390X or better
DirectX: Version 12
Network: Broadband Internet connection
Storage: 35 GB available space
Additional Notes: Internet connection required to play, offers in-game purchases
As you can see here, the minimum system requirements seem pretty steep in terms of
RAM requirements.
How to Reduce New World RAM Usage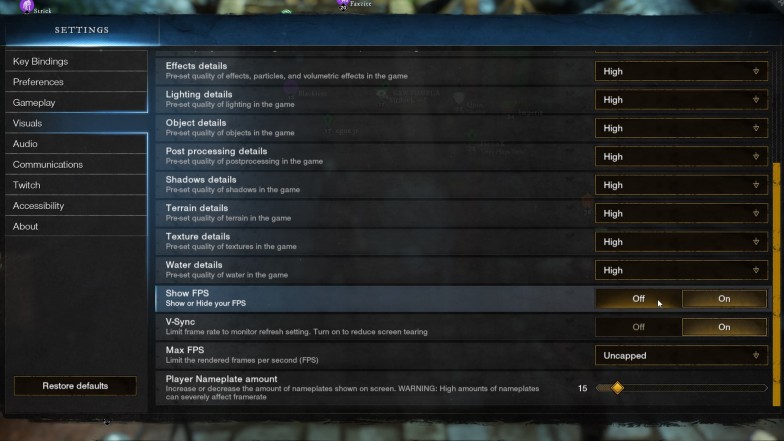 New World high memory usage issues have been quite common amongst players in the community. Luckily, there are a few ways you can stop New World from using a lot of RAM.
Your slider should, depending on which hardware you use, look something like (the image above) this. You see a bunch of different parameters for which performance can be adjusted and they all have different effects on how the game looks and what the impact on your system.
Video Quality, as it is called on New World, is a general preset. You can choose low, medium, high, very high, and custom. Since lowering the graphics will help your GPU, it will reduce the load on your processor as well.
This is important because the processor or CPU is also responsible for using the stored memory on your RAM.
Adjusting this terrain and object quality to a lower setting will make a big difference while gaming at
higher resolutions like 4K. If you play at 1080p or below, you can adjust accordingly as you might be able to handle it.
These are all specific to your VRAM as the RAM is a separate issue. Settings such as View Distance, Field of View, and other settings that add more assets to load will all affect your New World virtual memory usage.
Lowering them will help you reduce your New World memory usage but, they are only a few tweaks you can do as most of the adjustable settings are all graphics-related (VRAM).
How to Allocate More Ram
Setting High Priority RAM Priority
You can also change your textures in a more DIY special way, by changing the priority level
via the Windows task manager; this trick is less known but also affects a different part of
memory: the normal RAM.
RAM is quite a lot cheaper now than it was a few years ago so running a game with too little
ram would not be recommended.
The easiest way, which we all have available at our disposal, is changing what
priority the task should be from the task manager.
You simply do this step by opening the task manager.
Once that is done, you should right-click on the New World task and press the "Details" tab.
From here, you need to right-click the New World process (it should be running while you are doing this), go to set priority, and choose high instead of normal.
This will have a marginal yet noticeable impact if you struggle with RAM usage. But, if this is not
enough, we recommend manually closing out non-essential tasks from your taskbar or
downloading a third-party software that does this for you, an example of this being Mem
Reduct.
Closing Processes in the Task Manager
Depending on what apps you have installed, you can close quite a few tasks
from the task manager.
The task that you don't always need to use but takes up a lot of resources is often
the web browser. This can use between 500MB and 2GB of RAM depending
on how many tabs you have open.
If you only have a few tabs open, some of them might use up a ton of RAM. For example, playing a video on YouTube will use more RAM than having 3 tabs with only texts and images combined.
It is to be noted that some web browsers use more resources than others. Using different web browsers may differ in RAM Usage.
A different category of task that is often useless but still uses quite a bit of resources
is game launchers; examples of this are Epic Games, Origin, Steam, Rockstar and
Battleye.
Closing these tasks will have little impact but, if you have a ton of these running, it will help significantly.
Disabling Your AV Software
Additional anti-virus software more than Windows Defender are also notoriously
known for using plenty of resources.
Temporarily disabling anti-virus softwares while gaming doesn't hinder computer
security while still boasting for a much better gaming experience.
These are the biggest killers in terms of eating up system resources, this is if, and
only if, you don't have demanding programs running in the background whilst gaming.
Other Tips to Reduce RAM Usage
If you have done all of this and still don't get the desired results, there is some room for
some more desperate measures.
A desperate measure that you can do is adding or allocating more memory to the game
directly, creating more RAM – that can be used in the game; one could say.
You can do this by going to the control panel via the Windows search bar, pressing on
system and security once you are in the control panel and then right-click on system and
press open.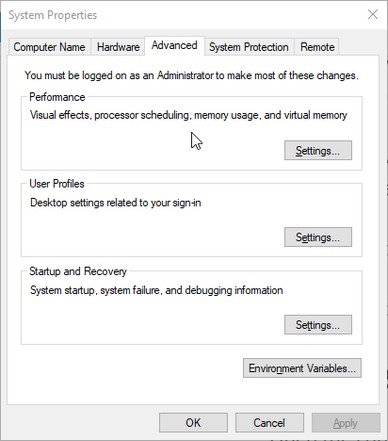 Now you are in the basic information of the computer, here you press change settings next
to the computer's name, from there press advanced and you should see this interface:
Here you simply click settings next to performance, then you press advanced on the bar,
there you will see something close to this:
After having done all of that, you can finally change the extra allocation of RAM. If
that's what you want to do, untick the box that says "automatically manage paging
file size for all drives".
From here, choose the drive where you have New World installed. Use the custom size and from here, you will need to compute for the initial size and maximum size as it is different for each PC.
Use the recommended paging file size you have below the window and input that number in the initial size.
For the maximum size, this is calculated by multiplying your currently allocated paging file size by 1.5. For the image above, it shows that 14848MB is currently allocated.
If you multiply that by 1.5, you will get 24576. That would be the number you need to compute for yourself and input that number on the maximum size. Click "OK" and it should maximize more of your memory available on your computer.
The file size is different for each system so make sure you are not copying the numbers above.
This method can also be used for your other games as long as they are in the same drive. If you want to allocate more RAM to GTA5, you can use the same method.
Final Thoughts
Running the game with 16GB of RAM should do the trick. However, if you are running an older system, these tips might be needed to help you improve your FPS and avoid crashes while playing New World.
Some of these methods will only improve your RAM's efficiency. Technically, you are still running the game with the amount of RAM you have installed. If this does not do the trick, you might need to upgrade your RAM.