What Combat Level is Needed Before NPCs Are Non-Aggro in New World?
Image credit: Amazon Games
Fighting NPCs or non-playable characters will always be a staple in games similar to New world but there will come a point in the player's mind where they ask themselves, "What Combat Level is Needed Before NPCs are Non-aggressive in New World?".
One would assume that multiple factors such as one's level, equipment, or stats can affect how hostile NPCs react to them since this is what's usually noticed in MMORPGs.
We'll answer each of these questions by breaking down each factor while giving you the best tips on how to deal with those pesky NPCs.
Do Level Gaps or Stats Factor in NPCs Being Aggressive?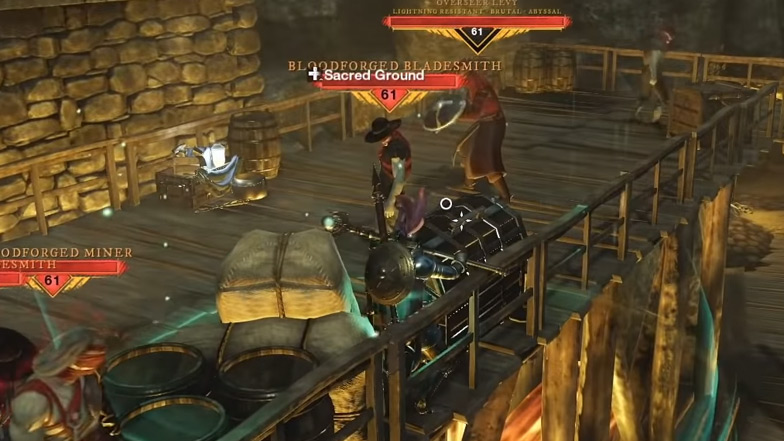 Not at all.
NPC behavior for some games would factor in how strong you are but this is not true in New World. Whether you're against the end-game boss or a simple boar, NPCs will always attack you no matter how high your stats are.
Not all hope is lost though because although NPC's will always be aggressive towards you, there are perks that can help make adventuring easier.
What Perks Stop NPCs from Being Hostile?
You get perks by slotting gemstones in your equipment. To lessen the chances of NPCs being aggressive towards, You will need to find a specific Gemstone – Carnelian.
Finding Carnelian gemstones is easier than one may think. You may have already found them in their raw form while farming for ore or while leveling your mining skill. Keep in mind that you cannot slot these gemstones straight into your equipment once you mine them.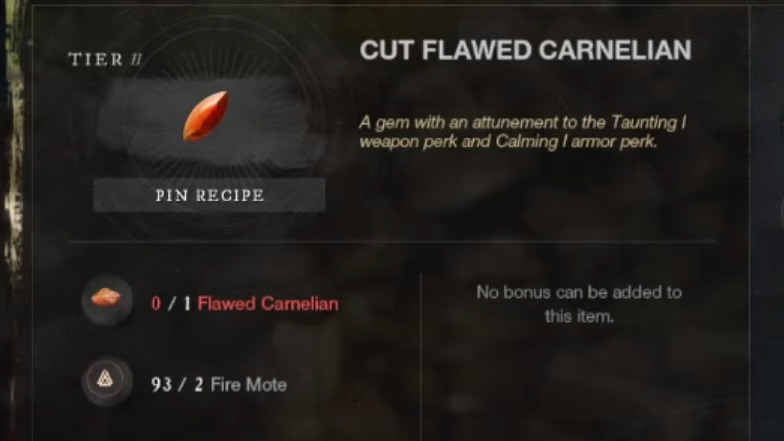 You'll need the best New World pickaxe in your inventory to mine a gemstone's raw form. Head to town and use the nearest stonecutting table to cut your gemstones. Like any other resource in New World, gemstones have specific rarities. To refine them to their usable cut form, you will need the following materials to refine each rarity:
Rarity
Gemstone Name
Materials Needed
Common
Cut Flawed Carnelian
1 x Flawed Carnelian,
2 x Fire Mote
Uncommon
Cut Carnelian
1 x Carnelian
2 x Fire Wisp
2 x Weak Solvent / Potent Solvent / Pure Solvent
Rare
Cut Brilliant Carnelian
1 x Brilliant Carnelian
2 x Fire Essence
2 x Weak Solvent / Potent Solvent / Pure Solvent
Epic
Cut Pristine Carnelian Gemstone
1 x Pristine Carnelian
3 x Fire Quintessence
2 x Weak Solvent / Potent Solvent / Pure Solvent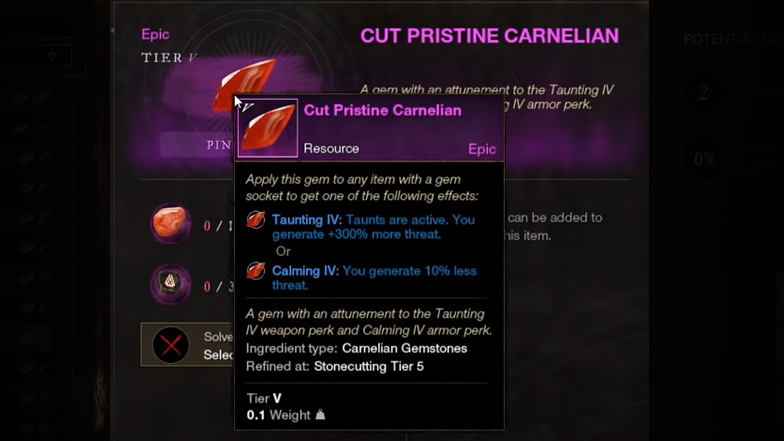 Depending on the rarity of your Carnelian gemstone, the effect of its perk changes. Note that slotting these gemstones in weapons will cause the opposite effect. We've listed below each perk and the effect that it gives when slotted in your gear:
Name
Can be slotted in:
Effect
Calming I
Main Hand
Two-Hand
Armor
Amulet
Rings
Token
You generate -4.0% less threat.
Calming II
Main Hand
Two-Hand
Armor
Amulet
Rings
Token
You generate -6.0% less threat.
Calming III
Main Hand
Two-Hand
Armor
Amulet
Rings
Token
You generate -8.0% less threat.
Calming IV
Main Hand
Two-Hand
Armor
Amulet
Rings
Token
You generate -10.0% less threat.
Note that once you slot in the gemstone, you cannot unsocket it so you will have to plan which gemstone to socket into your equipment.
What is The Best Way to Go Unnoticed by NPCs?
Since you now know that we can only lower the chances of NPCs seeing you as a threat no matter what level you're at. There are only two options available when dealing with NPCs – Fight or flight.
If you decide to fight, always factor in the opponent's level as well as your equipment. Make sure you're well-stocked with consumables, especially when grinding levels or you just might end up suffering defeat in the process.
When choosing flight, keeping out of NPC's line of sight is one way to go unnoticed if you're not in the mood to fight. You can also fast travel between towns to avoid fighting altogether while saving time.