Call of Duty: Warzone has been infamously known to eat up most of the space on your hard drive. Little do people know that Warzone also uses an absurd amount of memory usage (RAM).
Even running Warzone on medium settings would take up at least 8GB of your memory capacity.
This guide will help you optimize the game and learn how to allocate more RAM to Warzone in general.
Explaining Warzone RAM Usage
Call of Duty Warzone is an enormously big game. Warzone alone takes upwards of 50GB of memory space to install and that does not include any of the Call of Duty games that could be attached to it.
The map is fairly large compared to other battle royale games. The way the game loads and randomizes every kind of loot you get can be incredibly hard to load.
So you have to imagine all these things going on and how detailed it looks to measure how hard it would be for a computer component to load and process. That's one of the reasons behind getting high ram usage on Warzone.
You should also take into account all the players coming into the game and the events taking place. Even if there are lesser players, players can still be revived which can be more assets to load.
The RAM will heavily rely on its temporarily stored data to load this every time and it will get processed by the CPU as soon as it is ready.
Lowering or disabling graphic settings can ease things up but Warzone will eat upwards of 6GB of memory even when idle. Sometimes, this shots up to 10GB or more when playing a game.
Recommended System Requirements
OS: Windows 10 64 Bit (latest Service Pack)
CPU: Intel Core i5-2500K or AMD Ryzen R5 1600X processor
RAM: 12GB RAM
HDD: 175GB HD space
Video: NVIDIA GeForce GTX 970 / GTX 1660 or Radeon R9 390 / AMD RX 580
DirectX: Requires DirectX 12 compatible system
Network: Broadband Internet connection
Sound Card: DirectX Compatible
While it is mentioned that 12GB of RAM is recommended, you should also remember that this is only for running Warzone on medium settings. The game is that intensive. That's also why you're probably experiencing Warzone high RAM usage while playing if you don't have a whole lot of available RAM.
This also accounts for your monitor running at 60Hz. Anything higher would need a lot more RAM and better overall specifications, especially with a higher resolution.
Competitive System Requirements
OS: Windows 10 64 Bit (latest update)
CPU: Intel i7-8700K or AMD Ryzen 1800X
RAM: 16GB RAM
HDD: 175GB HD space
Video: NVIDIA GeForce GTX 1080 / RTX 2070 SUPER or Radeon RX Vega64 Graphics
DirectX: Requires DirectX 12 compatible system
Network: Broadband Internet connection
Sound Card: DirectX Compatible
This version of system requirements is for those with higher refresh rate monitors. It gives you a slight advantage when seeing other players and it will require you to invest on a better gaming PC.
The RAM requirement jumps to 16GB RAM and this is all required without ray tracing. In short, there are a lot of variables that come into play and anything additional that should be loaded will count towards memory usage (in general).
Optimizing Call of Duty Warzone Through Properties
If you want to know how to give Warzone more RAM, follow everything from below. This method is simple. Just go to where your Warzone is installed (usually inside the program files on the drive you install games on) and right-click the ".exe" file. Choose properties and a window will pop up.
Go to the "Compatibilities" tab and find "Disable fullscreen optimization". There should be a tick box there and you should mark it checked. Do this for both the executable file (The Call of Duty executable file) and the launcher.
Using Mem Reduct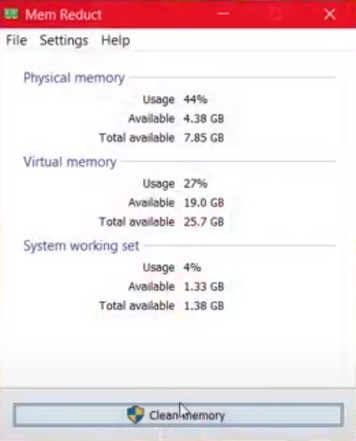 Mem Reduct is a third-party software that cleans the memory files of computers. By using Mem Reduct, you will have more available RAM or memory to be used when using your computer.
This is applicable to any files or application you want to run that needs memory. Run Mem Reduct after installing the program. Once Mem Reduct is open, a simple window will pop up and you just have to click "Clean memory".
Do this before running Call of Duty Warzone to make sure your memory capacity is optimized and there is no unused memory being left out.
Setting Warzone on High Priority
To set Call of Duty Warzone to a high priority (in terms of memory usage), you need to run the game first. After running the game, open up your task manager by holding Ctrl + Alt and pressing Del.
Once the task manager is open, go to the "Details" tab where you can see all the services running on your computer in real-time. Find Call of Duty Warzone's executable file which should be at the top as long as it is sorted by which service is taking most of your current memory capacity.
Right-click Warzone's service file and hover over "Set priority". Set the priority to "high" and this should make your computer prioritize Call of Duty Warzone over other running services.
However, if you are literally on your last legs (95-100% memory being used), it can be dangerous to set the game to "high" as it might prioritize the entire free memory for Warzone RAM usage rather than important services that keep your computer running.
This is also a method you can use for other games you play.
Disabling Anti-virus Programs
As most users have an anti-virus program running, you will need to disable your anti-virus programs while you are playing the game. Do not worry, everything should be safe as long as you are just playing Call of Duty Warzone.
Anti-virus programs take around 200-400MB of memory as long as it is active. Even if the window is not open, it is still operating. If you have no anti-virus installed, you can double-check your Windows Defender as some operating system installations include that one.
If you're wondering how to give Warzone more ram than we have already given it, then doing the above is definitely worth it.
If you feel uneasy, you can just enable it again once you are done playing.
Conclusion
Lowering your settings should also help you but if you have noticed, you can already see that on the Warzone settings menu. However, it mentions that you are freeing up "VRAM" which specifically helps your GPU.
RAM and memory usage is different but it should slightly help as well. Call of Duty Warzone is by no means an average game. The map is always filled with action and the zombie events do not help free up memory usage.
Unlike the method of allocating RAM to Steam games, you do not have the option to set advanced launch options. As Call of Duty Warzone continues to grow, it will most likely be more optimized as long as the developers work hard on reducing the load with every update.