With Cyberpunk 2077 now released, gamers can now look forward to the wonderful scenery and action that Night City has to offer. This being a CD Projekt Red game, however, gamers can also expect a lot of free extras that come packaged in the game. Some of these extra however require a bit more steps to receive that will require an account in GOG, CD Projekt's very own store, and games portal.
In this guide, we will be looking at how to link to your GOG account to claim your extra DLC just for buying the game and supporting the developers. We will also be looking at the items that you will be getting when you register and link your GOG account to your game.
A bit of a spoiler warning too as these items will not be available for use at the very start of the game, you will need to progress through the game a bit in order to use and see them!
How to Link Your Game Profile to a GOG Account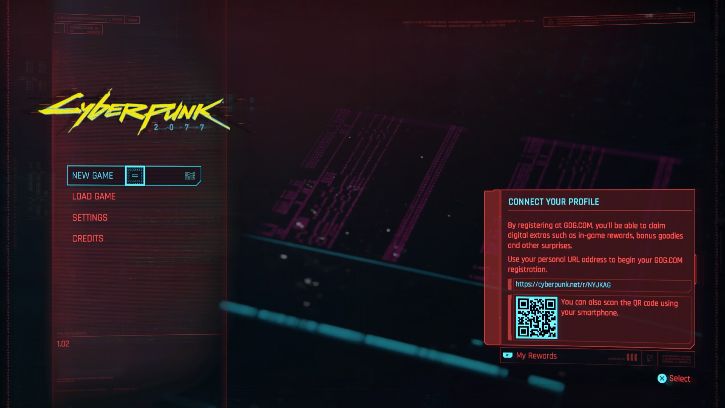 To link your game profile to a GOG account, you must first fire up the game and make your way to the game's main menu. From here, there will be a prompt on the bottom-right of the screen that is simply labeled "My Rewards".
Simply press the prompt button displayed and a window will open giving you a QR code and a link. These are unique to your game profiles and will be needed to link your game to your GOG account. Proceed to either open the link on a browser or scan the QR code for you to be redirected into GOG's registration site.
If you already have an existing GOG account, you must login your account and the items will be free to claim in the game after you have logged in. If you do not have a GOG account, you must create an account first. Upon creating your very own GOG account, and then logging in, you items will then be available to claim and use.
How to Claim These Rewards
After logging in to your GOG account, you will know that you have claimed the rewards when the rewards window changes from the QR code and link to a list of all the items that you have unlocked.
To actually get to use and equip these items, you must unlock the storage feature of the game. In order to unlock the storage feature, you must first play through the game a little bit and get past the mission where you rescue Sandra Dorsett. Once you rescue her, you are then tasked to get him and take a rest.
Upon getting home, your storage will be unlocked and you can then start to equip the extra items that you have unlocked. Although not as good as legendary items or some of the other equipment found later in the game, they are great items to have as not only are they unique, but they are callbacks to The Witcher 3.
The katana in itself is also a great starter melee weapon that you can use until you have found a better one.
The Rewards
The rewards you get from linking to your GOG account are mostly cosmetic, but they are still neat to have since they are unique and a special gift from the developers themselves in order to thank everyone who supports the game.
Below will be a list of the rewards and what they can be used in.
1. Black Unicorn Katana
Probably the most useful item you get within the rewards, the Black Unicorn is a katana that is pitch black in its luster and incredibly menacing to look at. A great starter weapon to have, it deals moderate damage and has a chance to deal critical damage and deal bleeding damage to an enemy.
By claiming the rewards, this lets you gain a katana a lot earlier into the game as well, allowing you to practice your melee combat skills and just generally act like a total badass by wielding a black katana.
2. Wolf School Jacket
A jacket designed to look like Geralt of Rivia's armor if it were made out of leather, the Wolf School jacket is an incredibly stylistic jacket that has The Witcher logo emblazoned at its back with the eyes glowing a menacing red.
That stats that the jacket brings is rather poor, but you cannot deny the style points that it exudes.
3. Wolf School T-Shirt
Another cosmetic to be designed after The Witcher, the Wolf School T-Shirt is a t-shirt covered in The Witcher logos, with the wolf plastered on the front with its eyes glowing a fiery red, The Witcher logo seemingly burning on the left sleeve, and runic symbols also glowing an ominous red scrawled by the spine of the shirt.
As with the Wolf School Jacket, its stats are pretty garbage, but the style it oozes is something that cannot be ignored.
4. Galaxy T-Shirt
The final wearable reward on this list, the Galaxy T-Shirt sports the GOG Galaxy logo on the front of the t-shirt. It is a pretty plain shirt, but the logo itself is pretty nice. It acts more like an advertisement for GOG Galaxy, which is the client for GOG.com.
The stats of this t-shirt is also nothing to write home about, but still a neat item to have.
5. Shupe the Troll Plushie
A plushie made to resemble the Shupe the Troll from Gwent: The Witcher Card Game, this is an item that is purely decoration. Upon receiving the items, you will find this plushie sitting on your sofa, just chilling there and looking cool. Perhaps an indicator that you will be able to customize your apartment as you progress further into the game?
Conclusion
Gifts are always nice to receive, and these rewards are no exception. Despite not really having an impact on the game because of the items' weak stats, they are still great to have since it shows that the developers at least want to reward us for believing in them by buying their games.
It is also great to note that these GOG rewards do not have a deadline, so if you decided to skip the day one hype and buy this game later along the road, you can still receive these items!