Marcelo Bielsa is one of the most highly respected managers in football. That respect is down to what he's achieved in a career that dates back to the 90s.
Bielsa has managed clubs in Spain, France, Italy, England, Mexico, and Argentina. He's also taken charge of the Argentine and Chilean national teams, so it's a pretty impressive CV.
His time in England was spent with Leeds United, and that particular team took the Premiership by storm with the attacking style of play that they stuck with from their days in the Championship.
This guide is my interpretation of Marcelo Bielsa's tactics for FIFA 23. I've made very slight tweaks to the system to make it as effective as possible for the game, but it's still very true to Bielsa's philosophy.
Before we get into it, you might want to bookmark this guide to the best formations to dominate opponents in FIFA 23. There are a few options in there for people that like to have more flexibility and change formations mid-game.
Squad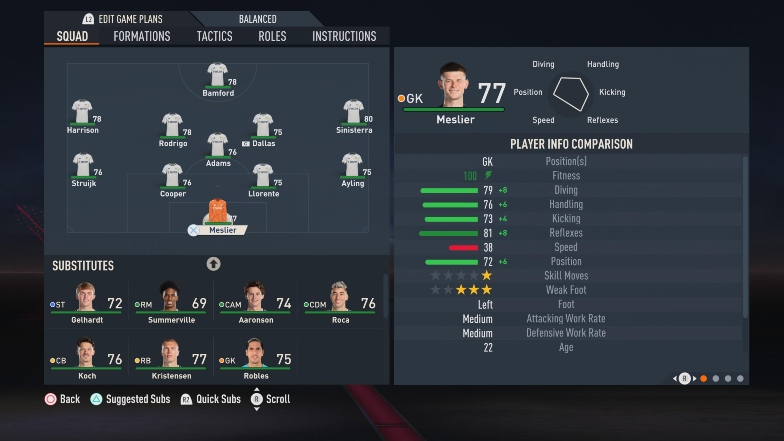 I already mentioned how Bielsa took his footballing philosophy with him everywhere he went, so this tactic is one that you should be able to replicate with most of the squads in FIFA 23 because the focus is not so much on the quality of the players.
That said, it would be extra helpful if your squad includes a defensive midfielder that can slot into a back four and dictate play from deep; fast wingers/wide midfielders; an unselfish, hardworking striker; and versatile fullbacks.
Formation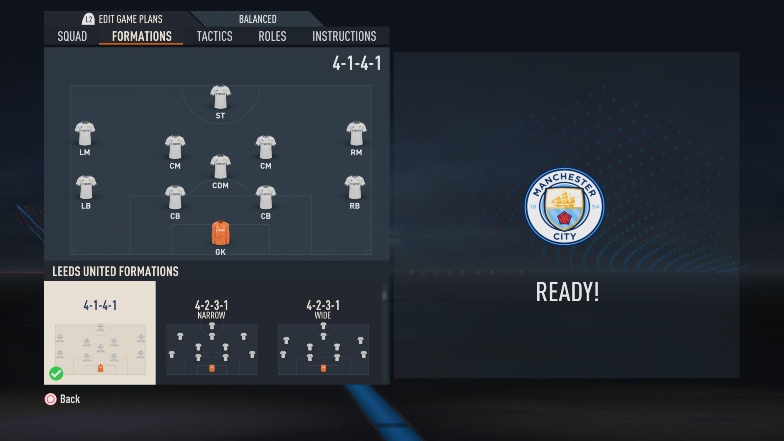 Bielsa's starting formation was a 4-1-4-1 that transformed into a 3-3-1-3 in the attacking phases of play.
Tactics
This section controls player behavior in the defensive and attacking phases of play. Bielsa's tactics have been described as "organized chaos" several times, and you'll see why when we get into the finer details of the tactics.
Defense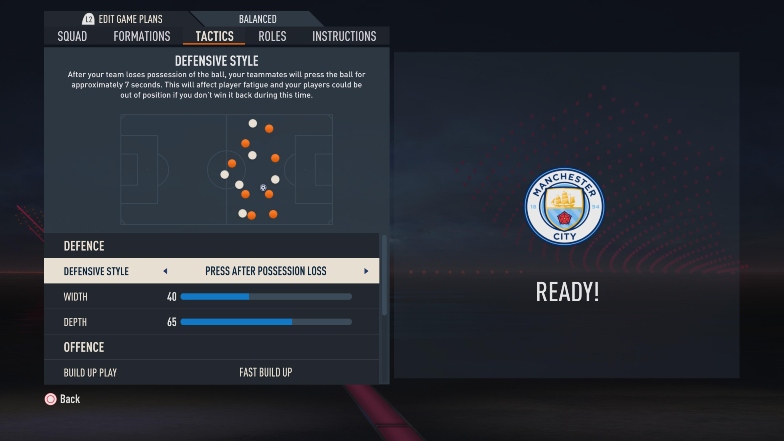 The closest defensive style to Bielsa's would actually be the option for "Constant Pressure". However, that option drains player stamina very quickly in FIFA 23, so I've gone with the more conservative "Press after possession loss".
The width should be fairly narrow in the defensive phases of play because you want to force the opponent to try and create from out wide. In my experience, if you're playing against AI, they struggle to create chances from wide areas so this should be positive for you.
Also, a fairly narrow defensive setup is necessary because of the 3-3-1-3 formation that the team transitions into when attacking. It is easier to defend against counterattacks with narrower width when transitioning back to defense in those cases than it would be if you attempted to stretch the defensive lines instead.
Depth is 65, which is fairly high. Since you're defending narrow with at least three players at the back at all times, you may not have to rely on the offside trap so much as you should have enough bodies in defensive areas to cover.
However, the pace of your defenders to cover is another matter entirely so you might want to reduce the depth a bit if you have slow defenders.
Offense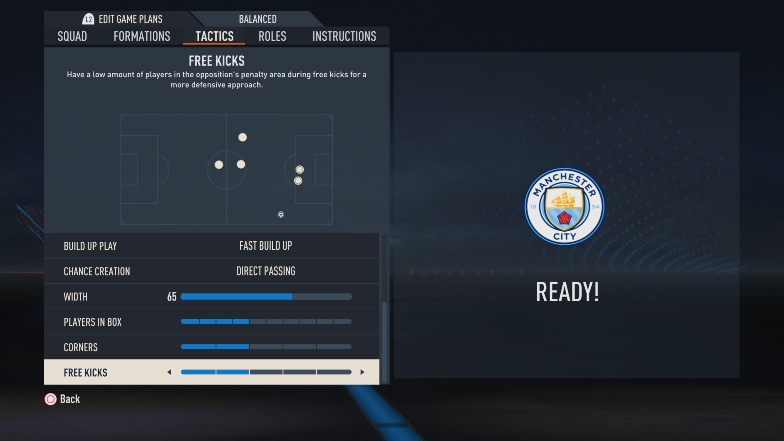 Attack is where all the fun happens in this tactic. There's no patient tiki-taka possession football here, it's all quick and direct.
You want your players to move the ball forward very quickly immediately after they win it, using the wide midfielders as an outlet to stretch play as often as possible.
With this in mind, I've gone with fast build-up play and direct passing with a width of 65. Four players in the box are enough to protect the shape of the team from counterattacks.
Player Instructions
These player instructions will further modify player behavior to replicate the individual instructions that Marcelo Bielsa appeared to give to his Leeds players.
Goalkeeper
The goalkeeper does not need any special instructions. Leave everything as is.
Center-backs
The center-backs also do not need any special instructions. Leave it as is.
Fullbacks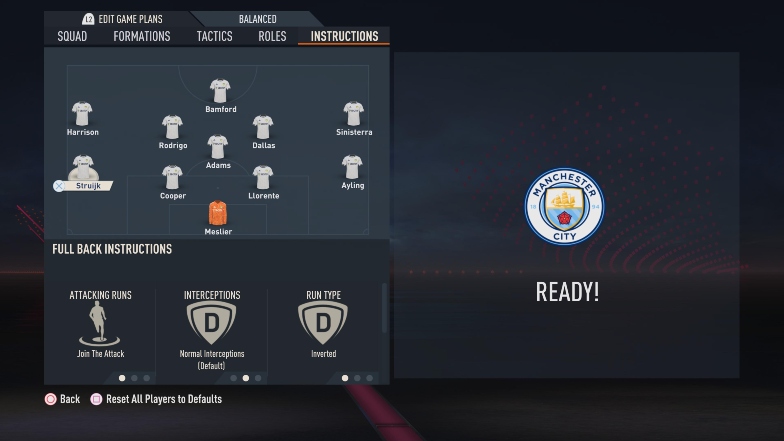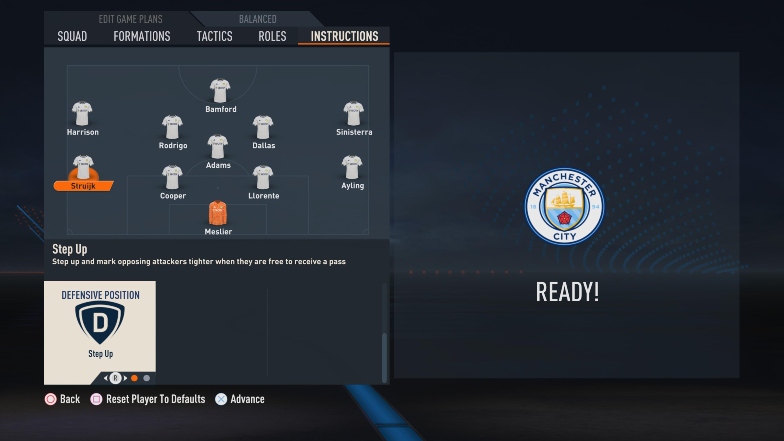 The instructions given to the fullbacks in this tactic are somewhat reminiscent of Pep Guardiola's Manchester City tactics, although their roles are slightly less complicated.
Set both players to make inverted runs and join the attack whenever possible. This will help to create the second line alongside one of the central midfielders in the 3-3-1-3 attacking formation.
The cover behind them also affords you the opportunity to have them step up to mark the opposition's attackers tightly.
Defensive Midfielder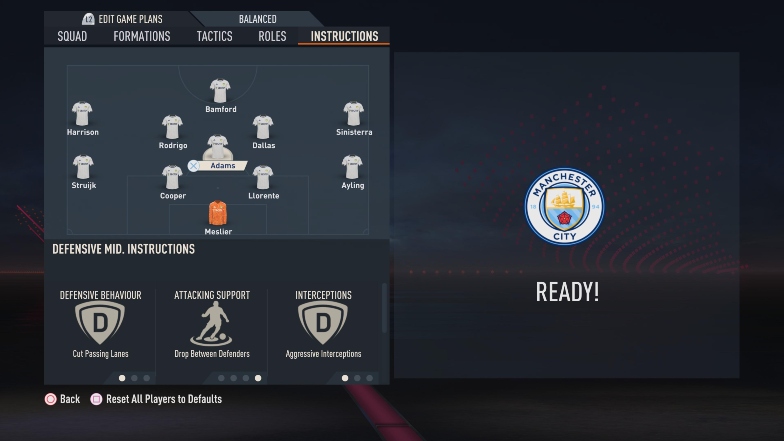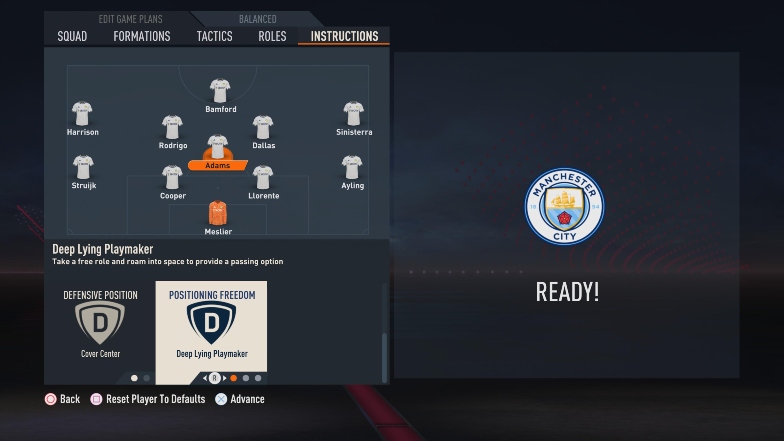 The defensive midfielder is one of the most important players in Bielsa's tactic. For his Leeds team, it was Kalvin Phillips, a player widely respected for his range of passing and tactical intelligence.
In my FIFA 23 replication, I've set the DM to drop between the two defenders to form the back three in defensive phases, intercept passes aggressively, cover center, cut passing lanes, and function as a deep-lying playmaker.
Technical attributes are great (especially passing), but you really want to prioritize mental attributes for the player in this position.
Left-Center Midfielder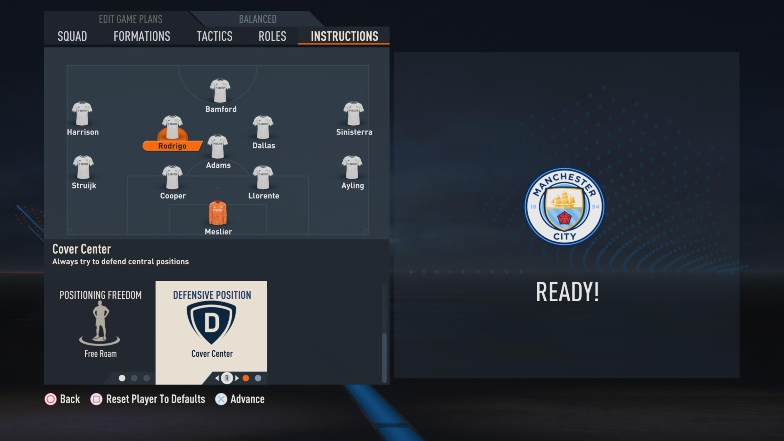 The left central midfielder here is a sort of hybrid attacking midfielder, so you want to make sure that he has good attacking attributes.
Set instructions for him to get forward as often as possible, get into the box for crosses, cover center, and roam freely across the park.
Ideally, this player should be able to run, dribble, and shoot.
Right-Center Midfielder
Leave the instructions for the right central midfielder as is.
Wide Midfielders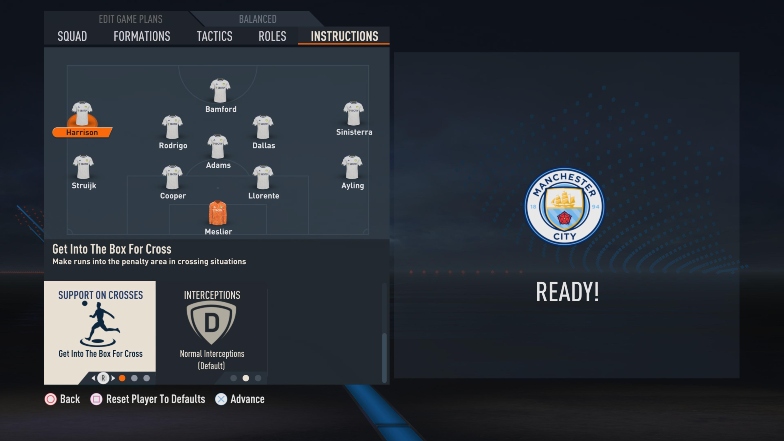 This is a 4-1-4-1 formation, so we have wide midfielders instead of wingers, although they are also effectively the latter in the attacking phases of play.
You want these players to stay wide to offer an outlet when the middle of the park is crowded, and also keep the opponent's fullbacks on their toes so they get punished with counterattacks if they get forward too often.
The wide midfielders should also offer extra bodies in the box to get on the end of crosses, so adjust that instruction accordingly too.
Striker
Alongside the defensive midfielder and the left central midfielder, the striker in this tactic completes the top three most important roles in Bielsa's tactics.
He functions in the center-forward role, dropping further back to get involved in play and help the team to start attacks.
He is also expected to put pressure on the opposition's defenders when they try to play out from the back, so set instructions for him to intercept aggressively.
This guy is essentially a target man, a deep-lying forward, and an advanced forward rolled into one, depending on the type of attack that the team is building at any given time.
Final Words
There's a tactic for almost every style of play in FIFA 23, as long as you know which instructions to tweak and which formations to tinker with.
If Bielsa's free-flowing attacking football is not for you, and you're on a mission to play a defensive game instead, you're better off working with my interpretation of Jose Mourinho's park-the-bus formation in FIFA 23.
I do recommend messing around with the options available and testing them in-game to see what suits your style of play best. Who knows, you might even stumble on a fresh idea!