When it comes to getting the upper hand on your opposition in FIFA 23, one of the best tools at your disposal is getting your formation correct.
Ultimately, the right formation for you will depend on what players you have in your team and squad overall, but there are four main formations that you should try and implement to give yourself the best opportunity of winning games in career mode.
This article will take you through the best formations to dominate opponents in FIFA 23, explaining them in detail to help you understand how they give you an edge over opponents.
If you're looking for something that feels even more personalized, I recommend bookmarking these guides to Pep Guardiola's Manchester City tactics and Jose Mourinho's "Park the Bus" tactics.
Those two tactics involve two completely different formations and styles of play, so be sure to check them out next when you're done with this guide. Let's get into it!
4-4-2
Style of play: Attacking
Requirements:
One central midfielder with fantastic passing skills and one defensive-minded central midfielder with good pace and physicality.
You need quick right and left-wingers with excellent stamina and crossing skills, as they will spend a lot of time running up and down the flanks.
One striker with strong physicality and heading attributes to win aerial duels, and one striker with strong pace and finishing statistics.
The Upsides
The first formation you should consider for your career mode team is 4-4-2, which is the standard formation in most FIFA games. The reason this formation made our list is due to the fact it is a well-balanced option with solid attacking and defensive support.
A team with four defenders and midfielders and two attackers lets you plug all of the gaps in the defense, making it difficult for your opposition to break your team down.
The 4-4-2 formation is perfect for players that enjoy playing without the ball, utilizing counterattacks in favor of playing possession football. It is an excellent team for players who meet the FIFA meta of pace and dribbling ability.
The Downsides
One of the main downsides of this formation is that your players are required to work extremely hard to continue ensuring there are no obvious gaps in the defense, and those that have poor stamina statistics will quickly become ineffective.
Therefore, ensuring your team is full of players with good stamina statistics is very important, especially when you are scouting for a new winger, as they will cover a lot of ground.
The 4-4-2 formation is widely regarded as a formation where you won't get as much of the ball, and you will need to instill a disciplined defensive approach.
You might want to rejig your formation if you see that your opposition is lining up with three central midfielders, as it may lead to your team getting overrun in the middle of the pitch.
4-3-3 (Holding)
Style of play: Balanced
Requirements
A powerful central defensive midfielder that contains excellent defensive and physicality skills.
Two central midfielders that have strong passing abilities and dribbling capabilities to link up the defensive players with your attacking ones.
Two extremely quick wingers that have excellent crossing statistics, ideally with strong weak-foot skills for cutting in and taking shots.
Fast strikers can compete in the air and have good finishing abilities.
The Upsides
In Career Mode on FIFA, there are several different iterations of the 4-3-3 formation for you to choose from, but the holding 4-3-3 formation is the best formation for ensuring your midfield has control of the ball.
Therefore, it is essential for you to recruit a central defensive midfielder that has excellent defensive skills so that he can support your defenders adequately when required. The other six players can then focus on attacking their opponents, looking for a goal.
We've noted the formation as a balanced one, although many would argue it is a defensive set-up. However, it can be highly attacking when required, especially if you have fullbacks that have the pace and crossing abilities to make overlapping runs and support your attackers.
This formation also requires players with excellent skills, so ensure your forward players have strong skills and weak foot statistics.
The Downsides
However, as with any formation, there are a couple of disadvantages you need to know. As you would expect, if you have six players focused on attacking your opposition, you will expose your defense to a lot of pressure.
However, you can counter this with customized tactics that can stop certain players from automatically venturing too far up the field.
5-3-2
Style of play: Defending
Requirements:
Three solid defenders, including two wide ones, should have decent acceleration, sprint speed, and defensive awareness, while the central one should have height, jumping, strength, and such.
Fullbacks and wingers require plenty of stamina to get up and down the flanks to support in attack and defense.
Central midfielders that provide support in attack and defense, with strong passing and creativity skills. One of the pair needs to have good defensive statistics, most notably strength, interceptions, and standing tackle.
Upsides
If you prefer to set up in a more defensive manner, the 5-3-2 formation is perfect for your type of play. 5-3-2 is excellent for defensive-minded players, as it allows you to park the bus in front of your net and keep possession of the ball wherever possible.
As you would expect, given how many defensive players are on this team, this tactic is quite easy to set up, and in FIFA 23 Career Mode, this can be an excellent and effective method of play.
Playing the 5-3-2 formation prevents your opponent from finding it easy to score and prevents counterattacks before they become dangerous.
Downsides
The main downside to the 5-3-2 formation is that it is an extremely narrow formation and can leave you susceptible to attacks down the flanks.
If you aren't able to get your fullbacks back into position in time, your team might become disorganized and vulnerable at the back.
You also require central midfielders with extremely high stamina to cover all of their defensive duties and then be able to support attacks.
Also, don't expect your striker to spend much time linking up with other teammates across the pitch. They will often find themselves isolated, and it is not the best formation to maximize the capabilities of a top-level forward.
4-2-3-1 (Narrow)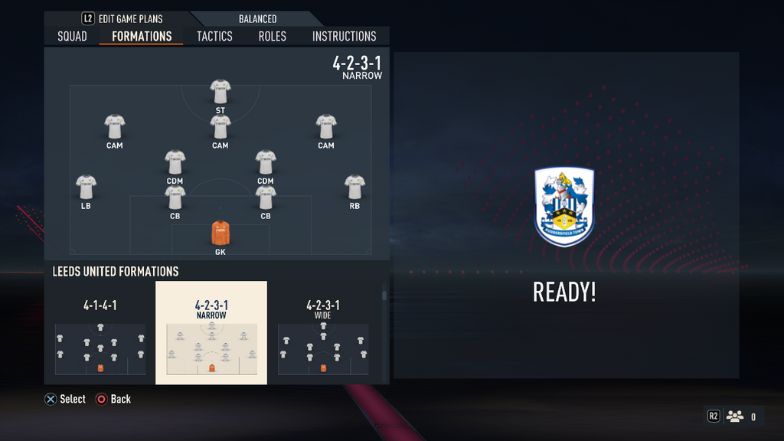 Style of play: Balanced
Requirements:
You will need a striker with excellent finishing abilities and strong physicality and defending capabilities.
An attacking or central midfielder with outstanding passing, vision, and play-making skills, and another central midfielder with stamina, pace, and dribbling capabilities. Both of these central midfielders also need good defensive awareness.
Right and left attacking midfielders should have good weak foot abilities for cutting inside and excellent passing skills to help unlock defenses for the lone striker.
Upsides
The 4-2-3-1 formation is one of the most popular in modern football, and for a good reason. It provides you with a fantastically balanced lineup that offers plenty to either defensive or offensive-minded gamers.
The formation is perfect for setting up passing triangles all across the pitch, which offers plenty of opportunities to open up defenses with a couple of quick touches.
Not only that, but the 4-2-3-1 formation is excellent for transitions, making it easy to swap from attack mode to defense mode without getting caught out by counterattacks.
The best way to implement this is with a box-to-box midfielder who has excellent pace and stamina statistics.
It is also a great formation if you like to create attacks from the goalkeeper all the way through to attackers via quick passes and minimal touches.
Downsides
As with any formation, the 4-2-3-1 option has its own downsides. It puts a lot of pressure on your fullbacks, as it is a very narrow formation, and your wings are left exposed.
If your opponent likes to use overlapping fullbacks and get the ball wide, you might find you need to swap to a formation that provides more defensive support on the outside.
Final Thoughts
Now you have a grasp of which formations you should use for your career mode team, it's time to recruit the right players to take your team to the next level.
Once you have chosen the right formation for your style of play, study how your current team meets those positional requirements, and try to identify where you might want to strengthen your team in the next transfer window.
For example, you might want to add more pace to your defensive line with one of the fastest center-backs in the game. Or maybe you need to add some more skills to your front line and source some players with five-star skills to add some attacking flair to your team.
Whatever it may be, once you have your formation and the right players for that system, you will be ready to take on any opponent.