Julian Nagelsmann's rise to prominence as one of football's most exciting managers has been nothing short of phenomenal.
The young German manager made headlines when he was hired as Hoffenheim manager at the age of 28 in 2016, and he also took charge of RB Leipzig before moving to Bundesliga giants Bayern Munich in 2021.
Nagelsmann is a very flexible coach when it comes to tactics, so he has deployed different formations and styles of play across his career. However, even these other systems share certain fundamental principles.
In this guide, I have put together one of Nagelsmann's Bayern tactics for FIFA 23, keeping it as close as possible to its real-life equivalent.
Squad
A key component of Nagelsmann's Bayern squad is dynamism across board. Although each player has a preferred position, there is a lot of flexibility that often requires making significant contributions to play outside of their comfort zones.
When you're selecting a squad to test this tactic with, make sure that the players have solid all-around attributes apart from the requirements of their natural positions.
One of your full-backs, for instance, should have the ability to slot into a back three in defensive phases very easily.
Formation
Nagelsmann has tried various formations since joining Bayern, including the 4231, 433, and 3421. I have chosen 433 for this guide.
Even on paper, it's pretty close to a 424 because the front four players do most of their work in the final third.
Tactics
Your defense and offense tactics control how the team behaves in the defensive and attacking phases of play, particularly the players controlled by the AI as you can only control a couple of players by yourself at a time.
Defense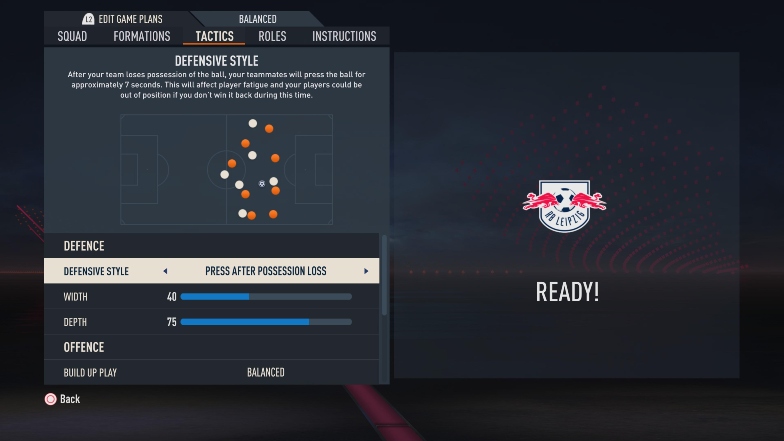 Bayern is a pressing team, and it would be ideal to have the "constant pressure" option for the defensive style in this FIFA 23 tactic.
However, just as is the case with Marcelo Bielsa's Leeds tactic for FIFA 23, constant pressure will drain your players' stamina very quickly.
So, I've gone with "press after possession loss" which only requires your players to execute an aggressive press in the first few moments of losing the ball. If they don't win it back in that time, they fall back into a less aggressive approach.
A width of 40 should keep the team's defensive shape fairly narrow to force the opponent to try and create from the wide areas.
A depth of 75 promotes a very high line that forces the opponent to stay within their own half for large parts of the game and resort to counterattacks to create chances.
Bayern is a very possession-oriented team and clearly the best team in the Bundesliga, which is why they can adopt this high-risk high-reward approach. If you're playing against a team that is far superior in quality to yours, you might find your defense exposed too often.
Offense
This tactic is very heavy on creating chances. Nagelsmann's attacking players are known to be extremely fluid in their movement within the final third.
Players such as Sane, Gnabry, Mane, and Muller constantly make runs into space, moving into channels and roaming freely to drag defenders out of position and create space for each other.
The team creates chances from several sources, so a "Balanced" style of build-up play is recommended with the option of making forward runs for chance creation.
Despite the fluid movement across the attack, Bayern's wide players generally start from very wide positions, especially the right winger. Set the width to 75 and have at least six players making runs into the box to replicate the overloading approach that Bayern adopts.
Player Instructions
These individual player instructions make further adjustments to specific player behavior in both phases of play and during transitions.
Goalkeeper
We want a sweeper keeper in this role, so adjust the instructions according to the sample image.
Left Back
The "Alphonso Davies" role requires a very quick left-back that can get forward very often along the flank to support the attack. Set this player to join the attack and make overlapping runs.
Center Backs
In reality, Bayern's center-backs often bring the ball out of the defense. However, you don't need a tactical option to replicate this as the action is done on the ball.
Leave the instructions for center-backs as is.
Right Back
Due to the aggressively attack-minded approach of the left-back, you need your right-back to be more conservative, somewhat like Pavard for Bayern. He is a right-back that also plays center-back, so he can fill into a back three when required quite easily.
Set him to stay back when the team is attacking and make inverted runs instead of bombing down the right flank. This should see him spend more time alongside the center-backs or even closer to central midfield than on the right flank.
Left Central Midfielder
The "Goretzka" role is the most dynamic midfield role in this tactic. He is a solid player in every category, so you want the player here to contribute to all phases of play.
To achieve this in FIFA 23, change his positioning freedom to "free roam" and set his defensive position to "cover center".
You can also set his interceptions to "Aggressive" if you'd like him to be more proactive in defensive situations.
Right Central Midfielder
The "Kimmich" role requires a technically sound midfielder with stamina.
With a powerful midfield partner alongside him and an inverted fullback behind him, this guy has some license to get forward often, drift into wider positions around the inside-right channel, and try to create chances from there.
He can also provide defensive cover on the wing when the team is pressing from the front, and he should also be an option at the edge of the box for long-shot opportunities.
The instructions that you need to set to achieve all of this are indicated in the attached images.
Attacking Midfielder
The Muller role in attacking midfield should be handed to a player with great vision, movement, and good finishing.
He roams freely across the attack, offering a passing option to receive the ball in the final third and also often involved in the final pass.
He should also be one of the bodies in the box whenever a cross comes in, so set him to get into the box for crosses.
Left Winger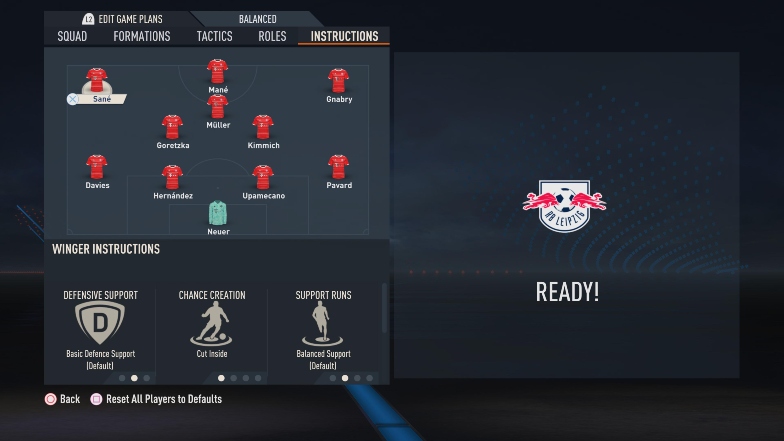 The left winger, like all the other players in the attack, should look to intercept passes aggressively to replicate Bayern's press from the front.
With the movement of the left-back behind him, this player should be able to cut in often so the full-back has space to make overlapping runs into.
He should also be an option for crosses into the box.
Right Winger
You don't need to adjust much with the right winger as he's expected to do a little bit of everything. The player's default AI controls when he should get in behind, come short, run into space, roam freely, or stay wide.
Clearly, he needs to be the most balanced player in your attack in terms of the spread of key attributes. Set him to intercept passes aggressively and get into the box for crosses.
Striker
Following Lewandowski's departure to Barcelona, Nagelsmann had to make tweaks to the way the striker plays in his system.
With Choupo Moting up front, the old approach could still be used but with Sadio Mane, the team had more options to create even more confusion in the opponent's defense.
If your team has a quick, tricky striker like Mane, set him to drift wide and get in behind. This will create a lot of space for other attackers to run into and drag one or two defenders out of position as they try to follow the striker's movement.
Adjusting his interceptions to "Aggressive" completes the urgent high press that the whole attack adopts every time the opponent has the ball within their defensive third.
If your opponent likes to play out from the back and your timing is on point, you should win the ball back in that area multiple times in one game.
Final Words
This Nagelsmann tactic for FIFA 23 has a "gung-ho" approach to attacks. It is most effective for games where you're the favorites to win, but you can also have a lot of fun with it using weaker teams depending on your skill level.
The fluidity in the movement of the attackers is reminiscent of that of the midfield in Pep Guardiola's Manchester City tactics, but this tactic is the "heavy metal" to that one's "opera".
If you're testing out this formation in FIFA 23 Ultimate Team, and coins are no issue, then you should check out the best meta players in FUT23. Many of the options there are much cheaper now than when the game was first launched, so you should be able to get them for relatively lower prices.
I personally tested it in various game modes, including FUT, and I saw many high-scoring games where I consistently created loads of chances even against strong opposition. Hopefully, your experience is the same. Enjoy!