Puzzle Master is the final Squad Building Challenge (SBC) in the League and Nation Hybrid section of advanced challenges in FIFA 23.
For completing Puzzle Master, you'll receive an untradeable Rare Players Pack, which has a coin value of 50,000 and gives you 12 rare gold players. The good news is that the SBC can be completed for way less than 10,000 coins.
To get to this point, you've hopefully already completed the Advanced SBC and the Fiendish SBC, though it's not essential that you do.
Here is a working Puzzle Master SBC solution for FIFA 23, along with an explanation of how to complete it.
I'll also share some alternative players to look for at the end of the article, on the off chance that player prices start increasing significantly.
Requirements
Exactly 5 leagues in squad
Exactly 6 nationalities in squad
Maximum of 2 players from the same club
Minimum 80 team rating
Minimum 20 team chemistry
The first things that stand out with this challenge is the fact it needs relatively high chemistry (20+) despite requiring 5 different leagues and 6 different nationalities, spread across lots of different clubs.
To complete the Puzzle Master SBC in FIFA 23, you'll need to build out a squad that gets 2-3 chemistry on a good number of players. This can be achieved by including 5 players from the same nationality as each other.
Once you have a solid 5 player base that are all from the same nation, we can pick up 1-2 chemistry across most positions to complete the puzzle, no pun intended.
Because chemistry isn't stupidly high in this one, we can also throw in one player that doesn't get any chemistry.
Solution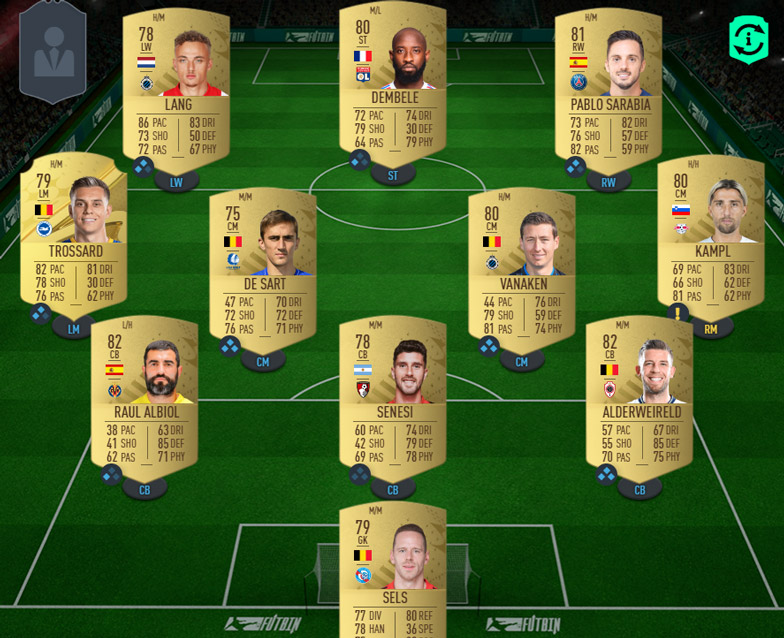 GK: Matz Sels (Strasbourg)
CB: Raul Albiol (Villareal)
CB: Marcos Senesi (Bournemouth)
CB: Toby Alderweireld (Royal Antwerp)
RM: Kevin Kampl (Leipzig)
CM: Hans Vanaken (Club Brugge)
CM: Julien De Sart (Gent)
LM: Leandro Trossard (Brighton)
RW: Pablo Sarabia (PSG)
ST: Moussa Dembele (Lyon)
LW: Noa Lang (Club Brugge)
Despite requiring a high team rating of 80+, this is actually an exceptionally cheap SBC to complete if you do it right.
When I completed this SBC, no player cost me more than 800 coins, with the majority costing 350-400.
Alternative Solutions
If the prices of these players get driven up due to this being the cheapest Puzzle Master SBC solution for FIFA 23 at the time of writing, there are some alternative players you can look to.
Instead of Moussa Dembele, you can have Alexander Lacazette as your striker, or any other highly-rated French striker in Ligue 1.
Instead of Leandro Trossard, you can have Nacer Chadli – as long as you make up for the rating drop elsewhere.
Instead of Raul Albiol, you can have any highly-rated Spanish CB in LIGA BBVA.
Instead of Kevin Kampl, you can use literally any player on the game that is 80+ rated and is from a league and nation that were both previously unused in this solution. For example, he is Slovenian and plays in the Bundesliga. You could use a Brazilian that plays in China.
There are other players within the squad that you can cleverly swap out for someone else that fits the same nation and league that they do too, but I'll leave those for those willing to put some thought into it so that prices don't spike for everyone.