Six of the Best is the second Squad Building Challenge (SBC) in the Hybrid Nations section of advanced challenges in FIFA 23.
For completing Six of the Best, you'll receive an untradeable Small Prime Gold Players Pack, which includes 6 gold players, 3 of which are rare.
You've hopefully already completed the Final Four SBC to get to this point.
Here is a working Six of the Best solution for FIFA 23, along with an explanation of how to complete it and alternative players you can look for to reduce the cost.
Requirements
Exactly 6 nationalities in squad
Maximum of 3 players from the same nation
Maximum of 3 players from the same club
A minimum team rating of 75
A minimum of 18 squad chemistry
Right off the bat, this seems like a pretty easy one.
We can break it down by including two players from four different nations, all within the same league. We just need to be careful that we don't pick more than three players from the same club.
That brings us to eight players selected.
After this, we can basically include any three other players that we want, as long as two of them are the same nationality as each other.
Solution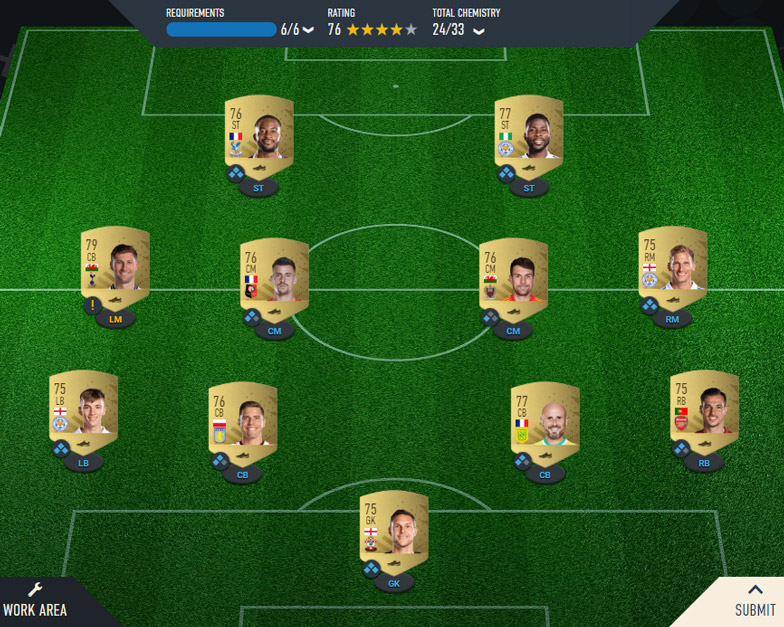 GK: Alex McCarthy (Southampton)
RB: Cedric (Arsenal)
CB: Jan Bednarek (Aston Villa)
CB: Any French CB (ideally gold or high silver)
LB: Luke Thomas (Leicester)
RM: Marc Albrighton (Leicester)
CM: Aaron Ramsey (Nice)
CM: Any French CM (ideally gold or high silver)
LM: Any Welsh gold player (does not need to be a LM card)
ST: Jean-Philippe Mateta (Crystal Palace)
ST: Kelechi Iheanacho (Leicester)
In this solution, I focused on Premier League players of 6 differing nationalities.
By ensuring that 3 players played for the same club (Leicester in this example), it meant 3 players had 3 chemistry. I also picked up 3 chemistry on my goalkeeper as the nationality matched one of my Leicester players. With 12 of the required 18 chemistry already locked in from 4 players, we just need to ensure the countries line up for the remaining players and we comfortably hit the target.
My 6 nationalities were English, French, Welsh, Portuguese, Nigerian and Polish – quite a random bunch! I probably made it unnecessarily tricky and you can simplify it by using more common popular nations.
Alternative Solutions
This is such an easy challenge that I won't provide any alternative solutions directly. If I share exact templates then it drives the price of players up, something I want to avoid.
However, if you want to try this for yourself, try using Ligue 1 or Liga BBVA as your foundation.
These leagues have plenty of country options and lots of common gold players, which are the best type of card to use for this challenge in order to keep the price down.
Next, you'll want to move on to my FIFA 23 Elite Eight SBC solution.