If you're a beginner, take this as the holy grail of every Football Manager guide made to help you get better at the game.
There is a much shorter option on our site that offers beginner tips, but this is a more holistic walkthrough.
If you consider yourself a Football Manager veteran, I guarantee there are more than a few things that you could be doing better, and others that you probably didn't even know you could do in this guide.
Everything from building the right squad for your preferred style of play, managing your backroom staff, and staying in the good books of the board so you don't get sacked is discussed here.
If you want to improve your knowledge in these areas (and many others), then this is the only Football Manager guide you'll ever need.
Tactics and Understanding Your Squad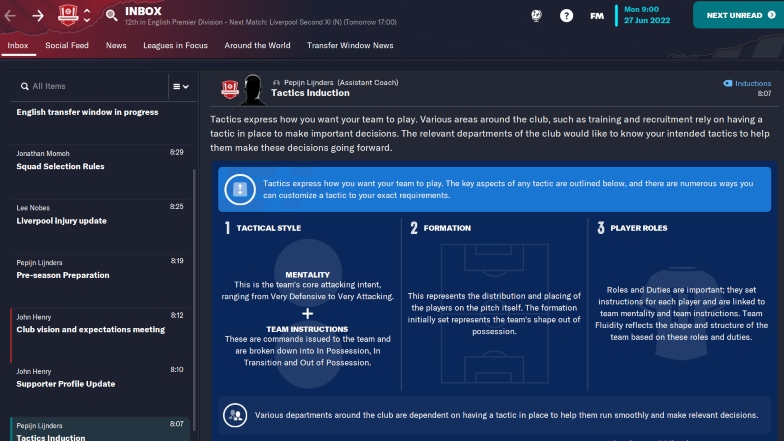 When you fire up a new game in Football Manager, you should first check out the squad at your disposal and go through the tactics induction.
Your first set of messages includes one from your assistant coach offering you a squad report. While you can get a lot of useful information from this squad overview, you have to take a closer look at each individual player by yourself as well.
Squad Rebuilding
From these first moments, you have one of two options.
The first is to identify the strengths and weaknesses of the team and craft a tactic and style of play that works best with that information.
A simple way to review your team is to sort the players on your squad page according to their ability or potential star rating. This will show you which players are considered not good enough for the squad, and then you can go into each player's individual profile and see if their stats corroborate the opinion or not.
In another example, if the overall quality of your team is really bad in comparison to the rest of the competition, then you almost certainly need a tactic that is very defensive and counter-attack-focused.
We'll get to the intricacies of creating tactics in a bit.
Your decision between these choices will largely depend on how much of a rebuilding job you're willing to do straight off the bat, and how much leeway you have in terms of the financial implications of selling and signing new players.
Signing too many players at once may improve the overall quality of your squad on paper, but it will also disrupt squad harmony and understanding. This can make it very difficult to get consistently good short-term results.
If you want a soft start, then you should have a look at the clubs with big budgets before you even choose a team.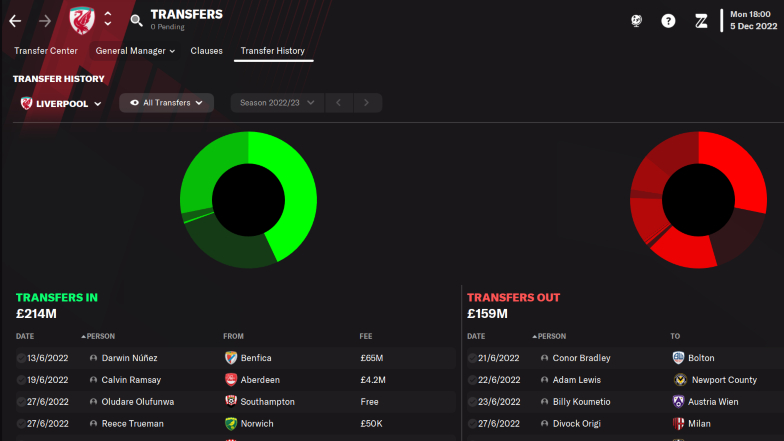 A big transfer kitty certainly makes the squad-rebuilding process easier and usually, these teams also have dispensable players that you can sell for extra cash.
If you're starting out at a team with a limited budget, identify the players that are potentially surplus to requirements (based on their quality or your tactical preferences) and put them up for sale.
Smartly maneuvering your way through the transfer market is crucial to success in Football Manager, but don't worry, there's a whole section dedicated to transfers further on.
Creating Tactics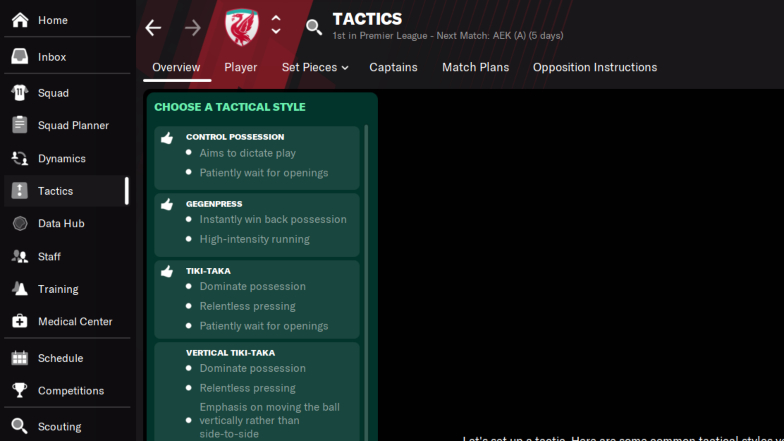 This is a game that has been programmed a certain way, which means that some tactical ideas may not play out as they would in real life. The challenge is finding the balance between realism and what works with the AI.
Now, if you're looking for absolute specifics in terms of what formations you should use, then you can go for some robust tactical ideas.
However, if you need a more nuanced explanation that you can use to create your own tactics based on your own ideas, then take a look at the next section.
Main Tactic
Your main tactic will be your go-to choice for a large number of the games you'll play in a season.
You can edit player roles, team instructions, and player instructions. If you don't have a lot of experience in this area, start with small changes and work your way up from there as you see the results.
Player Roles
When you look at your players, there are certain key attributes to take note of in Football Manager for each position and role.
If you click on a player's icon in the "tactics" section, you'll see a short description of the selected player's role at the bottom right, as you can see below.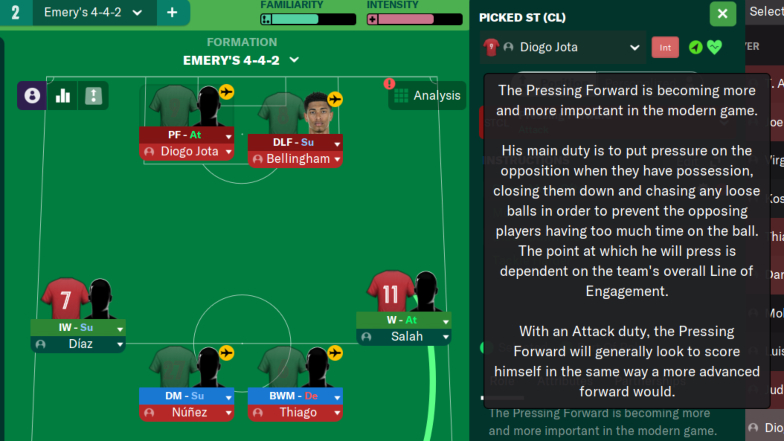 A good center-back needs aerial ability (Jumping and Heading), ground duel ability (Marking and Tackling), and strength at the very least. However, a "Ball-playing" center-back would also need to have some passing ability and vision.
Midfielders generally need good stamina and technical ability, while strikers need good movement (Off-The-Ball), finishing, and composure.
Again, the specific roles that these players will look to fill in during the game should depend on their attributes in other highlighted areas.
In the image attached below of Ibrahima Konate's profile, you'll see that he has a three-star rating as a Central Defender (Defend) in my Liverpool squad, and the important attributes for that highlighted role are indicated in the list of attributes.
When you're creating your main tactic, try to make sure that each player fits into a role that suits their attributes best no matter where they play on the pitch.
Using a player out of position or in an unsuitable role can affect their performances, which could also have a larger impact on your team's success on the pitch.
Formation
If you're unsure how to set up a formation that you like, I would recommend starting off with one of the default tactics in-game. You can then tweak this based on the performances of the players in all areas of the pitch as your team plays friendlies and other games.
Give yourself time to find something that clicks, even if it means putting your job on the line. Realistically, no manager has always gotten it right with tactics, especially not from the start.
Team Instructions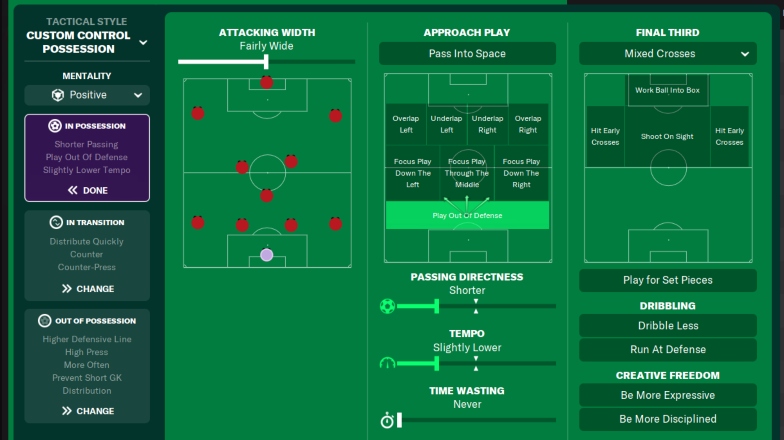 Speaking of tweaking, team instructions are a great way to modify certain behavior related to how the team defends and attacks as a unit.
On the left side of the "tactics" page, you'll see three tabs where you can edit team instructions in, including "in possession", "in transition", and "out of possession".
The names of the three sections are self-explanatory, and this is where you can really get into making the team play the way you want.
If, for instance, you want a patient, possession-heavy style of play going up against a team that you expect to dominate, then it makes sense to play a short passing game with a lower tempo.
Conversely, a counter-attacking style against a team that you expect to dominate possession against you should feature more direct passing with a higher tempo.
In my experience, altering too many team instructions can have a more negative than positive effect, so I would recommend only changing a few things in this section.
Player Instructions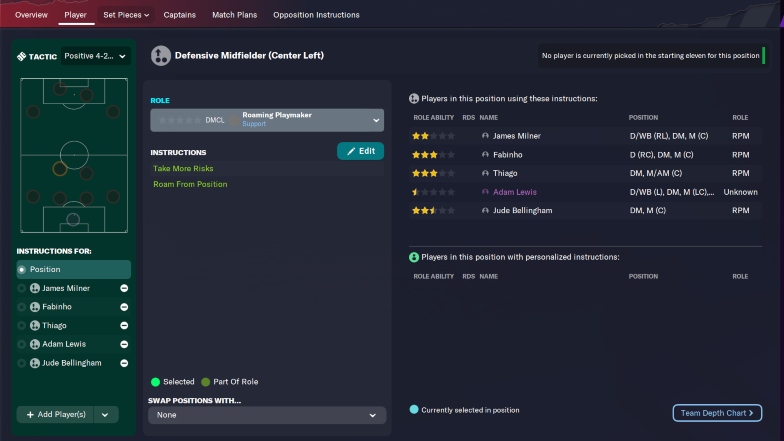 If you start off with a default tactic, like a 433 DM Wide "Gengenpress" for instance, you can adjust the instructions for each player to have more control over how they behave on and off the ball during the game.
Generally, as long as you choose the right roles for the players, you may not have to make any adjustments to the player instructions.
However, if you do decide to tweak a few things, all you have to do is click on the icon of the player on your tactics page and choose the "Edit" button shown in the image below.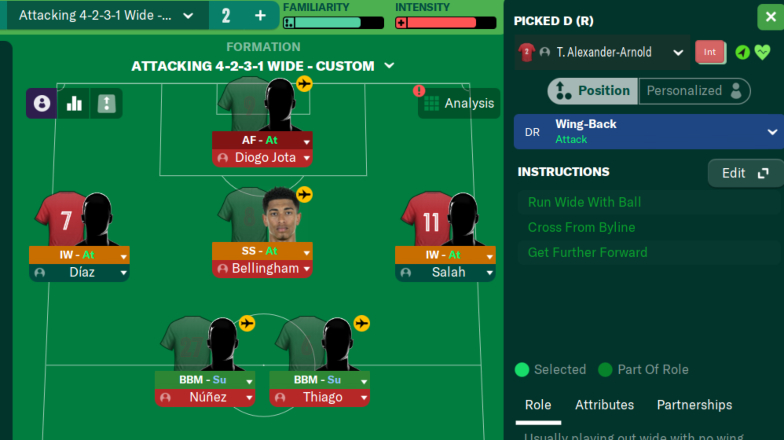 You'll notice that you're not allowed to change certain instructions.
This is because they conflict directly with the role that the player has been given.
Additionally, you have to be careful not to add instructions that conflict with the player's preferred moves. If, for instance, a player likes to "run with the ball often", you won't get much success from adding the "Dribble less" instruction.
Instead, you might be better off trying to train the player to stop running with the ball often, especially if that trait is detrimental to your preferred style of play. This might take a while though, and the effort might not be successful.
Backup Tactics
For the two backup tactics, I recommend creating something that's different from your main tactic.
For instance, if your main tactic is a "park the bus" defensive formation, you might want to create a backup attacking tactic for games where you're the favorites and you expect to dominate or games where you desperately need a goal.
The third tactic can be an alternative defensive setup, possibly with more focus on counter-attacking than parking the bus for games where you want to be cautious but you also recognize the opportunity to hit the opponent on the break.
Adjusting to Opponents
Speaking of creating alternative tactics, you should be ready to make small or major tweaks to your main tactics on a game-by-game basis depending on the specific opponents that you're facing.
These tweaks can help you take advantage of certain weaknesses that the opponent has, or protect yourself against certain strengths.
For instance, if you're playing against a team with extremely quick attackers, and your default tactic includes a very high defense line with the offside trap, you'll have to consider having your defenders drop deeper than normal to deal with the pace of your opponent.
Before every game, you will normally receive an opposition squad report from your scouting team. This report will highlight the strengths and weaknesses of the team, their form, their latest results, and plenty of other useful data.
If you go to the "Data Hub" section, you can always pull up your next opponent's scouting report in the "Next Opponent" section. It looks something like the image below.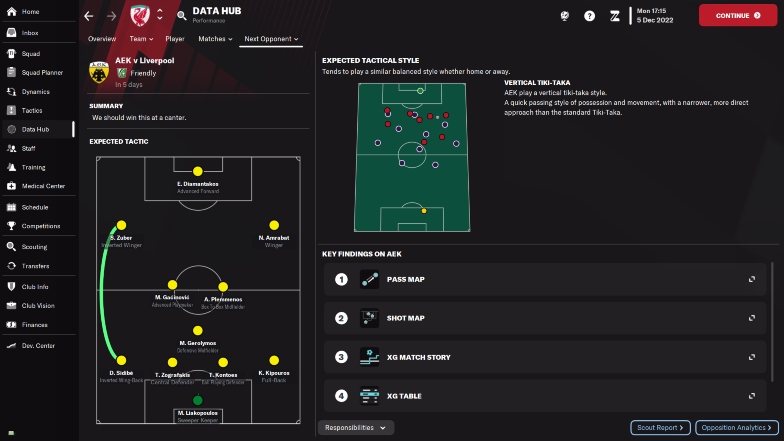 You can also scout any team at any time by creating a scouting assignment under "Scouting Coverage >>> Match and Team Analysis" in the "Scouting" section.
We'll get into more detail about scouting assignments later on.
Pre-Match
Your opponent analysis determines most of your pre-match preparation for each game.
A couple of days before each game, you will also get a suggested formation and starting lineup from your assistant.
You can take the advice or stick with the setup you already have, and your team will train in that formation and lineup ahead of the game.
These are little details, but I've found that they really make a difference on matchday.
In-Game
Flexibility continues to be the name of the game, even after the match starts. You should be proactive in making changes depending on how the game is playing out.
For instance, if you notice a player on the opponent's team is having a bad game (based on player ratings), you can adjust your tactics to target that player.
A left-back having a bad game for instance can be targeted by having your team distribute the ball to the right flank more often.
In the same vein, if you notice that your team keeps misplacing passes in crucial areas, adjusting your tactics to make them attempt less risky passes and possibly stop passing into space might fix the issue.
While you're trying to be proactive, you should also be careful not to jump the gun and make changes too quickly. Give the team enough time to make things work, and if it doesn't, change it up.
Set-Pieces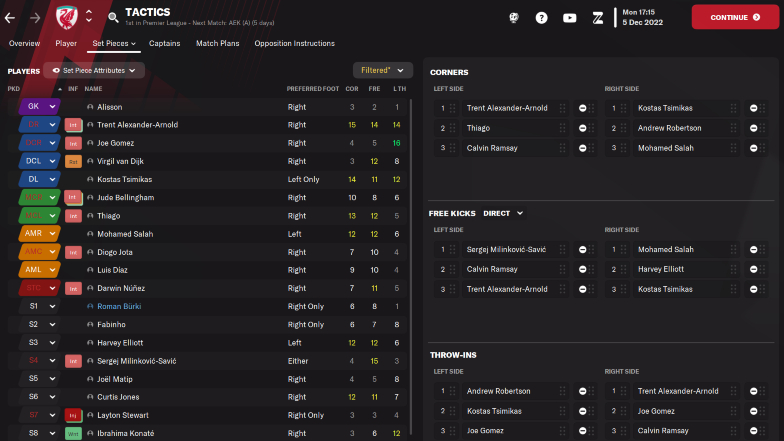 Speaking of being proactive, it's important to set up your set plays while building your tactics. This is an area that many FM gamers seem to ignore, but it can be the difference between a title challenge and a title win – especially attacking set pieces.
For penalties, it's pretty simple.
Choose the players with the highest rating for "penalty taking" on the squad. Also take into consideration the "composure" stat, especially if you're choosing between two players rated similarly for "penalty-taking".
For throw-ins and free-kicks, you need to have tall players in your squad to maximize the opportunities. For instance, a sample attacking throw-in could look something like the image below.
In this picture, I have chosen to target the tallest player lurking at the near post, either for a flick-on to the central area or to the far post for another player to try to get on the end of.
The same logic applies to corner-kicks. Set the tallest player to lurk at the near post or far post and have the corner-kick taker target that player.
The main idea is for you to win the first ball, and if that player can't score directly, they can knock the ball down for a teammate.
To achieve this, you have to put other players in positions that give them a good chance of winning the second ball. This includes having a player mark the goalkeeper.
Routines that involve tall players (and generally players with a high "jumping" attribute) are the most successful when it comes to set pieces in FM.
For defensive set pieces, the default setups do the job. However, you can turn these situations into attacking opportunities by having a rapid player stay forward.
In that case, if your players clear the ball with a header and that player receives it, you might be able to take advantage of a brief reduction in the numbers of the opponent's defense for a quick counter-attack.
Training
Setting up the correct type of training drills with the right levels of intensity is another extremely important part of success as a manager in FM.
It's crucial for improving players, team cohesion, match preparedness, and post-matchday recovery.
Now, if you have an assistant manager that has excellent coaching attributes, you could decide to delegate all training duties to them. However, the results that you'll get from doing that will not be as good as handling as much as you can by yourself.
The training section of the game can be overwhelming at first, but our training guide breaks each section down into simpler parts. All the information that you will need can be found there.
The most important thing to note while applying what you learn from that guide is that finding the right balance is key.
You want to make sure that you're not setting up too many sessions without rest days, or sessions that are too intense in terms of activities that the players are expected to do.
Team Talks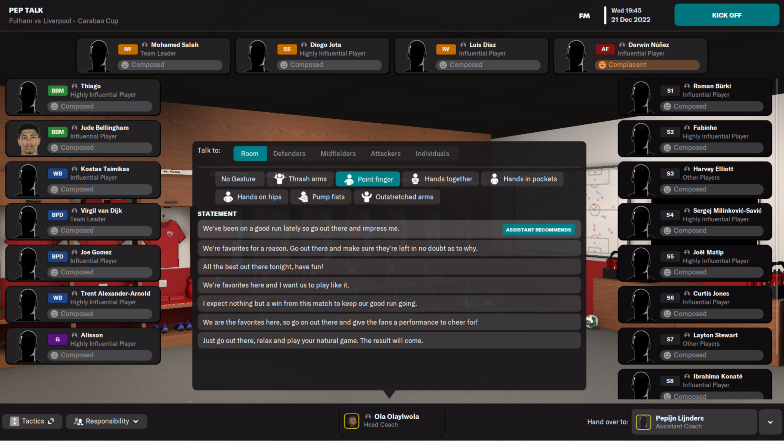 Team talks affect player morale and overall team motivation on matchday. There's a team talk before the game, at half-time, and at full-time.
The types of team talks that you should give depend on the context.
In situations where you expect to win based on the quality of the opponent, it's okay to communicate that to your team. Saying something like "I'm expecting a win today", can make them even more motivated.
However, reactions will also be influenced by current team morale.
If team morale is low, you might not get a good response even if your team should win on paper. In cases like that, it might be more beneficial to adopt a "motivational" approach, encouraging them to perform well instead of demanding a good performance.
Choosing an option such as "The fans are cheering for us out there. Let's go and make them proud!" is a good option.
In situations where your team is the clear underdog, a "defeatist" attitude might not do you any favors. Sometimes, it's okay to tell the team that there's no pressure, but more often than not, you should still try to encourage them to do their best and put in an effort.
Apart from the dialogue choices that you can choose from, the body language option that you select can also affect how your message is received by the players.
For instance, choosing a dialogue option accompanied by the body language "throws water bottle" will, more often than not, elicit a negative response from the team.
Staff
Hiring and Firing
While you're reviewing your squad and clearing out deadwood, you should do the same for your staff.
Note that if you fire a staff member, you will have to pay compensation. If your club is in financial trouble, you might be better off holding off on making those decisions until you can afford to.
In the earlier stages of the game, I would recommend prioritizing having the best assistant manager you can afford and excellent scouts if you're struggling with finances.
Look to replace these staff members with better options that might even require lower wages. This is important because the quality of your staff affects the accuracy of reports and the quality that you get from training and tasks that you delegate in the "Staff responsibilities" section.
Responsibilities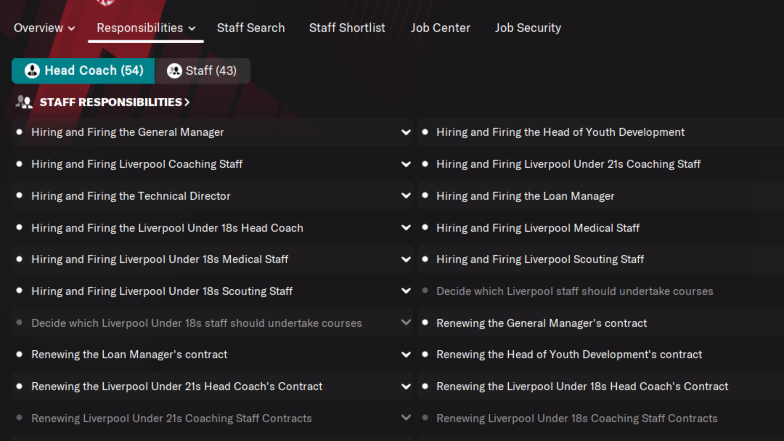 In the Staff Responsibilities section, you can delegate a ton of tasks to staff members to reduce your workload. This can be very useful if you want to breeze quickly through your save, and it also allows you to focus on areas that you consider most important.
You can delegate team talks, training, press conferences, player signings, contract renewals, and a bunch of other tasks to staff members of your choice.
There are key attributes to look out for when making a decision on a staff member, depending on the role that they occupy. This applies whether you're hiring, firing, or trying to delegate responsibilities.
For instance, a scout's most important attributes are "Judging Current Ability" and "Judging Potential Ability" to get the most accurate data from their player and team reports.
As is the case with players, when you open a staff member's profile, the key attributes for the selected role are highlighted. Anything from a score of 16 and above indicates very good quality as the highest possible rating for each category is 20.
In the sample image below, my Head of Youth Development has a rating of 20 in all three important areas, so he's clearly an excellent fit for the role.
However, his excellent mental attributes (Determination, Motivating, People Management) suggest that he would also be a good option if I was looking for someone to delegate team talks to.
Increasing Staff Size
While you're reviewing your staff, it is important to factor in the level of the club that you're managing. If, for instance, you're managing a club in the English League 1, you might not be able to afford the fees of the best staff and you will need to manage your expectations.
In situations like that, attribute ratings between 13 and 15 in the key areas might be more realistic for you. You can also check the quality of the staff members at the best clubs in the league to see how yours compare and make your decisions based on that information.
If finances are no bother, and you already have a good lineup of staff members, consider increasing their number regardless.
Every team has a recommended number of staff members for each role, which can be seen in the Staff Overview section. If you have fewer staff members than you're allowed in a particular role, you can bring in one or more quality additions to fill up the slots.
For instance, having fewer scouts than you're allowed is just limiting the number of scouting assignments that you can set up at a time.
Alternatively, you can also increase the number of staff members you're allowed in any role by having a discussion with the board.
For instance, if you're not satisfied with the maximum number of physios allowed, you can speak with the board to increase the number. If your request is granted, then you can go ahead and fill up the newly available slots.
Scouting
Speaking of scouting assignments, scouting in general is another area of the game that you should be focusing on more often.
You can scout players and clubs individually, and you can also create templates of sorts with the "Recruitment Focus" feature to get multiple reports based on your chosen parameters.
Scouting players is most useful for making decisions on transfers while scouting clubs is pretty useful for match preparation.
This is a pretty vast topic in itself, and you will benefit greatly from reading our detailed scouting guide.
Transfers
Making transfers is one of the most exciting parts of playing Football Manager. After all, the idea of building your dream team is what the game is about.
There are a few tips and tricks that can make things a lot easier for you. Let's talk about that briefly.
Identifying Targets
If you've read the scouting guide, then you already know how to find players that fit into your team in this game.
One more thing that I will add is that you can also identify targets with the help of your General Manager. The feature can be found in the "Transfers" section, under the "General Manager" tab.
You can ask your General Manager to suggest a loan or permanent transfer in any specific position, and you can even specify the role that you want the player to be useful in.
When these suggestions are presented, you can add them as transfer targets. This will delegate negotiations for that transfer to your General Manager, but you can specify the maximum transfer fee and maximum wages that you'd prefer the GM to offer during negotiations.
Alternatively, you could also just take the suggestions and handle negotiations yourself.
Personalities
Apart from the attributes that are visible on each player's profile, there are hidden attributes that can also affect player development and performance.
These hidden attributes, including some other visible ones (Determination and Leadership), determine the personality of each player.
If, for instance, a player has a very low rating for Determination, it can affect their performance during games where your team falls behind, and it can also affect the chances of the player reaching their maximum potential.
In view of this fact, it is important to pay attention to the personality of any player that you want to sign.
There's a guide to the best player personality types in Football Manager, so be sure to check that out.
Negotiations
When you scout a player and get the report back, you will have a solid idea of how much the club expects to receive from potential suitors.
With that information, you can proceed to the two stages of negotiations.
The first stage is the transfer offer involving the manager and the player's club, and the second is the contract offer involving the manager and the player's agent.
If the player does not have an agent, contract negotiations involve the manager and the player himself.
Transfer Tricks
The most straightforward way to make a transfer in Football Manager is to offer the full value of the player, but unless your club has a bottomless pit of money, this method may not be efficient for the more significant/expensive transfers.
There are a few tricks to increase your transfer budget and give yourself more room to maneuver in the market, but you can also cut costs while making the offer itself.
The most efficient way to do this is to spread payments out across installments instead of paying the full fee at once.
For instance, if a player's valuation is $30m, you can offer the club $15m up front and spread the rest of the payments across three installments to be paid over the course of 12 months. The image below is an example of a transfer offer with clauses attached.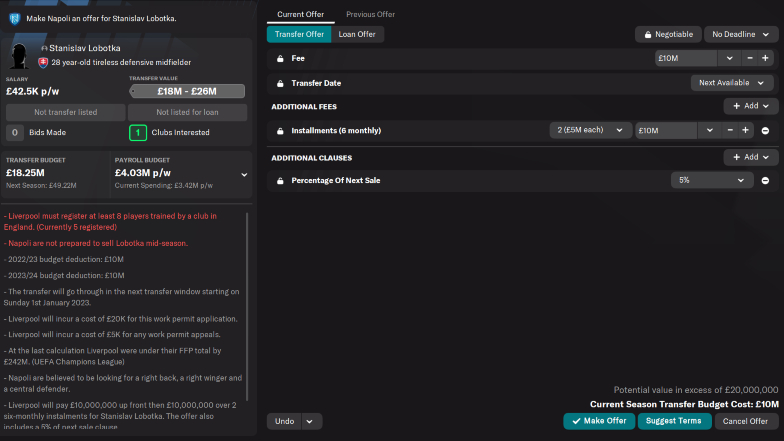 Apart from installments, you can also use other bonuses to compensate if you cannot afford the full valuation of the player.
Clauses such as player exchanges, payment after league goals/appearances, percentage of next sale, etc. can really sweeten the deal for the other club and make them more receptive to the idea of accepting a lower initial payment.
Promises
When your transfer offer is accepted and you get to the contract negotiation stage, you might still have to convince the player to join your club before the agent allows you to offer a contract.
In such situations, you need to be careful about the promises you make because the player will hold you to them. If you fail to fulfill your promises, they will become unhappy and may ask to leave the club.
Don't promise a player that you're going to win the league when you have a mid-table quality team at best!
Contract Tricks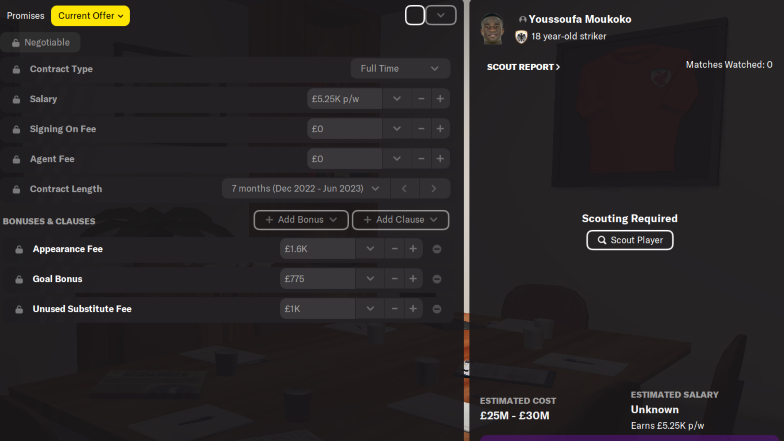 When offering the player a contract, similar rules to the transfer tricks discussed above apply as well.
If the wages and other terms requested by the agent are more than you can afford, try to sweeten the deal with other bonuses.
For instance, if you offer a lower wage than what the player wants, you can add league goals and league appearance clauses. You can also increase the sign-on bonus on the offer, or increase the agent's fee to "bribe" him into convincing the player to accept your offer.
There are a bunch of options in this regard, but you'll get the hang of which bonuses to offer in different contexts over time.
Make sure that in your efforts to sweeten transfer or contract offers, you don't over-compensate and end up throwing the club into debt. Remember that these bonuses still have to be paid off, and managing your club's finances is part of your job. We'll get into that topic soon enough.
Unsettling Players
Sometimes, a club might be unwilling to sell their player to you even if the player is interested in joining.
If you're bent on signing that player whatever it takes, then there are a couple of things that you can do to try and unsettle them into asking to leave the club.
Use the Media
In the "Transfer" section of the player's profile, you can use the media to publicly declare your interest in signing the player.
This will usually trigger a response from the player because the media will ask them about it. If they're already interested, they'll often welcome the rumors and offer encouragement to you.
Additionally, the media may ask you questions about signing the player in regular press conferences. Be sure to emphasize how much you admire the player and want to sign them.
This method was much more effective in earlier versions of Football Manager, but it is still worth trying in recent editions.
Make Multiple Offers
When you make an offer and it gets rejected, don't give up immediately.
Make multiple offers within a short period of time and you might get the attention of the player.
If the player thinks your offers represent a fair valuation, there is a good chance that they will hand in a transfer request to the club and force their hand.
Finances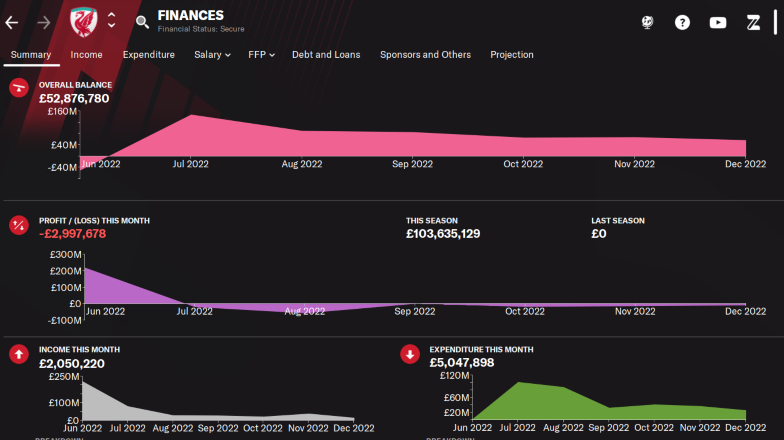 As I mentioned earlier, part of your job as a manager in FM is to keep your club's finances in the green.
Now, you don't have to spend hours "going through the books" and calculating stuff, but you do have to make sure that your expenditure does not outweigh your income.
In the "Finances" section, you can easily track how much the club makes per month/season and how much you're spending with the "Income" and "Expenditure" tabs.
Transfers and wages will deal the biggest hits to your finances, so these are the things that you have to be extra careful about. Don't run your club into debt with ridiculous installment payments, and try to stay within range of the wage cap.
Speaking of transfers and wages, you can make board requests for some financial decisions.
You can ask for boosts to the wage and transfer budgets so you can do more business in the transfer window and sign players/staff contracts without worrying about going in the red.
Interactions
Team Meetings
Team talks on matchday are not the only conversations that you can have with the team as a group in Football Manager.
For instance, if the team is in a relegation battle, and you're about to play a decisive match (possibly against a fellow relegation candidate), you can speak with the team before the game to motivate them.
In the same vein, if the team is generally doing well during the season, you can call them together for a meeting and encourage them to keep at it.
The same applies to pre-season and post-season group conversations, which are standard. You're nudged to lay out your expectations to the team at the beginning of every season, and you'll also share "closing remarks" at the end of the season.
These team meetings are quite impactful on the morale of the players and their perception of you as the manager, so you must be careful and deliberate about the things that you say.
When the team is performing below expectations, don't be shy to let them know. However, remember to keep those expectations realistic. Asking for too much will also provide negative results.
There is no one-size-fits-all approach to choosing the right things to say as there are several factors that can affect the response you get.
The personalities of the players (especially the team leaders), the level of the club, and your reputation as a manager are some of these factors.
"Professional" and "Determined" players are more likely to take negative feedback well, while "Unambitious" or "Temperamental" players are more likely to rebel.
Player Conversations
Apart from team meetings, you can also have individual conversations with your players. The feature is available in the "Discuss" sub-section of the player profile.
You can have generic discussions to ask for advice for a staff/player signing and to praise/warn the player for their form or conduct.
Depending on the state of mind of the player and any ongoing special events (for instance, a player asking to be transfer-listed, or a player that is publicly unhappy about a decision that you made), you can also have a private chat to discuss the situation and clear things up.
Player interactions are also beneficial for managing morale. Sometimes, the team is doing well and one or two players aren't, so the best way to address the situation would be through private discussions rather than a team talk.
Youth Development
Regardless of the level of the club that you're managing, youth development is very important. It's a great way to save money on new signings, and also to make a profit from selling high-potential players.
Besides, is there any manager that wouldn't love the idea of producing generational talent that goes on to become one of the best players in the world? The next Mbappe or Haaland, perhaps?
In Football Manager, every club has a selection of ratings that determine the quality of youth development.
Ratings in areas such as the quality of junior coaching, youth facilities, and the extensiveness of youth recruitment determine the clubs with the best youth systems. These clubs will generally find it easier to produce quality talent.
To see how your club stacks up, you can check these ratings in the "Facilities" section of the Club Info page. You should aim for state-of-the-art youth facilities, excellent youth recruitment, and excellent academy coaching.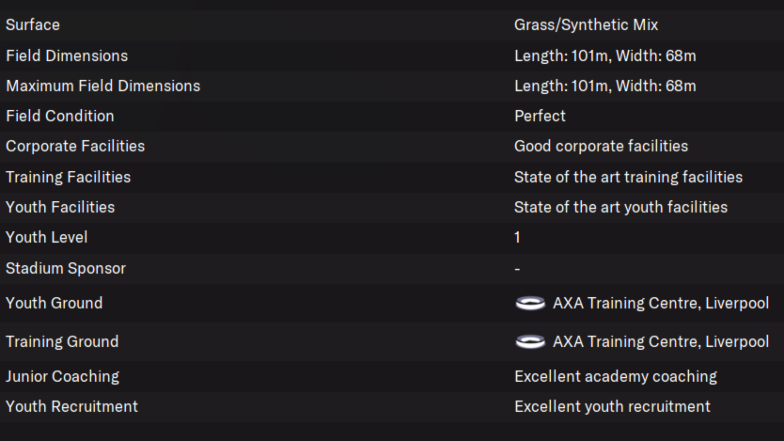 Speaking of generating new talent, every club gets a new set of youth intakes every year. These are fake players (called regens) generated by the game to make up for retiring players and keep the numbers up.
Now, the aforementioned facilities significantly affect the quality of players that you get from your yearly intakes, so you have to discuss with the board to sanction improvements to the relevant facilities as much and as often as possible.
You can learn everything there is to know about this from our youth intake guide and apply it to your team. With some patience, you will see dividends.
Data Analysis
To round up this guide, let's talk about one of my favorite parts of the game – the Data Hub.
This section does exactly what it says on the tin. It provides insight that ranges from defensive numbers such as tackles per game to attacking numbers such as expected goals per game (xG), and tons of other fun details.
Part of the job of the Data Analysts at the club is to break down these numbers into easy-to-understand information and feedback that you can use to make changes to your team, which stresses the importance of having quality staff members in that position.
However, you can also interpret the numbers yourself.
For instance, if the team's attacking data shows that you're completing a relatively high number of crosses, but those crosses rarely lead to goals, then a possible actionable step to remedy that could be to use attackers that are good in the air and can get on the end of those crosses.
It won't always be this simple as other factors can come into play.
For instance, signing a tall striker simply because of your cross-completion ratio might have a negative effect on build-up play if you play free-flowing football that requires the striker to contribute.
So, before you make any decisions based on the information that the Data Hub provides, you should make sure that there are multiple factors that support that decision and not just a single statistic.
For instance, in the example provided, signing a taller striker might be more justifiable if the team plays direct football where a lot of long balls are played into attacking areas.
This means that the striker can still make significant contributions in build-up play in addition to being an aerial threat from crosses.
To get even more information from the Data Hub, you can request specific data from the "Team" section as shown in the sample image below. Here, I'm requesting the shot map of my team's last 5 matches.
These tips cover the most important areas of succeeding in Football Manager, but experience over time will help a lot as well.
If you're looking to make the most realistic football simulation game out there even more realistic, you should have a look at tips for increasing realism in FM. Best of luck!