I understand the appeal of managing a club with deep pockets. However, in Football Manager, being a rich club does not necessarily translate into having a large transfer budget.
Every club has its transfer policies and methods of managing finances, and these factors will largely determine how much the board offers the manager to improve the squad with new signings.
If you're reading this, then you're obviously curious about the teams that have the biggest transfer budgets in Football Manager 2023. I've got the answers, so let's get right to it.
Real Madrid – £103m
Obviously, Real Madrid is one of the biggest and richest clubs in the world, but I was a bit surprised that they are the team with the biggest transfer budget in FM23 when the likes of state-funds-backed PSG and Newcastle are in the same game.
It's even more interesting when you consider the fact that they've just signed French midfielder, Aurélien Tchouameni, for £69m. Technically, they should have less to spend.
The team is already blessed with veteran, world-class talents such as Luka Modric and Toni Kroos, and they've also got wonderkids such as Eduardo Camavinga and Rodrygo trying to break into the starting eleven.
To be honest, you could certainly get away with making no major signings for a couple of seasons with this Real Madrid team on FM23 – they're that good.
However, with £103m in the bank to spend on transfers, and £4.7m dedicated to weekly wages, the temptation to splurge on more new faces might be too great to ignore.
Manchester City – £102m
Manchester City is, as has become the norm in FM, up there with the biggest transfer budget teams in FM23.
Frankly, this one doesn't surprise me, despite the fact that the club already splurged close to £120m on new signings such as Erling Haaland, Manuel Akanji, Sergi Gomez, and Kalvin Phillips.
Clearly, the oil wells never dry up, and the Sheikhs are certainly not shy about spending money.
Manchester City has one of the best squads in the game from the start, but you have the option of improving that team with up to £102m worth of new talent, supported by an equally large wage budget of about £4.3m per week.
I can't think of a single weakness in that starting XI or even City's bench, but if there's one thing that can make a manager find faults where there is none, it's a bottomless pit of money.
Brighton & Hove Albion – £70m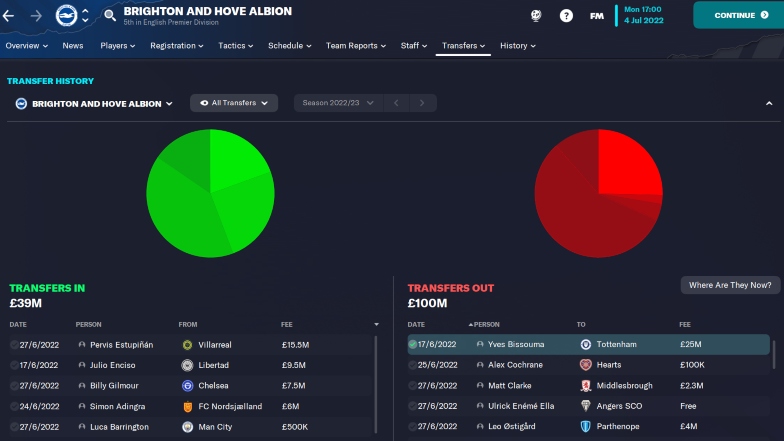 The surprises just keep coming!
I imagine that Marc Cucurella's £56m transfer to Chelsea and Yves Bissouma's £25m move to Tottenham had something to do with this budget, but I doubt Brighton fans who pick up FM23 will be complaining.
At £1.1m per week, the club's wage budget is relatively modest in comparison to the big boys up top. However, you should still have enough room to maneuver in the transfer market and bring in some serious talent to improve the team.
For a team of Brighton's standing, you also have to consider the fact that some players will not be interested in joining the club, despite your ability to afford their transfer fees. However, there are plenty of alternatives.
When it comes down to it, £70m is not a huge sum of money in the football transfer market nowadays, and you may be better served picking up some of the best cheap signings in FM23 instead of splashing the cash on one or two players.
Paris Saint-Germain – £69m
At the beginning of the season in FM23, PSG has just signed one of the best wonderkids in FM23, Nuno Mendes, on a permanent deal for £34.5m. You won't be surprised to read that there's more where that money came from.
In fact, I'm probably more surprised that FM23 only offers a "paltry" £69m for this oil-rich club. To be fair though, they've just spent over £120m on six new players, so I'll allow it.
Also, they have the largest wage budget in Football Manager 2023 – about £5.7m per week – and you can use that to your advantage.
It will be really hard to get the likes of Lionel Messi, Kylian Mbappe, and Neymar off the wage budget because of the ridiculous money that they earn, but frankly, why would you even want to?
What you can do is adjust the sliders to sacrifice some of the wage budgets for some extra cash for transfers. The squad also has a good number of fringe players, and you will have more room to adjust the budgets if you move these players on in the transfer market.
Liverpool – £42m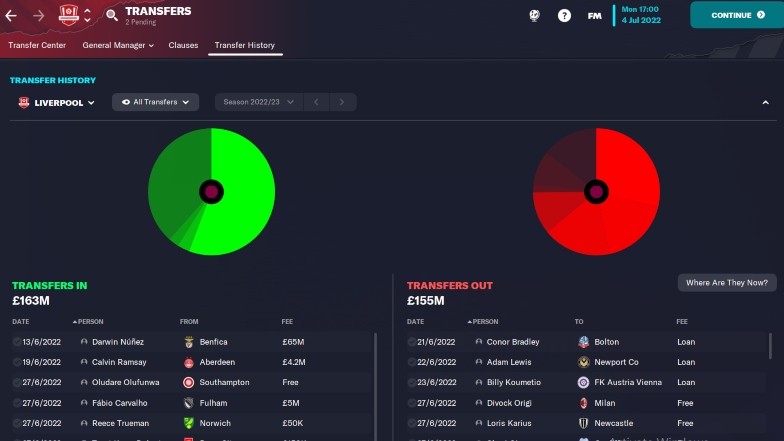 Liverpool Football Club's owners, Fenway Sports Group, have often been accused of being a little too tight with cash in real life, and it looks like that extends to FM23.
To be fair, the club spent about £75m in the summer on the likes of Darwin Nunez, Fabio Carvalho, and Calvin Ramsay, so you have a few fresh faces regardless of your activity (or lack of it) in the transfer market at the start of the game.
However, you're unlikely to be able to make any "major" signings with £42m, so you'll have to get creative if there's a big player in your sights.
The club's wage budget stands at £4m per week. If you can get rid of deadwood such as Oxlade-Chamberlain (£125K pw) and James Milner (120K pw), then you should have some wiggle room to increase the transfer budget.
Newcastle – £40m
One year has gone by since we were blessed with a £200m transfer budget for Newcastle in FM22, following the club's takeover by a Saudi-backed consortium. This time around, they're also one of the biggest transfer budget teams in FM23.
The club's transfer budget these days is looking much closer to "normal", but £40m is still much better than you would have been accustomed to managing Newcastle in older versions of FM.
The club has also spent close to £120m in the summer to improve the squad, so you can try to make the most of these new signings before worrying about adding more.
A wage budget of about £2.2m per week is not shabby at all, and it should be enough to attract a decent caliber of players to help the team take the next step toward qualification for Europe.
Ajax – £30m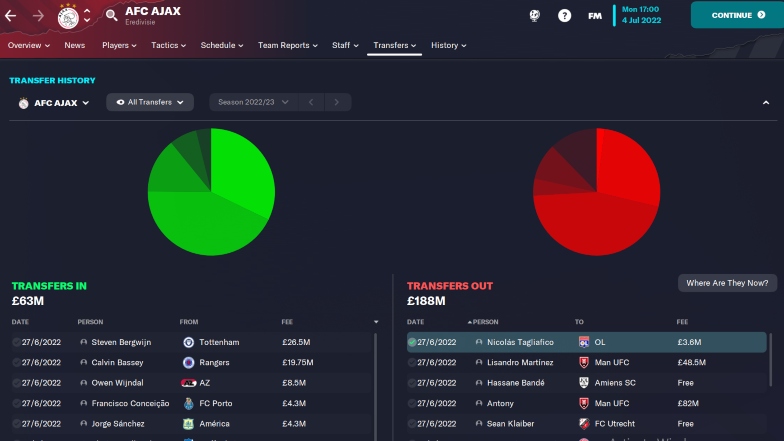 If you're managing Ajax in FM23, your biggest worry has nothing to do with the league.
Despite the sales of key players such as Antony, Sebastian Haller, and Lisandro Martinez, the quality of players that are still at the club is more than enough to give you an easy route to the league title.
The real challenge is to try and replicate that success in Europe, where clubs with better players and stronger financial backing can absolutely wreck your team. You have £30m to begin that journey.
The club has already attempted to replace some of the players that left in the summer with a few new signings, so you're not exactly starting from scratch. The £26.5m signing of Steven Bergwijn, in particular, could be key.
A modest wage budget of about £960K per week doesn't inspire when you're competing against the PSGs and Manchester Citys of this world, but it's a start.
Aston Villa – £30m
Aston Villa was relatively quiet in the summer transfer window, with the club's highest-profile signing being Leon Dendoncker. The 27-year-old Belgian defensive midfielder was brought in from Wolves for £13m.
At the start of the first season in FM23, you get £30m to do with as you please in the transfer window.
It may not sound like a lot, but you can get a handful of bargain wonderkids and cheap signings in FM23 for that money. Don't scoff at free transfers too – some of the best free agents in FM23 can be signed for future profit even if they don't improve your team.
Tottenham Hotspur – £26m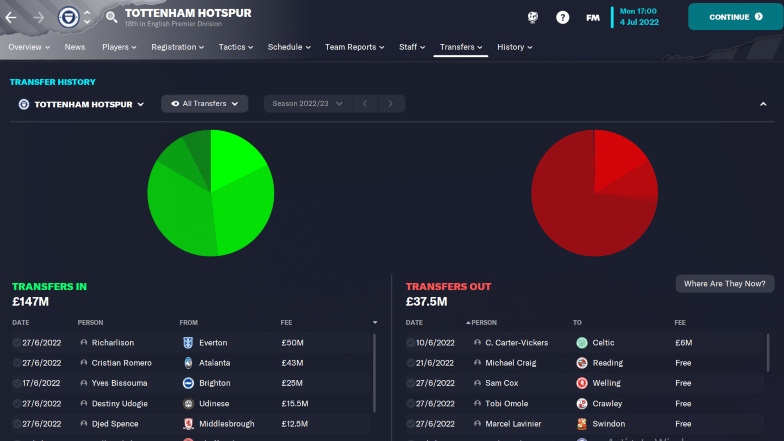 Tottenham's £26m transfer budget at the start of the season in FM23 seems modest, but it's easy to understand when you see how much the club already splurged on new players in the summer transfer window.
Spurs spent up to £137m on six new players, including the high-profile signings of £50m Richarlison from Everton and £43m Cristian Romero from Atalanta. That's the sort of money that a team hoping to challenge for the title spends, and that should be your target from the get-go.
The club has a wage budget of about £2.8m which, in my opinion, can be trimmed by letting some players go to make way for more transfer funds.
Players such as Tanguy Ndombele, Harry Winks, and Bryan Gil earn more than their value to the team, and you should be looking to move them on as soon as you can. It won't do miracles for your transfer budget, but it's a good place to start.
Arsenal – £26m
The North London rivals seem to have brought their competition here too.
In FM23, Arsenal starts out with pretty much the same transfer budget as Tottenham. However, their wage budget is about £1.9m, which is almost £1m less than Spurs'.
They also did not spend as much as Spurs in the summer – they spent about £35m less, in fact. The most notable signings include Gabriel Jesus and Oleksandr Zinchenko from Manchester City, and Fabio Vieira from Porto.
The club has one of the youngest squads in the league, so you don't have to worry about replacing too many old legs.
This means that you can afford to invest that £26m into signing more experienced players that cost less but still bring value to the team in terms of quality, leadership, and mentorship.
Final Words
Not everyone likes Football Manager challenge save ideas that involve working with little to no money. Some people prefer to manage clubs that offer the comfort of knowing there is enough money to bankroll expensive signings on a whim.
Going by what we've seen of the teams with the biggest transfer budgets in FM23, you're not going to have the luxury of spending at will with most teams from the start of the game.
However, if you achieve enough success, make a few profitable moves in the transfer market, and manage your finances appropriately over time, then you just might build something spectacular. That, in my opinion, is where the real challenge lies.
However, choosing the team to manage is not a decision that should be made based on the pockets of the club owners alone. If you're having a difficult time making that decision, check out the best teams to manage on FM23 for inspiration.