When you start a new game on Football Manager, the 'Training' tab might look scary at first glance, especially if you're playing the game for the first time.
Often, many players are tempted to hand that bit over to an Assistant Manager whilst they focus on scouting for the next wonderkid. While this can save you a lot of time, it won't get the most out of your players.
This is where creating an effective training schedule comes into play. A proper training schedule can be the difference between making or breaking an entire season in Football Manager, so it is important to get it right as early as possible.
On that note, we've put together a Football Manager 2023 training schedule guide to help with setting up your team and getting them to play your idea of the perfect style of football.
Pre-Season Preparation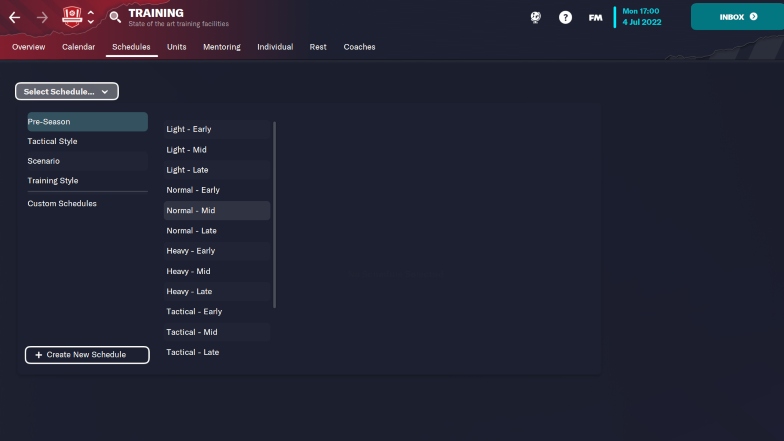 If you've just started a new game in FM23, your first foray into the Training Schedules section should have you setting up pre-season training.
An intensive pre-season schedule can be used alongside individual training programs, enabling your players to be 100% ready for the first competitive game.
A lack of training, especially in pre-season, can lead to injuries. Unfortunately, so can too much training, so it's a delicate balancing act and a case of weighing risk versus reward.
You want to start with an aggressive fitness schedule in the early pre-season stages, then slowly reduce the intensity and shift focus towards tactics and team cohesion as fitness will come naturally with participation in pre-season friendlies.
Your goal is to get your entire squad match fit in time for the start of the season. This will prepare the players for an intense regime throughout the season.
The players will be able to outrun the opposition and last 90 minutes of each game, which is especially useful if you are managing a club that is challenging in multiple competitions with a lot of fixtures.
Preparing for Winter Breaks
Giving players a short break while also ensuring that they stay fit during this period will be absolutely vital to see out a successful remainder of the season.
If you're managing a club in one of the top leagues, this will hold true in the first winter season when a lot of players will be away for the World Cup. It is a good time to give some players a bit of rest, but also to focus on individual aspects of a player's game.
You may need a 'mini pre-season' if players are in desperate need of some fitness after an extended winter break; a week or two of hard training and some friendlies here and there to regain match sharpness.
Attention, Tacticians!
Training in Football Manager 23 is not just about intensity. In fact, focusing on fitness alone is a good way to ensure your squad is lacking in the tactics department.
The way you set up tactically will impact the things you want to focus on in your initial training schedules.
If you want to play a wide, possession-based game, you may increase emphasis on areas such as Attacking Overlap and Possession in the training schedule.
Those areas directly impact your players' ability to implement that style of play within pre-season, which in turn helps to make sure they're at a good level of understanding ahead of the opening game.
Implementing Tactical Styles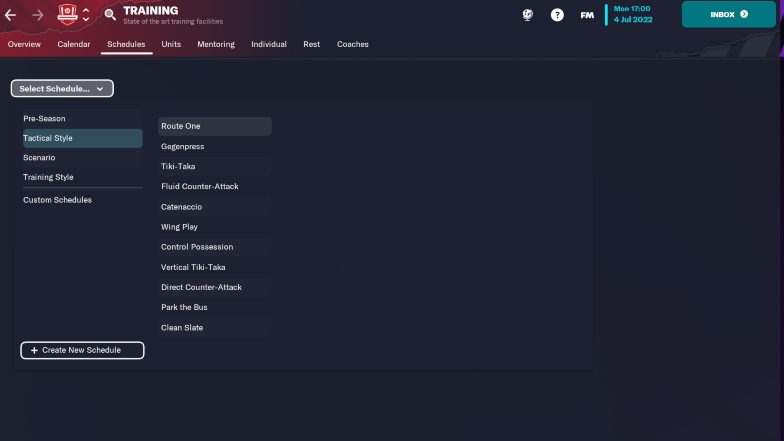 This leads us to Tactical Styles in FM23 – a way to concentrate on the specific tactical identities that the team adopts going into each match day, depending on who the opposition is.
You can work on a number of different attributes and training styles for individual players. Whether that's improving distribution for goalkeepers or pressing against the opposition in a transitional sense, the real impact of it game-to-game boils down to your tactical style of play.
One style of play that has attracted a lot of Football Manager players is the Tiki-Taka – a tactic that Pep Guardiola has made popular in modern football.
You can train your players to replicate this at your club, and if you're unsure of who you want to build a Tiki-Taka team with, start with our guide on The Best Teams to manage in FM23!
With this type of training, we would recommend recovery after a weekend game before allowing your players to Play from the Back and keeping a patient style in training and in play.
Chance Conversion sessions will automatically be penciled in for midweek before gaining an overall attacking style of play before the end of the week.
There are two versions of the tiki-taka in FM23, among other tactical styles that you can also adopt for variety such as Direct Counter-attack and Gengenpress.
Re-assigning Coaches
When it comes to assigning coaches to specific duties, many FM managers adopt a "set and forget" approach where they leave the coaching assignments on default settings.
Again, this is a time-saving approach that sacrifices efficiency and often fails to maximize the output of the coaches in your team, regardless of how good their attributes are on paper.
The only guaranteed way to maximize the output of your coaching team in FM23 is to visit the coaching assignments page and re-assign coaches to the duties where their qualities shine the most.
For instance, a coach with high scores in tactical and attacking areas would function better in coaching players within the context of those areas instead of defensive or goalkeeping coaching.
Apart from obvious strengths, another reason to re-assign coaches is to manage workload efficiently. Even if a coach is fantastic in the areas that they've been assigned to, their output will reduce significantly if the workload is too high.
Reviewing coaching assignments helps you to identify the areas that require investment in more coaches, and where you can afford to assign fewer coaches to improve the output in more important areas.
An easy way to review how your team is doing in the coaching department for each training category is to check the star quality rating given to the coaches assigned in those categories. If the coach assigned gets a 4 or 5-star rating, it's a good sign.
Training Priorities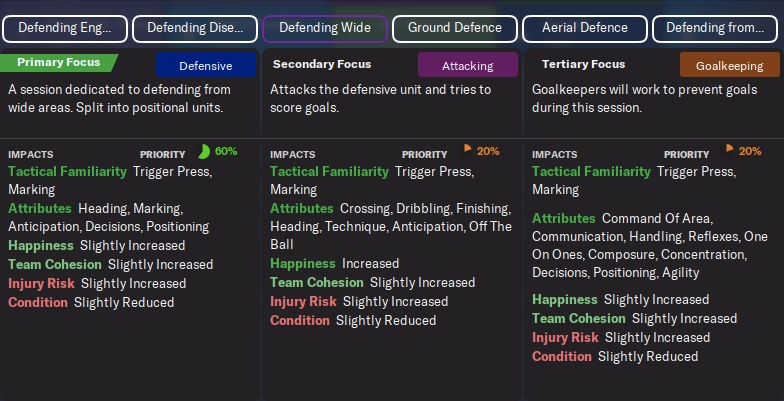 It is also recommended that you occasionally switch up the Technical aspects of the game which can be split into three sections: Attacking, Defending, and Goalkeeping. Improvements in these three areas will always be beneficial for every area of the pitch.
A handy tip is to keep an eye on the priority chart which shows your backroom staff's opinions on how important each area is at the moment – they could change as you head into different stages of the season.
Priorities will also change based on the team's league position and how frequently you're scoring or conceding goals.
It is important to pay attention to these as it could make the difference between three points or a bore draw come game day.
Scenarios
A third customization option for Training Schedules in FM23 is "Scenario". These consist of "Big Match Preparation", "Fixture Congestion", "Boot Camp", and a "Full Week of Rest".
The names are pretty self-explanatory, but it is very important to know the best times when each scenario applies.
Depending on the number of matches you have, Big Match Preparation consists of defensive and attacking motives such as shape and movement. Here, you gain a balanced approach toward training techniques that benefit all areas of the pitch.
You may adjust these ahead of cup matches, tougher games, or matches against teams with a well-recognized tactical approach.
For instance, if you're facing a team that emphasizes a strong attacking intent, you might want to place extra importance on defensive work in training.
Fixture Congestion focuses more on Recovery and tends to occur if you have two or three matches in a week.
Beyond the season of the World Cup, a strict schedule is likely to occur over the Christmas period and we would 100% recommend putting in this preparation style during that period.
Boot Camp may be useful for pre-season when you can focus on the fitness and stamina of players. Applying specific training styles such as Resistance, Quickness, and Endurance are some of the ways to make use of a solid Boot Camp.
Full Week of Rest focuses on rest for your players. It is great for the improvement of happiness, condition, and for reducing fatigue. However, the inactivity also causes the players to drop some points for match sharpness and team cohesion.
Extra-Curricular Activities
Talking of priorities, one extremely important note from us we would recommend is getting your team involved in some extracurricular activities. Community Outreach and Team Bonding are two examples of choices that you'll see here – and they are both very useful.
The only negative is taking a condition hit as players may become slightly fatigued due to traveling and socializing (in theory). However, the rewards of Team Cohesion and Teamwork attribute growth make up for it.
Primarily, these activities could be useful after a training session or at the start of the week. They are nice morale boosters as well, which can only be good for the team ahead of match day.