If you're playing Football Manager for the first time, or if you've not played for a number of years, it can be easy to get overwhelmed by the number of things there are to do in the game.
Even gamers somewhat familiar with the football management simulation game sometimes have to read guides and ask for tips on the internet about specific scenarios and options within FM.
Thankfully, there are a lot of guides out there. However, I believe that a single guide covering a significant chunk of the basics for beginners would be particularly helpful.
On that note, these ten beginner tips for Football Manager 2023 should help you get familiar with the game much more quickly.
Choosing A Game Mode
When you select the option to start a new game on FM23, there are a number of online and offline game modes available to choose from, including:
Career
Online Career
Create-A-Club
Fantasy Draft
Versus
Career
The regular career mode is the most popular game mode in Football Manager. You don't need an internet connection as every bit of information you need is already part of the database downloaded with the game.
In this single-player game mode, you get to build a profile and forge a career in football management. There are tons of clubs to choose from, and you can even start unemployed to make things even more realistic.
You can also manage countries concurrently with clubs. That luxury is necessary because of the relative sparseness of the international football calendar.
Online Career
Online career is the online multiplayer alternative to the regular career mode. In this mode, you can host a game and get your friends to join, or just play with other random Football Manager players from around the world.
You can create a league or cup competition with up to 32 players at a time in Online Career mode, and you have some control over the rules that apply in these competitions.
All the regular gameplay features in the regular career mode are here, such as tactic creation, squad building, recruitment, etc.
There's a different sort of excitement that comes with competing alongside fellow human managers, so this mode is a pretty interesting one as well.
Create-A-Club
If you want a deep level of customization in the offline career game mode, this "Create-A-Club" game mode is the one for you.
As the name suggests, you get to build a completely fictional club from the ground up, based on your ideas and your vision. You have to replace a club that already exists in the game, but that should not be a big deal.
One important thing to note is that you will inherit some details of whichever club you replace.
Details such as the quality of the club's facilities, finances, and place in European competitions cannot be edited. So, be sure to choose a club that suits what you want in those areas from the start.
Imagine creating a club with players based on yourself and a group of friends. It's easy to see how one can get even more attached to such a save than the regular career mode.
Fantasy Draft
Fantasy Draft is an online game mode that has often been overlooked by FMers since its introduction in FM16. However, it also packs unique features that really make it stand out.
If you're familiar with the American draft style, then you should get accustomed to this one pretty easily.
The game is played in a fantasy scenario where you build a draft team based on a selection from a pool of players.
Each player within the game mode takes turns choosing a player from the pool until squads are complete, and then these completed squads go head-to-head in a league, cup, or league+cup format.
Versus
Versus Mode is another online game mode where you can compete against other managers in league or cup competitions with custom rules determined by the host.
You can set up a single-player competition against AI, an online multiplayer session against other human managers, or an online multiplayer session with a mix of human managers and AI.
You can also join a lobby created by another human manager.
In Versus mode, you can play with one of the existing clubs in the playable leagues, or you can export a team from your regular career mode save and use that instead.
Versus mode is exclusive to FMFC members, so you have to sign up for that to access the mode. Once you get that done, you can choose the mode from the game's start screen, sign in to FMFC, and set up your game.
For the purpose of this guide, I'll be discussing other tips for the regular most popular game mode – offline career – starting with setting up a database.
Setting Up A Database
When you select the offline career game mode, the next step is setting up a database. Before you do that, it might be worth checking if your PC can run FM23. This is important because your PC's capabilities have a significant impact on the recommended database size.
If you'd just like to go straight into the game, then you can make a quick start. However, I recommend putting in the effort of adjusting the database options with the advanced setup as it can really affect your experience with the game.
When setting up a database on FM23, you can select the countries and leagues that you want to be included in your save game.
When you open up the option to "Add/Remove Leagues", you'll see a full overview of the available countries.
If you'd like to include the English Premier League, for instance, then you have to select England. Many leagues have squad registration rules and restrictions, so you should get familiar with the best leagues to manage in FM23 before you make a decision.
When you've selected all the countries, you can go a step further to adjust the specific leagues that you want to be included from those countries. For instance, you may choose just the top two tiers of English football – the Premiership and the Championship.
Next, you can choose if you want each country selected to be "Playable" or "View-only". If your PC can handle it, I would recommend choosing the "Playable" option for all the leagues added.
Finally, there's an option in the top right corner to adjust the size of the database. Three options – Small, Medium, and Large determine how many players are loaded into the game.
A small tip here – a large database gives you a wider pool of players to select from, so you have more options for signing players.
On the flip side, a smaller database also limits the AI's options in the transfer market, making it a bit easier for you to sell players whenever you want. Pick your poison.
In my opinion, it might be worth loading the largest database so you have a better chance of finding all the best wonderkids in FM23.
Choosing A Team
After building your manager's profile, you'll be led to the point where you select a team to manage. You can scroll through the playable leagues that you've chosen, using the club overview data on the right-hand side to review your options.
You can also start unemployed, but I would not recommend this to a beginner.
If you're playing Football Manager for the first time, there's a good chance you want to go with the team you support in real life. It's not the worst idea in the world because you'll already be familiar with the squad and your personal favorite players.
However, I believe that starting off with a big club is the best option for beginners. If you start with a smaller club, the expectations of the board weighing on you while you're still trying to figure out how the game itself works can be a baptism of fire that leads to an early sack.
Once you get used to the game, you can always move on to a bigger club by applying for jobs at those clubs, adding a new head coach and retiring the old one, or starting a new save game totally.
Completing Inductions
When you've chosen your team, you'll be taken to your inbox where you're welcomed by the board. From there, you'll see the full scale of the menus and sidebars in Football Manager 2023. Spoiler alert – it can be overwhelming.
Thankfully, the team over at Sports Interactive understands this fact, and that is why they've included "inductions" for many of the menus.
For instance, when you're visiting the "Tactics" page for the first time, you're held by hand through the basic stages of the process through the induction menu.
Be sure to watch out for these inductions and complete every one of them. The visual cues would provide even better context for some of the details described in this guide.
Managing Your Squad
On the "Squad" page, you'll see a full list of the players in your first team. There are several menus that show you different types of data related to the squad, so take your time to get familiar with these.
Obviously, one of the first things that you want to do as a new manager is to assess the quality of your squad and identify which areas need improvement.
Once you figure out which players you want to get rid of, you can transfer-list them for a specific value or you can offer them to clubs to speed up the process of receiving offers.
Apart from the first team, there are several players in the youth teams as well. To see the players in your U23 and U18 squads, go to the "Development Center" from the sidebar menu.
Assess the players there too to determine who needs to go out on loan, who needs to spend more time with the youth squads, who can be promoted to the first team, and who needs to be sold.
Setting Up Training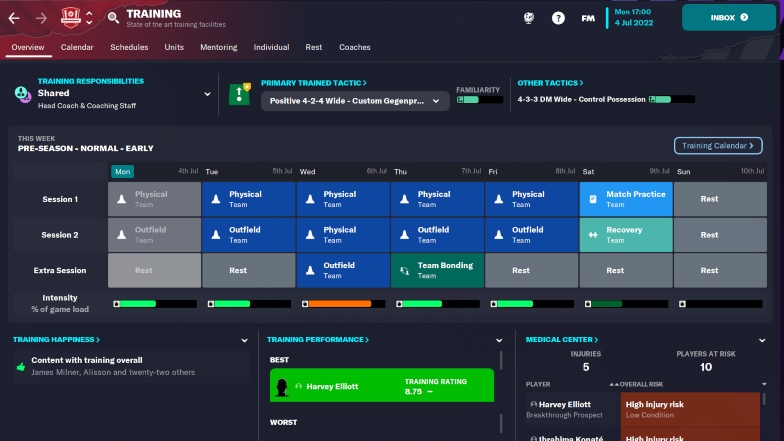 Training is an important part of team performance and individual player growth in FM23. As a beginner, you have two options: delegate training to your assistant manager and give yourself some room to focus on other things or take charge of training by yourself.
With a quality assistant manager, you can still get a decent level of training performance and individual player growth, but it is not comparable to what you would get if you set it up yourself – the right way.
A guide to training in FM23 should help if you decide to take charge of training yourself. If you want to delegate the task to your assistant manager, you can do so in the "Responsibilities" section under the "Staff" sidebar menu.
Setting Up Scouting and Recruitment
Scouting and Recruitment in FM23 is another area where you can delegate certain tasks to members of your backroom staff. However, it is also another area where you need to be actively involved for the best results.
At some point, you'll have to buy new players to improve the squad. Sometimes, the new player will be a replacement for a departing player, other times, he'll be an extra addition to the squad for overall improvement of quality.
Scouting for these players is one of the most in-depth processes in Football Manager, and you'll benefit from our FM23 scouting guide that discusses all the basics in detail.
When you've figured out how to scout players, you can begin the process of looking for the players that suit the needs of your team best.
Creating A Tactic
The tactic induction in FM23 is still a bit barebone when you consider how much detail you can really go into, so you may need a few tries to get it right.
However, one of the most overpowered tactics in recent Football Manager games is the "Gengenpress" system. There are a few formations that work really well with the system, and if your squad contains players that fit, it's a good place to start.
You can save and interchange between three different tactics, so you have the flexibility for some trial-and-error. I would recommend creating a tactic that is geared toward attacking football, another for counter-attacking football, and another for parking the bus.
These three scenarios cover most of the types of opposition that your team will face over the course of a season, and you can even switch between them in the middle of a game depending on how things are going.
Managing Your Backroom Staff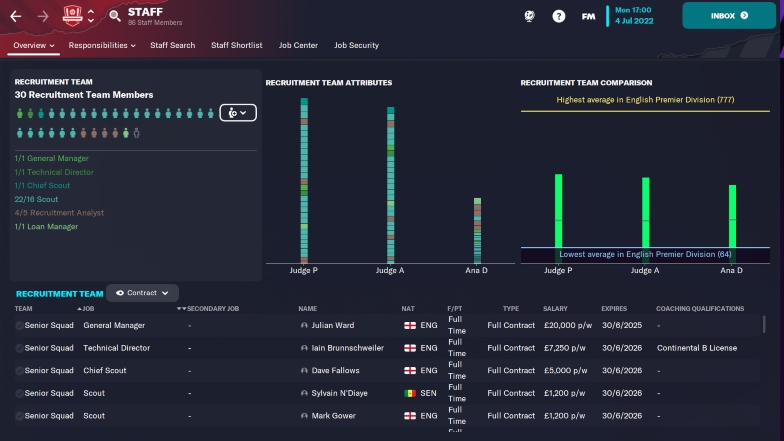 Your backroom staff does most of their work behind the scenes, but that work contributes heavily to the success or failure of your team, especially if you're the type of manager who delegates a lot of tasks.
As I suggested earlier, parts of the game such as scouting and training are crucial, and the quality of staff that you have in those areas determines how well your team does.
One of the first things you should do in a new FM23 game is to assess your backroom staff. Each club has a limit on the number of staff members that you can have at a time in each role, so you need to familiarize yourself with that first from the "Staff Overview" page.
Then, you need to check each staff member's attributes and see if they're good enough for the role they occupy within the club.
The important attributes of each role vary. For instance, a scout's quality is mostly determined by his score for "Judging Player Ability" and "Judging Player Potential", while an U23s coach would be judged for their stats in the Technical coaching categories and "Working with Youngsters".
Each score is rated out of 20 points, so anything above 15 is very good.
That said, you must also have realistic expectations of the quality of your staff based on the level of the club you're managing. The best clubs in the world can expect to have world-class backroom staff, but a club in the lower tiers or less-popular leagues might not be so lucky.
Managing Finances
I mentioned earlier how the expectations of the board will determine if you get the sack. These board expectations vary depending on the club you're managing, but one thing that is constant is that they all expect you to manage finances wisely.
For instance, you start out with a certain transfer and wage budget, and this determines the sort of business you can do in the transfer market.
If you sanction too many deals that weigh heavily on the club's finances (such as heavy installment payments or performance-based bonuses) and your club goes deep into the red, the board will begin to put pressure on you.
This is one of the reasons why I suggested starting your first save game with a big club. The biggest clubs typically have the biggest transfer budgets in FM23 and previous versions of the game, and their finances are generally healthier.
This gives you more room to maneuver when it comes to managing finances and makes it easier to keep your board happy in that department.
Final Words
There's a good reason why Football Manager is one of the best simulation games out there. The level of detail is impeccable, and you may find yourself hours deep before you realize what's happened.
Again, it can be overwhelming but if you apply these FM23 beginner tips, you're well on your way to having a good time with the game.
Once you've mastered these tips, you should take on a few FM challenges to test yourself.
Or, if you're looking for a more in-depth guide, check out our definitive guide to Football Manager.