Ever since the introduction of the power ranking system in Fortnite, players have been able to officially state how good they are in the competitive environment as compared to everyone else.
So, in this blog post, you will find not only what power ranking is, but how power ranking works, how you can get PR points, as well as why PR points are so important.
What is Power Ranking?
Power ranking is a scoring system introduced by Epic Games to monitor and track the individual performance of a player within the competitive environment of Fortnite. Players are able to collect power ranking points by playing competitive solo, duo, trio and squad tournaments set out by Fortnite such as the FNCS and Cash Cup.
Within the community, power rankings to are not essential for participating in tournaments, however, they are deemed a valuable statistic when it comes to estimating how good of a competitive player someone is.
Some of the best players in the world such as Benjyfishy, Mongraal, and Mitr0 have PR of 100,000 and above, however, if you are an average player, 200-1,000 should be enough to convince someone that you are above average.
How Does Power Ranking Work?
By default, power rankings are a combination of your results across all formats and tournaments that you have ever participated in. To give you an idea of how power ranking points are rewarded, check the table below.
| | |
| --- | --- |
| Tournament Placement | Power Ranking Points |
| 1st | 1000 |
| 2nd | 900 |
| 3rd | 850 |
| 4th | 825 |
| 5th | 800 |
| 6th | 775 |
| 7th | 750 |
| 8th | 725 |
| 9th | 700 |
| 10th | 625 |
| 11th – 20th | 550 |
| 21st – 30th | 475 |
| 31st – 40th | 400 |
| 41st – 50th | 350 |
| 51st – 60th | 325 |
| 61st – 70th | 300 |
| 71st – 80th | 275 |
| 81st – 90th | 250 |
| 91st – 100th | 225 |
| 101st – 150th | 200 |
| 151st – 200th | 175 |
| 201st – 250th | 150 |
| 251st – 300th | 125 |
| 301st – 400th | 100 |
| 401st – 500th | 50 |
| 501st – 1000th | 20 |
| 1001st – 2500th | 15 |
| 2501st – 5000th | 10 |
| 5001st – 7500th | 5 |
How to Get Power Ranking
The current power ranking format combines all of your results across all formats and displays your score as one. When it comes to increasing your PR on Fortnite, you must participate in competitive events hosted by Epic Games. Some of the events that can get you some PR are FNCS, Cash Cups, and daily cups. Moreover, other competitive tournaments hosted by Epic Games also count, excluding LAN's or Finals.
Generally speaking, the better you place in a particular tournament, the more PR points you are going to add to your name. If you place in the top 10, you are going to get the highest amount of PR points as compared to those in placing in the thousands on the leaderboards.
If you are wondering how you can check your Fortnite power ranking score, just visit the Fortnite tracker and write your name in their search engine.
Why Is Power Ranking Important?
Officially speaking, power rankings are unimportant and Epic Games have not yet imposed any PR requirements for competitive or released any information regarding making any such changes in the future since their entire competitive platform is built on giving the same winning opportunity for everyone from around the world.
So, since PR (Power Ranking) is irrelevant when it comes to competitive, why is it important? Well, the community is entirely to blame for that.

Since your PR score somewhat represents your in-game ability and skills, when looking for a new duo, trio or squad to play with on a competitive level, they would typically look at your power ranking score, and placements to determine whether you match with their requirements and expectations.
So, if you want to have the chance of attracting better players and have a higher chance to win money in Fortnite, work on your power ranking score.

Feel free to check out our Fortnite competitive guide to learn to how you can prepare for the next tournament like a pro to better your chances of placing better and in turn, getting some of those very valuable power ranking points.
Who Has the Most Power Ranking Points in Fortnite?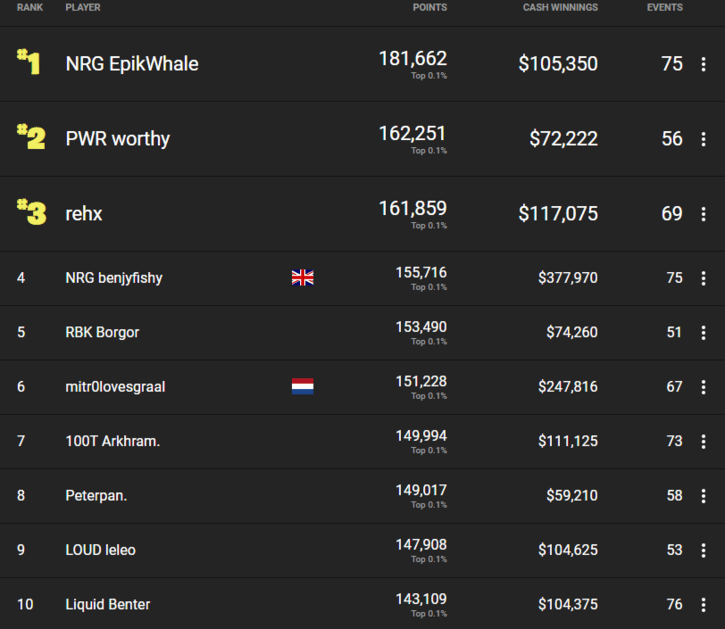 Currently, leading by almost 20,000 points, in the first position sits EpikWhale from NRG while the second and third positions are held by PWR worthy and rehx respectively.
4. NRG benjyfishy
5. RBK Borgor
6. mitr0lovesgraal
7. 100T Arkhram.
8. Peterpan.
9. LOUD leleo
10. Liquid Benter
Final Thoughts
While PR points are not essential for you to compete, currently, there are a number of added benefits to you having a somewhat reasonable amount of points. So, next time you participate in a Fortnite tournament, don't just think about placement and money, think about how many power ranking points you are going to get. Eventually, those same points can take you to greater heights of success and give you the chance to play with some of the top-tier players on Fortnite.