In Madden, it can be particularly difficult to have success in all aspects of defensive play. Defenses can be somewhat complicated and technical in how each position group works together in harmony to stop offenses.
One of the best tools defenses have to defend against different offensive systems is to consistently get pressure on the quarterback through blitzes and pass rush pressure.
Getting pressure on a quarterback can result in a lot of good things for your defense, including getting the opposing QB rattled, forcing easy interceptions, and keeping long pass plays downfield from developing. The best result you can get from blitzing is getting sacks – taking down the QB before they can release the ball.
If you want to win more games, you need to know how to get sacks.
The best defensive playbooks in Madden 23 are helpful here, but you will need to know a lot more than just what playbook to use. Here are the best tips to get more sacks in Madden 23:
Eliminate Checkdown Options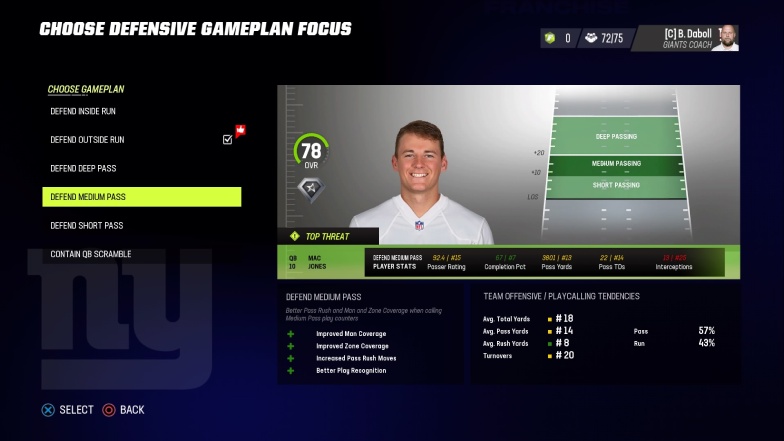 Checkdowns are a quarterback's best friend, when the quarterback is under pressure from your defense, the easiest way to avoid a sack (other than scrambling) is to find a pass catcher – typically the RB – to throw a short pass to. This short pass is called a checkdown.
If you want to successfully rush the passer and rack up sacks, you are going to need to effectively cover these checkdown options.
In order to do this, you should make sure that at least one linebacker is left in zone coverage instead of blitzing. You can do this in the pre-snap option menu by highlighting a player and choosing their individual coverage.
For more detailed information on covering short checkdown passes, such as shading your defense down, and effectively covering using your linebackers, check out our guide on how to stop short passes.
Get Defensive Players with Great Pass Rushing Stats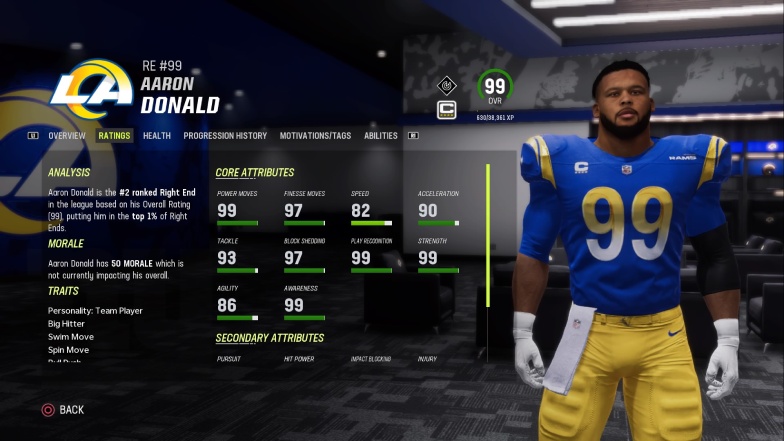 The absolute best two ratings to look for with regard to getting sacks in Madden 23 are obviously power moves and finesse moves.
Power moves ratings affect how successful your pass rushers are when attempting bull rushes, rip moves, and club moves. The finesse moves ratings affect how successful your pass rushers will be when attempting swim moves, spin moves, and speed rushes.
There are other important ratings for rushing the passer as well.
Speed, acceleration, and agility are going to help your pass rusher get off the line quickly when the ball is snapped, and to get to the outside edge quickly in order to beat the tackles on speed rushes.
Block shedding is also extremely important, but admittedly it's more important in the run game for linebackers and defensive tackles, but it can also be helpful when rushing the passer as well. As the rating's name suggests, it helps your defensive players shed blocks better in order to get to the ball carrier quicker.
Tackling ratings such as tackle, hit power, and pursuit are big deals in the pass-rushing game as well because once the defender gets past the O-Line, it's important that they can catch the QB, and bring them down consistently. Hit power can also help create forced fumbles when your rusher hits the QB.
Finally, a rating that may get overlooked when rushing the passer is strength.
Think of Aaron Donald; he uses his 99 strength to power through the offensive line and rack up double-digit sacks nearly every season.
Utilize Good Pass Rush Plays
Depending on your defensive scheme, which should be either 3-4 or 4-3, you will either have a standard pass rush of 3 or 4 defensive linemen.
If you are playing a 3-4 defense, you will have three big defensive linemen lined up in front of the O-line, and four linebackers (two behind in the D-line and two on the outside of the D-line that you want rushing the passer). The standard pass rush in 3-4 will rush the three D-linemen, but I suggest rushing all five of the players lined up at the line of scrimmage most if not all of the time.
If you are deploying a 4-3 defense, then there will be four defensive linemen and three linebackers. I suggest rushing the four defensive linemen and sending one of the linebackers on a blitz. You are going to want to find plays that blitz either the Sam linebacker or the strong safety.
In order to identify the Sam linebacker and the strong safety, you need to count how many defenders are on the left and right side of the ball.
The side of the ball that has the most defenders is called the strong side. The linebacker on the strong side is called the 'Sam' linebacker, and the safety on the strong side is called the strong safety. It's important that you blitz from this side so that you have proper coverage downfield on both sides of the field.
You should also identify all heavy blitz plays that you like, there are many different blitzes like this in every defensive playbook in the game. Typically, they differ in what type of coverage they use, and which players they send to blitz (corners, safeties, and linebackers).
Know How to User Blitz
While I typically don't recommend playing as the defensive lineman because you can more effectively impact your defense as a linebacker or cornerback, it is important to do so occasionally.
If your defense has created a third and long, or your opponent has been throwing a lot of deep passes during the game, you should consider taking control of a pass rusher.
There are a few different rush moves you can do such as swim move, bull rush, club move, and speed rush, among others, the pass rush system in Madden 23 isn't incredibly intuitive. It uses the right stick for most of the rush moves and relies most heavily on timing. You want to initiate the rush move as soon as your pass rusher makes contact with the offensive linemen.
If you are rushing as an interior lineman, I recommend using the bull rush move by flicking the right stick down in order to maximize your defensive tackle's strength.
If you are rushing as an outside linebacker or defensive end, I would recommend using the swim move by flicking the right stick to the right and utilizing your defender's athleticism. I would also recommend that you hold down the right trigger to utilize your defender's speed.
And there you have it, four effective ways to get sacks in Madden 23.
If you found this guide useful, then I recommend also checking out our guide on how to dive in the game.