Not a fan of Madden 23's player lock feature in the Face of the Franchise mode? Well, we have a solution for you.
While taking control of the whole team isn't allowed in the Face of the Franchise in Madden 23, there are tricks you can replicate to get the same experience and control the full team with your created player.
Here is the best way to control the full team in Madden 23 and experience the game fully with your own team, playbooks, and most importantly, your own player.
Importing Your Player
Since the Face of the Franchise mode is stuck with player lock and there isn't an option to change it, we will need to get your player out of there.
However, you cannot extract the same player, but here is the trick of getting your player to other game modes.
The first thing you want to do is to update your roster in the main menu settings.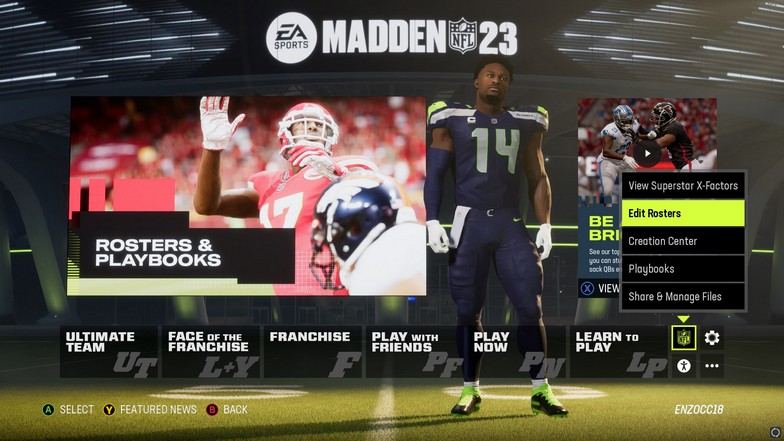 After updating your roster, go to the Creation Center by selecting the tiny NFL logo. After selecting the Creation Center, create your own player.
You will be able to customize your player's appearance, team, physique, attributes, equipment, styles, and a lot more.
Your player's attributes can be freely customized, so you can try to replicate your version of your player and try to improve him throughout the season.
If you want some builds to follow, you can check out our best QB builds and best WR builds for reference.
In the Face of the Franchise mode, you have less access to specific attributes compared to the Creation Center.
However, you cannot alter your abilities and X-factor, but we will touch on that later in the guide.
The important detail you need to know here is choosing your player's team. In the player info tab, you can choose the team your created player will be playing for.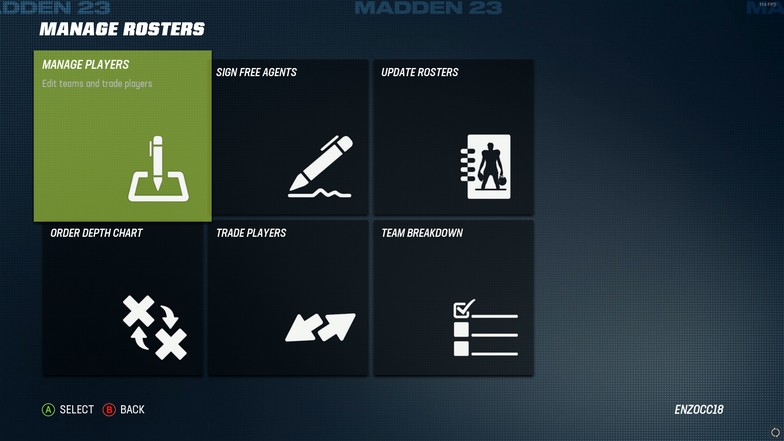 After finishing creating your player, you should be able to see him on the roster of your selected team. You can double-check it under the manage roster section from the main menu.
Since we will be using this player in Madden 23's franchise mode, you need to choose the right team you want to use. It doesn't matter which team you choose if you are setting up a fantasy draft franchise mode.
You will be entering a fantasy draft, and you will need to draft your player.
Setting Up Your Franchise Mode
Select Franchise mode from the main menu. You will see the options available in the image above.
Choose "Use Active Roster," and it should load your current roster available. If you want to play in Offline mode, use the same option.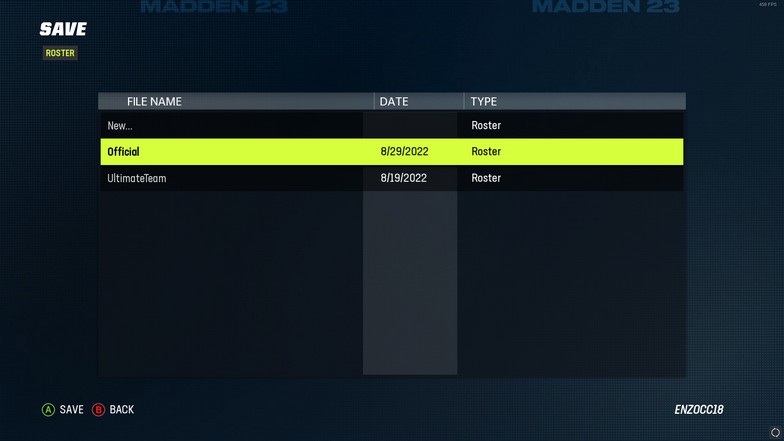 Your current roster with your created player will be used, and this is why we updated the NFL roster before anything else. Otherwise, your roster might not keep up with the latest transactions in the NFL, but your player should still be there.
The roster will import when you pick online mode. Wait for it to finish, and it should lead you to set up the franchise league settings.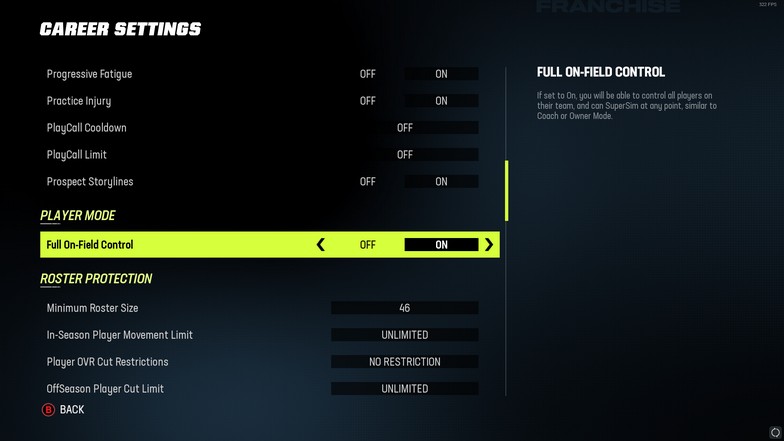 Go to the career settings and find the "Full On-Field Control" option. Make sure it is turned on. If you want to play franchise mode on player lock, you can turn this into a Face of the Franchise mode where you have power over managing your team as well.
You can choose the franchise mode type among player, coach, and owner. Choose "Owner" or "Coach" because if you choose "Player," you will only control your own player.
Set up your league settings to your preference. You can even set up realistic game sliders for a challenging experience.
Once you start the franchise mode after choosing the team your created player is playing for, you will start with your player on your active roster. If the player you created has a lower rating than another current player with the same position, your player might be benched.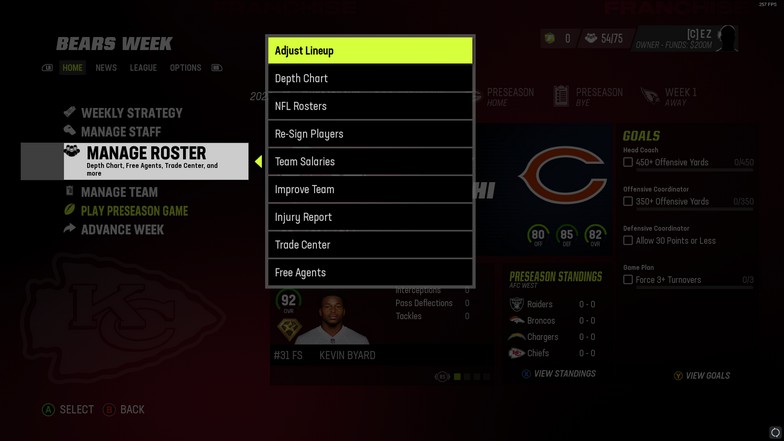 You can easily change this through the "Adjust Lineup" settings.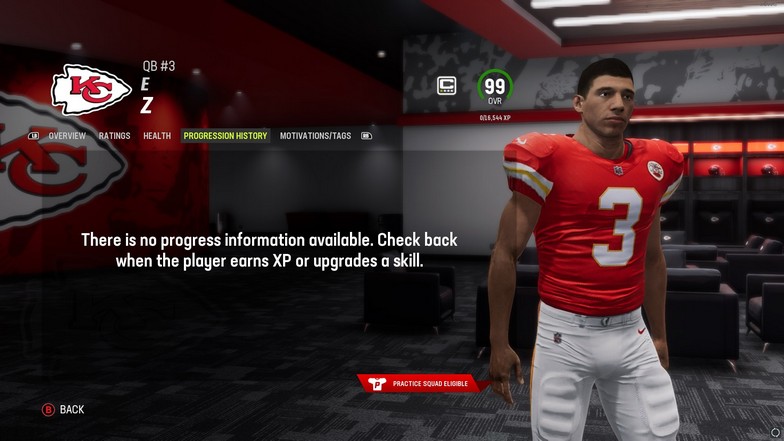 Under the Adjust Lineup screen, you can hover over your player, and you can select him to edit your player.
You will be able to freely adjust your player's appearance, playstyle, gear, and attributes. However, under the progression history, you will need to play to unlock skills.
Fantasy Draft Option
To set up a fantasy draft with your created player, you need to choose the Fantasy Draft option under the starting point.
Set up all your preferred league settings and start the fantasy draft.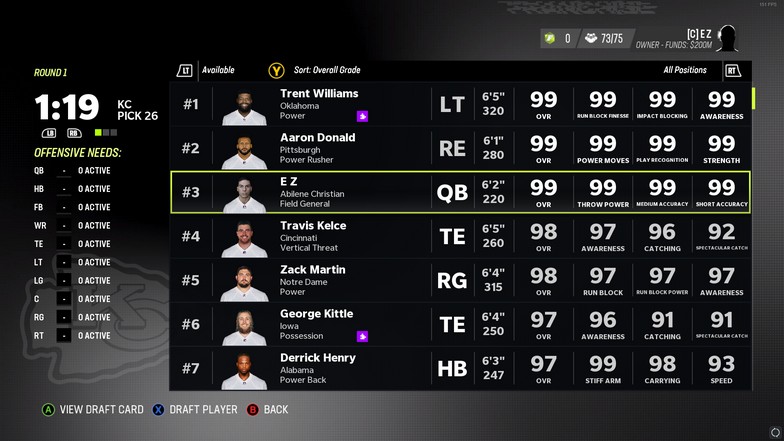 Wait for your pick and find your created player. You should see him on the available draft pool. If not, he might have been drafted by another team.
If you created a 99-rated player, he might be drafted quickly by another team. If your player is around 80-85 rated overall, you can capitalize on drafting a superstar player before drafting yourself.
You can always restart the fantasy franchise mode until you get your desired team.