For most people that play Face of the Franchise in Madden, it's all about being the main man – the quarterback.
Playing as only one person on the team, you want to become the star of the show, the player that has the most impact on a team's success.
To become the best quarterback in Madden 23, you'll need the best QB build.
Below, we've created three QB builds with different strengths to cover a variety of playstyles.
We'll show you the physical stats, attributes, and X-Factors you'll need to have the best QB build in Madden 23, regardless of if you want to be pass-heavy, run-heavy, or something in-between.
All Quarterback Skills
| | | | |
| --- | --- | --- | --- |
| Tier | Skill 1 | Skill 2 | Skill 3 |
| X-Factors | Bazooka | Run & Gun | Truzz |
| 2 | Sideline Deadeye | Inside Deadeye | Red Zone Deadeye |
| 3 | Pass Lead Elite | Gift-Wrapped | Gunslinger |
| 4 | Speed | Strength | Throw Power |
| Yard | Coverage | Catching | Press |
| 99 Club | Deep Throw Accuracy | Short Throw Accuracy | Medium Throw Accuracy |
Bazooka – max throwing distance increased by 15+ yards
Run & Gun – grants perfect passing while on the run
Truzz – can't fumble as a result of a tackle
Sideline Deadeye – perfect pass accuracy on throws outside the numbers
Inside Deadeye – perfect pass accuracy on throws inside the numbers
Red Zone Deadeye – perfect pass accuracy while throwing in the red zone
Pass Lead Elite – increased throw power when leading bullet passes
Gift-Wrapped – higher chance to complete passes to uncovered targets
Gunslinger – faster throwing animations & velocity on bullet passes
Speed – increased Speed rating by 5 points
Strength – increased Strength rating by 5 points
Throw Power – increased Throw Power rating by 5 points
Coverage – boost all Coverage ratings to 84
Catching – boost all Catch ratings to 84
Press – boost your Press rating to 84
Deep Throw Accuracy – increase Deep Throw Accuracy rating by 4 points
Short Throw Accuracy – increase Short Throw Accuracy rating by 4 points
Medium Throw Accuracy – increase Medium Throw Accuracy rating by 4 points
The Yard skills don't matter as much outside of the yard, so we will not touch on those skills for the builds.
Attributes
For the attributes, you do not have many choices in these upgrades. Every single build below will have the same attributes when you are trying to get a 99 overall rating.
Each build will have a specific strength, and you can choose the appropriate skill points to level first. Just remember not to overlook the Pocket Presence.
Long Pass QB Build – Bazooka
Bazooka
Inside Deadeye
Pass Lead Elite
Throw Power
Medium Throw Accuracy or Deep Throw Accuracy
In Madden 22, this was called the "General" QB class. The build revolves around a quarterback who can make consistent medium to long passes and relies heavily on a good offensive line to make the perfect pass.
This build has the highest chance to successfully perform long passes or Hail Mary plays.
The Pass Lead Elite allows the build to be more versatile. You can throw medium bullet passes and have the receiver maintain its momentum on the lead pass.
For Medium Throw Accuracy or Deep Throw Accuracy, you can choose whichever fits your style. Personally, I'd choose medium throw accuracy if I play on a simulation game-style difficulty.
This is similar to our Madden 23 Tom Brady build.
Short Passes QB Build – Run & Gun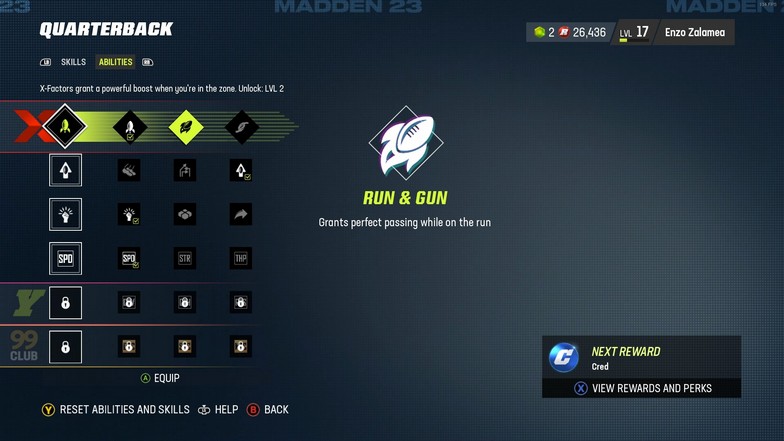 Run & Gun
Red Zone Deadeye
Gunslinger
Speed
Short Throw Accuracy
The build is formerly called the "Magician" in Madden 22 because of the Run & Gun X-Factor. The perfect passing on the run is an insane boost.
Running quick or double slants is going to be extremely effective. Running away from the defense while finding a slanting TE and throwing the perfect lead bullet pass is what your go-to play is going to look like.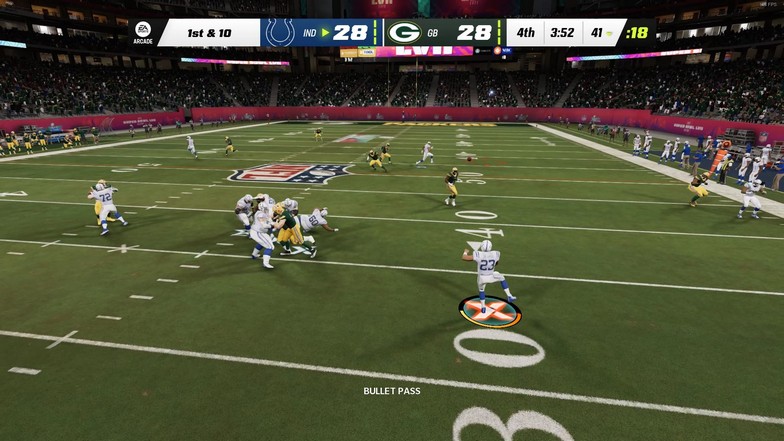 You are constantly putting pressure on the defensive line by always actively moving and threatening to run the ball for a 1st down.
Your passes are as accurate as any quarterback, but these are mostly for short throws or passes.
Running at high speed and having the Gunslinger puts terror on the defense. You will be harder to sack because of the faster pass animations and overall being a pest on the field.
This build mirrors Patrick Mahomes' playstyle.
Runner QB Build – Truzz
Truzz
Red Zone Deadeye
Gunslinger
Speed
Short Throw Accuracy
The build is also known as the "Lightspeed." This runner build is for those who are insanely good with the sticks.
The only difference between this build and the previous build is the X-Factor ability. Some of the skills that made Lightspeed great in Madden 22 aren't available in Madden 23.
However, the Truzz X-Factor eliminates the risk of turning the ball over when you run the ball as the quarterback.
It is a good X-Factor if you are constantly running plays for yourself and running the ball. You still have all the skills, such as making passes on the run and having faster throwing animations.
The build is similar to Cam Newton's playstyle and skill set.
How to Reset Skills and Abilities
You can freely reset skill points and abilities in the upgrade player screen. The button to reset the skill is different for each platform, so check the lower-left portion of your screen to see which button you should press to prompt the reset.
You can experiment with each of the builds and find which fits your playstyle more or which brings the most fun. You can even request a trade and try out different playbooks from other teams.