Every player has their own preferred ways of playing Madden's franchise mode.
Some like to take a great team with a great offense and enjoy having a fun time steamrolling the rest of the league.
Some players enjoy taking control of their favorite team and guiding them to the success they're wait to see play out on their TV in real life.
Others may enjoy taking a bottom tier team and bringing in young players to rebuild them from the ground up into a league powerhouse.
So that leaves the question: what team is the best to play with in Madden 24's Franchise Mode?
Today we'll take a look at the best teams for you to manage regardless of your preferred method of playing the game mode.
Top Tier Teams
If you enjoy playing Madden Franchise Mode with an already established powerhouse team to steamroll the rest of the league, there's multiple good options for you in Madden 24. Below are our top choices depending on what you value in your team's roster.
Kansas City Chiefs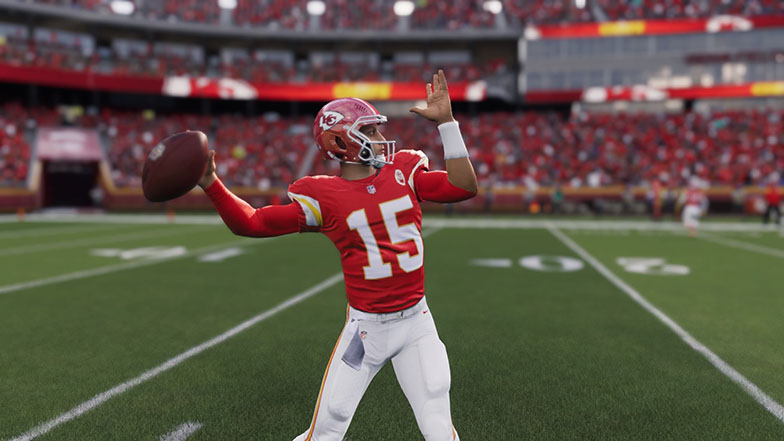 The first and most obvious choice is the reigning Super Bowl Champion Kansas City Chiefs.
It's a reality of football that the quarterback is the most important of any individual position on the team. So it makes sense that if you want to play with a great team, you should choose the team with the league's best quarterback. That best quarterback is indisputably the Chiefs' QB Patrick Mahomes.
Coming in with the highest possible overall rating of 99, Patrick Mahomes is the best QB in Madden 24.
None of his individual passing ratings are any lower than a 91, with an average accuracy rating of 94. Pair the top tier accuracy with throw power, throw on run, and throw under pressure ratings of 97, 98, and 97 respectively and there's no throw Mahomes can't make no matter where on the field it is or what situation it's from especially when his target is fellow a 99 overall in star TE Travis Kelce.
Of course, while QB is the most important position you can't win a game with just a QB.
Thankfully, the Chiefs have a great offensive line to stand in front of and protect Patrick Mahomes. 90 overall C Creed Humphrey and 89 overall LG Joe Thuney anchor a strong offensive line to keep Mahomes upright.
80 OVR starting RB Isaiah Pacheco can also benefit from this offensive line, as his 93 speed rating and 95 acceleration rating can turn any time he hits a hole created by his offensive line into a potential big touchdown.
The Chiefs' defense are no slouches either, led by 96 overall DT Chris Jones to rush the opposing QB, 87 overall MLB Nick Bolton to patrol the field and keep the run in check, and 84 overall CB L'Jarius Sneed to keep the other team's recievers in check.
Cincinnati Bengals
While the previously mentioned Kansas City Chiefs have a good defense, it's not at the level of the great to elite defenses around the league. If you want a top level defense on your team, a good candidate is the Cincinnati Bengals.
The Bengals' defense is anchored by the 87 overall star DT DJ Reader. With an 89 block shedding rating, 87 tackle rating, and 91 pursuit rating, Reader won't be letting many attempted runs get past him. He's no slouch in the pass rushing game either, as his 83 power moves make him no pushover when he's coming after the QB.
Reader is joined on the Bengals' defensive line by a fellow 87 overall in RE Trey Hendrickson. While Reader gets the job done rushing the passer, that's where Hendrickson shines thanks to his 89 finesse moves rating allowing him to blow past opposing lineman and rack up the sacks on the QBs.
Reader and Hendrickson are backed up by studs at both linebacker and across the secondary.
The linebackers are led by 84 overall Logan Wilson, who is a true jack of all trades. Wilson can help his secondary in coverage thanks to his 76 zone coverage rating as well as stuff the run with his 91 pursuit rating and 95 tackle ratings.
The star of the Bengals' secondary is 85 overall CB Chidobe Awuzie. Awuzie's 91 speed rating and 94 acceleration rating allow him to keep up with opposing WRs while his 86 play recognition rating, 85 man coverage rating, and 89 zone coverage rating allow him to make plays in coverage no matter the situation.
Of course, the elephant in the room regarding the Bengals is that the defense is far from their only strength.
It may be what sets them apart from the Chiefs, but the Bengals have an extremely explosive offense in their own right.
The Bengals are home to Madden 24's second highest rated QB in the 95 overall Joe Burrow.
Burrow has pinpoint accuracy when throwing the ball with a 93 throw accuracy rating, 98 throw accuracy medium rating, and a staggering 99 overall throw accuracy short rating.
The Bengals also boast elite tier weapons for Burrow in the passing game in the form of 94 overall WR Ja'Marr Chase and 87 overall WR Tee Higgins.
Baltimore Ravens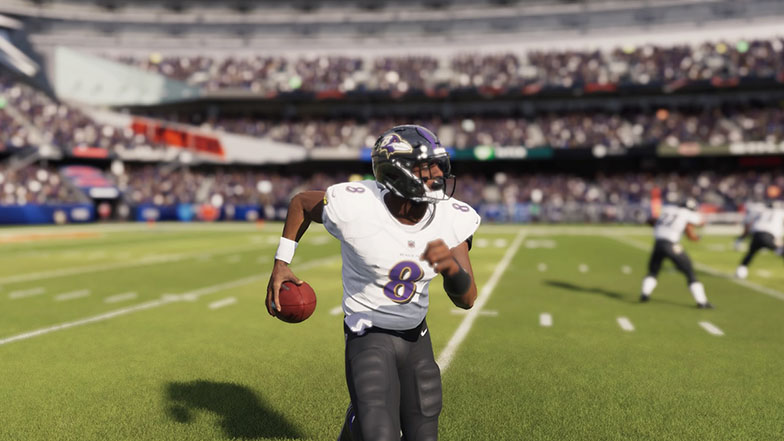 One of the great joys of playing Madden is using your QB to run around in the backfield like a madman as if you were playing pickup football at recess with your friends.
If you look for mobility in your QBs, then look no further than the division rivals of the previously mentioned Bengals: the Baltimore Ravens.
The Ravens have the league's best rushing quarterback in 91 overall star QB Lamar Jackson.
Jackson is absolutely electric when running the ball with his 96 speed rating, 96 acceleration rating, 95 change of direction rating, and 95 agility rating making him near impossible for defender's to catch. If a defender does somehow manage to get close to Lamar that's no reason to worry, as you can use his 90 juke move rating to get out of harms way. If the close encounter happens in the backfield you can still wiggle your way out of the situation with Lamar's 95 break sack rating.
While Lamar Jackson's strength is obviously his skills as a rusher, he's certainly no slouch in the passing game.
Lamar boasts a 93 throw power rating as well as an average accuracy rating of 86 to allow you to sling the ball downfield. Jackson is also great for creating something out of nothing thanks to his ridiculous 95 throw on run rating to allow you to make throws as you scramble around with his speed.
Your most common target of these passes will probably be the team's highest rated player in 95 overall TE Mark Andrews, who is an extremely reliable playmaker who will always be a threat to turn any pass thrown his way into a touchdown.
The Baltimore Ravens are also known for their very strong defense.
93 overall CB Marlon Humphrey is a force to be reckoned with in the passing game, as he'll make life hard for opposing WRs and intercept a few passes for himself along the way.
The other foundation of this defense is 92 overall MLB Roquan Smith, who will patrol the field always ready to lay the boom with his 87 hit power rating and 97 tackle rating causing many potential fumbles.
As a bonus, the Ravens also have Madden 24's highest rated kicker, 91 overall Justin Tucker, to bail you out if the offense stalls.
Teams to Rebuild
Chicago Bears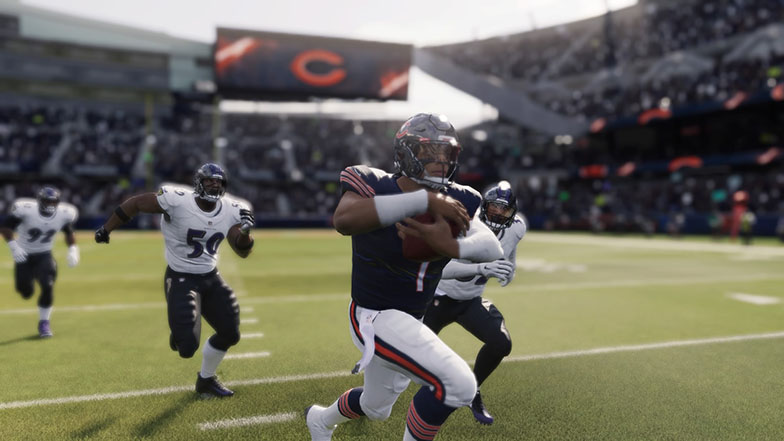 Following the theme of electric running QBs, the first candidate for a team to rebuild is the Chicago Bears.
The 76 overall QB Justin Fields is still very young with plenty of time to develop him.
Fields is already a rusher to rival Lamar Jackson, coming in with a 93 speed rating, 95 acceleration rating, and 92 change of direction rating. However, Fields' passing specific ratings will need some development for him to become a true top QB in the league.
Thankfully, you'll have 86 overall WR DJ Moore to help develop Fields into the passer you'll need him to be.
DJ Moore's 93 speed and acceleration ratings allow him to be a threat to get open streaking down the sideline for a big gain on any given play. Moore's 89 catching rating, 89 spectacular catch rating, and 88 catch in traffic rating also provides Fields with a very sure handed receiver to target anytime the play breaks down into chaos.
Outside of Fields and Moore, the Chicago Bears have a few other promising young players such as LT Jaquan Brisker and WR Darnell Mooney.
In the big picture however, the Bears are void of true top level star players with their highest rated player being 87 overall MLB Tremaine Edmunds.
This lack of certified elite talent means that you'll have the freedom to build around the promising young guys to craft the team into your vision.
Washington Commanders
While having a promising young quarterback like Justin Fields is a plus for the Bears, some players prefer to take over a team without a clear answer at QB when starting a Franchise Mode rebuild.
Whether your solution to that is to trade for an established QB, draft and mold your own QB, or maybe even see if you can get anything out of the already rostered QBs, the Washington Commanders are a good candidate for your rebuild.
The Commander's current QBs are 72 overall Jacoby Brissett, 66 overall Sam Howell, and 58 overall Jake Fromm.
While Jacoby Brissett's 72 overall is respectable as a theoretical starting point for development, he's already 30 years old which is too old to get any worthwhile development out of him in Madden 24.
On the other hand, Jake Fromm has youth on his side, although his 58 overall is almost definitely too low to develop him into a good starter.
If you do want to try to develop one of the existing QBs your best bet will be the 22 year old Sam Howell at 66 overall. Otherwise you'll need to find the solution either through a trade, free agency, or the draft.
However, while the QB situation looks pretty bleak for the Commanders they do have a solid receiving corps in place for once you do land your QB as well as a strong defense to anchor the team in the meantime.
Once you do land your QB of the future they'll be able to benefit from throwing their passes to 92 overall WR Terry McLaurin and 82 overall WR Curtis Samuel.
On the other side of the ball, studs such as the defensive line trio of DT Jonathan Allen (93 overall), RE Chase Young (83 overall) and DT Da'Ron Payne (82 overall) along with CB Kendall Fuller (87 overall) are primed to terrorize the opponent's offense.
Los Angeles Rams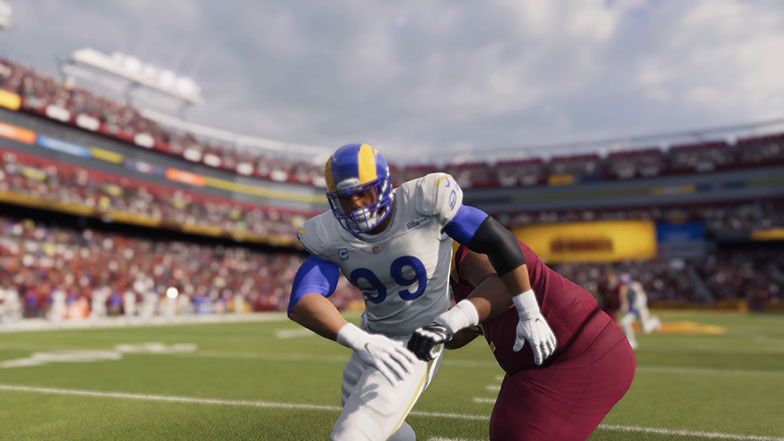 At first glance the Los Angeles Rams may seem like an odd choice for those looking to rebuild a team in Madden 24's Franchise Mode.
After all, many of the players on the roster are the same as the Rams' Super Bowl winning squad (save for the obvious example of now Dolphin Jalen Ramsey).
However, a deeper look at the team's roster shows that the championship team has quickly fallen apart for various reasons.
The most obvious difference being the absence of the game's highest rated cornerback, Jalen Ramsey. After trading him away to the Miami Dolphins the Rams are left with their best CB being 73 overall Cobie Durant.
The Rams still boast the game's highest rated DT in 99 overall Aaron Donald, but at 32 years old, some level regression in Madden is guaranteed in the near future.
Unlike Aaron Donald, QB Matthew Stafford is already suffering from the regression that comes with age, as he's down all the way to a 75 overall with more regression on the way.
This leaves the Rams with 95 overall WR Cooper Kupp as the only true star on the team with a decent amount of time left in his prime. Although even Kupp is already 30, so while he does have time left he's not too far off suffering from father time just like Donald and Stafford.
This leaves you with a Rams team that's virtually no true top talent, leaving you a blank slate to build the team however you see fit.
Conclusion
There's a laundry list of great candidates for teams to use in Madden 24's Franchise Mode.
The best teams to use will be different for different players depending on what they want to get out of the game mode.
If you're a player who enjoys taking control of a top team, then the Chiefs, Bengals, and Ravens are all great options.
But if you're a player who enjoys taking a bottom dwelling team and building them up over the long haul, then the Bears, Commanders, and Rams are more your speed.