Not everybody chooses the right team at the start of NBA 2K24's MyCareer. You even spend some VC choosing the team you want. This is why it is important to find the best team that fits your player right away.
If you want a change of scenery or are frustrated about your role, you can request a trade at no cost at all.
It may take a few hours to grind, but we are here to learn how to shorten that grind.
Improving Teams' Interest in You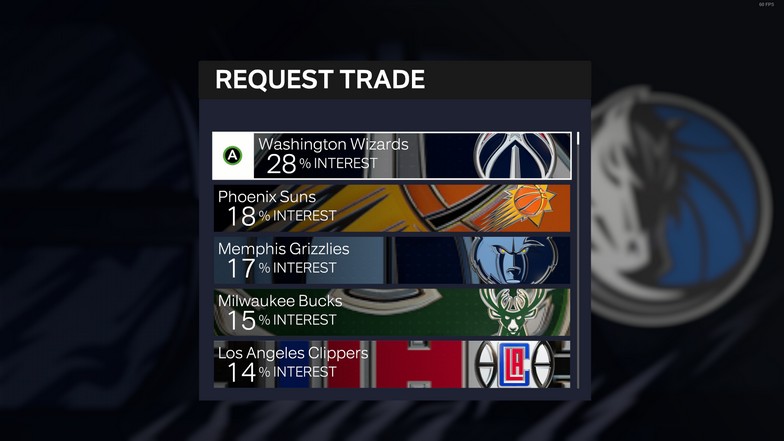 When you go to the progression tab in MyCareer, you can see a "Request a Trade" option right at the start of the season.
However, when you press it, you'll see all the league teams and their interest in you.
To a team's interest in you, you just have to play more games. I have tried simulating games from the schedule and while in-game.
Both methods don't work. The only way to improve their interest is by playing games.
Every team starts at 0%, and the teams that gain interest in you are pretty random.
It doesn't matter if a team needs to fill a position you perfectly fit in. It also doesn't matter if you performed well against a specific team.
Now, how fast can you increase their interest in you?
Best Way to Request a Trade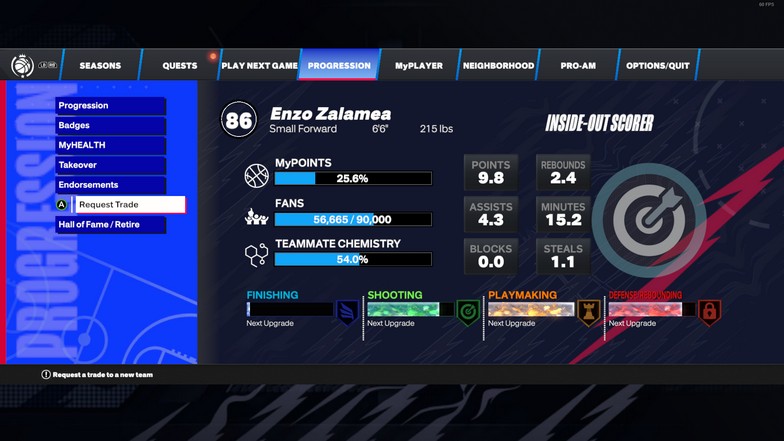 I have played a single 10-minute per quarter game with a teammate grade of A+ and compared the results to a 5-minute per quarter with the same grade and difficulty.
The results aren't that different regarding improving a team's interest in you.
I don't really have much data on finishing games with a teammate grade lower than A+. I had only two games with A- and B+ when I started MyCareer, with the VC bonuses missing.
The teams' interest seems to be tied to your performance.
If you have a bad showing, their interest lowers or remains the same, depending on how bad you played.
So, the best way to improve their interest is by playing as many games as possible with a teammate grade of A+ every time.
Regardless of difficulty and minutes per quarter setting, as long as you get a teammate grade of A+, you are doing it right.
This method is almost the same as our fast 99+ overall rating guide. You can mix both together so you can be efficient in improving your player as well.
What Happens After Requesting a Trade?
The only notable thing that happens is that teams do trade a lot of their players randomly. For example, if you want to get traded to the Golden State Warriors, they might let go of a few players to get you.
Keep this in mind. Teams often trade with each other, and you might be requesting a trade to a team that might not have the same players you might think you'll be playing with.
Requesting a trade also resets your team's chemistry, which you work on every game. You have to play multiple games to keep it up again.
It isn't a big deal, but it is still worth mentioning.