The wrist shot has grown to become the most used type of shot in the NHL, and it is widely regarded as one of the best offensive options available.
Players are often deemed as good or bad to use in the NHL based on their wrist shot accuracy and power, and while the shot style might not be as eye-catching as the slap shop, it can be highly effective.
This article will teach you how to do the wrist shot in NHL 23 and when it is the best time to pull out this skill move.
How to do the Wrist Shot in NHL 23
With regard to wrist controls, they might seem simple to some players, but many people struggle to use them consistently in games.
The controls seem straightforward, but mastering a wrist shot takes a little practice. You might wonder why the on-screen feedback isn't showing Wrist Shot when you know you hit the correct controls. If this is the case, it likely means you accidentally mistimed one of the actions.
To line up a wrist shot, you need to ensure your player is lined up on their forehand side.
While you are skating towards your shooting hand, hold the right stick to the left.
You will notice this moves your player into a forehand glide. From here, he will set himself up to shoot with more accuracy.
You don't have to follow this step to execute a wrist shot, but it does help increase your chances of scoring with your wrist shot.
To fire a shot at the goal, you must pull the right stick down and directly opposite the goal. Next, push the right stick upwards, and your player will execute the wrist shot.
Where many players make a mistake is they hold the right stick in the same place while executing the forehand glide rather than changing the angle.
When to do the Wrist Shot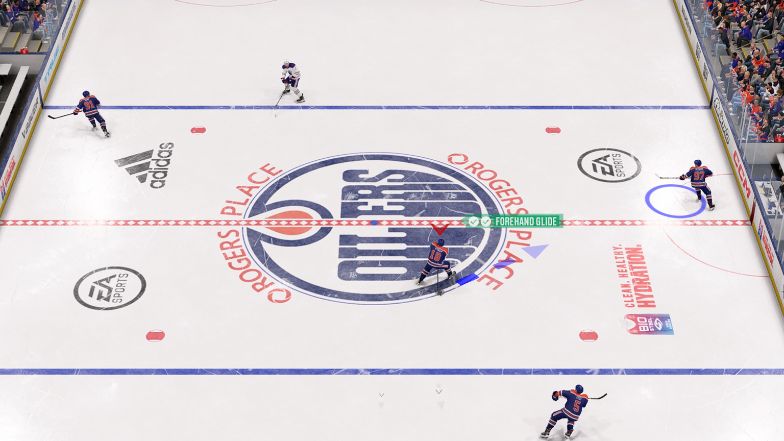 There are certain scenarios where you should try and execute a slapshot, and there are situations where the wrist shot will be much more effective.
In those situations, executing a wrist shot will increase your chances of scoring. When to do the wrist shot is often determined by what goalie you are up against, where the opposing defenders are, and what position you are in on the ice.
Here are a few examples of when to do the wrist shot.
Running Down the Wings
One scenario where wrist shots are particularly effective is when you are skating near the boards on either side of the ice, whichever one is your forehand side.
For example, if your player is left-handed, then you can try to hit a wrist shot into the top left-hand corner of the goal if you are skating down the right-hand wing. You also have the option to skate across the goalie, hold off until he turns left, and then shoot for the right-hand corner.
In Tightly Contested Zones
As you may be aware, the release on a wrist shot is much faster than that of a slap shot, which makes it ideal when you try and get a shot off when you are surrounded by your opponent's defenders.
When you're crowded out by defenders, the last thing you want to do is take a big swing back to load up a slap shot. At that moment, you will lose control of the puck, allowing a defender to swoop in and take it.
As You Skate Behind the Goal
Another excellent time to use your wrist shot is when you have skated around the back of the goal, and you are lining up a shot on your forehand side.
Once you have opened up an angle to hit a quick shot from, try to execute a quick wrist shot into the far corner.
Be careful not to wait too long, or the goalie will change into a better position, or the opposition defenders may catch up to you.
Players with a Great Wrist Shot 
As you would expect, some of the best young players in NHL 23 are the best at executing the wrist shot, along with a couple of seasoned professionals.
| | | | | |
| --- | --- | --- | --- | --- |
| Player | Team | Wrist Shot Accuracy | Wrist Shot Power | Overall |
| Austin Mattews | Toronto Maple Leafs | 97 | 94 | 94 |
| Alex Ovechkin | Washington Capitals | 94 | 94 | 92 |
| Patrick Laine | Columbus Blue Jackets | 94 | 93 | 87 |
| Connor McDavid | Edmonton Oilers | 97 | 91 | 95 |
| Leon Drasaitl | Edmonton Oilers | 95 | 92 | 93 |
| Nikita Kucherov | Tampa Bay Lightning | 95 | 92 | 92 |
Final Thoughts
Executing the wrist shot in NHL 23 is a great way to score, but it is one of the trickier shots to try and implement. You must master the shot, learn the correct angles, and identify the right time to try it in-game.
There are two scenarios you definitely should avoid using the wrist shot in, and that is if the puck is on your backhand side, or you are too far away. When you are further away from the goal, the slap shot tends to be much more effective.
Learning how to do an effective wrist shot couple impact who you decide who is the best first round draft pick for your franchise.