To keep DiamondLobby free to read, this post may contain affiliate links. Learn more
Apparently, Logitech's G640 mousepad is one of the most popular mousepads among pros that play Valorant. That fact alone was enough to pique my attention, and when I got the opportunity to test a review unit, I just had to do it.
To be honest, I'm a fan of the work that Logitech has been doing in the gaming industry, in terms of producing gaming gear of good quality. So, I already had a reasonably high level of expectation for what the G640 mousepad would offer.
Regardless, this is a completely honest assessment of the product, and all the opinions expressed in this Logitech G640 mousepad review are my unbiased thoughts.
We bought the mousepad with our own money anyway, so you can rest assured I wouldn't hesitate to rip into Logitech if something was amiss.
Packaging
Obviously, the first thing that you'll notice when you receive the product is the packaging. If you've read any of my previous mousepad reviews, then you'll know that a major pet peeve for me is getting a rolled-up mousepad package.
There's a perfectly good reason why I don't like these rolled-up mousepad packages. Often, it causes the sides of the pad to curl up when you lay it out flat on the desk, and you have to put in a bit of effort to flatten it out completely – unsuccessfully, in some cases.
Anyway, despite the fact that my Logitech G640 mousepad came in a tubed package, it was pretty easy to flatten it out so the packaging wasn't much of an issue.
Specs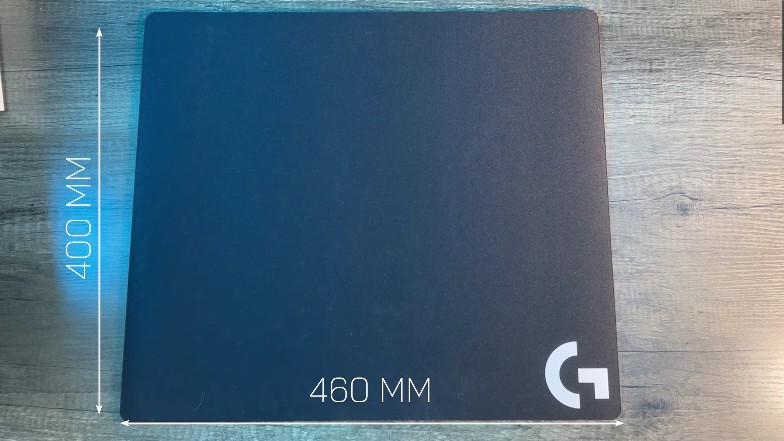 The dimensions of the G640 mousepad are 400mm by 460mm, and the pad is 3mm thick. It's the average thickness for many other regular mousepads out there – not very thick but not the thinnest either.
The size is also pretty standard. It gives you a good amount of real estate to move your mouse around, which is all that really matters in that regard.
Design
Starting from the top, I noticed that the material used here is standard cloth. According to Logitech, this is the best material to use for low dpi gaming, and they've tuned it specifically for Logitech sensors. Sounds like they're just trying to be convincing but I'll allow it.
There's no stitching here, which is a bit disappointing because I've seen situations where unstitched pads came apart from the base after a while of usage. If you're paying a lot of attention to durability, it might be something to consider.
The base of the pad, like many others, is rubberized. Rubber bases have proven to be the most efficient because they do not allow for too much friction that causes your mousepad to move all over the place while you're dragging your mouse across it.
However, I did notice that for a 3mm mousepad, the Logitech G640 feels thinner than it should.
I mean, 3mm is not thick by any means, but this one has little or no sponginess to it so it feels quite thin. For comparison's sake, the test unit that I got for my Endgame Gear MPC450 mousepad review was also 3mm thick and it felt firmer than this does.
This might be a non-issue for many people, but if you will be using this mousepad on a lower-quality desk, you may want to consider the fact that you're more likely to feel any lumps or bumps from the desk.
Performance
Speed
When it comes to performance, a mousepad will fall into one of three categories – control, speed, or balance. The Logitech G640 focuses on control, which explains why it is a popular choice for pro gamers that spend more time with shooters such as Valorant and CSGO.
More control on your mousepad is great for precision and accuracy when aiming, so if you're into those types of games more than anything else, then the G640 is a solid option. If you're prioritizing speed, then you may want to look at other mousepads.
In-game
In-game performance is just fine. There's not much to say about it, which is probably a good thing because it also means there isn't really anything wrong with it.
Maintenance
A nice, quick scrub with a cloth and soapy water will have the mousepad looking nice and sharp. However, you need to be careful with scrubbing because the lack of stitched edges increases the risk of the top coming apart from the bottom.
Cost
At the time of writing this review, the Logitech G640 costs around $38, £34, or €39.99.
It's a similar price point to the Fnatic Dash, which I believe is of superior quality, though you might be able to grab a deal on Amazon.
Verdict
As I said, I was pretty curious to see why the Logitech G640 mousepad was popular among pro gamers. Clearly, it's less about the fact that it is an all-round excellent mousepad and more about the fact that those gamers prioritize performance over anything else.
Performance-wise, if you're looking for a mousepad with great control, and that's all that matters to you, then it would be easy to recommend this one.
However, when I factor in all the other things that I believe should be considered when buying a mousepad, the G640 just doesn't hold up well enough against the competition.
There's the lack of stitched edging which raises questions about durability, and there's the price point that is competing with mousepads that have this missing feature. Maybe if it was less expensive, it would be easier, but as it stands, I can't recommend this mousepad.
Logitech G640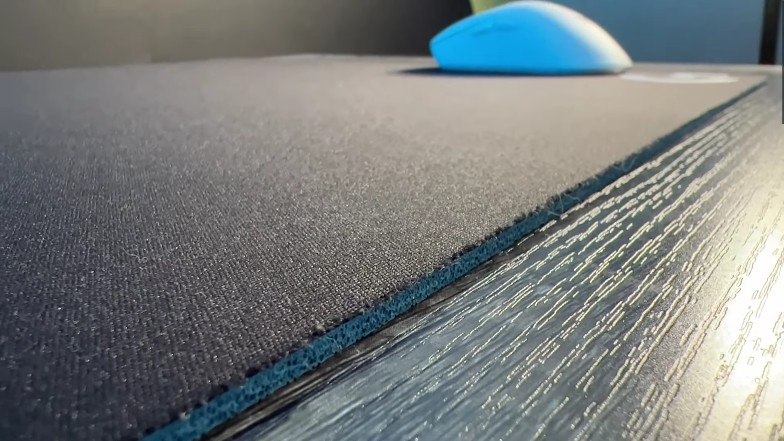 Despite being one of the most-used mouse pads by Valorant professionals, we think there are better alternatives to the Logitech G640.
Pros
Great for control
Flattens well despite arriving rolled
Cons
Feels thin
No stitched edges
We prefer similar-priced alternatives