The 8 Best Gaming Mouse Pads in 2022
Photo: DiamondLobby
To keep DiamondLobby free to read, this post may contain affiliate links. Learn more
Mousepads are a fundamental part of your gaming setup.
Using a mouse pad provides your mouse with the right environment for operation. And the type of mouse pad you use can also differ depending on the type of game you play and the sensitivity you use.
We set ourselves the challenge to find the best gaming mouse pad you can get on the market today.
We started by conducting community research to identify what gamers look for in a mouse pad, depending on the type of game they play. That information helped us to filter through hundreds of products and pick out a shortlist of pads to buy, test and review.
The best gaming mouse pad for value, in our opinion, is the Steelseries QcK Heavy. If you have a bit more money to spend, we're huge fans of the Endgame Gear MPC450 Cordura pad, which we believe is the best mousepad for FPS games.
Below are all of our picks for the best gaming mouse pads in 2022, ranked based on our opinions as gamers and product testers.
You should definitely be able to find at least one option that best fits your needs and budget.
With this guide and review, our goal is to provide you with a list of the best gaming mouse pads on the market while remaining completely transparent with our opinions, keeping away from any biases.
This review was completed based on a three-step process; firstly we researched the needs of the gaming community when it comes to mousepads; secondly we researched the products on the market that would best fit these needs; and finally we purchased products to test and review, with video proof of our testing and links to individual reviews included within this article.
If you search in Google for the best gaming mousepads, you'll come across thousands of recommendations. As you can imagine, without some sort of structure, we could spend days looking at products and still not know whether or not our recommendations are truly the best.
So, we researched what users were looking for, created a 5-point checklist for shortlisting products, then bought and reviewed a large number of mouse pads with weeks of in-game testing.
Here's what we considered when looking at pads:
Design
Whilst it's important to get a good looking pad for your setup, our priority was finding a practical design. We prioritized looking at designs that would stand the test of time as it's no secret that we all have different tastes when it comes to a good looking design.
Size
Mousepads come in all shapes and sizes. However, most gamers prefer larger rectangular mouse pads, or occasionally square pads, in order to get the most space for a mouse to move around on.
We prioritized pads that were available in a decent size.
Material
What your mouse pad is made out of will have a pretty big impact on your in-game performance. Using a poor-quality mouse pad may even perform worse than simply using your mouse flat on your desk.
On the opposite side, having a mouse pad that is made out of the finest of materials will be beneficial in terms of improving your in-game precision and stability on your desk.
We ensured that we would only include mouse pads that are made from high-quality and durable materials for a long-lasting, positive impact on your in-game performance.
Thickness
The thickness of your mouse pad will not affect your in-game performance as long as it isn't either too thin or far too thick. This tends to be personal preference.
To ensure that there is something for everyone, we have made sure to include a range of thicker and thinner gaming mouse pads.
Stability
The stability of your mouse pad will be of huge importance to your in-game performance. If the bottom of your mouse pad is made out of slippery material that causes your mouse pad to move around during intense mouse movements, then that pad quite simply belongs in the bin.
Besides the bottom of the mouse pad, you should also pay attention to the top side of the product, as it too is of vital importance to your performance.
If you decide to use one of the mouse pads that we are recommending to you today, you will have nothing to worry about in terms of stability. Else, we would highly recommend you to do your own research.
In case you don't want to spend a whole lot of money on a mouse pad but would still like to get your hands on a decent product, we'd highly recommend you to consider the Steelseries Qck Heavy. You can check out our hands-on review of the Steelseries QcK Heavy here.
The best price at the time of writing was $20.99.
This thick Steelseries mousepad gives you plenty of real estate to move your mouse around on. The 'heavy' material of the pad is durable and resistant to scraping on the desk when pressure is applied in the grip of the mouse.
The dimensions of the pad vary depending on the specific size that you buy, but I would personally recommend the 'large' version that measures 17.7″ x 15.7″ x 0.2″, or 450mm x 400mm x 6mm.
The large gaming mouse pad is the sweet spot because the amount of real estate is good, and the 6mm thickness is a better option than the 3mm that the XL and XXL versions of the mousepad give you. The 'large' is also flat packaged, whereas the XL and XXL mousepad come rolled – it can take a bit of time to flatten them out.
The extra thickness does mean that you have to wait a while for the mousepad to dry when you wash it, but this is hardly a deal breaker.
The Qck Heavy is a highly selected option in professional esports, with a large number of Valorant and CSGO players playing on it.
One drawback with the Qck Heavy mousepad is the lack of stitched edging. It raises questions about the durability of the mousepad, particularly in terms of fraying on the sides after a while, though we didn't see any issues with fraying during testing.
In terms of performance, there's a nice blend of speed and control when using a mouse on the Qck Heavy mousepad, so you should be able to enjoy a vast variety of games without worrying about your mousepad throwing your aim off or slowing you down. This would be our number one pick if you're looking for the best mouse pad for low DPI gaming.
You can pick up the QcK Heavy on Amazon or the Steelseries website.
After concluding our extensive research, we came to the conclusion that the EndGame Gear MPC450 is the best mousepad for gaming on the market today.
The best price at the time of writing was $34.22. We have a full review of the Endgame Gear MPC450 here.
It comes in a variety of sizes, but I've gone with the one that measures 17.7″ (L) x 15.7″ (W). The size here also hits the sweet spot in terms of real estate, but you have the option of a larger desk pad if you'd rather have that.
If you decide to go for a bigger size, you should know that they tend to have some lumps in them, most likely as a result of the fact that they come rolled up in their packaging. The size of the unit used for this review came in a flat package, so zero lumps.
The biggest selling point of the Endgame Gear MPC450 mousepad is its durability. The Cordura material that is used to build it is military-grade stuff. This means you don't have to worry about liquid spills, or in fact any of the other elements.
Performance-wise, this is a fast mousepad – make no mistake. If you play more games that require steady control like Valorant or CS:GO, you may want to look at alternatives. However, if you have another mousepad with more control, then the MPC450 is still worth buying.
You can get the Endgame Gear MPC450 on Amazon or on the Endgame Gear website.
The Xtrfy GP4 is another truly fantastic gaming mouse pad, and it really gives the MPC450 a run for its money.
It comes in a single size with dimensions of 18.1″ (L) x 15.7″ (W) x 0.16″ (H), and you also get a variety of colors to pick from.
The best price at the time of writing was $64.99. We have a separate full review of the Xtrfy GP4 on YouTube.
A common factor about most of the mousepads on this list is the balance between speed and control. When recommending a mousepad to a general audience, it is best to present these types of options because they're the most versatile for playing various types of games.
However, it is understandable if one needs a mouse pad that leans toward more speed or more control – it all depends on the types of games you're playing.
Anyway, the Xtrfy GP4 has a nice fast glide, but a lot of control as well. It's pretty consistent with different types of mice and desk surfaces, so it should be a safe option regardless of what the rest of your setup looks like.
If you're the type that shies away from washing with your hands, you'll be glad to know that you can throw this in the wash without ruining it.
Obviously, the price of the Xtrfy GP4 mousepad varies according to the specific size you're getting, but you can follow the link attached above and go from there.
You can buy the Xtrfy GP4 on Amazon or on Xtrfy's website.
Other Great Mouse Pads
In case you didn't quite find what you were looking for from our recommendations above, below, you can find 5 other great mouse pads that can seriously improve your in-game performance.
Fnatic Dash
The Fnatic Dash comes in different sizes, but we recommend the medium size with dimensions of 19.2″ (L) x 14.6″ (W) x 0.1″ (H).
The best price at the time of writing was $34.99. You can check out our full review of the Fnatic Dash here.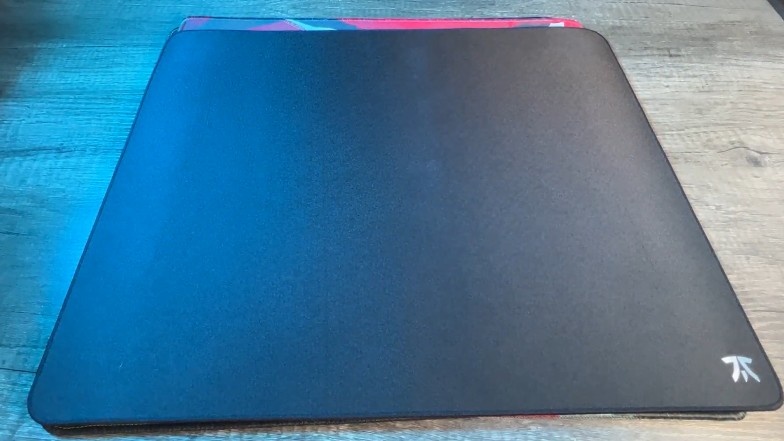 Immediately you take this thing out of the package, it is clear that it was built with quality material. The stitched edging is really tight, and a water-resistant coating with a textured rubber base all come together very nicely to form a very durable mousepad.
The textured rubber base helps with the pad's grip on various types of surfaces, and the water resistance ensures that spillages are rarely something to be bothered about. It's not officially dust resistant, but it does a solid job of reducing the gathering of dirt and dust too.
In terms of performance, the Fnatic Dash is even faster than the next mousepad on this list – the Zowie G-SR.
However, it's not so fast that stopping power is completely gone, so you still have a decent level of control especially when you're playing games that require precise aiming.
You can find the Fnatic Dash on Amazon, or on the official Fnatic website.
Zowie G-SR
The Zowie G-SR is pretty popular among esports professionals, and it has also been around for a while. Its measurements are 18.5″ (L) x 15.4″ (W) x 0.1″ (H).
The best price at the time of writing was $29.99. We have a hands-on review of the Zowie G-SR here.
For all the grievances about Zowie not addressing a key weakness in their approach to mice production (see our Zowie S1-C review for more information), they've managed to avoid any serious weaknesses here.
In terms of the build quality of the mousepad itself, everything looks solid. But there's a familiar issue here too before you even get to use the product.
The package comes rolled up, so you may notice some flaring on either end as the sides remain slightly curled up. It would've been fine if straightening it was easy, but it isn't.
In fact, you may need to put a heavy object on either side to hold it down, which is an annoying inconvenience.
However, where Steelseries faltered with the absence of stitched edging, Zowie stole a march by using it on the G-SR. It's tight and allays any fears of fraying in the future.
In terms of performance, the Zowie G-SR titles toward speed more than control, but it still has a pretty decent amount of control in it.
Maintenance is easy. You can get rid of pretty much any dirt and have it as good as new with a simple wash, and it doesn't take too long to dry.
You can get the Zowie G-SR on Amazon or on the official Zowie website.
Corsair MM1000 Qi
The Corsair MM1000 Qi is a truly fantastic gaming mouse pad. Full disclaimer, it hosts some price-boosting features that not many gamers would ever need to use. Despite that, it is a world-class mouse pad.
The best price at the time of writing was $79.99
The MM1000 Qi by Corsair is perhaps the most minimalistic and simple-looking pad when it comes to design as compared to all of our other recommendations.
Straight out of the box, the MM1000 hosts an exterior that is colored in matte black. The actual pad is medium in size measuring just 13.78″ (L) x 10.24″ (W) x 0.24″ (H). Because of its compact design, you shouldn't have any problems with fitting it on your desk, regardless of how small or compact the space may be.
The pad itself is reinforced with a micro-textured hard surface that is optimized for both optical and laser mice, which is the perfect material for pixel-precise accuracy.
One of the most notable features of this pad is that it features a wireless charging spot that can charge any Qi device ranging from your phone to a wireless vertical gaming mouse. This is the "unnecessary" feature, which we mentioned above, that drives the price of the pad to over $100. Because of that, we decided to make it our runner-up pick.
The USB 3.0 pass-through allows you to connect an additional device to your mouse pad. For example, if you have a wireless mouse or a wireless headset, you can simply connect it to the additional USB near the connecting cable of the pad.
If you like the Corsair MM1000 Qi, you can find this mousepad on Amazon, Newegg, and the official Corsair website.
Corsair MM800 Polaris
The Corsair MM800 Polaris is another excellent option for the best mouse pads on the market today.
The best price at the time of writing was $47.99.
Straight out of the box, we can see that the MM800 Polaris by Corsair features a very sophisticated and simple rectangular design that measures 13.8″ (L) x 10.2″ (W) x 0.2″ (H).
It would be the perfect partner for any competitive gamer that is looking to partner up their mouse with a surface that is designed for providing the ultimate in-game performance.
The pad's surface is made out of a low friction micro-texture for added pad durability, tracking, and precision, which is finely surrounded by a 15-zone RGB light strip that offers an unlimited combination of vibrant colors.
One of the most notable features of this pad is the built-in USB pass-through port through which you can use your wireless or wired mouse for optimal in-game performance.
The non-slip rubber base of the pad ensures that your mouse pad will anchor to the surface of your desk and not move an inch over a period of time.
This gaming mousepad can be found available on Amazon, the official Corsair website, and Best Buy.
Logitech G440
Logitech is a renowned manufacturer of gaming accessory equipment. This also applies to mousepads, which is the reason why we decided to add the great Logitech G440 to our list of recommendations.
The best price at the time of writing was $26.99.
The G440 is a fairly solid and hard mouse pad that is quite deviant from most models' usual soft surfaces. Most cloth-based mouse pads have similar surfaces, but hard mousepads often differ due to the materials they are made of. This can either vary, with some made from aluminum, rubber, or with regards to the Logitech G440, plastic.
While the Logitech G440's surface might look smooth at a glance, it is actually made from polyethylene material with microtextures that provide some form of resistance, as a super smooth surface might spell disaster for sensitive applications like first-person shooters. This gaming mouse pad does it all with minimal noise, which can be quite frustrating if you don't use a headset while gaming.
The Logitech G440 provides the perfect balance of speed and resistance thanks to its slick surface, offering very low friction levels to allow small but quick movements to be executed with precision. This makes the pad perfect for games like MOBAs as they require accurate mouse positioning, especially when landing spells and abilities.

This Logitech mouse pad also features a multi-layer construction to bank on durability. It is designed to match Logitech's G sensors, giving gaming mice equipped with such sensors a competitive edge over other mice.
This Logitech mousepad can be purchased from the official Logitech website, Best Buy, and Amazon.
ASUS ROG Sheath
And last but not least, we'd like to present to you one of our larger mouse pads on this comprehensive list, the ASUS ROG Sheath.
The best price at the time of writing was $29.99.
If standard-sized mousepads are too small for you, then the ASUS ROG Sheath extended mouse mat might be just right for you. This mouse pad sports some of the most hardcore aesthetics from the bunch, with the glaring ROG logo imprinted with an offset grid pattern occupying the majority of the pad's rightmost side.

It also comes in a durable construction thanks to the rugged synthetic fabric that comprises the mouse pad's surface, allowing it to take a beating with everyday use.
Apart from that, the ASUS ROG Sheath's surface is also optimized for maximum speed and control thanks to the refined weave pattern that improves the speed and accuracy of pointer tracking while still retaining the needed amount of friction to facilitate abrupt stops whenever needed.

Being an extended mouse pad, this will also mean that constant contact between your wrist and the surface will greatly impact comfort, especially during extended gaming sessions. Luckily, this mouse pad keeps everything cool and comfy with the smooth, breathable material comprising its surface.
The ASUS ROG Sheath also has a non-slip rubberized base that helps with stability, providing a decent amount of grip on the desk surface to keep things where they should be in case you need to do quick and tight maneuvers that entail jerky mouse movement. This extended gaming mouse pad comes with a surface area of 35.4 x 17.3 inches, which is on par with most offerings in the said size bracket.
If you're a fan of the ASUS ROG Sheath mouse pad, you can buy this model from Newegg, the official ASUS website, and Amazon.
What to Look For
Thickness
Like we said in our "How We Picked" section at the beginning of this guide and review, the thickness of the mouse pad is completely up to you. As a rule of thumb, don't go too far in either direction.
Ideally, your mouse pad should be around 0.1″ to 0.2″ in thickness.
Softness
Your mouse pad is meant to not only improve your in-game performance but also keep things comfortable for your wrist while gaming.
While softness is directly linked with comfort, one thing that you should avoid is super soft mousepads. Ideally, your pad shouldn't dip more than 1/20th of an inch.
Having this kind of dip range will increase your in-game precision to a great extent, especially if your mouse pad is made of high-quality premium materials.
The problem with super soft pads is that the mouse can literally sink into the pad so much that you will struggle with moving it sideways.

Sliding the mouse itself won't make it dip to that extent, but during those intense gaming moments when you apply extra pressure, you are most likely to experience this.
The verdict? Don't buy mouse pads that are far too soft. Luckily, in our final selection above, there are no super-soft mouse pads so you have nothing to worry about from that perspective.
Stability
When shopping for a pad for your mouse, ensure that the product is made out of adequate materials on both sides. You don't want to spend a bunch of money and end up having a mouse pad that slides around your wooden desk when you flick your mouse or move it a little too quickly (if you are playing on low DPI).
Before you click the buy button, you should first make sure that the pad that you are considering is made out of suitable for your desk material. Typically speaking, if it's made out of rubber at the base, you shouldn't have a problem, regardless of your desks' surface.
Reflectiveness
As a general rule of thumb, the less glossy your pad is, the better it will work and connect with your mouse. So, if you want your mouse to be pixel-precise, you should not even look at any reflective or glossy mouse pads.
On the positive side of things, if the reaction time is more important to you than precision, a glossy and reflective pad might be the better option.
Final Thoughts
Typically speaking, the more expensive a mouse pad is, the better it is in terms of build quality, which will directly impact your in-game performance.
Mousepads that are either too thin or too thick and soft aren't recommended, especially if you are a high-tier FPS player.
At the end of the day, having a mouse pad, even if it is our most affordable pick, would be much better as compared to not using a pad for your mouse at all.