To keep DiamondLobby free to read, this post may contain affiliate links. Learn more
Let's face it, if you're reading this, it's more likely out of curiosity than the fact that you're doing some deep research about the right mousepad to buy to complete your well-thought-out gaming setup.
Or, you know, maybe I'm wrong. Maybe you ARE doing some deep research. In which case, I should tell you that you're in the right place.
Lately, I've been really impressed by how far manufacturers can go with making a mousepad – the most boring part of a gaming setup – something to look forward to.
The MPC450 mousepad from Endgame Gear, in particular, changed the way that I view them and really showed me that mousepads are more than just a random piece of cloth and fiber to drag your mouse over.
With my newfound respect for these unsung heroes, I decided to do a Steelseries Qck HEAVY mousepad review. I've heard some good things about it, so I'm a bit excited to share my thoughts with you. Let's get into it!
Cost
The Steelseries Qck HEAVY is available on the official Steelseries website for a maximum price of $29.99 at the time of writing, or you can check the latest price on Amazon here.
Packaging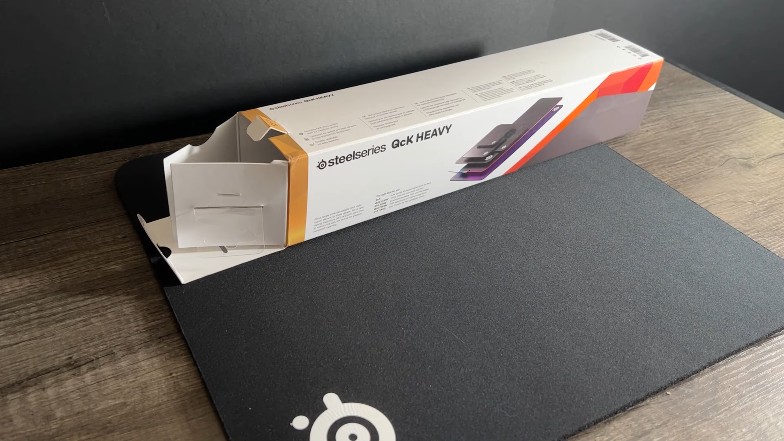 First impressions are everything, and this one made a not-so-good first impression. I understand why manufacturers often have to roll up mousepads – especially the bigger ones – but I don't like what it does to the product inside.
In some cases, it leaves bumps and dents in the fabric. Sometimes, it's easy to smoothen it out and other times, it's not. The Fnatic Dash mousepad was one that smoothened out pretty easily, so I was hopeful for this one too.
Sadly, in the case of the Steelseries Qck HEAVY, I found that there were still bits of inward flaring on the sides, and it still tends to fold to the other side even after I weighed it down.
It's not a huge dealbreaker, but it's a little annoying.
Specs
The key specs of the Steelseries Qck HEAVY are as follows:
| Medium Size (mm) | Large Size (mm) | XXL Size (mm) | Surface | Edge | Underside | Weight |
| --- | --- | --- | --- | --- | --- | --- |
| 320 × 270 × 6 | 450 × 400 × 6 | 900 × 400 × 4 | Micro-Woven Cloth | Non-stitched | Rubber | 744 grams |
That "Heavy" in its name is there for good reason – this is a weighty mousepad. It's pretty thick at 6mm for the medium and large sizes, but they've tried to reduce the extra weight on the desk mat size by keeping the thickness level to 4mm.
I would've liked to see stitched edges, as the lack of it brings doubts about the durability of the edges and proneness to fraying after a while. However, it would cost more than it does with stitched edging, so it's a way of keeping the cost low.
Design
The surface of the mousepad is made of micro-woven cloth. There's a Steelseries logo in the bottom left corner that is minimalistic enough to stay out of sight – pretty much.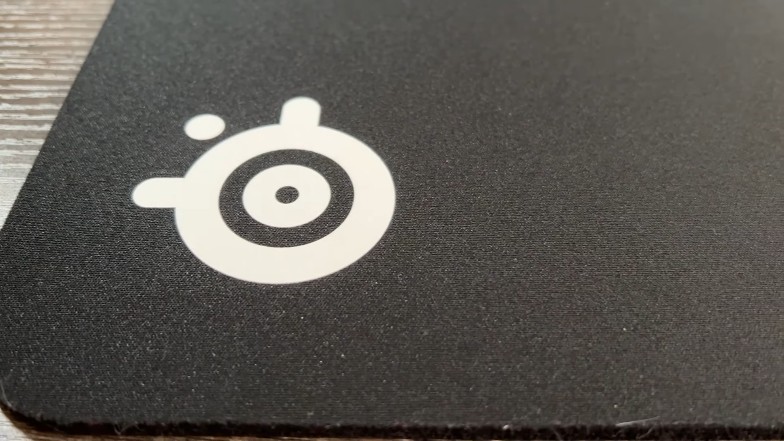 Otherwise, the rest of the pad is completely black.
With further thought, I realized that it would've been harder to implement stitched edging on this mousepad because of the thickness of the edges. The MPC450 was only 3mm thick, so that would've been a less difficult process.
Compared to some of the other mousepads that I have, the SteelSeries Qck HEAVY is quite firm. It doesn't absorb and release pressure as much, which can be a pro or a con depending on how you use your mice.
The rubber base of the underside of the pad is very thick, and it provides extra comfort and support when gaming. It sticks pretty well to surfaces, so you don't have to worry too much about dragging the pad with you as you flick your mouse.
Thicker pads are generally more accommodating with desks of inferior quality too, which can be handy in some situations.
Performance
Speed
There are mousepads that focus on crazy speed, while there are others that focus on control of the mouse. The Steelseries Qck HEAVY sits bang in the middle of those two categories, balancing the ease that comes with speed with the accuracy that comes with control.
I think it's a strong positive for gamers that play a lot of slower shooters such as CSGO and Valorant. It definitely makes the mousepad feel more versatile and consistent regardless of the context of the game you're playing.
Watch my video review below to see how my mouse glides over the pad.
In-game
The thickness of the mousepad helps with comfort during longer gaming sessions, and as I said, the balance between speed and control brings the most consistent results.
However, you may need to consider alternatives if you mostly play fast-paced shooters that require faster mouse movements.
At the same time, it does not have the stopping power of slower pads, so if you have a habit of overshooting when gaming, you may want to reconsider this purchase.
If you play on low sensitivity, this mousepad should be a dream for you because there's so much space to move your mouse around on. You can sweep it across the pad and not have to worry too often about lifting and re-adjusting your mouse to get the cursor across the screen.
Maintenance
The material of the Steelseries Qck HEAVY is a bit of a dust trap. It's also not as straightforward or easy to clean as the Fnatic Dash, but at least it's washable.
When you do decide to give it a wash, bear in mind that you'll need to wait for a while for the pad to dry because it's so thick. However, when it does dry up, it's pretty much good as new.
Verdict
Would I recommend this? Easily.
It's built like a tank at 744 grams, which is heavier than some keyboards, but it's going to spend most of its life sitting in one place so I don't think that should be a dealbreaker.
Extra features and a bit of flash are nice perks, but if you're the sort of person that just needs efficiency and value for your money, then the Steelseries Qck HEAVY mousepad is a fantastic option.
SteelSeries QcK Heavy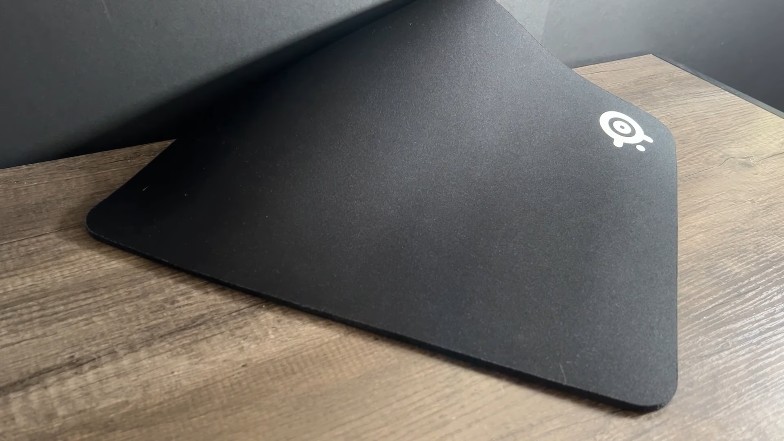 The SteelSeries QcK Heavy is a high quality, long lasting mouse pad that I'd recommend to all gamers and even office workers.
Pros
Thick base
Long lasting
Great value for money
Cons
Heavy for traveling with
No stitched edges