To keep DiamondLobby free to read, this post may contain affiliate links. Learn more
TL;DR: The Razer Atlas is a very good glass mouse pad, but glass mouse pads come with a few issues that you need to watch out for.
The Razer Atlas is a tempered glass mouse pad that sells for $99 at its full retail price on the Razer store and Amazon.
Razer aren't the first brand to release a mouse pad made from glass.
Skypad specialize in glass pads and Pulsar's Superglide has been available for a little while too, but Razer are the first household gaming name to make a play in this field.
Have Razer just joined the fad for a piece of the earnings? Or have they delivered a good product? We bought the Razer Atlas to review for ourselves.
Overview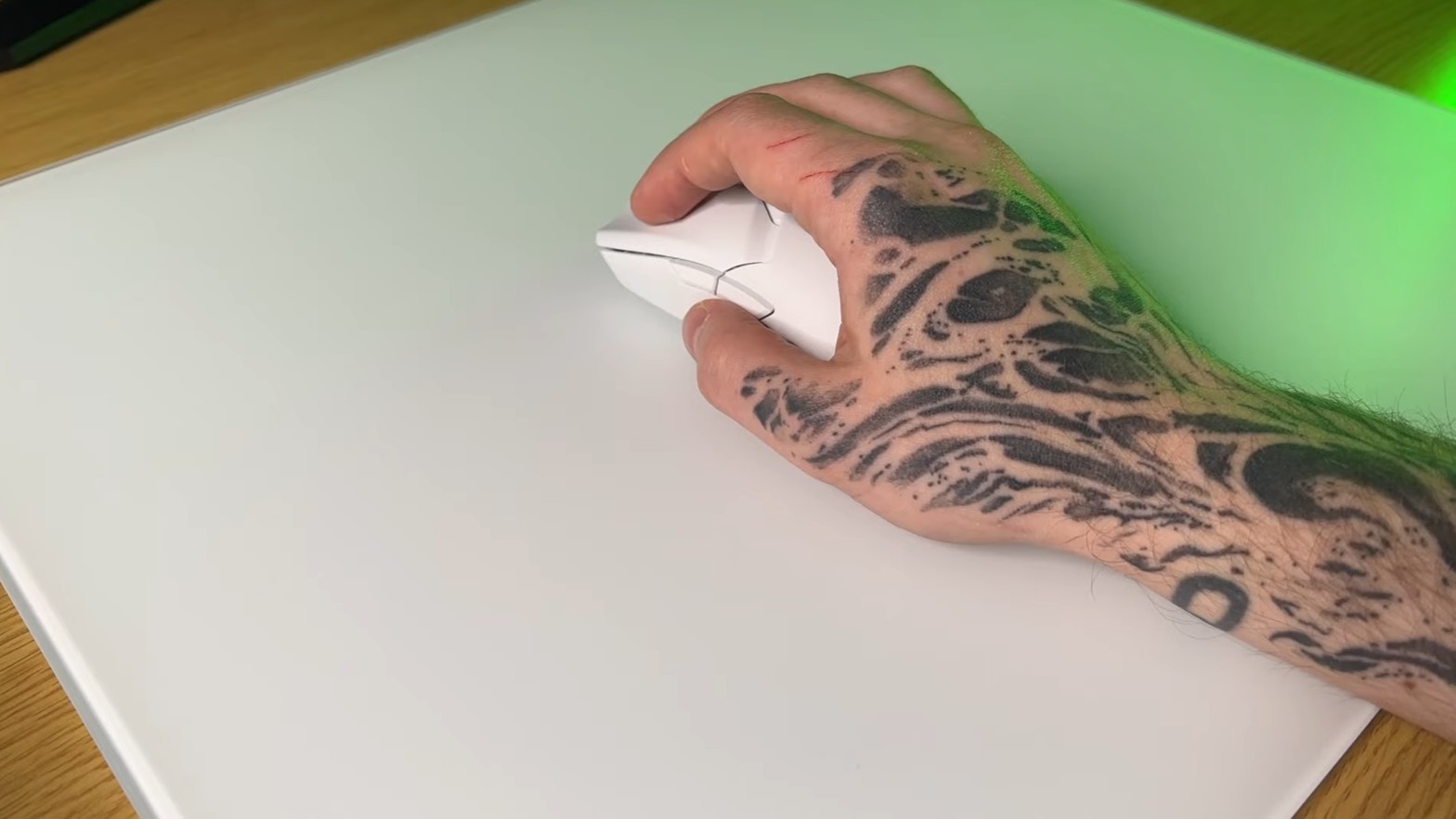 | Size | Thickness | Surface | Base | Colors |
| --- | --- | --- | --- | --- |
| 450mm x 400mm | 5mm | Tempered glass | Rubberized | Black, White |
The Atlas is available in just one size; 450mm x 400mm x 5mm. It weighs almost 2kg or 4.4lbs.
Its main selling point is the tempered glass surface, but it has a textured rubberized base to keep it in place. Its weight assists with preventing it from moving, too. Despite attempts to intentionally move it, we've found that it's unlikely to move at all during regular play.
A lot of people question whether glass pads will shatter during moments of 'gamer rage' but tests have shown that they're fairly durable.
Drops from small heights likely won't break it, so hitting your mouse down onto it probably won't either – though we wouldn't recommend trying because that's a health and safety risk.
It looks and feels like a premium product, and Razer branding is kept to a minimum in the bottom left corner.
The Good
Let's start by breaking down the positives of getting a Razer Atlas.
Micro Adjustments
As the Atlas is made from glass, it's extremely easy to make micro adjustments – as you would probably expect. Compared to a regular mousepad, glass allows your mouse to glide across it at lightning pace.
You probably wouldn't want to use this in a game like Valorant because that requires a much steadier hand, and you should favor something with much higher control and stopping power.
That said, despite being made of glass, the Razer Atlas does have stopping power.
It's not like you're using a mouse on a window or a regular piece of glass, there is some level of friction to its "micro-etched surface", which helps with control.
You'll have to spend at least a couple of weeks getting used to it, though.
Easy to Clean
One of the biggest benefits of glass mouse pads is how easy they are to clean.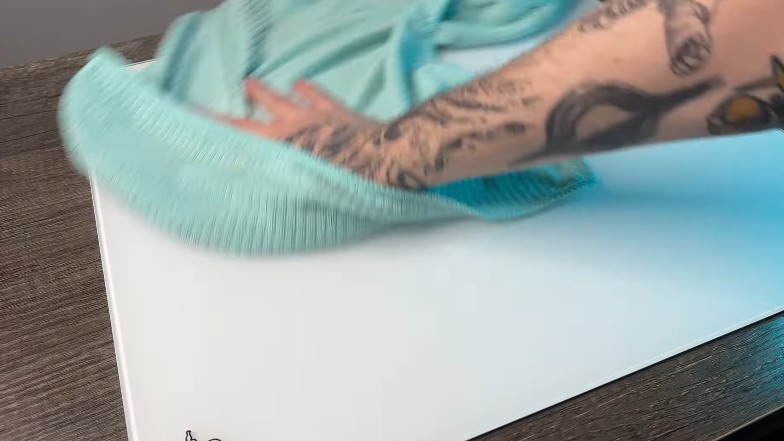 As a test, I smushed banana into my Razer Atlas and into a fabric mouse pad to compare notes. What do you mean what's wrong with me?
The regular pad required a full wash afterwards, but the Atlas just needed a wipe down with hot water and it was as good as new again.
Long Lasting
Assuming you don't intentionally throw your Razer Atlas or act in a highly destructive way to try to break it, a huge benefit of it is that it can't pull threads, start to fray, wear thin, pick up stains, or any other issue that commonly occurs with regular mouse pads.
Whilst I've only been using the Razer Atlas for a couple of weeks, I can confidently say that it will last for a couple of years at an absolute minimum.
The Bad
There aren't many perfect products out there and the Razer Atlas does have some issues. We'll go through the drawbacks of it now, but the main thing to note is that the drawbacks of the Atlas are drawbacks of glass mouse pads in general.
We didn't notice any issues with the Atlas that other glass pads didn't have.
Lack of Portability
At nearly 2kg in weight and being totally rigid and unable to roll, it will be hard for you to travel to LANs or gaming meetups with the Atlas. It won't easily fit inside a bag, either.
No Glass Feet
This might be an issue for enthusiast mouse owners; no glass mouse feet or skates can be used on the Atlas. Glass on glass is going to cause scratches. PTFE only.
Noisy
Despite Razer claiming that the Atlas is "specially treated for quieter swipes", glass pads are undeniably noisy.
It's plastic on glass, so it's impossible for it to be silent.
It's not like every movement is going to deafen anyone – far from it – but the small taps and swipes are going to be noticeable if you're trying to quietly game late at night.
Value for Money
$99 is a lot of money for a mouse pad, assuming you're buying at full price.
However, this price is cheaper or directly in line with what competitors charge. It's a good size for a pad, too, with some other glass mouse pads erring on the smaller side.
If you're the type to buy a new mouse pad every year or two (or even more frequently) and you don't own a glass pad yet, it's possible that the Atlas could save you some money. It should last a long time, after all.
The quality is high, I really like the product, and I think it is good value even at full retail price.
Verdict
Overall, I would recommend the Razer Atlas.
I can't give it a 5-star rating because glass mouse pads just have too many drawbacks for me; the lack of portability and the noise at night are my two biggest concerns.
However, despite a far-from-perfect review, I think the Atlas is a very good product.
If you're looking for a mouse pad that will stand the test of time, I would recommend it.
You can check out the latest price on the Razer store here, or on Amazon here.
Razer Atlas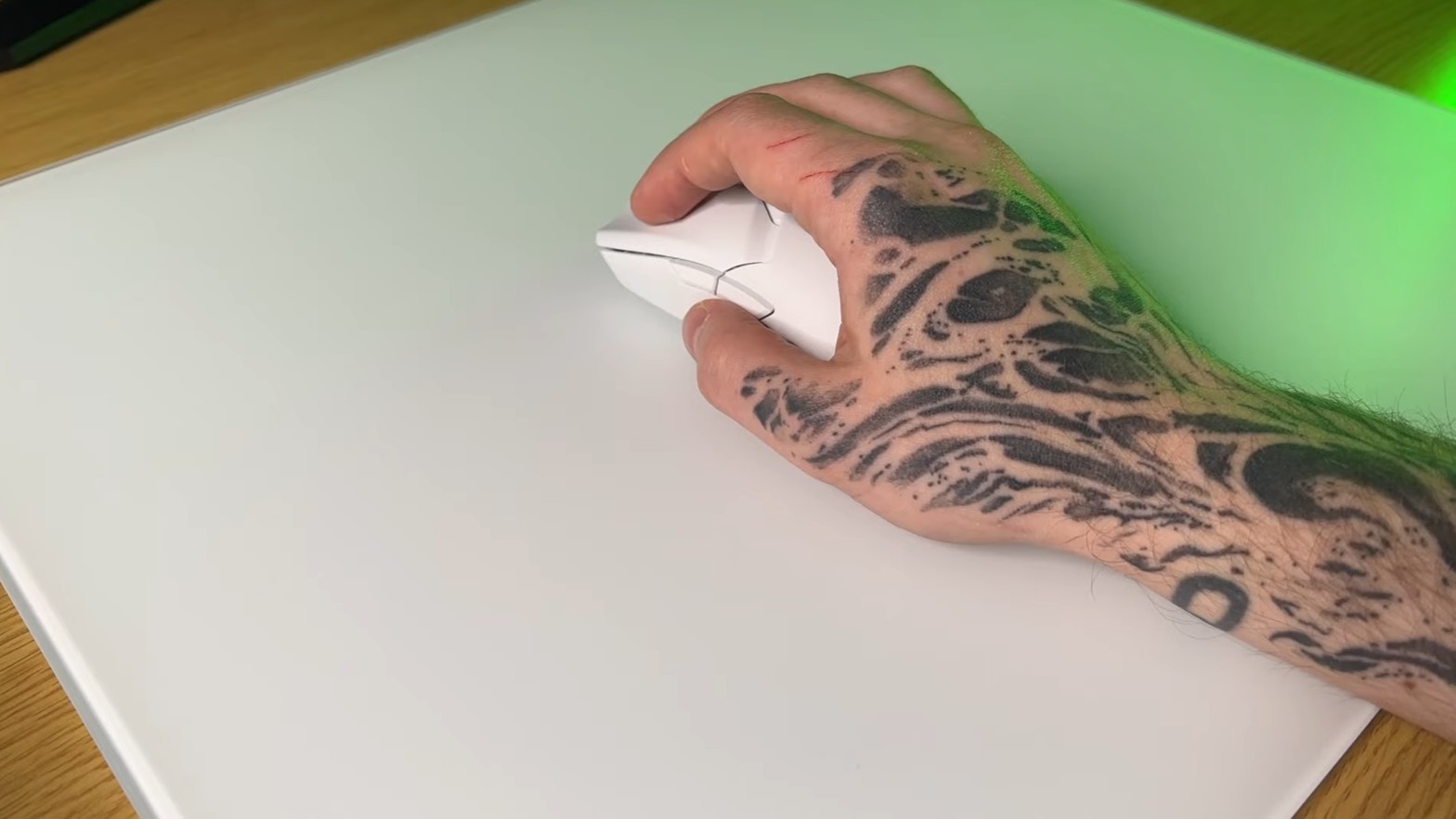 The Razer Atlas is a stylish glass mouse pad that will last a long time, but suffers from the same issues that all glass pads suffer from.
Pros
Long lasting
Easy to clean
Fast micro-adjustments
Cons
Expensive
Noisy
Tough to travel with