With its vast open world and engrossing single-player campaign, it's no surprise that Fallout 4 is one of the most acclaimed games of its genre.
That being said, let's be real; not everyone is looking for competition. If you, like myself, enjoy single-player games, I have good news.
The gaming industry still makes titles for us. There are many titles out there able to provide experiences that are as enjoyable as Fallout 4's campaign.
Keep reading to find my picks for the 15 best single-player FPS games like Fallout 4. From horror games like Prey to funny games like Borderlands, there's something for all kinds of solo first-person shooter fans.
Ghostwire: Tokyo
By far one of my favorite twists on the Genre, in Ghostwire you play as an average japanese kid who gets possessed by the spirit of a former yokai hunter.
In this game, instead of guns, you will use elemental powers, talismans, sacret bows, and all kinds of hand gestures and rituals to purify Shibuya, an area in Tokyo, from the invading yokai and save the main character's sister.
Ghostwire: Tokyo plays somewhat like most open world games. That said, the gameplay is not that open. In fact, it is fairly linear.
This game also has RPG elements like levels, an inventory, and a skill trees, but they are all easy to manage.
The combat is flashy, with lots of neon lighting, and very well coreographed with the coolest shinto-based magic hand-gestures in videogames that I've seen in a long, long time.
If this exoteric side of Japan, with a slight touch of anime or video game culture, appeals to you, then just go ahead and play this game. There aren't many games out there that play, feel, and especially look like Ghostwire: Tokyo.
Bulletstorm
In Bulletstorm, you play as Grayson Hunt after a collision forces him to land on an abandoned resort planet. Stranded in a colony called Stygia, Grayson must make a choice: survive or seek revenge.
Bulletstorm is a very over-the-top first-person shooter that has received many positive reviews on Steam.
The game tests your reflexes and makes you feel unstoppable as you single-handedly take down dozens of enemies with a number of distinct weapons and abilities. One of the clear aspects of Bulletstorm is the fact it doesn't take itself seriously.
The story is amusing, but it is there as an excuse. It's all about giving players an excuse to shoot everything that moves in a fun, cool-looking environment.
Bulletstorm has a remastered version titled Bulletstorm: Full Clip Edition. It features improved graphics and additional content. It's perfect for those looking for an action-packed and thrilling experience in a first-person perspective, similar to Fallout 4's single-player campaign.
Prey
If you are a fan of FPS and Horror, chances are you have already played Prey. If not, you should definitely give this game a try. Prey is a suspenseful experience that often makes players a bit paranoid, but that's part of the fun.
Unlike other survival horror games where you need to run from threats, Prey often lets you solve problems by gunning them down. If you don't like to feel entirely powerless but want to be somewhat afraid, this title is what you've been looking for.
In Prey, you are Morgan Yu, a scientist who must navigate a space station called Talos I to find answers. Your objective is to uncover the truth behind the outbreak of a mysterious alien species known as the Typhon.
The game features a variety of weapons and abilities that allow you to tackle many situations in different ways.
It combines sci-fi, horror, and FPS with a good balance of action and suspense. You must explore the environment, solve puzzles, shoot aliens, and make choices that affect the outcome of the game.
Serious Sam 3: BFE
If Doom is your kind of game, you will enjoy spending some time with Serious Sam 3.
In the third game of the series, the Earth is about to fail at stopping an alien invasion. As per usual, players take the role of Sam "Serious" Stone, the one-man army who will stand up and fight hordes of enemies to save the planet.
In this game, you will find enemies that test your skills and ability to use classic weapons, such as the iconic double-barreled shotgun and minigun.
Serious Sam is not about finding cover and hiding to regenerate health; it's about moving, dodging attacks, and making the most out of each weapon you find.
The game features a diverse cast of enemies, each with their own strengths and weaknesses. It often feels like a nostalgic experience since it perfectly reproduces the style of classic first-person shooters.
Its intense action and challenging gameplay make it a perfect blend of nostalgia and modern game design, providing a thrilling and satisfying experience. It's perfect for fans of games like Fallout 4 to pick up and play today.
Ziggurat 2
Probably the most unique game in the list, Ziggurat 2 is an unusual FPS game. It's a roguelike title with a medieval fantasy twist.
In this game, you play as a powerful mage who must protect humanity from the forces of evil. The game features intense combat, intricate dungeon exploration, and a variety of weapons and spells to master.
Combat in Ziggurat 2 is fast-paced and dynamic, requiring players to pay attention to the enemies and their elemental resistances. Over time, players will level up and gain powerful new abilities to help them survive even more dangerous adventures.
Due to the roguelike nature of the game, Dungeons in Ziggurat 2 are randomly generated. They feature a lot of verticality and variety, from traps to treasure, with compact rooms for faster and more intense combat encounters.
The game's hub, the Citadel, serves as a base for the player. There, players can recruit allies, upgrade equipment and skills, and decide on their next mission.
This single-player FPS offers you the power fantasy of being a mighty wizard in a rare blend of genres that is definitely worth trying.
Metroid Prime
Metroid Prime was a game that caught Samus' fans of the franchise by surprise when it was first revealed.
The game's transition from a 2D platformer to a first-person shooter was a bold move. Luckily, it ultimately proved to be a great decision and the Metroid Prime series is now considered iconic and a treasured addition to the franchise.
As you'd expect from any other Metroid game, you play as the intergalactic bounty hunter known as Samus Aran.
Although it's not a side scroller, Metroid Prime is still a Metroid game. In other words, players will be immersed in a unique blend of exploration, puzzle-solving, and combat. It takes place on the fictional planet of Zebes.
The game's eerie atmosphere and claustrophobic setting, along with constant ambushes by deadly creatures, provide a thrilling and engaging experience.
Truth is, the Metroid series is well known for its adventure-filled gameplay with a hint of sci-fi horror, but the first-person perspective adds a new dimension to this concept.
With space pirates to fight, a mysterious planet to explore, and alien threats to eliminate, Metroid Prime offers plenty of action-packed gameplay and an intriguing enough plot to keep players invested.
Resident Evil Village
Resident Evil Village is a direct sequel to Resident Evil 7. It builds on the horror elements that made the previous game so terrifying. However, it also has more enemy variety and plenty of FPS action.
Set in a mysterious European village, players once again take the role of Ethan Winters. This time, he is searching for his missing daughter.
Although it's hardly an open world game, Resident Evil Village borrows elements from the genre. It has a central hub town linking the game's important locations and side missions.
Resident Evil Village features several locations to explore, packed with horrifying enemies, puzzles, and jump scares.
Fans of games similar to Alien: Isolation will find many things to love in Resident Evil Village. This is such a thrilling and terrifying single-player adventure, especially thanks to the first-person perspective.
Borderlands 3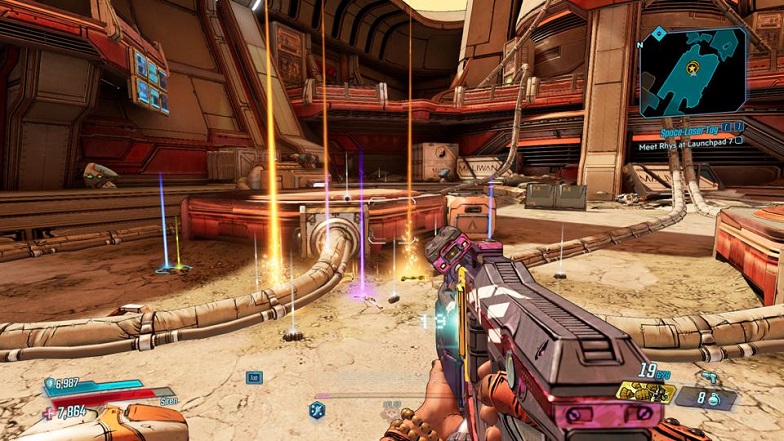 Borderlands never took itself too seriously, and that has become one of the best things about the series.
The developers clearly put a lot of work into providing a fun and polished looter shooter experience. They've done such a great job that most gamers know what Vault Hunters are, and the series has successfully launched spin-offs such as Tiny Tina's Wonderlands.
In Borderlands, the real treasure is always the loot. With a seemingly endless variety of weapons, players can tailor their playstyle to suit their favorite weapons and vice versa.
It's a very fun, rewarding, and over-the-top experience.
If you like playing with friends, Borderlands 3 also offers a cooperative multiplayer mode. You can team up with your friends and take on the challenges of the game together.
However, you don't have to. I like playing Borderlands games by myself, and I have a blast doing so.
Whether you're in it for the action-packed gameplay or the chance to score some sweet loot, Borderlands 3 has something for everyone. So what are you waiting for? Grab your friends, pick your Vault Hunter, and get ready for the ride of a lifetime.
Titanfall 2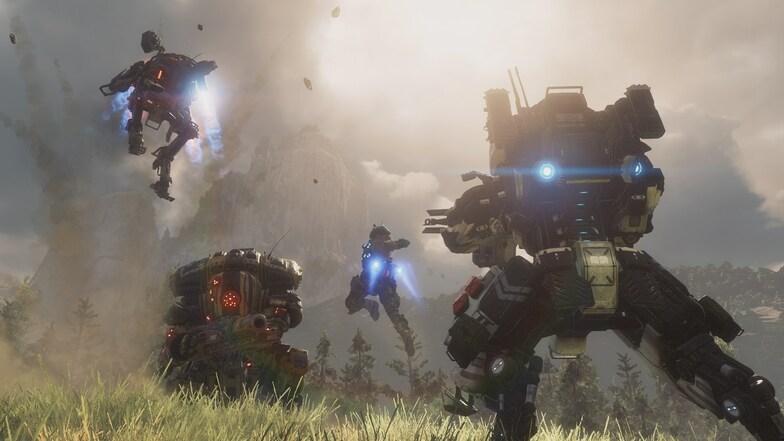 Titanfall 2 is a fast-paced FPS game that has an exciting single-player campaign alongside some great multiplayer modes.
In this game, players take the role of a rifleman named Jack Cooper, pilot of BT-7274 and lynchpin of Operation Broadsword.
The gameplay features acrobatic combat, allowing players to perform impressive actions while running and gunning down their enemies.
On top of that, the mechs look amazing and feel completely different than humans thanks to how the game portrays their movement and weight.
Unfortunately, Titanfall 2's priority was not its single-player campaign. The experience is enjoyable, the world is beautiful, and the story is pretty good. All that said, the campaign does end way before you'd want it to.
The game's world is rich and detailed, with various landscapes, monsters to fight, and colorful characters. It may not be the longest single-player campaign, but it is definitely an immersive experience worth playing if you're a fan of fast-paced, first-person shooters.
Metro 2033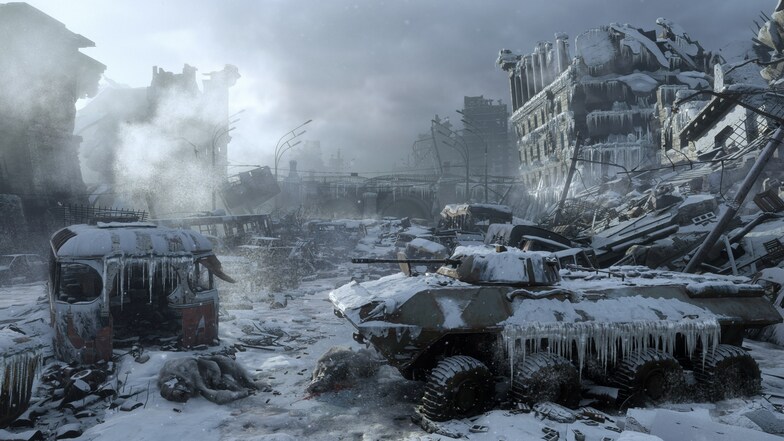 Metro is a post-apocalyptic first-person shooter franchise developed by 4A Games and published by Deep Silver.
The game is set in Moscow after a nuclear war. In Metro, players take the role of Artyom, a survivor who, like many others, lives in the metro system.
The gameplay is a blend of survival horror and FPS, with players balancing resources and fighting mutants. The game also features a day-night cycle and dynamic weather system.
The Metro series is known for its immersive atmosphere, intense combat, and deep narrative. The game features a rich, detailed world with various environments, including the metro's dark and cramped tunnels and the irradiated surface of Moscow.
This game is an excellent option for players who enjoy an immersive atmosphere and intense combat. Metro's setting shares similar concepts with Fallout 4, but it takes the idea in another direction.
Metro is a good choice if you're looking for a post-apocalyptic FPS with a different approach.
Bioshock
Bioshock is a classic single-player FPS that offers an immersive and engaging story set in the underwater city of Rapture.
Players take on the role of Jack, a man who finds himself stuck in this wicked place after his plane crashes. As he explores the city, he discovers that it has been overrun by genetically-modified individuals known as Splicers.
The game features fast-paced, first-person shooter gameplay, with players using a variety of weapons and special abilities known as Plasmids to take on the Splicers.
On top of shooting splicers, players will uncover the mystery of Rapture and the events that led to its downfall. Rapture is ominous, immersive, and terrifyingly mesmerizing.
Bioshock's unique blend of action, storytelling, and atmosphere makes it a standout title in the FPS genre and a must-play for fans of good single-player campaigns.
It also has a remastered version titled Bioshock: The Collection, which features improved graphics and additional content.
System Shock 2
System Shock 2 is set in a dystopian future where players take on the role of a soldier who awakens from a cryo-tube. Players find themselves on a spaceship overrun by chaos and destruction.
The main antagonist of this game is a Rogue AI called SHODAN. It taunts and ridicules players as they try to understand what happened, which helps you feel immersed in the twisted setting of the game.
Players can choose from 3 specialized military branches, each with unique skills, weapons, and psionic powers to upgrade and enhance as they progress through the game.
The game's story is revealed through audio logs, emails, and other in-game documents that players can discover and read.
This is a must-play for fans of the genre who are looking for a thrilling experience.
Metal: Hellsinger
Metal: Hellsinger is a rhythm-based first-person shooter. In this game, players take on the role of Enigmata, a human-demon hybrid obsessed with revenge.
The game's unique feature is its emphasis on rhythm-based gameplay, where players' shooting skills will be tested as they play in tune with the music. The better the player's rhythm, the more intense the melody and the more destruction they will cause.
Players can defeat demons using a skull-coated blade or a variety of brutal weapons. Each weapon has its own unique ability, such as the Raven's Swarm or Last Farewell.
The game also features an epic story, narrated by award-winning actor Troy Baker, and special challenges to unlock.
This game does not have the most profound plot, and it's a lot more like Doom than it is a game like Fallout 4. Nonetheless, this single-player first-person shooter is fun, challenging, and worth checking out.
Hard Reset Redux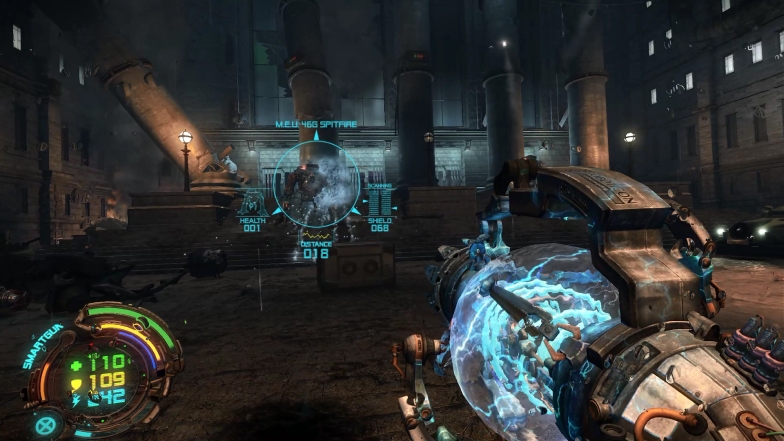 Hard Reset Redux is the final version of Hard Reset, a fast-paced first-person shooter set in a dark and depressing cyberpunk world. Players take on the role of Major Fletcher, a soldier tasked with defending the last closed city of Bezoar against machine invasions.
Hard Reset Redux is perfect for players looking for an arcade-like shooter experience in a cyberpunk setting. The game features over-the-top destruction by allowing players to take down dozens of enemies on their own using a variety of weapons and abilities.
The story is told through voiced comic book pages between missions, but it's not the game's main focus.
If you want to feel like a one-man army dealing with dangerous robots, this is the game you're looking for.
With its challenging campaign, immersive environment, and well-constructed setting, Hard Reset will surely provide a satisfying experience for fans of the genre.
Deus Ex: Human Revolution
Deus Ex: Human Revolution is a game that offers a unique blend of action, stealth, and RPG elements, much like Fallout 4. Players take on the role of Adam Jensen, a security chief who is forced to undergo cybernetic enhancements after being mortally wounded.
The game features a highly-detailed, cyberpunk world where players can choose to approach situations stealthily or with guns blazing. There's lots of replay value here.
The immersive world and characters will keep players fully invested throughout the experience.
I admire the rich world of Deus Ex and the effort put into making it feel alive. Fans of the genre will find a lot to admire in this game, from the well-written setting to the engaging plot.
That, combined with the many different ways that you can complete each mission, makes Deus Ex: Human Revolution a great experience for anyone who wants a modernized version of a first-person shooter classic.
Cyberpunk 2077
Cyberpunk 2077 immerses players in the neon-lit metropolis of Night City, where they take on the role of a mercenary fighting for survival.
Despite its infamous state during launch, Cyberpunk 2077 is in many ways an impressive game. In it, you get to customize your character, gameplay style, and how you interact with the world.
The game offers a rich and diverse open-world experience, with plenty to see and do in Night City. From risky adventures to building relationships with unforgettable characters, the game's branching dialogue system enables players to shape the world around them.
While Fallout 4 shares some similarities with this title, there aren't many other titles like Cyberpunk 2077. Maybe it's because the devs really wanted to live up to the source material, but the depth seen in this game is very hard to match.
Cyberpunk 2077's customization, rich setting, and replayability make it stand out from other FPS games.
The open world, branching dialogue system, immersive gameplay, and a plethora of side quests make it perfect for those who want a long and immersive experience like Fallout 4's campaign.