First Person Shooters are by far the most well-known games of the modern day. Ever since the genre first became popular due to the likes of DOOM, Quake, Golden Eye 007, and Counter-Strike, FPS games have been dominating both the sales charts and the review aggregators.
Now, we not only get to see advanced concepts such as games that play out like an action movie, but we are also seeing reboots of various franchises that were popular back when the genre was in its infancy.
The great thing about FPS games is that they can take on any form. Some try to be as realistic as they possibly can. Others try to find a mix between realism and arcade-like gameplay that would make the game more fast-paced. Lastly, there are games that basically throw reality out the window and try to be as fun as possible.
Here, we have gone through all of the FPS games that are currently available on the Xbox. After that, we compiled a list of the 21 best FPS games for Xbox Series X / S.
DOOM Eternal
We begin our list with a reboot of one of the original FPS games. The DOOM series basically began what the genre is today, and its reboot has managed to gather all the good things about the original and expand upon them in a delightful way.
To be clear, DOOM Eternal is a sequel to the original reboot known simply as DOOM. We would recommend that you play both of these games. This is because each of them is quite similar, with DOOM Eternal having better graphics mainly due to its later release.
The game itself revolves around killing an endless barrage of monsters in extremely creative ways. You will have a lot of weapons at your disposal, including special weapons that will come in handy for the boss fights. There will also be a choice selection of heavy metal to encourage you as you go on your killing spree.
DOOM Eternal also has various multiplayer modes, all of which have players going up against each other. Lastly, there is a horde mode as well which has players facing off against an endless swarm of monsters.
Insurgency: Sandstorm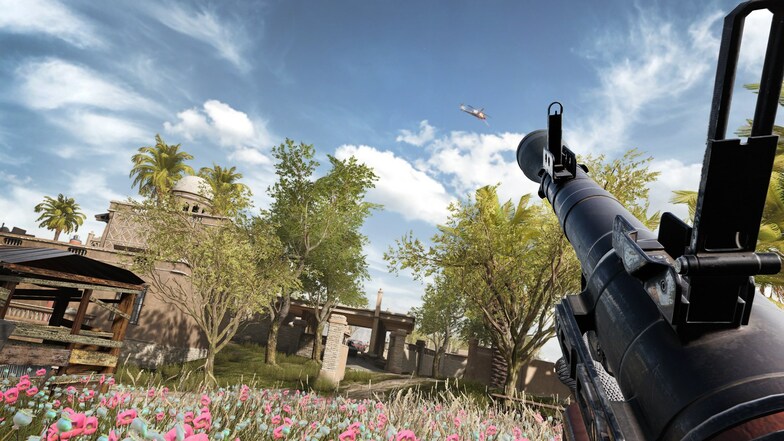 Insurgency: Sandstorm is the next game on our list. This is easily one of the best shooters out there in the market, as long as you are someone who likes games with extremely realistic gun mechanics. This is why Sandstorm was on our list of the best shooter games for Xbox.
Insurgency was originally a mod for Half Life 2. Due to its popularity, It was made into a standalone title. A few years after that, the developers decided to make a new game that had the same basic concept but better gunplay, graphics, and more content.
Sandstorm does its best to combine realistic gameplay with a pick-up-and-play concept. It is easy to join a game, and you are not at any kind of disadvantage if you enter a fight late. There are tons of weapons to choose from. All of these weapons can then be modified quite extensively to suit your play style as well.
The battles themselves are fought in close quarters, with each player occupying a specific role in their team. Sadly, there isn't really a competitive ladder or matchmaking that would allow players to progress in the game. All you do is basically join a server and try to win the game. Despite that, Sandstorm is easily one of the best and most realistic shooters on Xbox right now.
Destiny 2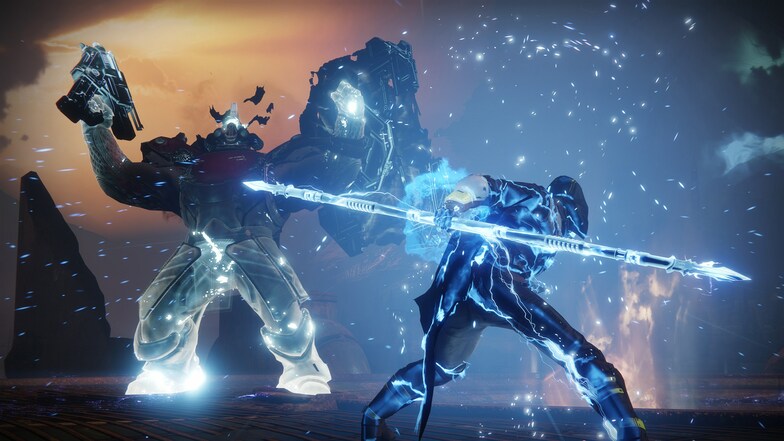 Destiny 2 is not exactly an FPS game. There are ways to play the game in both first-person and third-person modes. However, it did originally begin as an FPS game and is amazing enough that it still has a very active player base despite its age.
Destiny 2 allows you to do whatever you want. You can either go do a bunch of quests and level up your gear, or you can hop into one of the numerous PvP modes to take on other players. It was on our list of the best online multiplayer games for Xbox due to its numerous game modes.
Whatever you do, remember that looting is a huge part of Destiny 2. This means that you will need a lot of time if you are to level up your character and compete with other players. If that is not something that you have the time for, you may want to look at a single-player option with similar mechanics such as Borderlands 3.
Far Cry 6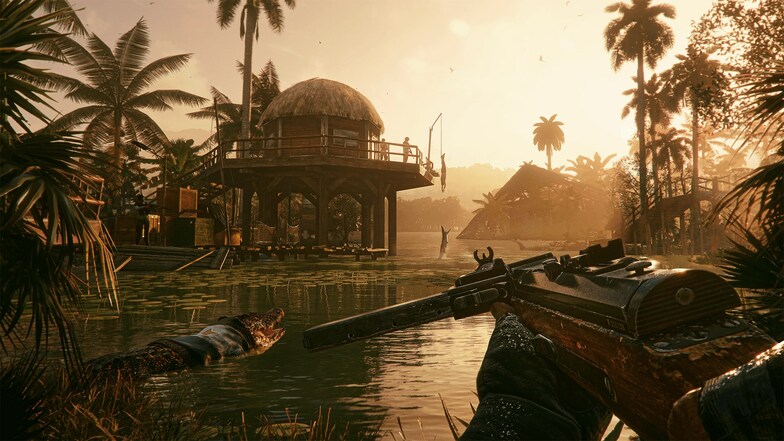 If you are looking for a more traditional shooter game that is based on its story, Far Cry 6 is the one for you. Featuring characters from the Breaking Bad TV series, the game does a great job of combining solid gunplay with a great narrative.
You play as a Guerilla fighter trying to liberate your island from its oppressive rulers. You can explore the open world, play numerous mini-games, and tackle the main campaign at a pace of your choosing. Far Cry 6 truly is the biggest Far Cry experience yet, and it gives you complete control over how you fight.
While there is no multiplayer, it is possible to play the campaign in co-op mode with one other player. Unfortunately, this cannot be done locally (only online).
Call of Duty: Warzone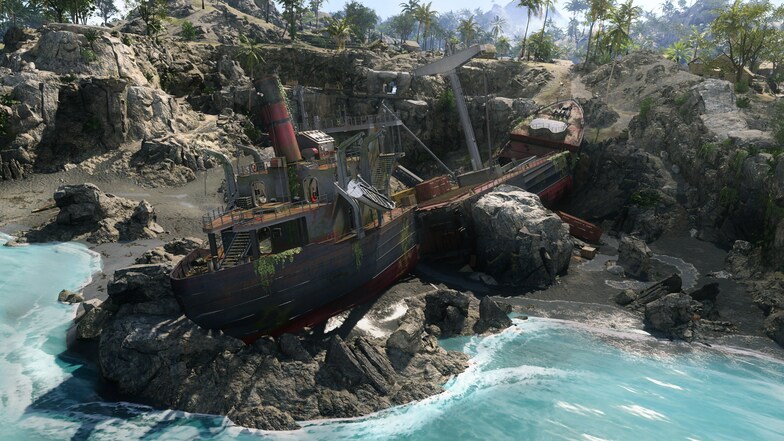 Call of Duty: Warzone is the next game on our list of the best Xbox FPS games. Unless you have been living under a rock, you will know what the game is about.
Warzone is Call of Duty's take on Battle Royale. It has numerous game modes, most of which can be played in both FPS and TPS modes. The modes determine the length of the match, the number of players, and the number of times the players can respawn.
Apart from this, the game is your average BR affair. You drop in, loot weapons, kill others, and try to be the last person or the last team standing.
Halo Infinite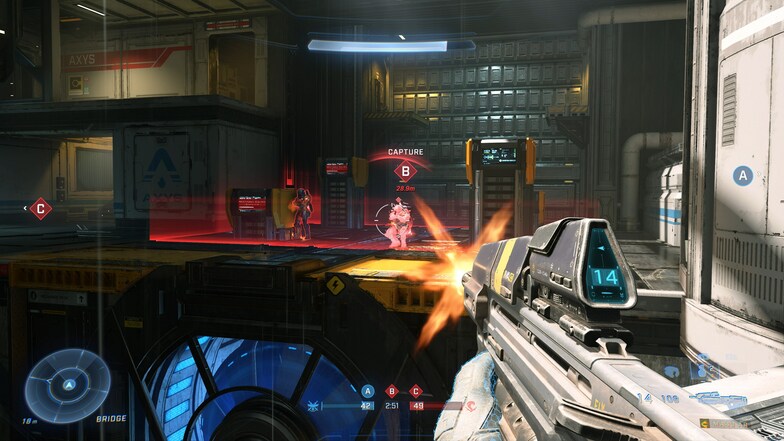 It is a list of FPS games on the Xbox. Obviously, there will be a Halo game on here. Halo Infinite is the most common game on our list, mainly because it brings the same old great multiplayer with a brand new single-player concept.
Halo Infinite's campaign is open-world. It does a great job at it, allowing players to engage in a ton of additional activity while simultaneously giving them control over the pace at which they progress through the campaign. The campaign was good enough that we had Halo Infinite on our list of the best open-world games for Xbox.
When it comes to the multiplayer component, Halo Infinite returns to the original arena shooter gameplay that made the Halo multiplayer popular. The game does away with some of the changes bought about by its predecessors, leading to a more skill-based approach. This makes Halo Infinite one of your only options if you aspire to be an esport player on a console.
Rainbow Six Siege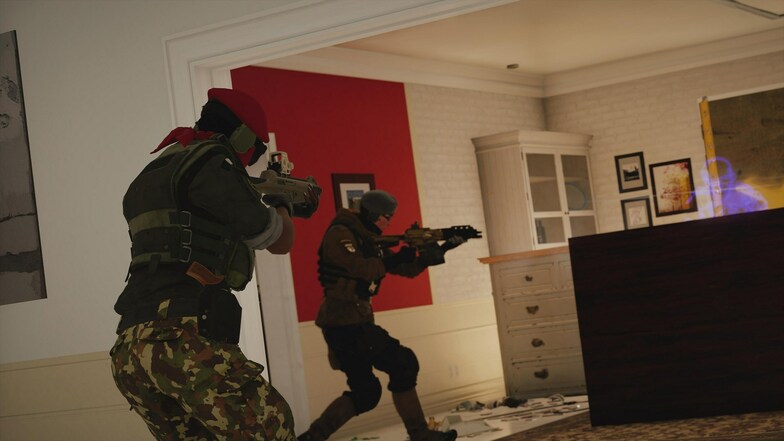 Rainbow Six Siege has a fairly vibrant esport scene on the PC. Unfortunately, it can only be played for fun on the Xbox. The most you can do is hop on to the ranked mode and make sure that you get to the top spot.
Siege is a 5v5 game that pits two teams of very skilled operators against each other. There are two game modes, although bomb-defuse is the most common one. The teams face each other in highly destructible environments, which leads to high amounts of strategy in each round.
The best part of the game is that it cannot get repetitive. Since the maps can be destroyed, each round is bound to be different from the last. At higher levels, you will need as many brains as you will need reflexes to win the games.
Battlefield 1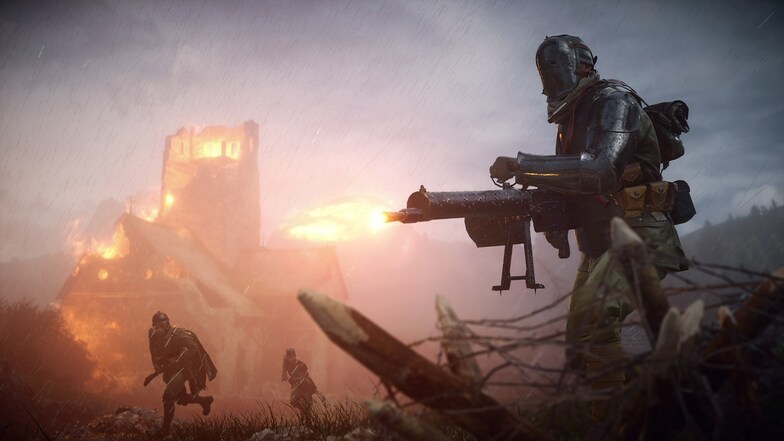 Of all the Battlefield games we could have included on our list of the best Xbox FPS games, we have decided to go with Battlefield 1. Despite all the flaws of the game, EA and DICE did manage to make sure that this is the most expansive and authentic World War 1 experience that players can get.
The best part is that the cumbersome weapons of that era are not a limiting factor. The fast-paced gameplay that Battlefield has become known for is still possible. The maps are also as large as we have come to expect from Battlefield games. Simply put, this is classic Battlefield set in the early 20th century.
Due to the game's era, it is possible to lead a cavalry charge, use bayonets, and engage in close-quarter combat in the bunkers. While some of these things were possible in previous entries in the franchise, Battlefield 1 is the rawest Battlefield experience yet.
Apex Legends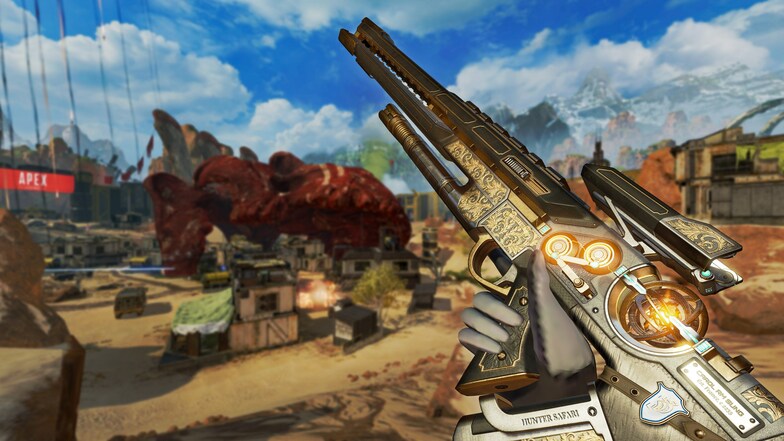 Going from one Electronic Arts game to the next, we have Apex Legends. Apex Legends is a battle royale game. That means that while it is fundamentally the same as Warzone or any other game of its type, there are certain decisions taken by the developers that make it stand out.
In Apex Legends, there is a considerable sci-fi element to the fights. Players can select a hero that has their own special abilities. The hero can also upgrade everything from their personal attributes to the type of armor that they use.
While Apex Legends is not as popular as COD Warzone, it does have a dedicated community of players. Chances are that you will not have a problem finding a game at any time of the day. Considering that the game is free, we think it is definitely worth a try.
Metro Exodus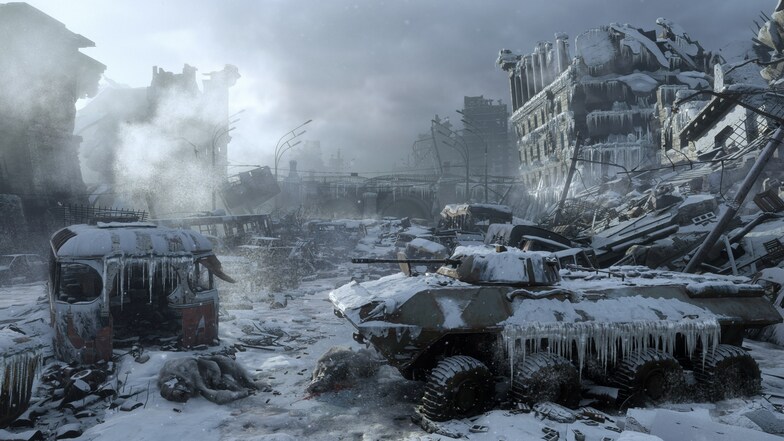 Although most FPS games tend to be based around the military, some of the greatest titles in history have experimented with fringe concepts. The Metro series is a great example of this, and Deep Silver has made all of the right decisions when it comes to Exodus.
Metro Exodus is a sandbox survival game set in the Metro universe. You have complete control over how you want to proceed with the story. However, you need to make sure that you stay alive in the face of harsh weather, environment, and enemies.
The story revolves around a bunch of survivors boarding a train known as the Aurora. After the apocalypse, the survivors are looking for a place where they can settle down out in the East. It will be up to you to take charge and try to make sure that you and everyone else get there in one piece.
Prey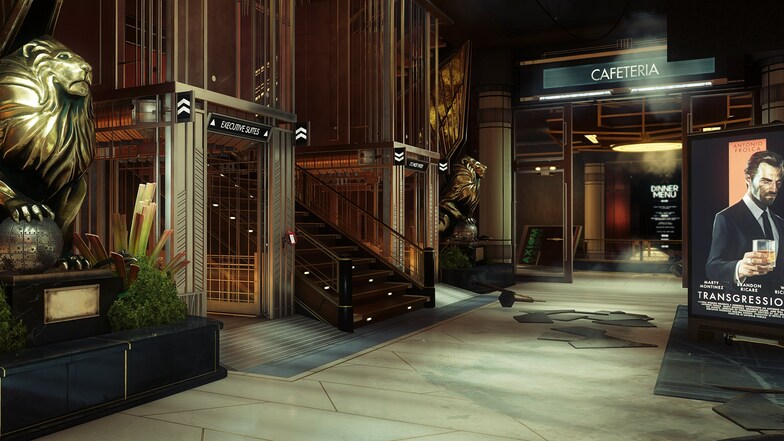 Just like Metro Exodus, Prey is a game that experiments with what the world could be if things were a little different. The game is set on a space station in the year 2032. When an experiment is about to be performed on you, the station is raided by aliens.
This is how your story begins. You need to survive and find out why the aliens have come for you. The story of the game is quite similar to Alien: Isolation, although Prey focuses less on the horror side of things and more on the survival and shooting side.
The only problem we have is due to the nature of the game, it might have been better if players could play the campaign in co-op mode. Fighting aliens is fun, but it is more fun when done with friends.
RAGE 2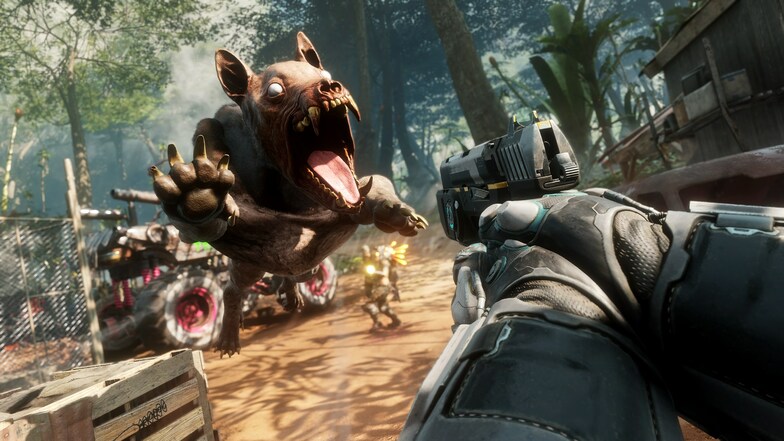 If there is one thing that id Software has managed to do in almost every single game that they have developed is get the gunplay right. The original RAGE was not a revolutionary game in any way. All you had to do was shoot monsters. However, the gunplay was so smooth that people just wanted to play it.
RAGE 2 is another game that does not try to innovate in any major way. Instead, it makes sure that the basics of the FPS genre are done properly. In an FPS game, there is nothing more important than the shooting, and that is where the majority of the focus was during RAGE 2's development.
When most of the Earth's population is wiped out by an asteroid, it is up to you to defeat all the beasts and the humans that are roaming the lawless wasteland.
Despite its over-the-top nature, RAGE 2 has one of the best vehicle combat we have ever seen, and you will need your vehicle to rid the world of all evil once again.
Hell Let Loose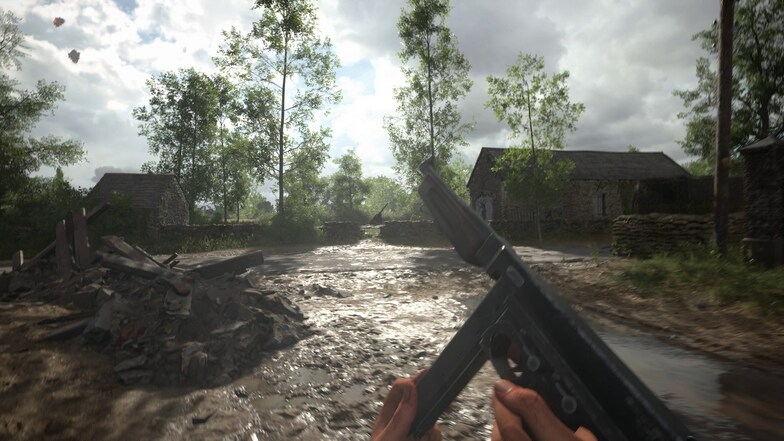 Hell Let Loose is the second title on our list of the best FPS games for Xbox that tries to be as realistic as possible. if you have played Insurgency: Sandstorm and you liked it, chances are that you will also like Hell Let Loose.
Just remember that while Hell Let Loose has extremely realistic gunplay, it is quite different from Sandstorm in most respects. For one, it is set in the Second World War instead of the modern day. Secondly, it is a lot more chaotic than Sandstorm.
With 50-player battles, Hell Let Loose is a multiplayer-only game where the conflict takes place on the front lines. Since all of the players in the server will be at or close to the frontline, you will get to see a lot of action.
While there is a lot of infantry combat, it is supplemented with tanks and artillery. Simply put, there isn't a moment to rest when you are fighting on the front lines. This truly is a game that stays true to its name.
Quake Remastered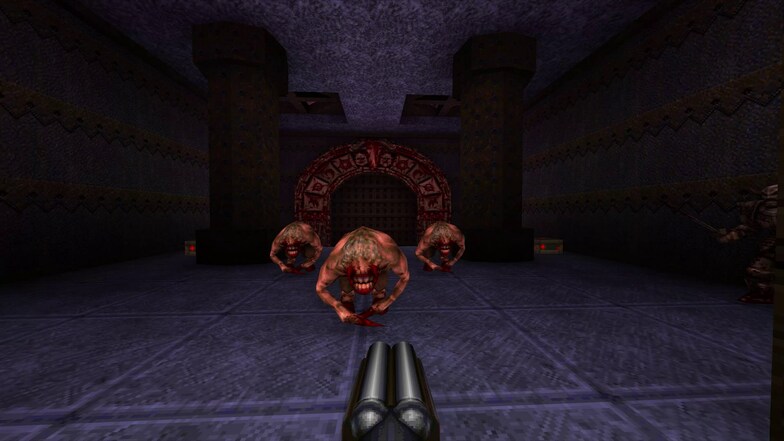 There have been multiple id Software games on our list, and we have another one with Quake. Just like how the DOOM series has been rebooted, so has Quake. However, Quake has experienced more of a softer reboot compared to DOOM.
While the original Quake has been remastered, most of the changes have come in the form of textures and lighting. This means that the new version of Quake still looks quite outdated. Despite that, it is an extremely fun game to play that has a much higher skill ceiling compared to DOOM.
One other thing to note about Quake is that while it is primarily played for its multiplayer, there is also a fairly long single-player campaign that players can experience. Most of it has to do with shooting monsters, but at least you get to do it in HD this time.
Lastly, the remastered Quake has all of the previously released expansion packs. The developers have also made new expansion packs for the remaster that were not a part of the original game.
Splitgate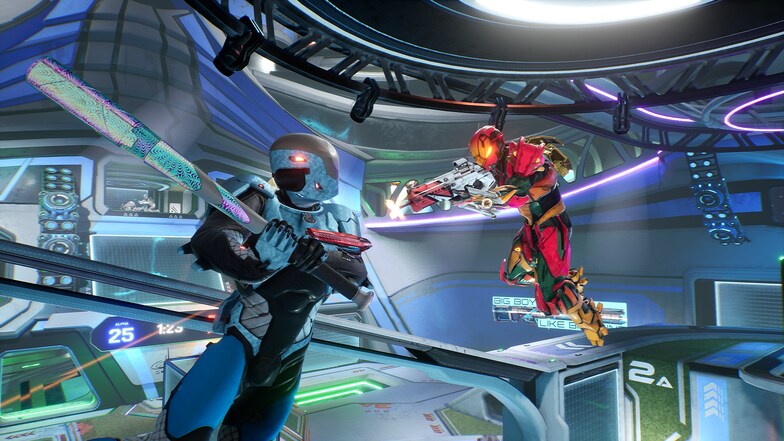 Splitgate is the next game on our list of the best FPS games for Xbox Series X and S. We just talked about Quake, so it is natural that we follow it up with another arena shooter.
It is true that Splitgate has its roots in games like Quake and Unreal Tournament. However, the game also takes other concepts to try and make itself stand out from the competition. For one, this is the only arena shooter that primarily bases itself on using portals to teleport from one place to the next.
Most of the combat takes place in close quarters and requires lightning-quick reflexes. It is possible to engage in cross-platform multiplayer, although we would not recommend playing against PC players as the mouse and keyboard will always have an advantage over the controller.
The best part about Splitgate is that it is free. As such, there is no harm in giving it a shot. If you don't like it, all you have to do is to hit the delete button.
Fallout 4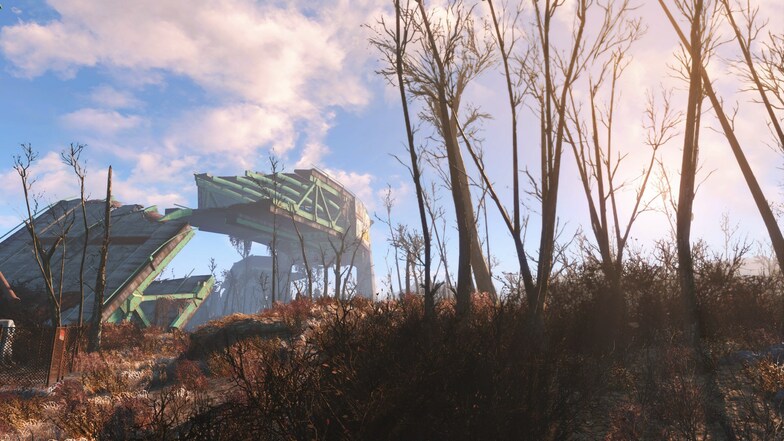 Despite all the controversies surrounding the Fallout franchise since the advent of Fallout 72, one thing that everyone can agree on is that Fallout 4 is still as amazing now as it was when it originally came out.
The concept of the game is still the same as it was in the first three titles. The world has been destroyed by nuclear war, and it is up to you to ensure that you survive the aftermath.
Considering the other games in the Fallout franchise, Fallout 4 is the largest in terms of scope (provided that the developers have not completely screwed the game). The world is bigger than ever, and there are more things to do than there were in any of the previous entries.
Apart from Fallout 4, one other game we would recommend here is Fallout Shelter for your mobile device. In the game, you run a shelter in the same universe. Your main job is to ensure that you expand your vault and that everyone residing in your vault is happy. It is a great game for your phone if you like the Fallout universe.
Warframe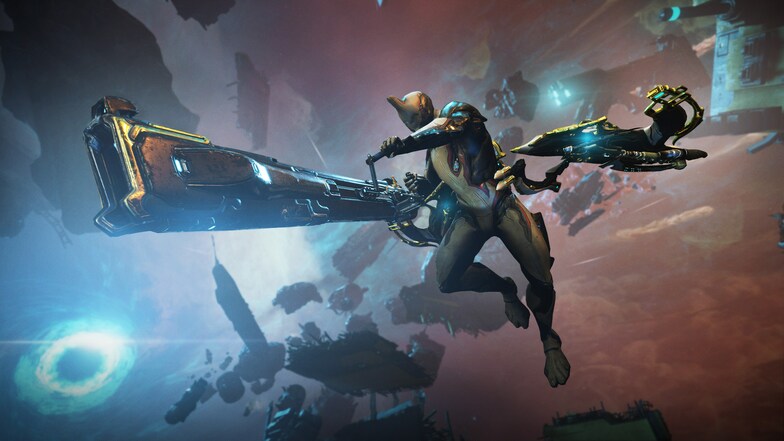 As far as free FPS games go, Warframe is easily one of the biggest titles. Despite it having been out on the Xbox since 2014, it still has a vibrant player base. This serves as a testament to its gameplay and its accessibility.
As the name suggests, you need to control a Warframe in various game modes. You will be fighting other Warframes and trying to win. Gamemodes range from being as simple as TDM to almost anything that you can find in any other game. This is because Warframe is still updated with new content.
Warframe is primarily an online FPS. There aren't a lot of things that you can do without an internet connection, so keep that in mind. Moreover, remember that despite a few minor upgrades, the visuals are still quite outdated by modern standards.
Despite that, this is easily one of the most complete FPS experiences you can have if you do not want to shell out any cash.
Borderlands 2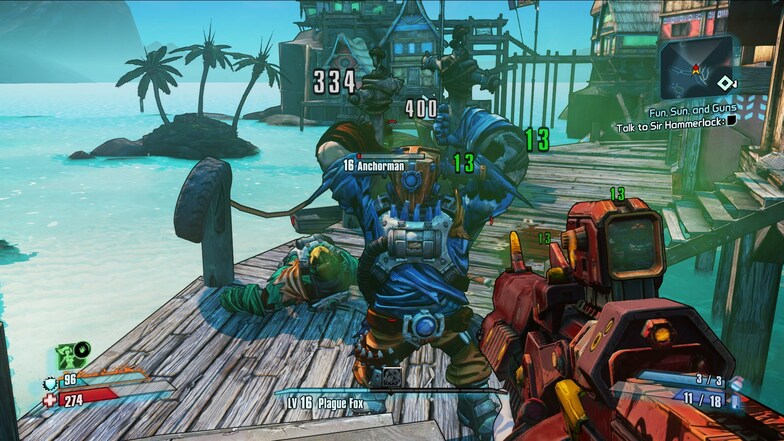 Borderlands 2 is the next game on our list of the best FPS games for Xbox Series X and S. Pretty much everyone that is a fan of the Borderlands franchise agrees that Borderlands 2 was the peak of the series, and we have to agree after playing Borderlands 3.
The biggest change that came about in the third iteration was the addition of gameplay mechanics that made the title way too accessible. Since Borderlands has always been a franchise that has appealed to hardcore RPG enthusiasts, this was a big no-no with the faithful.
Borderlands 2 can be purchased as a part of a collection that has a lot of additional content. This content was added to the PC version over time. What this means for Xbox players is that they can basically access a lot of content at the same time.
If you end up liking Borderlands 2, there is enough gameplay here for at least a few hundred hours. There really is no way you can complete the game unless you play it constantly. While this may not appeal to people who are opposed to games that are too 'grindy', it also means that those who like the game will like it a bit too much.
Call of Duty: Vanguard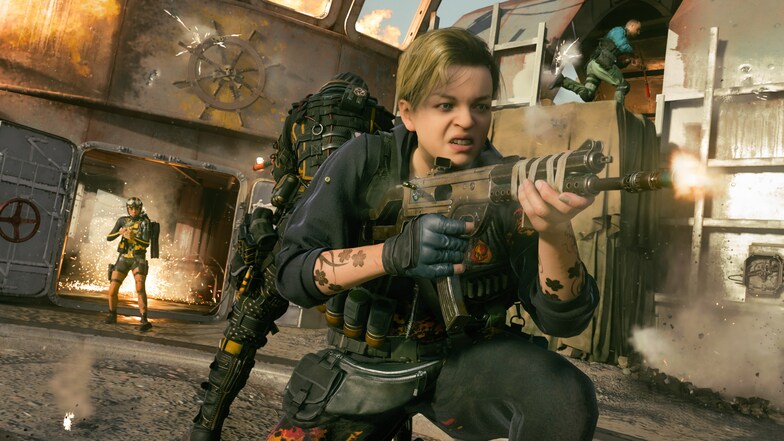 There have to be multiple games from the Call of Duty franchise on a list like this. And to be honest, most of them play similarly enough that any of the entries could make this list.
The reason for including Vanguard over all the others is due to the amount of content that Activision released for the game once it came out. Although the single-player campaign is average, there is enough multiplayer content for hundreds of hours of play.
If you are someone who has played a COD game before, you should know exactly what to expect. The multiplayer is standard run-and-gun, with you trying to take out as many enemies as you can before you die.
The game also has integration with Warzone, allowing you to combine your experience over the two games and receive additional rewards.
Titanfall 2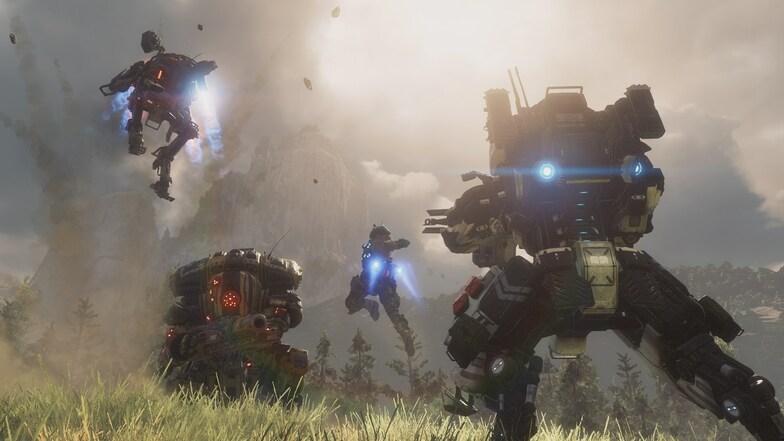 Titanfall 2 took everything that was great about the original, and basically expanded it to create one of the most underrated FPS games we have ever seen. Although the game is quite popular on PC to this day, the Xbox version is played by a slightly smaller number of people.
In the game, you control a Titan and fight off other Titans over various game modes. The game modes that are popular usually have large maps and give you a lot of freedom over how to approach any match. That said, this is a game that is best played in a squad so that you can adequately execute all your strategies.
If you are going to purchase Titanfall 2 for the first time right now, we would recommend that you go for the Ultimate edition. The game has been out for quite a long time, and chances are that experienced players will run you over from the get-go. The ultimate edition helps mitigate some of these disadvantages.
Wolfenstein 2: The New Colosus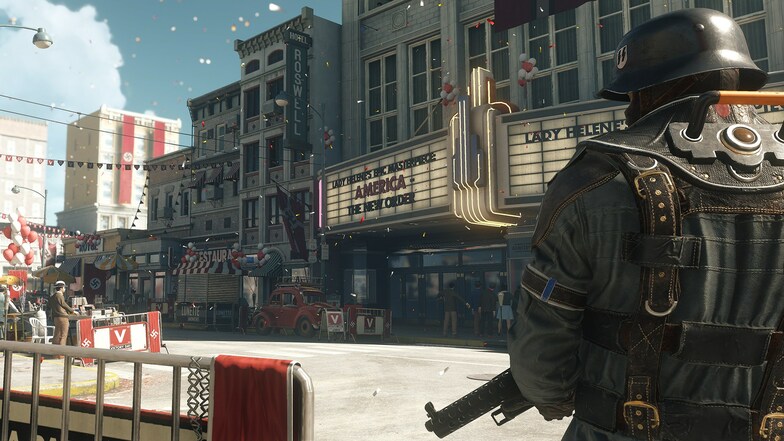 The last game on our list of the best FPS games for Xbox Series X / S is Wolfenstein 2: The New Colossus.
We have had a lot of reboots on our list, and Wolfenstein is one of the very best. Coming from one of the very first FPS franchises to ever exist, the reboot asks a simple question: What if the Nazis won the Second World War?
That sets the story for all of the games in the reboot. You play the role of BJ Blazkowicz. BJ is a part of the underground resistance movement trying to undermine and overthrow the Nazis in the modern day. In order to do this, he needs to engage in numerous stealth and all-in missions.
Regardless of whether you have played the original Wolfenstein, the reboot is something that any fan of single-player FPS games is going to enjoy.