Satisfactory is one of the most beloved games in the factory simulation genre. Coming from Coffee Stain Studios, this game is in early access at the time of writing and has already managed to attract a dedicated audience with its intricate gameplay, compelling theme, and interesting mechanics.
If you're a fan of games like Satisfactory, you'll know that it offers a brilliant blend of combat and exploration, from a unique first-person perspective. If you're looking for more games like it, you'll be happy to know there's plenty like it.
Here are 8 games like Satisfactory, including some from different genres and styles.
Factory Town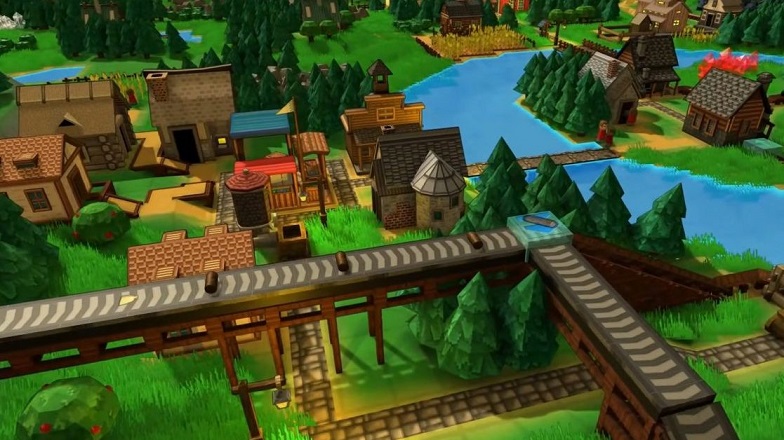 Factory Town is a building and factory management strategy game from Erik Asmussen, available on macOS and Windows.
Your main mission in Factory Town is to construct a huge factory disguised as a thriving village in the wilderness. You begin with only four bored villagers and a town hall. To attract more workers to your village, you'll need to build houses. Players need to use what they're given to create massive supply chains and grow their civilization.
There are multiple modes in the game. The campaign mode is perfect if you want to learn the ropes and eventually master your skills as a builder and factory manager. When you gain these skills, you can try the sandbox mode where there are no limitations or resource shortages.
Apart from gathering resources and improving your production efficiency, you'll also need to make sure your villagers are happy. You can do this by regularly supplying them with food, medicine, and clothing. As you start making more money, you'll be able to research new technologies and enhance your supply chains.
Factory Town doesn't really have a story to drive the gameplay. Instead, it's driven by research trees and progression routes. The research trees do an excellent job of introducing you to new technologies. In every mode in the game, you get access to terrain sculpting tools that let you shape the world how you want.
This game is perfect for fans of games like Satisfactory, and it's worth checking out.
Infinifactory
Infinifactory is quite a unique video game, from independent studio Zachtronics. The game is available for Linux, PlayStation 4, OS X, and Windows.
This is a puzzle game in which you're forced to construct assembly lines by aliens who abducted you. There is only a single-player mode in Infinifactory.
Players solve puzzles in six different worlds. There are several puzzles in each world. You have to construct perfect assembly lines to advance from one world to the next in the hopes of returning home in the end. You play the game from a first-person perspective. You're free to explore the area around you on foot or with your jetpack.
Infinifactory has an interesting story. You're not the only person who works for the aliens who abducted you. As you journey through different levels, you'll sometimes encounter corpses of other workers who were there before you.
On every level, players have to guide cargo blocks using a conveyor belt to one or multiple exit points.  It may sound simple, but you'll have to combine your logical skills and creativity to solve each puzzle. Every tool you have to construct assembly lines follows a simple physics system.
Infinifactory features Steam Workshop integration. In other words, you can create your own puzzles and share them with friends who'll attempt to solve them. There's also a sandbox mode in the game, allowing you to create whatever you want with a limitless amount of resources.
Dyson Sphere Program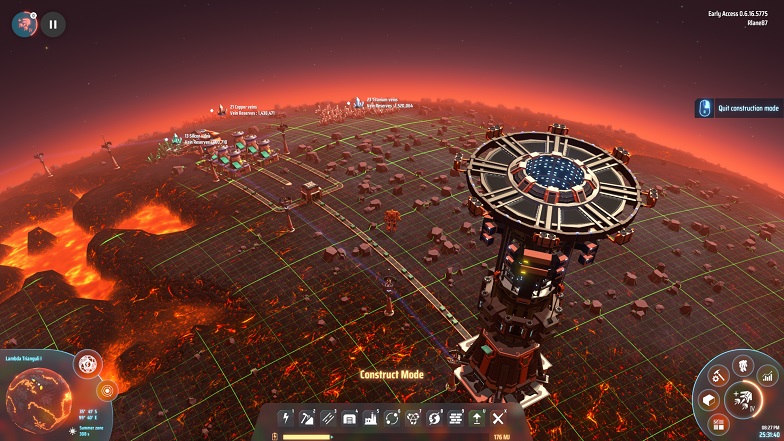 Dyson Sphere Program is a factory simulation video game from Youthcat Studio.
If you've heard of the term 'Dyson sphere' before, you know that what you'll be building in this game won't be an easy task. The Dyson sphere represents a megastructure that you can use to harness a huge percentage of the energy of a star.
The game takes place in the distant future where most of civilization lives in a virtual computer space. To keep the simulation going, you must leave this virtual space and construct a Dyson sphere. Players take on the role of a space engineer who takes on this incredible challenge.
Every time you start the game, a random star cluster will be procedurally generated. There will be a different distribution of planets, resources, and stars each time. One planet out of the bunch will have the necessary resources for you to start building. This means that each playthrough will be different.
As you progress in Dyson Sphere Program, you'll start gathering resources from multiple planets. This means that you will also need to find ways to transport these resources from one planet to another. Players are required to do a variety of tasks and master different skills before building the Dyson sphere.
This is one of the best games like Satisfactory if you want to try something with a new aesthetic and theme.
Astroneer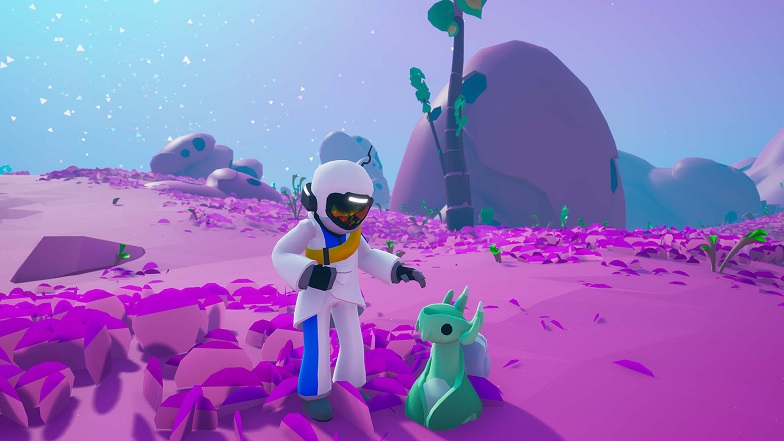 Astroneer is a sandbox adventure game from System Era Softworks, available on Windows, PlayStation 4, Xbox One, and Nintendo Switch. The game supports both single-player and multiplayer modes, with a co-op multiplayer mode supporting up to four players.
The gameplay is set during the Intergalactic Age of Discovery, which takes place in the 25th century. However, Astroneer doesn't follow a set storyline. Instead, it contains optional missions where you can find interesting lore.
You play a character that lands on a planet called Sylva after leaving a man-made satellite. This is only the first of seven planets you'll explore in the game. And when we say explore we really mean it. You'll get to see everything from the surface of a planet down to its core. You can navigate the world in Astroneer on foot, by spacecraft, on a rover, or through teleportation.
There are numerous items you can craft in the game. You use two main crafting materials (compound and resin) to construct everything from spacecraft to component smelters. Some of the other items you'll be crafting include rovers, batteries, turbines, storage silos, tractors, and research silos.
Players have a terrain tool at their disposal in Astroneer. With this tool, you can reshape the landscape and gather different resources. Another important tool you use is your backpack, which serves as your status bar and inventory.
Factorio
Factorio is a construction and management simulation game that is often referred to as a first-person version of Factorio. There's no doubt that this game was an inspiration to the team developing Satisfactory, so it only made sense to include it in this list of the best games like Satisfactory.
In the first 18 months of its release, more than 3.1 million copies of the game were sold. This made Factorio one of the most popular releases of all time in the factory simulation genre. You can play the game on macOS, Linux, and Windows.
Your goal in the game is to build and maintain factories. There are multiple core activities you'll have to engage in to maintain your existing factories and build new ones. These activities include researching technologies, automating production, and mining resources. You'll also be fighting enemies occasionally.
The combat in Factorio is quite interesting. You're essentially fighting indigenous fauna on the planet you're on. You disrupt the fauna with your factories, which is why they start attacking you. You can use tanks, turrets, and other weapons in combat. Enemies evolve and become stronger over time.
If you want to build factories with friends, you'll love the co-op multiplayer mode. The Map Editor mode enables you to create your own maps. If this sounds like a good fit for you, you can check out more games like Factorio, too.
Automation – The Car Company Tycoon Game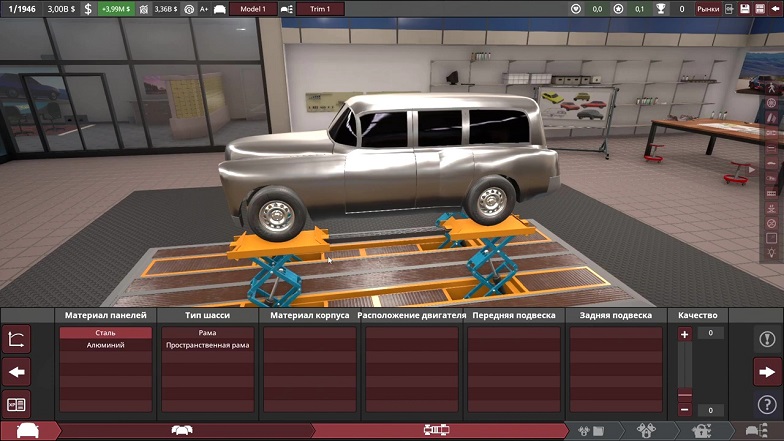 If you like games like Satisfactory and are also a car enthusiast, then you'll absolutely love Automation. As the full name suggests, it's a car company tycoon game where you build and design cars. You have to get into the details of making cars to create something of your own. This includes designing the engines, suspension, chassis, and many other parts.
Coming from Camshaft Software Ltd, the game has been in its early access phase since 2015 and still is, at the time of writing. The full version will feature a multiplayer challenge mode. The gameplay concept in Automation is quite complex, which explains why the studio has been working on it for such a long time.
However, it includes many other elements in its gameplay. You'll be able to make the cars of your dreams by utilizing various technologies used from 1946 to 2020. Aside from using your creativity to design and build vehicles, you will also put your business skills to the test.
When you choose the campaign mode in Automation, it takes you on a journey through time. You start the campaign with the task to build factories that will put you in a powerful position in the automotive industry. You have to carefully equip your factories and research new technologies to stay ahead of your competitors.
Stationeers
Stationeers is a construction and space station management video game from RocketWerkz. It features single-player and co-op multiplayer modes. The game features various science-based survival problems you need to solve.
Stationeers is a very complex game and features a steep learning curve. But it's good to have challenging tasks so you can enjoy the game in its entirety. Only through practice will you become a master at optimizing complex systems in Stationeers.
There are countless systems you'll have to work on in the game.
For instance, players have to create atmospherics systems for gas mixtures, combustion, temperature, water, and pressure. You also need to build large factories by utilizing computers, conveyors, and machines. When you construct something, you'll be rewarded if your design features great electrical, architectural, and atmospheric plans.
You will need to build everything necessary for a space station. That also includes growing plants and farming livestock so the crew in the space station can be self-sufficient for a long time. One of the challenges you'll occasionally face is exploring planets with dangerous environments.
Players have a wide range of tools at their disposal in Stationeers. You can use your tools to harvest nearby resources regardless of where you are. Even when you find yourself deep inside an asteroid field, you'll be able to extract important resources.
This is one of the best games like Satisfactory for fans of immersive, difficult gameplay.
Good Company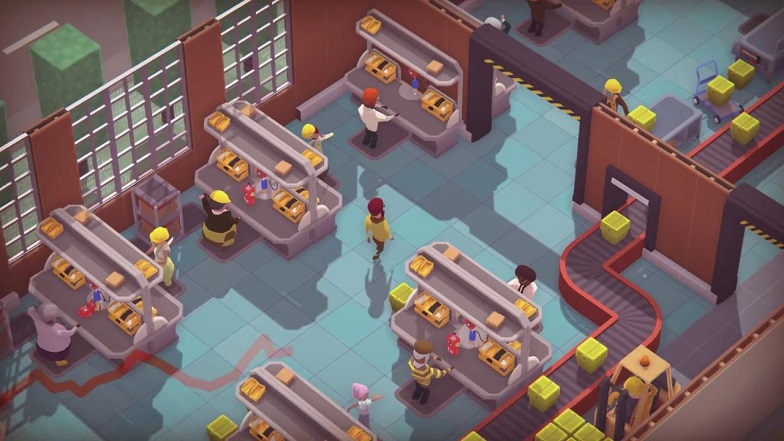 Good Company is a management simulation video game from Chasing Carrots. You can play Good Company only on Windows. The game features both single-player and online co-op multiplayer modes.
The graphics in Good Company are charming and make it a delight to play. The game is also described as a tycoon factory builder because you take on the role of CEO, architect, and engineer of quite a few electronics startups. The game contains some futuristic features, like helper robots.
You start in your garage, which you slowly transform into your first manufacturing headquarters. This is a story many successful entrepreneurs can relate to. You begin by purchasing materials and hiring staff to construct an efficient production line. Eventually, you'll have to focus on automation and cutting down the need for manual labor as much as possible.
As you turn your garage into a successful business, you'll start expanding and entering new markets. Players have to research new technology to create quality tech products and control a significant part of the market.
If you choose the campaign mode, you'll play an entrepreneur who sets out to save the economy in their local county by building highly profitable businesses.