In FIFA career mode, you're in charge of squad management, transfers, tactics, and other aspects of the game that football managers handle.
Unlike some other football management simulation games, you also have the option to play the games yourself.
Getting first-hand experience with your players' abilities and testing the efficiency of your tactics can be fun.
If you don't have a tactical preference already, I recommend bookmarking this guide to the best tactics for dominating opponents in FIFA 23 to read next.
In career mode, the option to simulate games that you don't want to play for whatever reason is pretty handy.
In this guide, we discuss how you can boost your chances to win simulated games in FIFA 23 career mode. Let's get into it!
Why Simulate A Game?
As I said, playing games yourself can be fun, but there's a flip side. League seasons in FIFA 23 career mode can feel pretty long and grueling, so playing every game yourself can get tiring.
In situations like that, simulating games can help you to move through the season more quickly.
This way, you can still enjoy the full career mode experience without necessarily grinding through every single game.
Simulating games is also especially useful for moving quickly through games that you think are not so important.
For instance, if you're managing Manchester City and you have a dead rubber game against a team from League Two, you may choose to simulate the game as it is pretty much a guaranteed win either way.
It gives you a chance to put out a weaker team and earn some match sharpness for the players on the fringes of the team. You don't have to suffer through playing with them, and you still have a good chance of snatching a win anyway.
How to Simulate A Game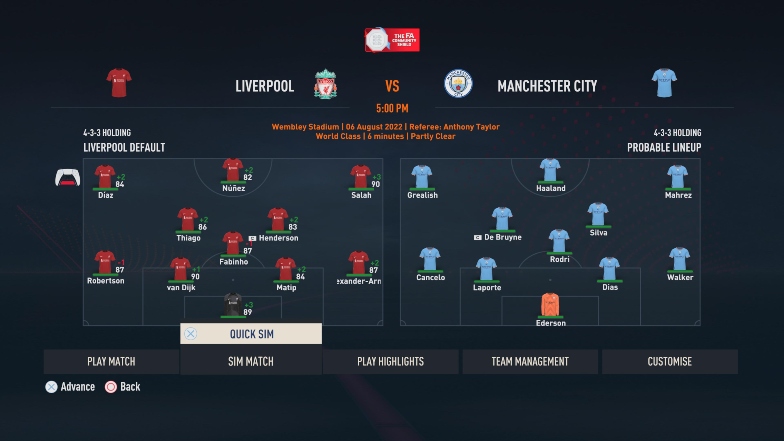 There are a handful of options for simulating games in FIFA 23 career mode.
Firstly, you can do a "Quick Sim" and instantly jump to the result.
Alternatively, you can choose the regular sim option and follow the game per minute in a 3D display mode that is not too dissimilar from the "button" players on Football Manager.
Next to these two sim options, you'll see the new "Highlights" selection that also includes two options.
One of those options allows you to play attacking highlights alone, and the second offers both defensive and attacking highlights (more on that later).
How to Win Simulated Games
Squad Management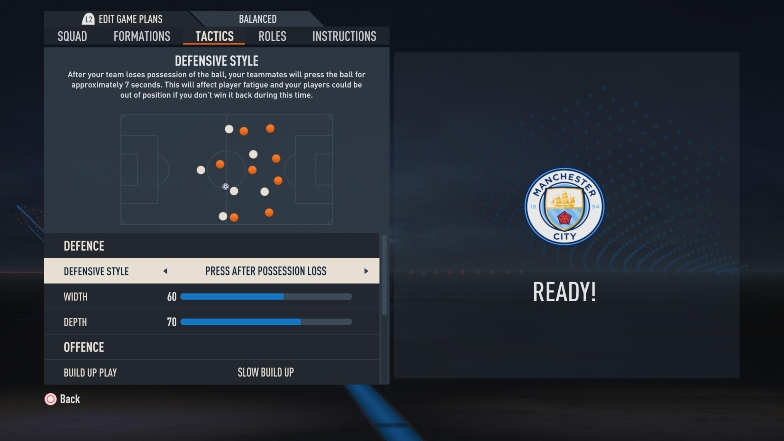 The first thing you want to do is make sure that your team is completely prepared for the game you're planning to simulate, especially the players in the starting eleven.
Squad management in this context refers to those preparations, including setting up your tactics, choosing a starting eleven, and training the team.
While setting up your game plan, you want to make sure that every player is selected in their preferred position, and that they have a very good level of fitness and sharpness between them.
Depending on the team that you're playing against and the result you're hoping to get, you may have to adjust your tactics to be more defensive or more offensive.
It is also beneficial to speak positively in the press conferences that are held right before the game.
This will help to boost the team morale and put them in high spirits in preparation for the game.
Training Ground Work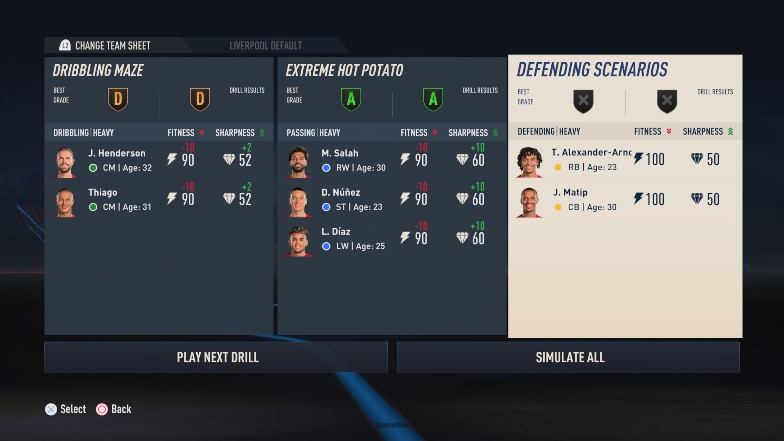 Putting in the work on the training ground is key for increasing match sharpness in FIFA 23 career mode.
Match sharpness, in turn, is key to making sure that your players perform as close to their full ability as possible even in your absence.
When they perform to their full ability, they are more likely to win a game. Winning games improves overall team morale, which also improves your chances of stringing together a decent winning streak.
While trying to increase match sharpness on the training ground, it is important to keep an eye on the fitness levels of the players too.
There is a tendency for these stats to drop as the players exert themselves, so it is equally important to ensure that the training drills you're choosing provide enough balance to increase sharpness with a little negative impact on fitness.
Playable Highlights
One of the new features in FIFA 23 career mode is the addition of playable highlights.
This feature, in my opinion, is a game changer that really switches up the overall experience of playing the game in a good way.
In the past, one of the most important things to learn if you want to win simulated games in FIFA career mode is knowing when to jump in and play a part of the game yourself to improve your team's chances.
With playable highlights, the AI introduces you to the game during these key moments automatically. Before the game begins, you can select one of two playable highlight options – play the attacking highlights alone or play all highlights.
If you're worried about your team conceding in a particular game, then you want to go with the second option because it allows you to defend the opponent's attacks as well as play your team's attacking highlights.
The feature gives you more control over the result of the game compared to the seeming "randomness" or the previous simulation approach.
Besides, the rush that comes with playing only key moments in each game certainly beats the jadedness that may come with playing every minute yourself.
Final Words
Simulating games is one of the areas where we've seen a major change in the latest installment of FIFA. Playable Highlights is a game-changer, and if you're trying to win sim games in FIFA 23 career mode, you should get familiar with the feature.
If you choose to go the "Quick Sim" route instead, be sure to pay attention and jump in when necessary.
Playing and winning games is a major part of developing players in this game, so if you're simulating, then you should learn all the other methods for improving players in FIFA 23 career so they don't stagnate. Best of luck!