We're in the third week of the Team of the Season promo for FIFA 23 now, and things just seem to be getting better and better.
There was a lot of hype around the Premier League TOTS, but I'm not so sure that the squad delivered on that hype overall. It was a good team, but let's just say there were quite a few valid complaints.
Now, the Bundesliga TOTS squad has been released, including the Team of the Season Moments cards, and there are quite a few excellent cards in there.
This guide runs through a quick review of every player in the squad. If you're trying to decide which players are worth buying, this should be very helpful.
Gregor Kobel – Dortmund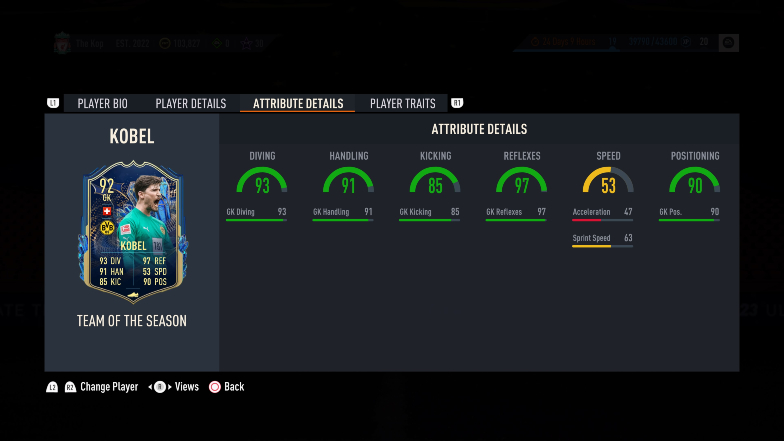 Hardly anyone really wants to read about goalkeeper cards in this game. It feels like it's almost completely down to luck how a goalkeeper performs for you.
That said, this TOTS card is a big +9 upgrade from his Gold Rare card and a +5 upgrade from his latest IF card. He looks very well-rounded but if you're not running a Bundesliga team, there are barely any other reasons to have him in your starting XI and risk losing team chemistry.
Alphonso Davies – Bayern Munich
Now, the upgrades on this card are absolutely juicy. Despite the fact that his TOTY card actually played very well in-game, there were a couple of glaring weaknesses such as the high/low work rates and the underwhelming defensive stats.
Now, Davies' TOTS card has much more efficient high/high work rates so he gets up and down the flank in both phases of play with the same vigor. EA also upgraded his skill moves to 5-star, and while the defensive and physical stats are still slightly underwhelming, they've been given important boosts as well.
One more addition that might go under the radar is the addition of the "Giant Throw" trait to this TOTS card. It's a fantastic secret weapon to use in games where you're playing with a tall attacker, and you can easily get a cheeky goal if you know how to set up a throw-in play.
With a Sentinel chemistry style applied, this card is 90+ in all face stats except shooting. He remains one of the best left-backs in the game.
Matthijs de Ligt – Bayern Munich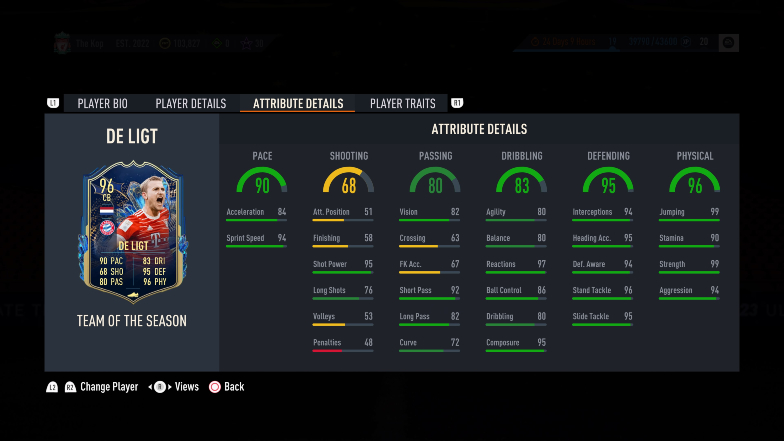 The major thing that has been holding de Ligt's cards back so far in FUT23 is pace. By the time his Ones to Watch card got 82 pace, there were better options, and his most recent in-form only has 81 pace as well.
Now, with 90 pace on this TOTS card, he's one of the quickest center-backs in the game, and you can really put that pace along with his unique body type to good use.
With a Shadow chemistry style, he remains Lengthy with 96 overall pace and maxed-out defending. Take a look at the rest of the face stats and you'll see that there are no real weaknesses on the card anymore.
However, he's quite expensive and there are so many great center-backs in the game at this stage. For me, the only center-back worth spending a premium on is TOTY VVD.
That makes it hard to recommend buying this de Ligt card unless you've got a bottomless pit of coins with nothing to spend them on.
Maxence Lacroix – VfL Wolfsburg
Speaking of other great center-backs in the game that offer better value for coins, Lacroix's TOTS Moments card would be up there if we were to make a list.
If you've been playing FUT23 since the early stages of the game, precisely around the time that the Rulebreakers promo started, then you'll remember how good his 85-rated Rulebreakers card was at the time.
He's absolutely rapid, and the defense and physicality upgrades on this TOTS card are super juiced. He only has a 2-star weak foot, so I wouldn't recommend getting him if you're looking for a player that can fill the LCB spot.
That is the only real weakness of the card though. He has excellent passing in the important stats, decent dribbling for a center-back, and if you slap a Shadow chem style on him, he stays Lengthy with near-max pace and defensive stats.
Even if you're not building a Bundesliga team, his French links offer many options when it comes to squad building for maximum chemistry.
Nico Schlotterbeck – Dortmund
Many FUT23 players know or have heard about how good his Ones to Watch card was for months, so it's nice to get an upgraded TOTS Schlotterbeck card even if it's one of the least impressive cards in the promo.
I would only really recommend this card if you're extremely short on coins, or if you're running a hybrid team that includes a couple of German Dortmund players (e.g., a perfect link with FUT Birthday Hummels or SBC Marco Reus).
Stats-wise, he needs a pace boost at this stage of the game, so the Shadow chemistry style is the way to go. His passing and physical stats are good enough, and the Shadow chem style makes him a 95-rated center-back in-game according to Futbin.
Jeremie Frimpong – Bayer Leverkusen
Frimpong's cards this year have been pretty unique in my opinion. Yes, he fits the mold of the typical attacking full-back, but the way he feels on the ball cannot be matched by any other defender that I've tried in the game. He feels like a skillful winger!
Pace is king in FIFA every year, and this lad has bags of it on every card he's had in the game, including his Gold Rare.
We've had to work with his defensive stats up till this point as they were a bit underwhelming even on his most recent in-form card, but like Alphonso Davies, he's received a nice boost in that area to improve the situation.
Also, like Davies, his work rates have been adjusted and are now high/high, better than the medium/high on his previous cards.
He doesn't have the "Giant Throw-In" trait, but EA has added the "Long Throw-In" trait and as if to stress the fact that this guy is pretty much an attacker, they also gave him the "Outside Foot Shot" trait. Watch out for those edge-of-the-box trivelas!
Joshua Kimmich – Bayern Munich
On the flip side, here we have a card that has been held back by pace so far in FUT23. Even his juiced Winter Wildcard card only had 78 pace, and I'm pretty sure that contributed to the fact that I rarely ever came across it in Rivals or Champs.
Now, Kimmich's TOTS card has been handed a respectable pace boost to bring it up to 86. It's a good figure since he'll be functioning in the middle of the park, and you can boost it further with a shadow chem style if you're so inclined.
However, with an Anchor chem style, this card has no weaknesses. He gets 90+ in all face stats except shooting, and his shooting is not even bad. With those stats, a double 4-star combo, and high/high work rates, he fits the mold of an ultimate box-to-box midfielder.
He's not quite up there with the best central midfielders in the game, and the lack of meta traits is a bit disappointing, but he's one of the best box-to-box cards that you'll find in his price range.
Jude Bellingham – Dortmund
While we're on the topic of the best central midfielders in the game, it's impossible not to mention Jude Bellingham.
He has a few cards in-game already, and every single one was a hit for the time that it was released. This includes his Gold Rare, In-form, World Cup Phenoms, and TOTY cards.
Some pros already considered his TOTY card to be the best midfielder in the game, and there is no higher praise when we have cards such as TOTY Gullit and Titans Yaya Toure in the game.
Now, his TOTS card is surely clear. Apart from the upgrades that put his face stats at 90+ in every category from the start, he's also been handed a 5-star weak foot upgrade, and he now has the "Flair Passes" and "Finesse Shot" traits as well.
You know a card is absolutely juiced when you don't even need to worry about getting him on chem with the rest of the team. You can play this card on 0 chem and he'd still absolutely boss the midfield. If you can get him on full chem, then congratulations, you're not replacing him till the game dies.
Leon Goretzka – Bayern Munich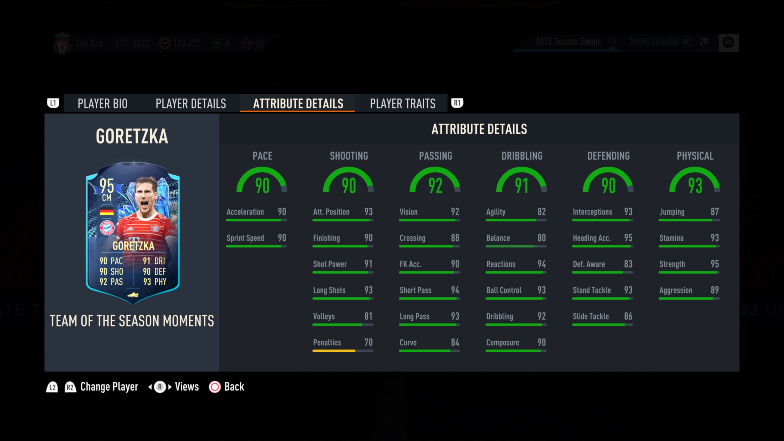 Everyone that packed or bought Goretzka's RTTF card hoping Bayern would win the UCL trophy was left sorely disappointed when they got knocked out. However, this new TOTS Moments card makes up for that heartbreak with some juiced upgrades!
Like Bellingham, he has 90+ in every face stat, so this is a card that can realistically play anywhere across the pitch in-game. His best position is definitely in the middle of the park though, especially with that body type and the high/high work rates.
It's a nice change of pace from his medium/high work rates on the RTTF card because he feels even more present in all the midfield action. He has also been given a 5-star weak foot upgrade and two new traits – Outside Foot Shot and Power Header – which are both pretty useful in-game.
If you can't afford Bellingham, then you can't go wrong with this guy. He's also going to cost you a lot of coins, but it's a fraction of what Jude is worth, and he'll repay every penny.
Julian Brandt – Dortmund
Brandt has had a pretty good season with Dortmund, so this TOTS card was expected. He's had a couple of performance-based cards so far, so this card is pretty juiced with a 93 overall. However, I personally am just not a fan of how he performs in-game.
I also have a few issues with the card itself despite the high overall. Compared to his most recent 89-rated POTM card, EA has not upgraded his weak foot or skill moves, and they've not given him any new traits either.
The card is a central midfielder by default with left-wing, right-wing, and CAM position changes, but a 6'1″ player with a High and Average body type is not really what you want to see in your attack. Personally, I prefer more agile players as they fit the meta of the game better.
The market clearly agrees with me as well because this is one of the cheapest cards in the promo despite that high overall rating. At the end of the day, he's just fodder for many people.
That said, if the FUT subreddit is anything to go by, I've personally seen a fair number of people that really enjoy playing with this card. It makes me think that this could be one of those situations where a card plays great for some people and doesn't for others.
Since he's cheap, it might be worth giving him a chance.
Jonas Hoffman – Borussia M'Gladbach
Hoffman's TOTS card is a +2 upgrade from his most recent in-form card. It's not a huge upgrade, and he's not really received any other significant upgrades in other areas as well.
He does have 4-star skills now, along with the "Flair Passes" and "Swerve Passes" traits, but like Brandt, he's only fodder material. He feels better on the ball due to the fact that he's smaller with an average body type, but there are loads of better cards in the game.
Jamal Musiala – Bayern Munich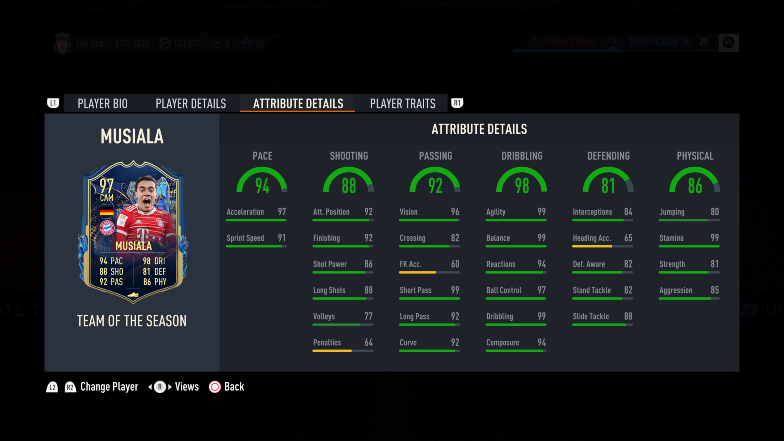 Musiala's TOTS card sits toe-to-toe with Jude Bellingham's as the highest-rated card of the promo. It's a significant upgrade from his already-juiced 92-rated Future Stars card, and absolutely one of the best CAMs in the game at this stage.
Like the Future Stars card, this one also has 5-star skills and a 4-star weak foot along with medium/high work rates and a couple of traits, most notably the Finesse Shot. However, the TOTS card also has the Outside Foot Shot trait which is the most broken goalscoring trait in the game.
The face stat upgrades are huge as well. It's a +7 for Pace, +4 for Dribbling and Shooting, +6 for Passing and Defending, and a massive +11 for Physicality. Without a doubt, the new card is clear.
If you manage to get him, I recommend using the Hawk chem style to boost his pace, shooting, and physicality further.
Leroy Sane – Bayern Munich
I have to admit that I'm a bit confused about why Leroy Sane got a Bundesliga TOTS card, but I'm not here to talk about that.
His 88-rated World Cup Stories card was underrated, in my opinion, and one of its major weaknesses was the 3-star weak foot. Now, the TOTS card features an upgraded 4-star weak foot which is nothing special but definitely useful.
He also has the Finesse Shot trait now but retains his medium/medium work rates which is actually not so bad this year for players in the CAM position. However, the best position for this guy is on the flanks, and those work rates are less desirable at left-wing or right-wing.
It's no wonder he's cheap on the market. This card is nothing special and we've had better cards for free.
Moussa Diaby – Bayer Leverkusen
Moussa Diaby's UEL RTTF card is, without a doubt, one of the best SBCs that we've received this year. For people that missed out, this TOTS card is a chance for redemption that comes at a much steeper price.
One of the few weaknesses on the RTTF card is the 3-star weak foot, and that hasn't been upgraded here. Instead, EA has opted to upgrade him to a 5-star skilled instead which is still a big difference to the old 4-star.
However, that RTTF card can still be upgraded to a double 5-star so it is still looking like the much better deal. If you did not do the SBC, this TOTS card is a fantastic alternative, especially with the +4 stat upgrades. He's one of the best agile dribblers in the game and he can outpace almost anyone with ease.
Christopher Nkunku – RB Leipzig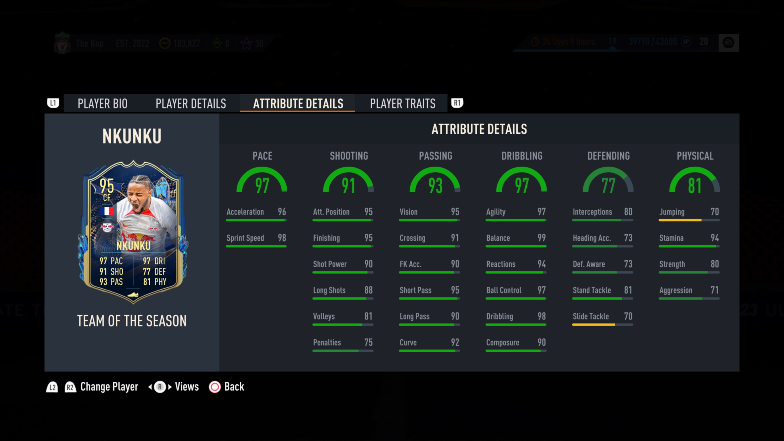 Nkunku's World Cup PTG card was arguably the best double 5-star promo card in the game for many months. He was in many pro players' teams, and some of them are still using him even now.
This card has EVERYTHING. He's quick, he's a fantastic dribbler, he has excellent passing and shooting, and also arguably the best trivela shot in-game. Just get him on the edge of the box at the right angle and it's a goal almost every time.
Even if your attack is already stacked, Nkunku can function as an attacking central midfielder or box-to-box with no issues if you apply a Powerhouse or Gladiator chem style.
He has no weaknesses, and his price fairly reflects that. If you don't have the coins, the odds of packing him are laughable.
Sadio Mane – Bayern Munich
I did not like Sadio Mane's Flashback SBC card. As a Liverpool fan, I was very excited when the SBC dropped but he was just so underwhelming for me in-game and I ended up throwing him into a gamble SBC.
That said, while this TOTS card is not a massive upgrade in comparison stats-wise, EA has upgraded him to a 5-star skiller which is very nice. They've also given him the outside foot shot trait, so his shooting is even more cracked now than it was.
He's not the easiest player to get on full chem if you're not a Bundesliga hybrid team especially since the only Senegalese manager in the game is almost always extinct and ridiculously hard to snipe.
The best way would be to get a few Bayern players or run a PL/Bundesliga hybrid team that includes Chelsea's Kalidou Koulibaly. On a Hawk chem style, he can function as a rapid trickster on the flanks or a proper marksman in the striker position.
Kolo Muani – Frankfurt
On paper, this Kolo Muani card looks excellent. Upon closer inspection of things such as his height, body type, and work rates, he starts to look like a bit of a fraud.
This is a player that's 6'2″ tall with a High and Average body type which means the most realistic position to get the best from him would be in the striker position. But, he has medium/medium work rates which is not good for a striker because his AI doesn't make good enough runs in behind.
He does have the outside foot shot and finesse traits, so you can score some bangers once you get into the right position. His pace should help with that, and you can max it out with the Hunter chem style.
Frankfurt links don't offer many options, but French links do. He has the RM and CF position changes as well, so squad building for full chem should not be too difficult.
Overall, it's a bit of a strange one. I wouldn't be surprised to see him in some teams, but I wouldn't be surprised if he's only fodder for many people as well.
Niclas Fullkrug – VfL Wolfsburg
Fullkrug has also had a couple of in-form and POTM cards, and there were a few people that used them. But if I'm being honest, this card is just fodder. He's just not quick enough, and his body type makes him feel a bit clunky as well.
He'll spend more time in SBCs than on the pitch.
What Next?
Following the release schedule, the next major promo drop is the La Liga Team of the Season scheduled for May 19, 2023. We expect the Saudi Pro League team to drop on May 14, but it's hardly a major event, except for the inclusion of Cristiano Ronaldo's card, of course.
There'll be more TOTS reviews like this one as each team is released, so keep checking back for new content! In case you missed it, we started with the Community Team of the Season review, so you can check that out too.